Get started with Messenger API for Instagram
On June 2, 2021
|
4 Minutes Read
Conversational Commerce
Instagram API
Retail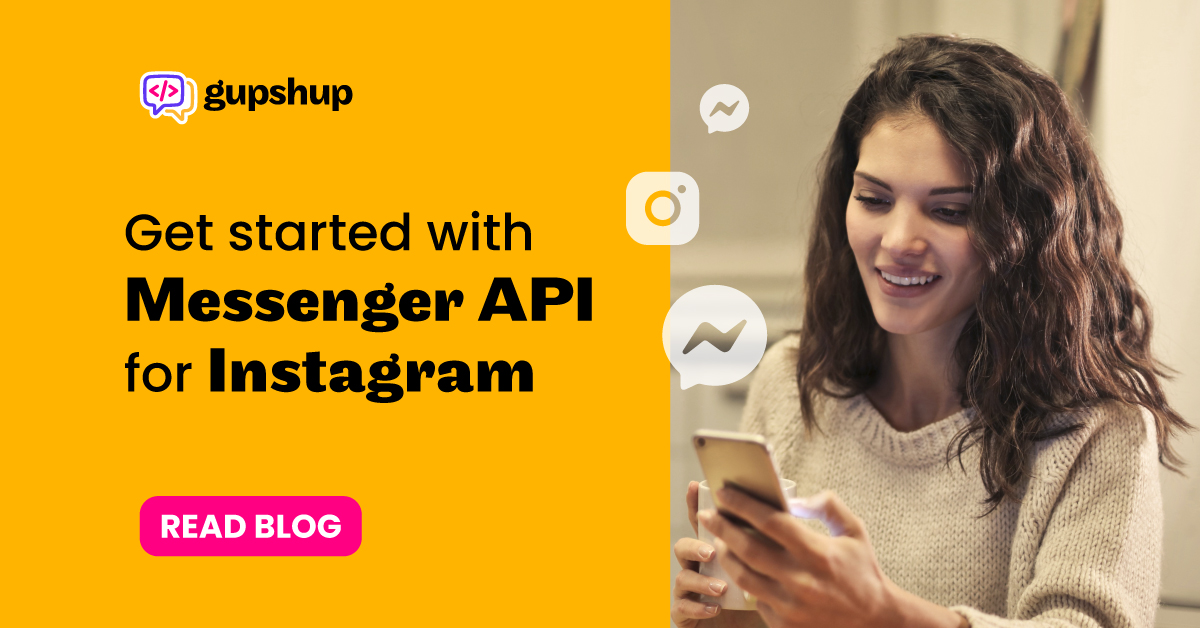 Today, messaging apps like WhatsApp, Facebook Messenger and Instagram, play a vital role in getting people connected with businesses and brands. Conversations with brands have increased as customers are getting an opportunity to engage with brands on a platform that they are already spending a lot of time on. According to an Instagram research, 90% of the people on Instagram follow a business and 50% are more interested in a brand when they see ads for it on Instagram.
With over 1 billion users who spend an average of 29 minutes a day on the platform, Instagram has emerged as a highly engaging social media platform for businesses. Now with the introduction of the Gupshup's Messenger API for Instagram, businesses can leverage the platform to build even stronger relationships with their followers. Powered with the capability of delivering a conversational experience, loaded with rich media, contextual replies, product suggestions and personalized messaging with millions of users via automation, the Instagram messaging API gives businesses an opportunity to establish real connections and drive real business outcomes.
Let's see how you can get started with the Instagram Messenger API for all your messaging requirements on Instagram in just 4 steps.
4 steps to use Messenger API for Instagram
Step 1 – In order to get started with Instagram Messenger API, you have to have a business account on Instagram. If you don't have one, convert your personal account into a business account by following the steps given here: https://business.instagram.com/getting-started.
Step 2 – Check if your Facebook page is connected to your Instagram account. It is another prerequisite. If you don't have a Facebook page yet, you can create one at: https://www.facebook.com/pages/. If you have a Facebook page but it is not linked to your Instagram account, then follow the instructions given here: https://www.facebook.com/business/help/898752960195806
Step 3 – Allows access to messages.
Go to your Instagram profile settings on the mobile app.
Select 'Privacy' and in the 'Privacy Settings', select 'Messages'.
Switch on the 'Allow access to messages' toggle under the 'Connected Tools' section.
Step 4 – Publish your bot on Instagram through Gupshup's self-service portal. For detailed steps and documentation on this, visit docs.gupshup.io.
Benefits of using Messenger API for Instagram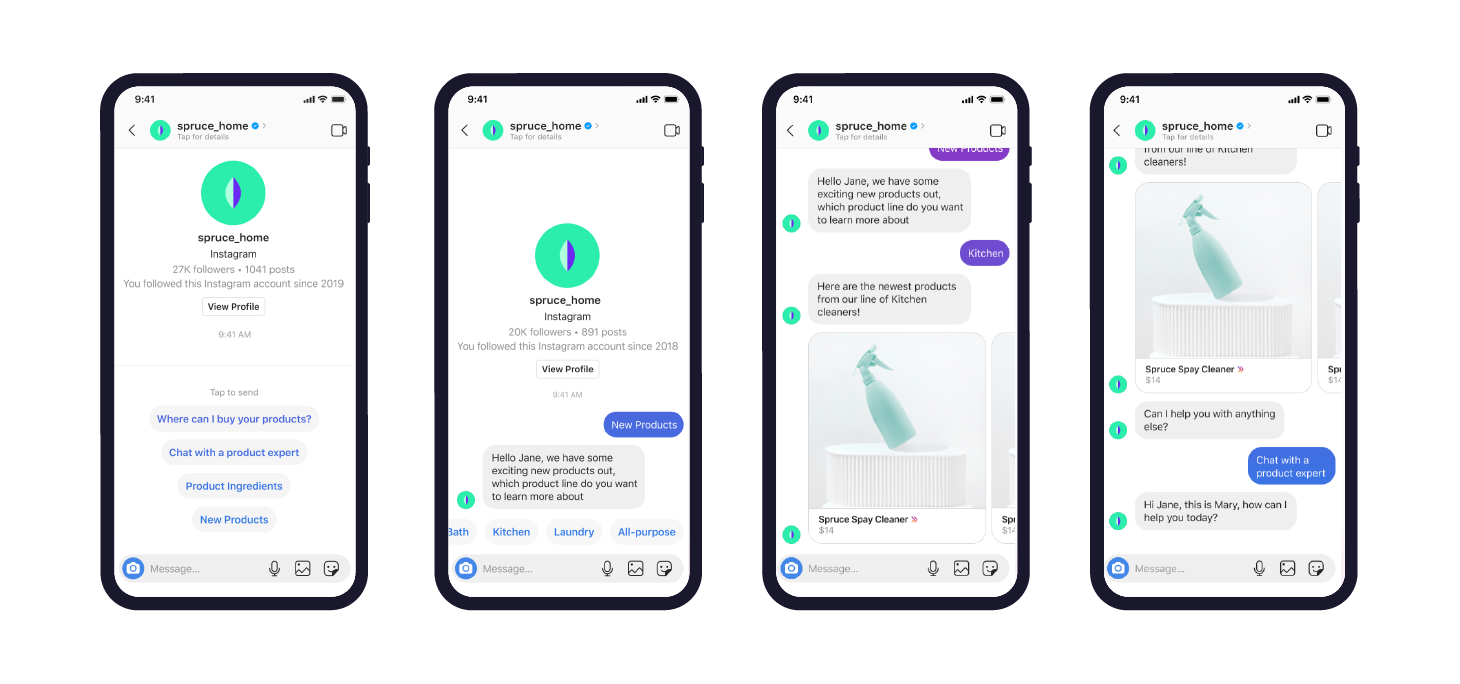 Integrate with your current workflows
With the new Instagram API, businesses can integrate Instagram messaging with their current applications and existing workflows. Brands can indulge in two-way conversations with their followers, increase customer satisfaction, showcase products during conversations, enable purchase with Gupshup's smart one-click bill pay payment solution and in turn grow sales.
Accelerate responses and customer engagement
The addition to the Messenger API is Gupshup's overall effort to make it easier for businesses to reach their customers across a plethora of apps. Brands can now respond to basic customer queries faster using automation, while more complex queries can be handled by human agents via live support.
Improve customer and follower experience
The ability to share rich media files like images, videos, product templates and generic templates with CTAs is another benefit that can be leveraged by brands to enhance the messaging experience with followers and customers, thus making conversations more engaging.
Increase visibility on Instagram
The Instagram messenger API comes with the capability to engage with comments, story mentions and story replies from Instagram users. This feature, clubbed with Gupshup's smart automation, gives brands the power to delight users with personalized attention via private replies.
Getting started with Instagram Messenger API with Gupshup
Finding a right partner is crucial to getting started with conversational messaging. Conversations have the power to move the world. And at Gupshup we have been pioneering business conversations with technological innovations for over a decade. A partner like Gupshup, which was the launch partner for Facebook Messenger API in 2016 and for the WhatsApp Business API in 2018, can help build the right conversational experience driven by conversational AI for you on Instagram.
#LetsGupshup to know more.
Blogs you will want to share. Delivered to your inbox.
Business Email
×
Read: How to connect WhatsApp Business API via Gupshup