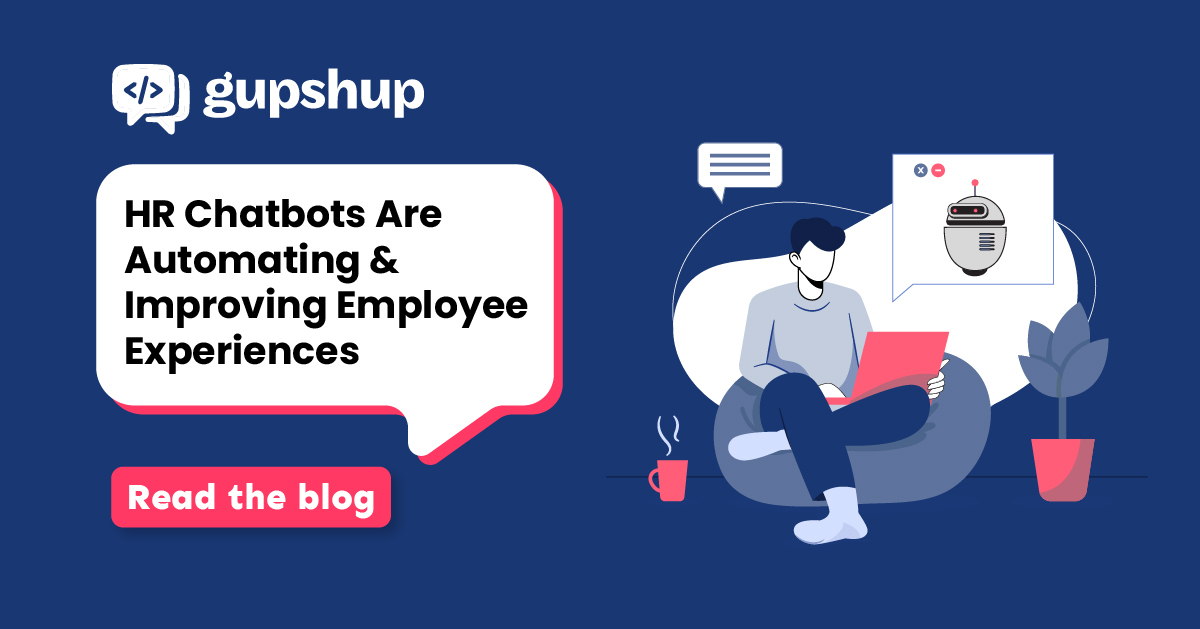 HR Chatbots Are Automating & Improving Employee Experiences
Chatbots, Conversational AI, Conversational Messaging, Human Resources
On March 16, 2022
Automation and technological advancements are soaring. With distinct technologies, software innovations are getting started almost every day. You might not even know some of the technological advancements that are significant players in the market. From manually making products to manufacturing them by machines, automation has come a long way. Not only businesses, but it has even brought a massive shift in our daily routine work. From booking tickets, paying bills to shopping, everything is being done online.
Coming to business, all the processes involved are getting automated, and its use in human resource management is gaining popularity. The reason behind the increasing use of technology in the human resource domain are due to the benefits it has leveraged. It has considerably impacted efficiency and facilitated repetitive and tedious tasks. This article will help you understand all about HR chatbots, its implication, and how it improves employees' experience.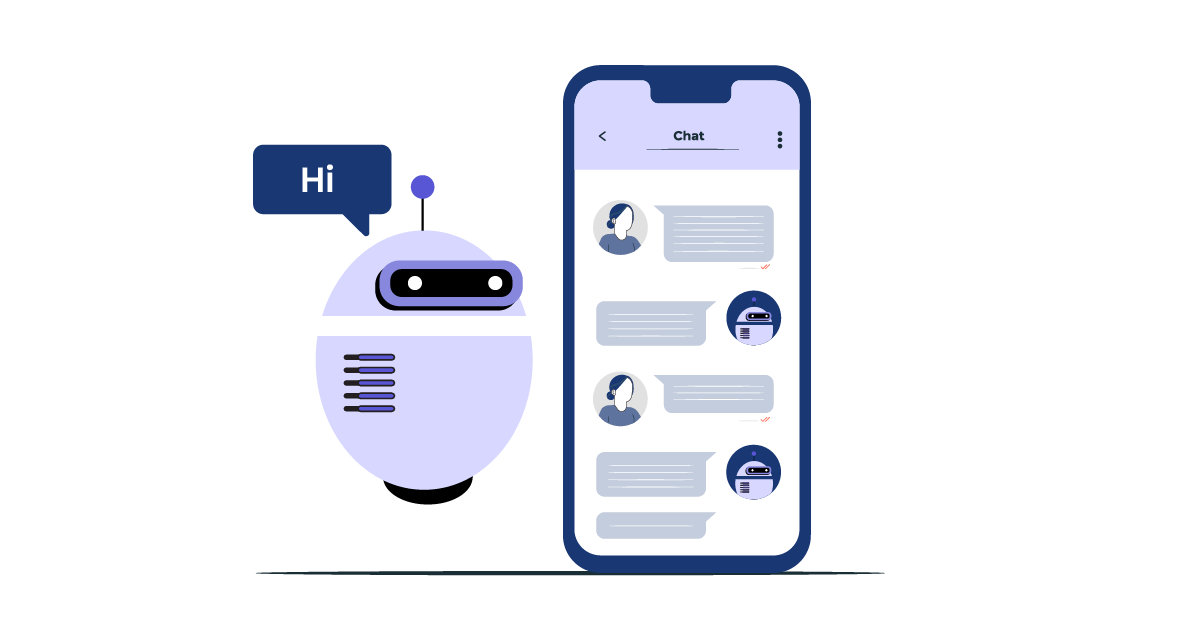 Image (source)
What Are Chatbots And What Can An HR Chatbot Do
Chatbot is a tool that uses conversational artificial intelligence (AI) to understand natural language and respond to the user. After building a chatbot, it needs to be trained according to the purpose it will be used for. For example, a simple chatbot will be systematically trained to carry out the Human resource functions making it an HR chatbot. Moreover, a chatbot can be integrated with various messaging apps like WhatsApp, Instagram, Skype.
Human resource managers have to perform various tasks other than hiring and payroll. Modern-day companies need modern solutions. HR chatbots will transform the way the human resource department works. Imagine a company having four hundred employees. Each one of them will be having queries and issues some or the other day that have to be solved by the HR department.
Studies have shown that 70% of human resource managers' time in larger organisations only goes into listing and resolving the problems of their employees. Many of these issues can be solved by the chatbot without the involvement of humans. For example, the chatbot can carry out even the recruitment procedures by sending replies to the applicants, information sharing, interview scheduling, and alerts for it. Further, we will look at all the use cases of chatbots in HR.
Bringing Automation And Improving Employee Experiences
Many times companies are very much focused only on increasing the profits and somewhere forget about thinking of employees and their experiences working within the organisation. In the long run, any successful company too may see a decline if the employees are not satisfied and getting good experiences. With the use of automation, employees' experiences can be improved easily without making much effort.
Employees need proper guidance and support whenever required, which is one of the most important things an employer should provide to keep up the enthusiasm levels. In larger organisations, employees have to wait for days to resolve a single query or issue with the administration due to the lack of management efficiency. However, there are numerous ways employers can enhance employee experiences with the use of chatbots.
The functions that conversational chatbots can perform include providing quick feedback on the queries, reporting of issues, 24/7 support, sending reminders, and alerts. Collectively it will increase the employee engagement and their productivity levels. The image below represents that 88% of HR managers prioritise strategizing employee engagement. The exact execution of the automation will bring the correct output, making employees feel confident and empowered, and which results in an overall enhancement of the company.
Image (source)
Areas Where HR Chatbots Are Automating Functions
Below mentioned are some of the use cases which will give a better idea of how a chatbot can perform different functions:
Hiring Processes
Hiring and recruitment processes often put the human resource managers into a burden. Receiving numerous applications, screening them, and then reaching them out for interview procedures is tiring. The conversational bots can carry out the initial processes smoothly and in timely fashion.
The basic queries of the applicants are generally the same, and managers have to answer each one of them separately, which in place can be done by the chatbot in minutes. The bots can also do screening, and messages will be sent for interview scheduling with reminders. The unnecessary conversation time will be saved, and the HRs can focus on other core activities.
Support To Existing Employees
Employees also expect to get their queries solved in a short period, which is not always possible for HRs as they have to manage numerous activities. The chatbots can be the new HR managers for the employees. If the chatbot is given the required training with natural language processing, it can do wonders. Employees can ask for any information from the chatbot at any time without involving others. The expectation of employees to get quick responses in real-time can also be fulfilled.
Automating Routine HR Activities
Besides managing the workforce, other routine activities also have to be performed. Chatbots can even assist the managers with it. Goal tracking of all employees can be followed, and based on it, the performance can be evaluated. Real-time analytics of all the conversations will be displayed and based on that, the managers can bring changes for the repetitive questions.
The use of a chatbot is not just limited to answering questions. When it is integrated, configured and implemented well, it can help in the overall working of the organisation.
Wrapping Up
Using a chatbot for the human resource department will surely bring about employee satisfaction and increase productivity. The habits of the users will not change as interacting with chatbots will not need any additional app installation. They can be integrated with common communication platforms like WhatsApp. In the long run, the implementation of the HR chatbots will result in cost reduction as the processes will be completed on time.
With the Gupshup chatbot platform, build intelligent chatbots using NLP tools, AI models and industry templates in a plug-n-play mode. Gupshup's chatbot platform enables businesses to build chatbots and voice assistants that can be built once and deployed across 30+ channels. #LetsGupshup to know more.
Blogs you will want to share. Delivered to your inbox.
Recommended Resources
What are AI-powered chatbots, how do they work, the benefits of chatbots and why are they...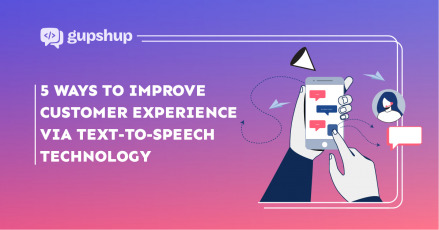 Take your customer support to the next level with text-to-speech technology! Read the blog to dig...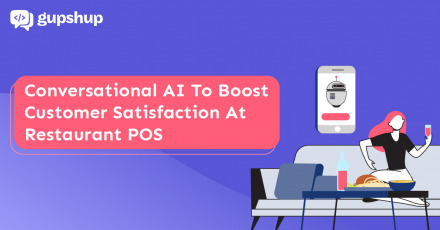 Conversational AI is helping the Food & Beverage industry enhance customer satisfaction at POS. See how...
×
Read: Deliver A1 Customer Support With Instagram DM Automation