Deliver A1 Customer Support With Instagram DM Automation
On March 18, 2022
|
7 Minutes Read
Conversational Engagement
Generic
Instagram API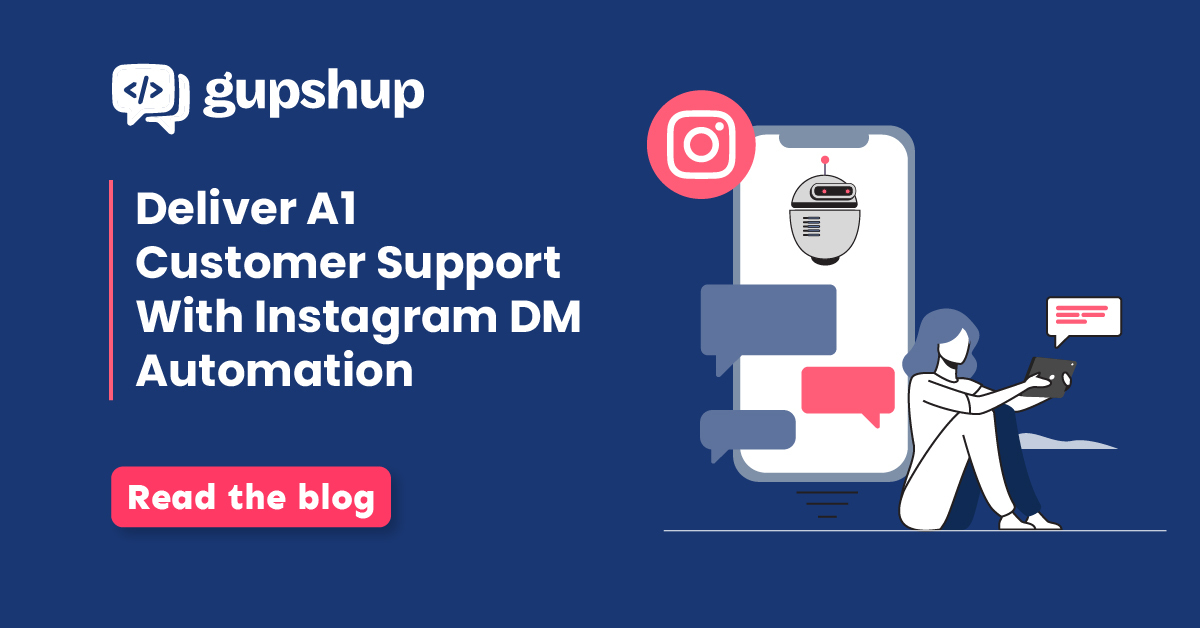 Customer support is the most important function of any business. It literally plays a more crucial role when it comes to keeping a business afloat. It is the customer support teams that relentlessly listen to unhappy customers, offer them resolutions, help a business retain such customers, and help product and marketing teams improve upon their offerings by transferring customers' expectations to them. No wonder businesses invest millions of dollars in setting up call and customer support centers, sometimes even offshore to manage the expenses.
However, the evolution in messaging technology has changed the way customer support was delivered. With social commerce becoming the next big commerce hub and messaging becoming the preferred mode of conversations for customers, both commerce and support have moved from traditional channels to messaging apps. And Instagram has become that one place where social media and messaging merge beautifully. Thanks to the Instagram Direct Message Automation made possible by Instagram Messenger API. Businesses today are therefore ramping up their conversational support capabilities on Instagram via Instagram customer support chatbots.
Why To Build A Customer Support Chatbot on Instagram
Instagram isn't just a social media channel where people just come to socialize. It has become a marketplace. Being the 4th most used app in mobile, over 1 billion monthly active users spend around 29 minutes a day on Instagram. 90% of people on Instagram follow a business on it. 830M+ users explore products/services. 50% of users are more interested in a brand when they see ads for it on Instagram and 220M+ users reach out to one business on Instagram per day.
When customers in such a huge number are already engaging with businesses to discover and buy products/services then why not make customer support available on Instagram itself? It becomes all the more important because 72% of customers say that they are more likely to buy online if they can ask questions in real-time.
How Instagram DM Automation Helps In Delivering Customer Support
The introduction of Instagram Messenger API now makes it possible for brands to automate their Instagram Direct Messenger. This enables them to engage in conversations with customers at scale and offer them customer support services on the go. So if a customer faces any problem with their orders, or if they have any queries after seeing your post, story, or an ad on Instagram, they need not leave your Instagram business page to connect with you one on one. They can do so by messaging, commenting, or mentioning you on Instagram and your automated customer support chatbot can address them in real-time. Here are a few ways:
Customer Support on Instagram via Post Comments
Customers share what they feel, by commenting on post comments all the time. While some of them might be about pleasant experiences others could be about bitter experiences. Regardless, it is best practice for a brand to address each and every one of them appropriately. The Customer Support chatbot automation on Instagram DMs now makes it possible to respond to such comments via private replies in real-time. This reduces wait times and improves support teams' efficiency – as the most asked questions can be taken care of by the bots and leave your team free for critical queries. Not to mention the millions that your business could save with such automation and the enhancement on customer satisfaction it could lead to due personalized attention that they receive via private messages.

Customer Support on Instagram via Story Mentions
Similar to comment replies, the customer support chatbots can also be configured to respond to support queries that customers send by mentioning a brand in their stories. Instagram DM chatbots can be configured to address such story mentions and post comments according to the context and sentiment behind them. While this enables quick replies, it also reduces the chances of any story mentions or comments being missed which could occur if monitored manually.

Customer Support on Instagram via Direct Message
Your brand's Instagram Direct Messenger can also be configured to address support queries that customers share by messing you directly on your Instagram DM. In fact, to make your support services discoverable and easy for your customers, you can also add "Customer Support" as suggested options in your Instagram DM ice breakers (a set of conversational starter options shown to customers when they open your Instagram DM for the first time). With intelligent conversational journeys, the option to connect with a live agent can also be made available to customers as suggested replies during automated conversations. This makes support available to customers just when they need it.

The Gupshup Magic – Customer Support Social Bot for Instagram
At Gupshup we pride ourselves on making conversations easy and natural for brands and customers. We, therefore, keep striving to offer innovative messaging automation that drives real business results and delivers natural conversational experiences. The Social Bot is one such innovation developed by Gupshup to help brands offer impeccable support and service to customers on Instagram. Here's how the Social Bot from Gupshup makes support and ORM (online reputation management) on Instagram easy for your brand: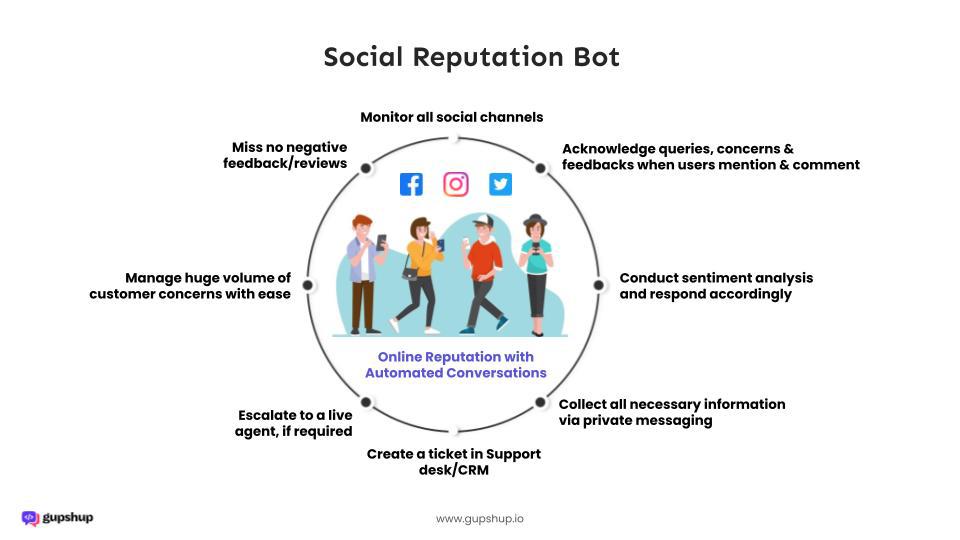 Monitors Instagram story mentions, comments & replies with automation
The social bot makes the life of your social media marketers easy by keeping an eye on your Instagram channel. It listens to what your customers and users are saying about your brand and monitors every post comment, story mention, and DM reply via automation.
Conducts sentiment analysis of comments, mentions, and replies on Instagram
As a next step, the social bot does a sentiment analysis of the user messages on Instagram shared via post comments, story mentions and DM replies to understand the mood and nature of the messages.
Sends appropriate replies to customers instantly via automation
Post the sentiment analysis the social bot sends an instant reply to customers as per the context. The replies are sent privately referring to the user messages in case of post comments and story mentions. The replies are based on the sentiment of the user messages and can be designed to express gratitude, regret, product offering, etc.
Offers Resolutions or collects users' information for your CRM
The bot then engages with the customer to offer answers and resolutions to their queries and problems. It also collects customer feedback/ contact information and passes it on to your integrated backend systems such as support desk or CRM.
Creates a ticket for your support desk review and live agent escalation
The social bot then facilitates your support desk in creating a ticket for negative reviews and resolved problems. The bot also enables escalations to live agents in real-time making it possible for customer support experts to address queries instantly.
Get Your Smart Customer Support Chatbot For Instagram Today
You can offer all kinds of support to your customers on Instagram. Be it related to product inquiry, order tracking, escalation of previous issues, reporting of a defective product, etc. With tailored customer support journeys now available with Gupshup each and every customer support problem under the sun can be addressed on Instagram.
In the age of messaging, customers appreciate immediate resolutions. And the ability to offer customer support in the shortest possible time can prove to be a great differentiator for your brand in the market. Having a customer support chatbot for your Instagram business account is therefore critical for your business today. Gupshup's social bot for customer support is designed to help you win your customer's hearts by giving you the ability to stay super active when your customers need assistance. It also enables you to excel in your online reputation on Instagram. With Gupshup's two-way messaging APIs, you also get the ability to build an omnipresent customer support experience for your customers not only on Instagram but across channels like WhatsApp, Telegram, Viber, etc.
Get your Smart Customer Support Chatbot for Instagram today.
Blogs you will want to share. Delivered to your inbox.
Business Email
×
Read: Innovative RCS Solutions Exhibited At MWC 2022