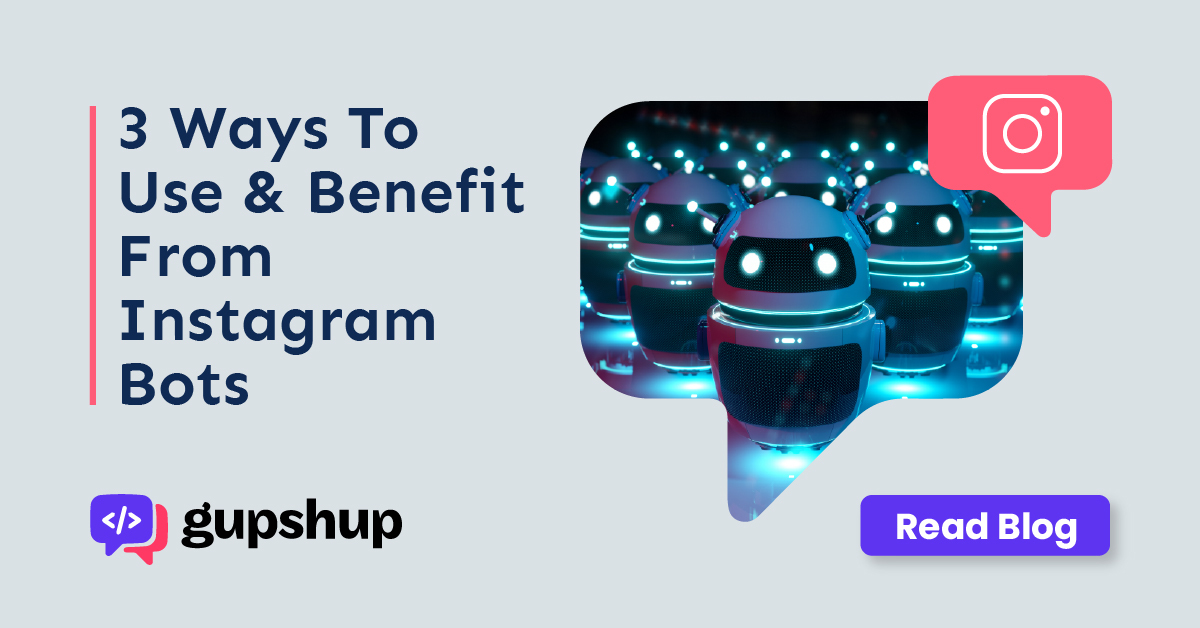 3 Ways To Use & Benefit From Instagram Bots
Chatbots, Conversational Engagement, Generic, Instagram API
On April 8, 2022
Should you be using Instagram bots to increase your brand following and reach? To stay ahead of competition, many brands are using Instagram bots or Instagram automation tools to help grow their audience. Are you curious to know what these tools are and how does Instagram bot really help in an audience outreach?
An Instagram bot uses automation software to conduct tasks that can help you increase your Instagram presence.
Whether or not you should utilize a bot on Instagram depends on the type of bot in question. But ideally, you can divide the Instagram bots into two categories:
An Instagram bot that Instagram has approved.
An Instagram bot that Instagram disapproves.
Bots that Instagram doesn't like have failed in the past because they essentially trick the system, which both Instagram and users dislike. For example, in the past, numerous Instagram follower bots automated gaining more followers. They worked in synchronization with Instagram unfollow bot to balance the follow-unfollow ratio, and Instagram bots automated the process of gaining likes on your posts. In the end, these bots skew Instagram's algorithm, rewarding the wrong kinds of behavior on the platform unfairly. As a result, they had to leave.
In contrast, an Instagram bot that Instagram approves focuses on assisting in scaling organic Instagram growth. New Instagram bots are ideal for gaining more Instagram followers and likes since they connect with the accounts you care about more pleasurable.
Additionally, new Instagram bots that Instagram has approved can help manage accounts with a high volume of incoming DMs (direct messages), encourage engagement on your Instagram posts by creating unique experiences, and even reward users for sharing their favorite things about other people and brands on Instagram. These Instagram bot DMs are a savior for people using an Instagram bot for business or any brand with more followers.
The Varied Instagram Bots and Their Benefits
1.Increase Engagement & Post Visibility With Instagram Comment Bot
It's all about organic growth through genuine user involvement with your brand on Instagram. An Instagram comment bot is great for producing high-quality, above-average Instagram engagement. These are the best form of an Instagram engagement bot.
Instagram has become an increasingly vital aspect of any effective content marketing plan for any business, big or little, today. As Instagram goes closer to picking the content algorithmically, its viewers will see rather than displaying the content chronologically, developing methods and processes for more impactful posting will be crucial.
Auto-responders (comment)
Any post can have comment auto-responders, and you can even have them activated to work by keywords. Doing so simplifies responding to every comment in your timeline while ensuring that all your fans and followers feel valued.
The fantastic thing about the Auto-Responder feature is that it not only sends traffic to your website but also boosts the visibility of your content significantly by encouraging more people to comment!
You could genuinely fence the material and ask for an email address or phone number to trigger an automated SMS text message or email follow-up if you want, using the Instagram bots sending messages.
It means that you will have everything you need for digital marketers and Instagram influencers in one convenient tool:
Engagement
Visibility
Lead generation
List building
2. Scale your Instagram Messages Inbox with the Instagram DM Bot
Instagram DM bots are both beneficial to businesses and entertaining to individuals. Instagram has given a few Instagram DM bots their full approval because they are simply a better version of one of the most popular Instagram bot business features, Instagram Quick Replies.
Quick Replies, on the other hand, aren't precisely scalable, and there's been a significant gap for marketers looking to use Instagram bot business features beyond the platform's existing messaging services.
Most chat marketing funnels were left out because Instagram DMs lacked a developer API that allowed large-scale private conversation.
With many features and use cases, you may take control of Instagram's DM inbox, such as:
With auto-reply tools, keyword triggers, and the option to answer FAQs, you can instantly respond to all Instagram DMs.
Create a personalized welcome greeting for anyone who sends you an Instagram Direct Message for the first time.
You may generate leads and collect valuable feedback and data with email forms.
Build your contact lists with opt-in tools and follow up with engagers via email, SMS, and Messenger.
Create a menu-based chatbot where customers get to select what they want to learn about your product or service.
From your Instagram DM inbox, send fully automated drip marketing campaigns. According to expert researchers, drip marketing campaigns are perhaps the most widely used features of an Instagram marketing bot.
For a long time, users on Facebook have had access to drip campaigns. Drip campaigns are popular among users since they're incredibly effective at improving Instagram engagement and moving Facebook leads down your marketing funnels.
3. Instagram's Top Feature Has A Secret Weapon: The Instagram Story Bot
An IG story's Instagram view bot is another form of bot available in the market. But, it's best not to use it much because, with it, you're attempting to fool Instagram's algorithm and obtain bogus views by utilizing it. However, some Instagram bot tools, such as an Instagram Story Mention bot, are acceptable to employ.
Instagram story bot that uses story mentions feature has two primary functions:
As soon as someone mentions you or your brand in their Instagram Story, the tool initiates a chat conversation by responding with a chatbot dialogue right away. You can use it to thank everybody who mentions your business on Instagram and market your product.
You can add a link to a landing page of your choice to the chatbot discussion that is automatically activated when your brand gets mentioned. In essence, this is a whole new way to include a link in your Instagram Stories!
Marketers, Influencers, Sales, & Customer Service, All Benefitting From Instagram Bots
Let's quickly go over some of the other Instagram marketing bot features and tools that are more widely appreciated and preferred by the influencers and marketers now that we've covered three of the most intriguing features in the world's greatest Instagram bots.
Reply to DMS:
To handle Instagram direct messages from your desktop, use inbox reply bots to take complete control of your Instagram DMs. Answer complex queries with customer support chat tools, create data-rich user profiles, and notify live chat operators about hot prospects.
Answer Frequently Asked Questions (FAQs) on Instagram in real-time:
An Instagram bot is also the most effective way to respond to queries from followers, prospects, and customers at all hours of the day and night. You can start using keyword-based Q&A triggers and NLP program web chat systems to respond to frequently asked inquiries. In a visual chatbot builder, creating chatbots to answer FAQs is simple. Add "icebreakers" or FAQs to your Instagram account to assist clients to feel more comfortable about making a purchase.
Final Words
With the expansion of Instagram Stories and the addition of new features like Stickers and Instagram Reels, organic engagement on Instagram has skyrocketed. We have more advanced Instagram automation tools available today. That's because Instagram now has complete control over what is and isn't permitted on the platform, like Instagram interaction bot, Instagram DM bot, Instagram comment bot, Instagram story bot, and other forms of an IG robot.
Easily make Instagram more controllable and effective by using particular automated processes. Start utilizing approved and reliable bots that are not spammy, or create your own custom Instagram bot using Instagram bot automation functionality.
Gupshup's Messenger API for Instagram helps you elevate your consumer engagement game by integrating one-way and two-way, rich media messaging on Instagram. Build a complete conversational customer experience on Instagram.
Get started with Conversational Messaging on Instagram Today. #LetsGupshup to know more.
Blogs you will want to share. Delivered to your inbox.
Recommended Resources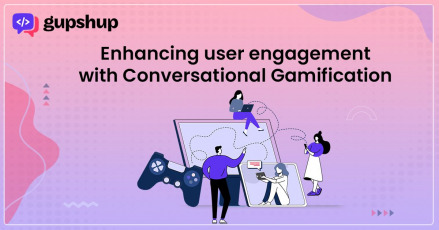 How gamification using Conversational AI builds engagement for customers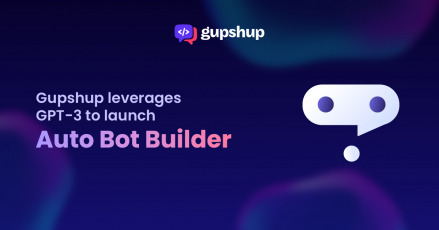 Discover the power of GPT-3 with Auto Bot Builder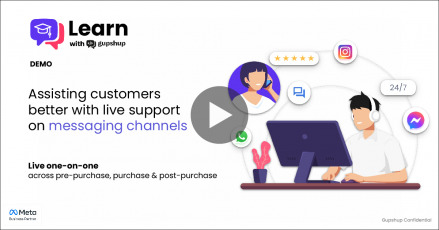 Customers today expect businesses to be there for them on messaging apps. Learn why and how...
×
Read: 3 Ways Connected Packaging Is Changing The FMCG Industry