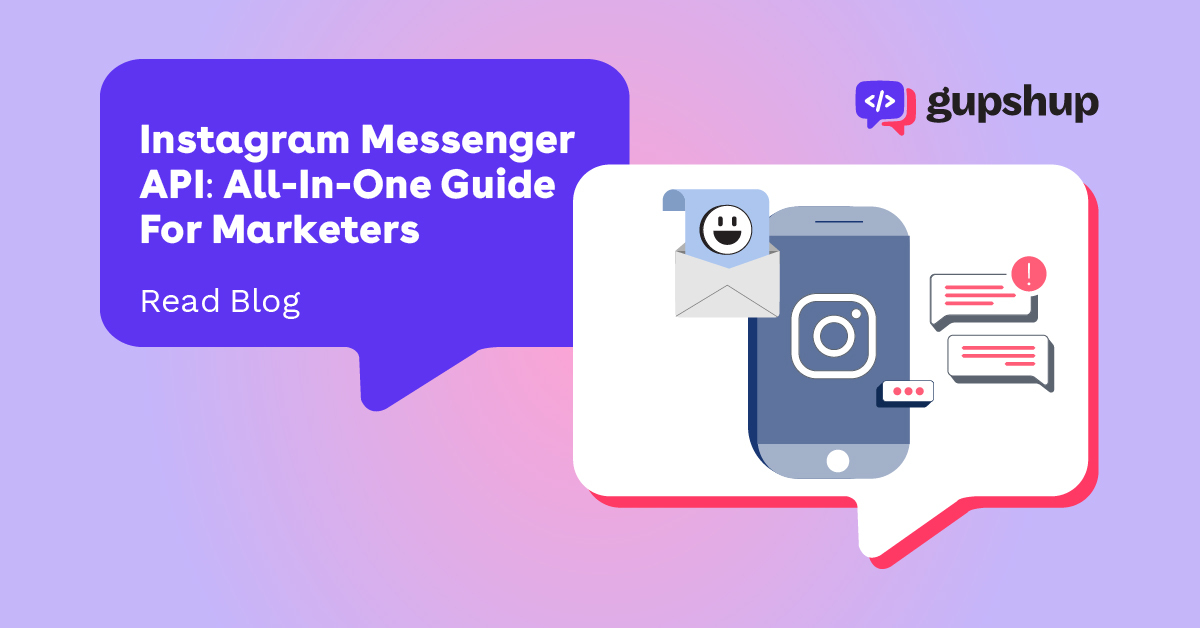 Instagram Messenger API: All-In-One Guide For Marketers
Conversational Engagement, Generic, Instagram API
On February 4, 2022
Instagram today is crucial for the success of any brand. And if you are a social media marketer or a category manager we are sure you have experienced its significance first hand. With 1 billion monthly active users, who on average spend 29 minutes a day, the channel offers brands an opportunity to engage with customers where they are already spending a lot of time. Now, with the introduction of Instagram Messenger API, brands have an opportunity to take the engagement one step ahead – by engaging with potential customers one on one via conversations. What does it mean for social media marketers and category managers? – A chance for greater success by increasing customer touchpoints and integrating personal conversations with users at every step of their journey with their brand on Instagram.
Let's dig a little deep to understand what Instagram Messenger API is, and how can it help your business/brand?
What is Instagram Messenger API?
Instagram Messenger API (Application Programming Interface as some may like to call it) is a key that helps brands automate their Instagram DMs to manage a high volume of messages from their customers.
The API makes it easy for brands to implement workflows and integrate their Instagram Messenger with applications and databases to drive meaningful conversations with customers, followers, and users. It allows them to devise automation to not only interact with customers at scale but to do so with NLP capabilities in a contextual manner. Thus, delivering a human-like conversational experience to customers. But before we understand how you can implement such an experience for your brand, let's take a quick look at the features of Instagram Messenger API.
Features of Instagram Messenger API
1. Rich-Communication
Customers today expect engaging experiences. And we all know the limitations of texts when it comes to delivering such an experience. The API, therefore, comes with the capability of delivering rich communication. Thanks to the team at Instagram for this. The API lets you exchange messages with your customers in texts, images, videos and stickers.
Here's how they will look within the messenger. Cool, isn't it?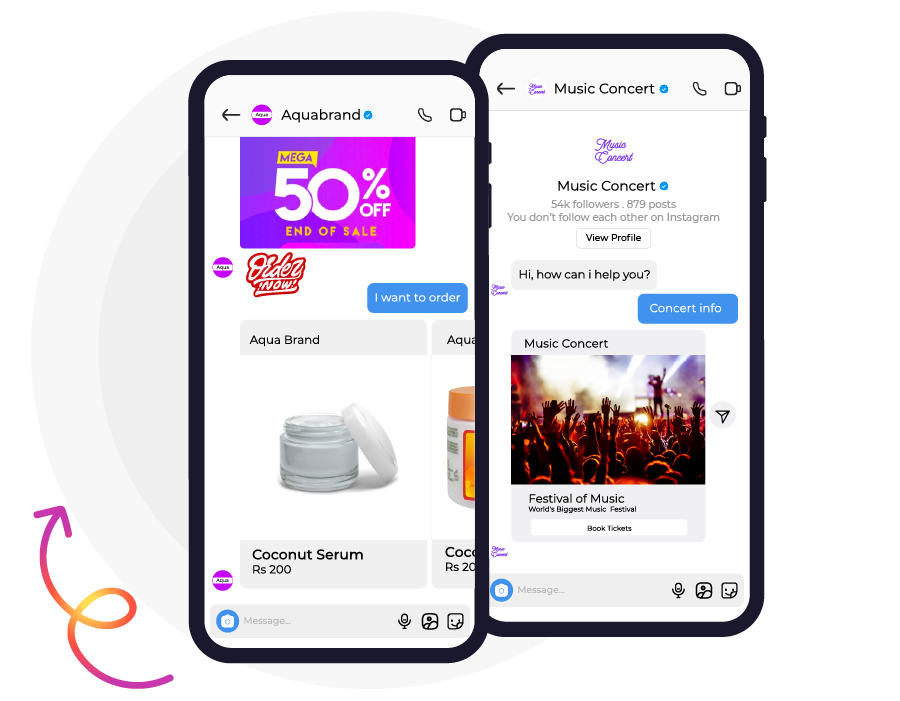 2. Carousels & Product Templates
Product templates and Carousels can be said to be an extension of the rich-communication initiative. It will enable you to showcase products and enable purchases whenever appropriate during a conversation. Thanks again to Instagram for thinking of this. Now you can never miss a chance to sell!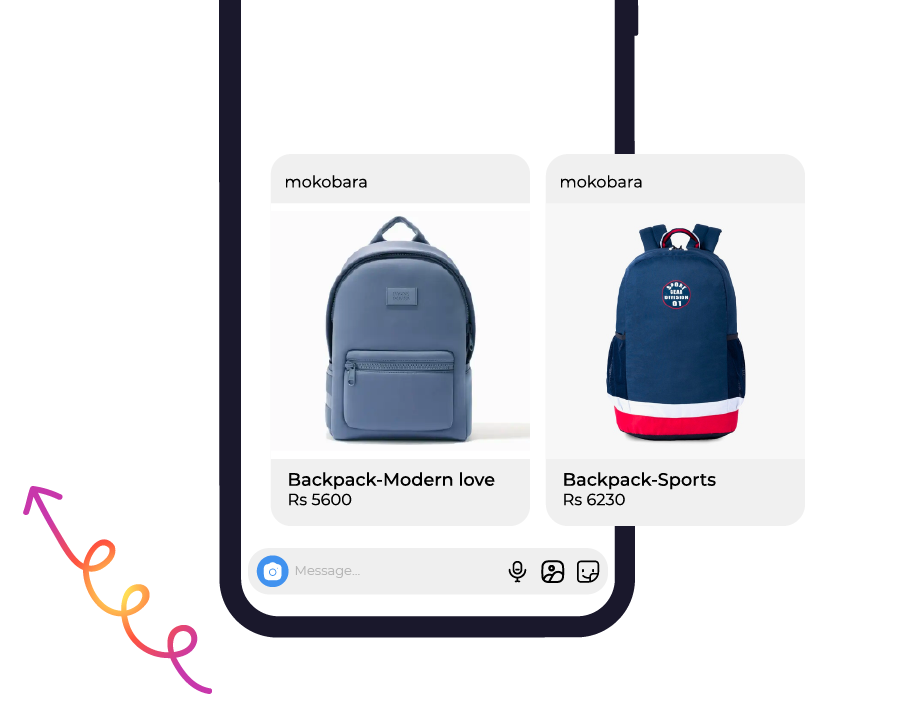 3. Ice Breakers
Ice breakers are a set of conversational starters. These are meant to help you give your customers a few suggested topics for starting a conversation when they visit your Instagram Direct Messenger. You can use it to plug in some frequently asked questions like Track my Order, Explore New Arrivals, Participate in Contest, etc. Currently, a maximum of 4 questions can be set as Ice Breakers.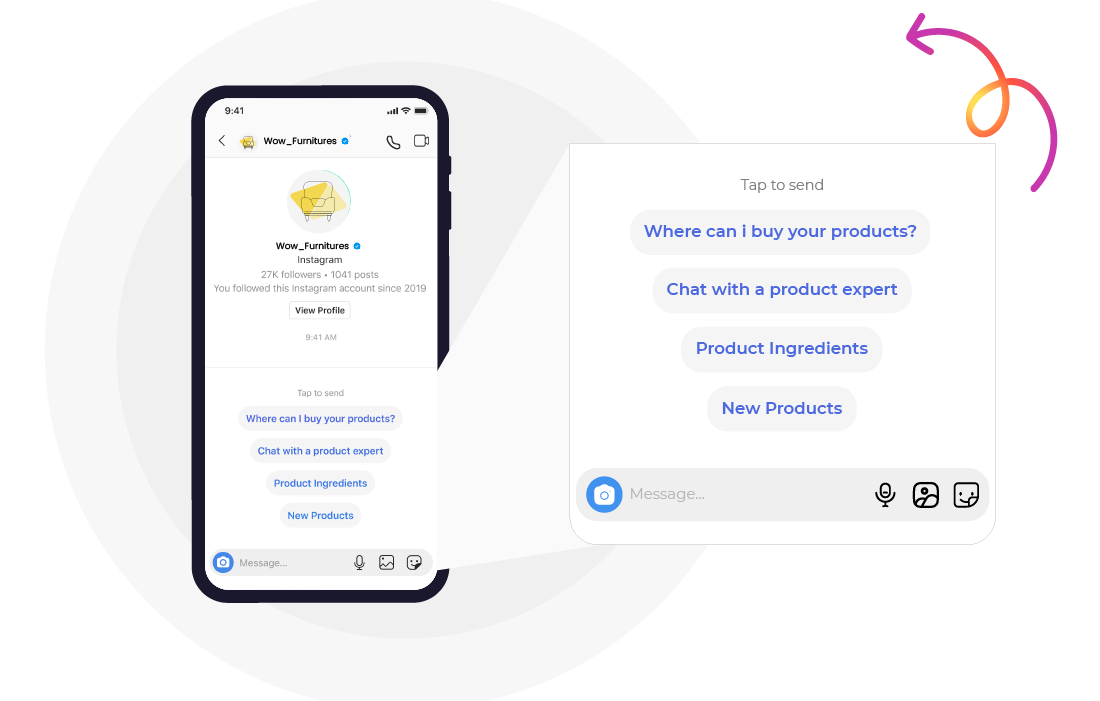 4. Webhooks
Webhooks allow you to get notified when any interaction or event happens on your Instagram DM messenger, like when a user comments on your post of mentions you in their story.
5. Quick Replies
These are a set of suggested replies which can help you navigate your customers during conversations. When used intelligently these can really come in handy to devise goal-oriented conversations.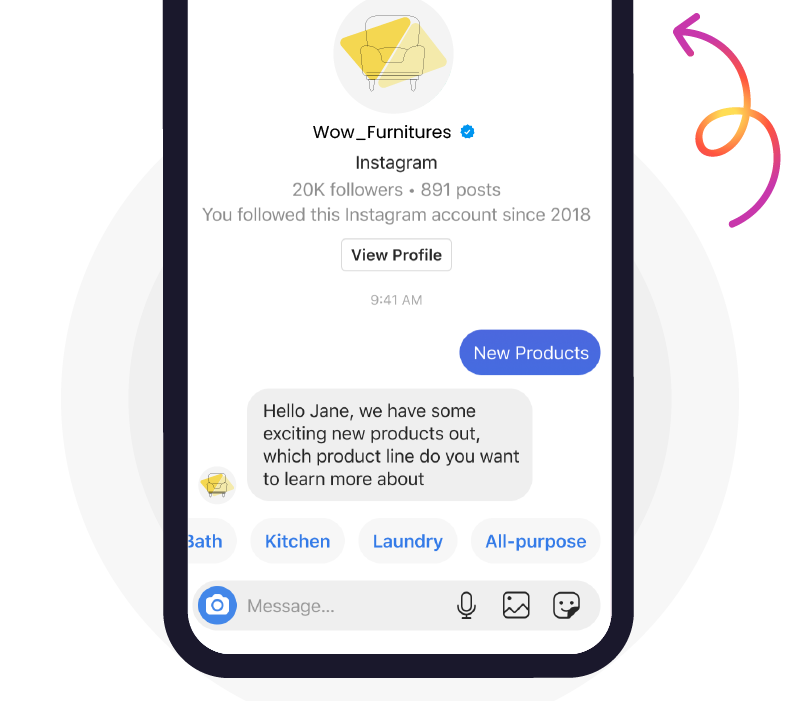 6. Replies to Comments and Story Mentions
With millions of customers following your businesses, it is quite common for your customers to comment on your posts in huge numbers. Some may even go a step ahead and tag your brand on their stories. The Instagram Messenger API, enables you to respond to such comments and mentions with a private reply. Thus helping you pay attention to customers when they seek to connect with you.
7. Automation
We have already talked about it, but just to reinstate it, the Instagram Messenger API gives you the capability to automate all your conversations. This is a real booster when it comes to managing conversations at scale.
The real business benefits can you achieve with Instagram Messenger API
With Gupshup, the official partner of Meta for Instagram Messenger API, what you can achieve with Instagram Messenger API is truly limitless. From improving your marketing initiatives to increasing sales to offering really satisfying customer support 24*7, you can use the Messenger API from Instagram to excel at every aspect of your business.
1. Monetize your Marketing Spends and Increase ROI
Gupshup enables you to integrate your Instagram DMs into your ads and stories. This gives you the ability to enhance your marketing activities and increase ROI from them by enabling customers to initiate one on one conversations right from Ads and Story clicks. With an intelligently crafted conversational journey from Gupshup, you can navigate your customers towards conversions. This can be especially powerful for products where you feel your customers might have questions before they make a purchase decision.
2. Reduce customer Drop-offs that occur due to Redirection
Redirections are a reason for the huge percentage of customer drop-offs. The Instagram messenger API helps you address this issue. Once you convert your ad and story clicks in actionable engagement within Instagram Messenger you reduce the chances of any drop-offs that would have crept in due to redirection.
3. Increase Product Discovery & Sales without Increasing Spends
The end goal of any business is to increase the discoverability of their products and thereby sales. The conversational experience over Instagram enables you to achieve the same without increasing your human resource spending. Gupshups's AI and NLP-based response mechanism helps you smartly recommend products to your consumers during conversations and increase the flow towards your sales funnel.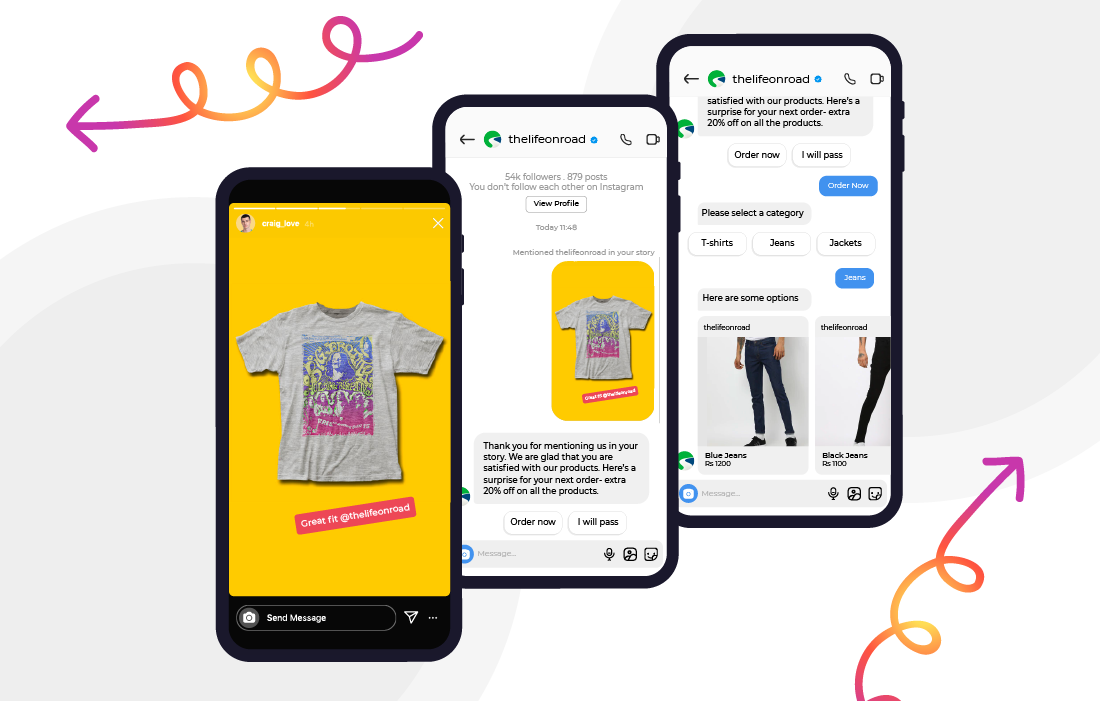 4. Create touch points throughout the customer cycle
In absence of conversational opportunities, your customers today are forced to move from platform to platform in order to complete their customer cycle. Now with conversational capabilities from Ghupshup, you can create a 360-degree touchpoint with your customer right on Instagram.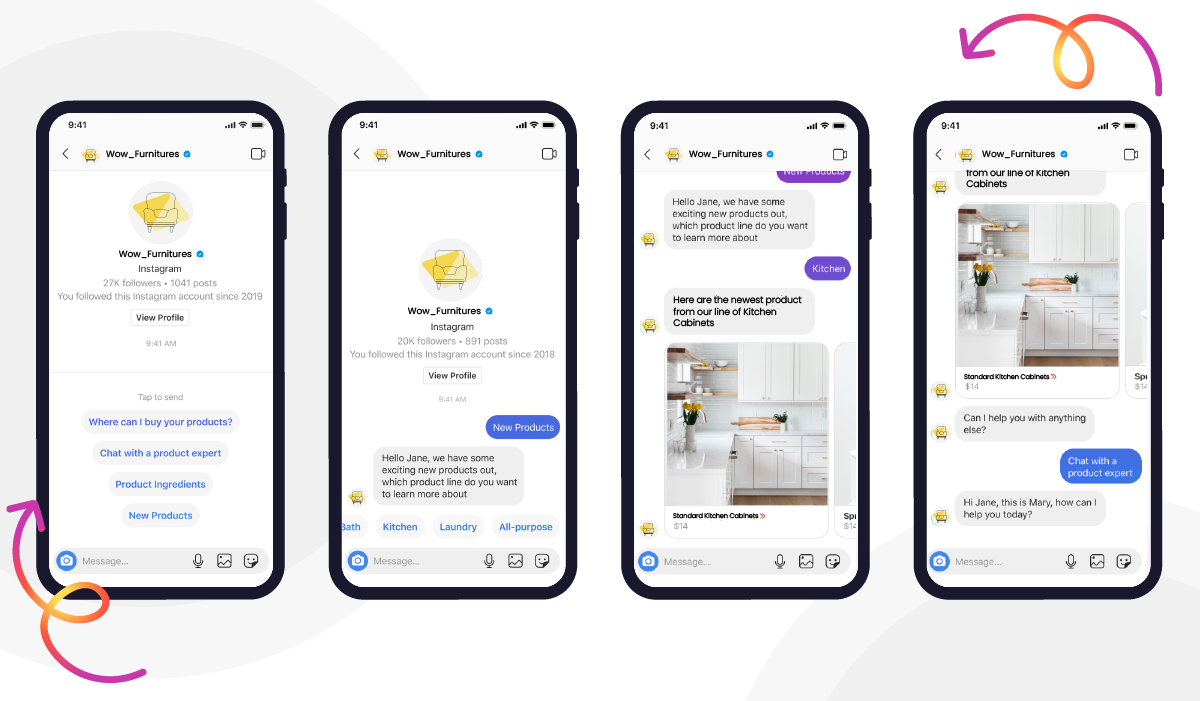 5. Level up your customer Experience
Customers crave personal attention. Being able to do so makes them feel special and drives real business outcomes. One-on-one conversations with your customers enable you to build a long-lasting bond with your customers. And with an intelligent live agent escalation facility from Gupshup, the experience for your customers is seamless.
What kind of businesses should go for it?
The Instagram Messenger API makes sense for every kind of business out there. Whether you are into Fashion, Travel, FMCG, D2C, Banking, Finance, Insurance or etc, your customers are hyperactive on Instagram. As per Instagram, its 1 billion users spend an average of 29 minutes a day on Instagram. With automation by Instagram Messenger API, you have the leverage to engage better with your customers on a channel that they are already spending a lot of time on.
How can you start using the Messenger API for Instagram for your business?
If you are a business you can start harnessing the power of Instagram Messenger API by partnering with Gupshup. Being an official Instagram Partner, Gupshup has been helping brands master conversations on Instagram all around the world. With tailored customer journeys, Advanced AI and NLP mechanisms, real-time sentiment analysis, integration of your existing tools and databases, human agent escalations, you can transition into automated conversations seamlessly.
Alternatively, if you are a developer looking to access the API and build your own capabilities, you can get started with Gupshup by signing up with your Google, GitHub, or Facebook account.
Blogs you will want to share. Delivered to your inbox.
Recommended Resources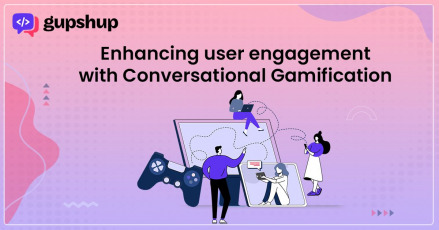 How gamification using Conversational AI builds engagement for customers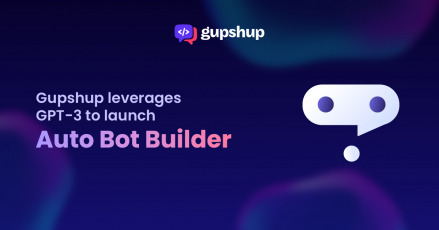 Discover the power of GPT-3 with Auto Bot Builder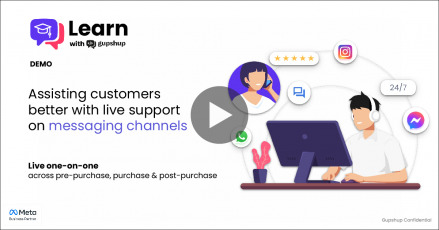 Customers today expect businesses to be there for them on messaging apps. Learn why and how...
×
Read: 3 Tips & Tricks To Use WhatsApp For Marketing