A boon for BFSI – KYC Automation
On February 14, 2023
|
5 Minutes Read
BFSI
Conversational AI
Conversational Commerce
Fintech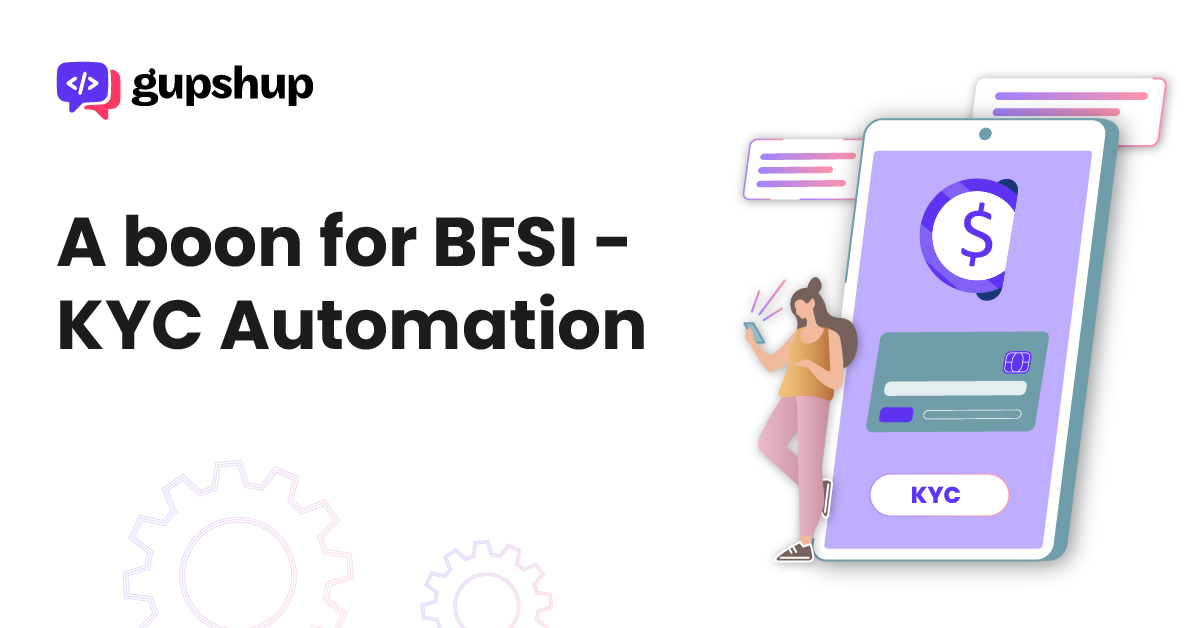 KYC: Current challenges faced by financial institutions and customers alike
In a country with 456 million bank accounts, 12 public sector banks, 22 private sector banks, 44 foreign banks, 43 regional rural banks, 1,484 urban cooperative banks and 96,000 rural cooperative banks, the importance of preemptively mitigating theft and fraud during the customer onboarding process becomes paramount for financial institutions.  
In fact, the average Indian working professional is asked to complete up to 9 KYCs a year. So it comes as no surprise that the efficiency and speed of the KYC verification process are key deciding factors in the overall customer experience BFSI brands offer. While customers would prefer a 2-step KYC process with minimal documentation and movement between apps, BFSI players must constantly be mindful of compliance at every step to avoid being pulled up by regulatory bodies.
The result? A majority of the time, BFSI brands witness high drop-off rates due to poor customer experiences during KYC onboarding, sky-high onboarding costs, and the struggle to stay compliant at all times.
The main challenges involved in the current KYC onboarding process include
Elaborate documentation

Long completion time

Broken experience

Risk identification

Lack of transparency
Automating KYC: The first step towards seamless customer onboarding
Gupshup recently launched KYC as a service, a plug-and-play feature designed to verify, confirm and authorize KYC seamlessly. Meaning customers can now complete onboarding in minutes without leaving the app or channel they are on. Gupshup's verticalized capabilities within the BFSI domain and pre-built KYC chatbot integration allow brands to offer automated KYC verification to customers across India. 
Eliminate the time, effort, and costs associated with automated KYC verification by leveraging this innovative technology that combines the user-friendliness of WhatsApp and other popular channels, with Gupshup's conversational bot flow studio and OCR technology to bring down verification time to a matter of minutes. 
Brands can now shift to a reality where verifying documents, completing a liveliness check, and confirming a customer's identity is seamless, within 1 app or channel, and taking place at a fraction of the cost typically incurred.
Want to know more about Gupshup's KYC as a service, watch this video 
KYC automation as a service: How does it work?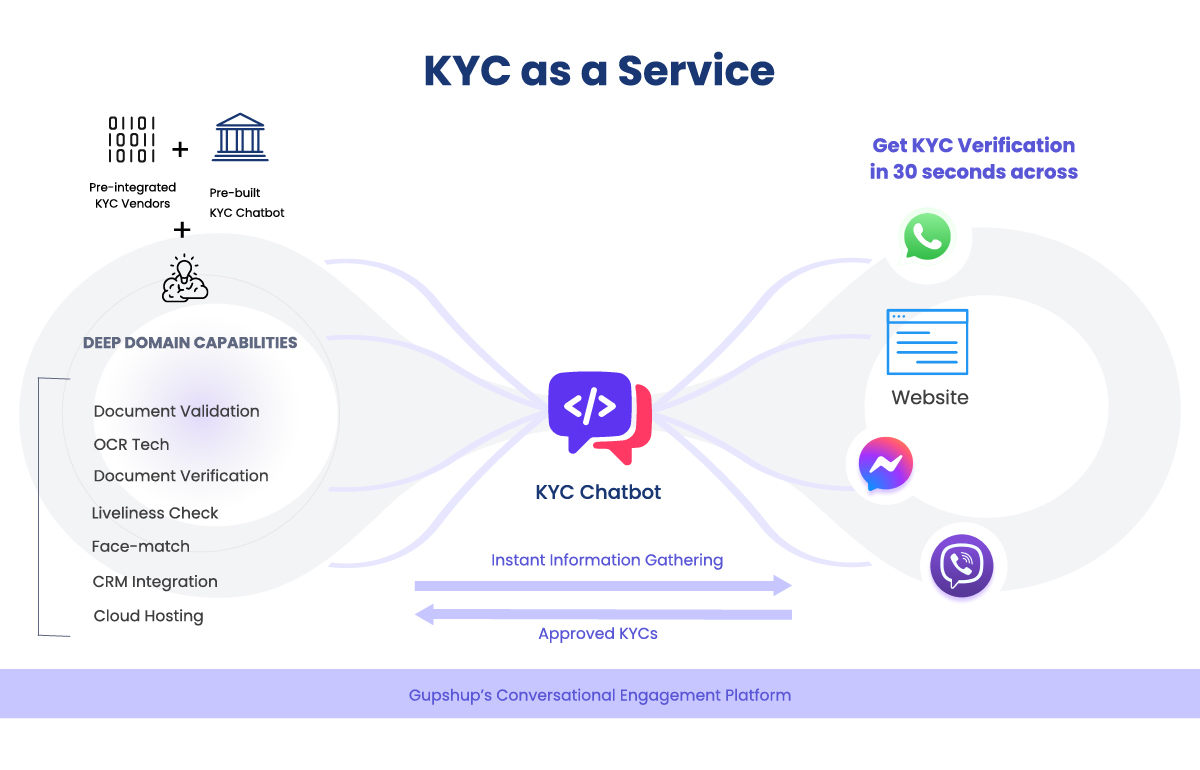 Start onboarding customers in under a minute with Gupshup's KYC as a service, which includes the entire process including validation from centralized authorities, cross-checking if the image is live or screen captured, to comparative AI-analysis of live photos uploaded. With pre-integrated KYC vendors and a ready-to-launch KYC chatbot flow, Gupshup brings various levels of deep text and image recognition technologies to the forefront to deliver real-time information gathering from the customer and instant approvals.
For BFSI brands present on Gupshup's conversational engagement platform, we manage the end-to-end KYC process for your business. This entire flow can be deployed across channels including WhatsApp, Web, Messenger, and Viber, among others. Most importantly, this can be built into your existing customer flow journeys, whether it's applying for a bank loan, insurance application and issuance, or opening a new bank account via messaging.
How does the backend implementation work?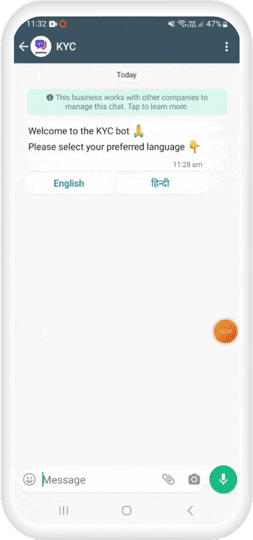 Step-1: First-level verification
Document verification is carried out to validate document versions shared by the customer (PAN Card, Aadhar, Drivers License, Voter ID or Passport)
Step-2: Liveliness check
This feature supports both video and voice, making it easy to use for the larger Indian population to complete their KYC and apply for financial assistance.
Step-3: Face match
A comparison is carried out in real-time to ensure the customer's live photo matches the one in the Government document uploaded.
To represent it graphically, see the process here: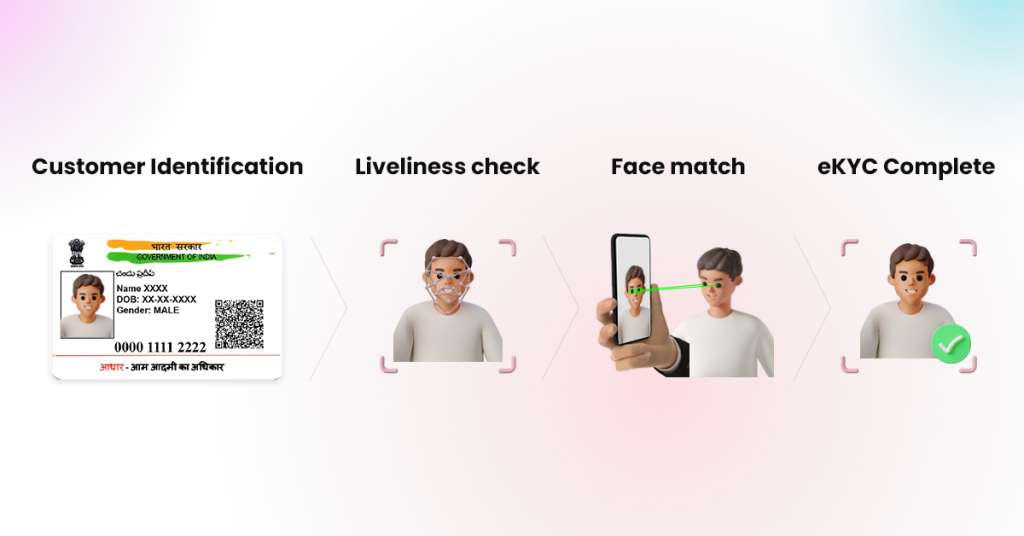 5 reasons your BFSI brand needs to adopt KYC automation tools
Plug-and-play service:

An automated KYC solution that is capable of handling all types of exceptions and can easily be integrated into your existing workflows and backend architecture, reducing the time required to take it to market.

Multi-language support:

Built to promote inclusivity, Gupshup's KYC as a service supports all major Indian languages empowering citizens from all parts of the country to be onboarded with ease and apply for bank accounts, and loans, or access their credit scores with ease.

Voice/video support:

Customers are free to use video/voice functionalities to complete their liveliness check, without the hassles of standing in queues, or avoiding tedious online application processes.

Proactive reminders

: Send out automated and relevant reminders to customers to complete their onboarding via the channel initiated and close the loop with more high-intent customers than ever before.

Channel agnostic

: Launch this KYC service across all major social media and web channels including WhatsApp, Messenger, Viber and more.
The proof is in our successful deployments
Aditya Birla Capital: Gupshup built an end-to-end policy issuance chatbot on WhatsApp for the brand that also included a frictionless and automated KYC verification process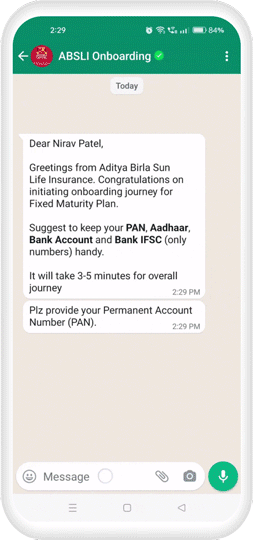 SBI General: Gupshup's WhatsApp chatbot helped the brand launch an end-to-end policy purchase flow which also covered the KYC part of the application process.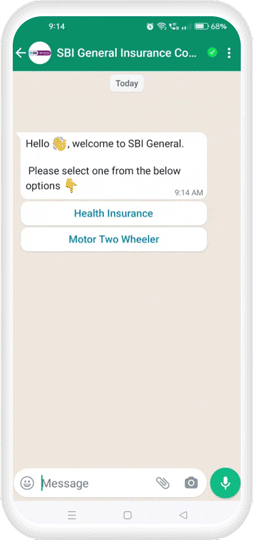 Conclusion
Instantly deploy Gupshup's KYC as a service offering for your BFSI brand with our pre-built and domain-specific AI models, which involve minimal backend integrations from your brand's side, to get instant customer KYC onboarding rolling right away. Witness the benefits of shorter processing periods, quicker onboarding, and seamless customer experience from a UI perspective, while effortlessly avoiding non-compliance, account dormancy, and fee leakage. 
To learn more about incorporating Gupshup's KYC as a service for your BFSI brand, talk to our sales team today.
Blogs you will want to share. Delivered to your inbox.
Business Email
×
Read: Gupshup unveils revamped brand look with refreshed messaging and design