3 Tips To Promote Local Business With Google Business Messaging
On June 3, 2022
|
6 Minutes Read
Conversational Engagement
Conversational Marketing
Generic
Google Business Messaging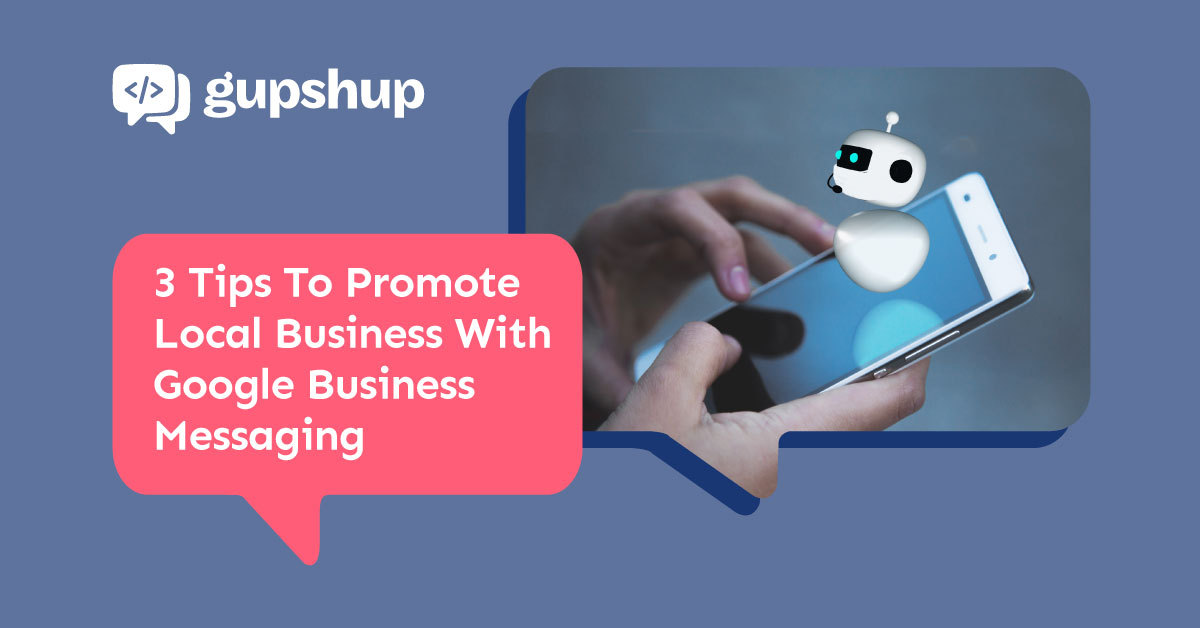 From finding a movie theatre near to your place to getting an appointment with a local dentist – you must have been in situations in which you looked for something nearby! Isn't it? Today's new-age customers have immediate and specific needs. Research suggests that 46% of all Google searches are directed towards seeking local information. In fact, 1 in every three mobile searches occurs just before customers visit a store.
Your consumers are always on the search for local information. Google queries having words such as 'near me,' 'nearby,' 'now,' and 'open' have become quite common. There's no denying that customers expect a certain degree of contextual relevance with regard to search.
Want to learn how to reach your consumers exactly when they search for a product or service like yours? The answer is simple – Google Business Messaging! All you need to do is set up a Google Business Profile.
In this blog, we are going to discuss everything revolving around the relevance of Google Business Messaging API and Google Business Profile and how it can up your local business popularity.
What is Google Business Profile?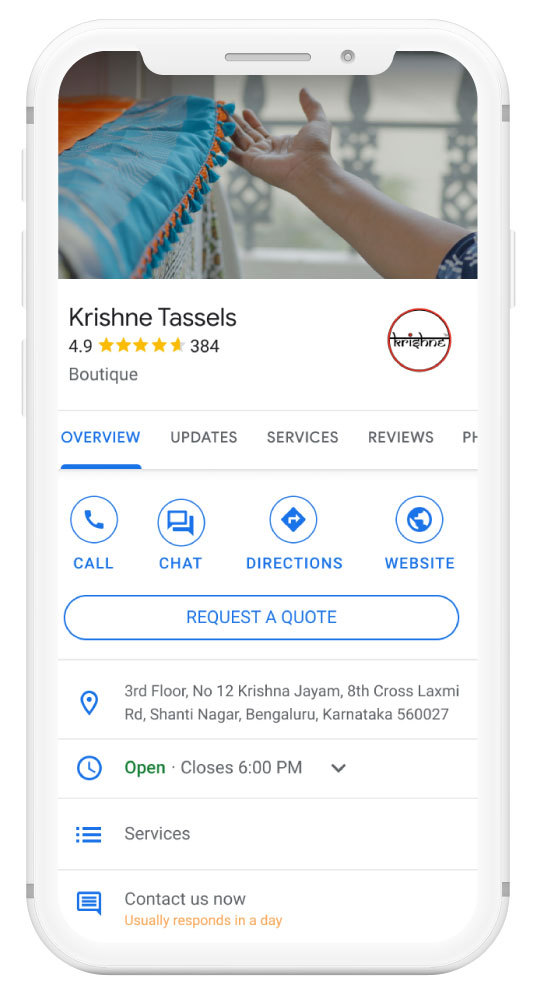 Example of a Google Business Profile
If you're a business with a physical location or a company that makes in-person contact with customers, signing up for a Google Business Profile shall prove to be the right approach to win your local audiences.
Google Business Profile, formerly known as Google My Business, can be referred to as a free business listing from Google. It enables you to offer crucial information about your business, including location, business hours, phone number, and more, to your potential customers. To put it simply, a Google Business Profile helps you to showcase how your business stands out from the competition.
With a Google Business Profile, you can post business photos showing your products or services and enable your customers to interact with you better. It also allows you to collect and respond to customer reviews.
Thanks to Google Business Profile, all your business information appears in Google Search, Google Maps, and Google Shopping. Turn on the messaging feature to encourage your customers to connect with your business in real-time. Now that we have a fair understanding of Google Business Profile let's look at some of the most popular advantages attached to it.
Boost local business popularity with Google Business Profile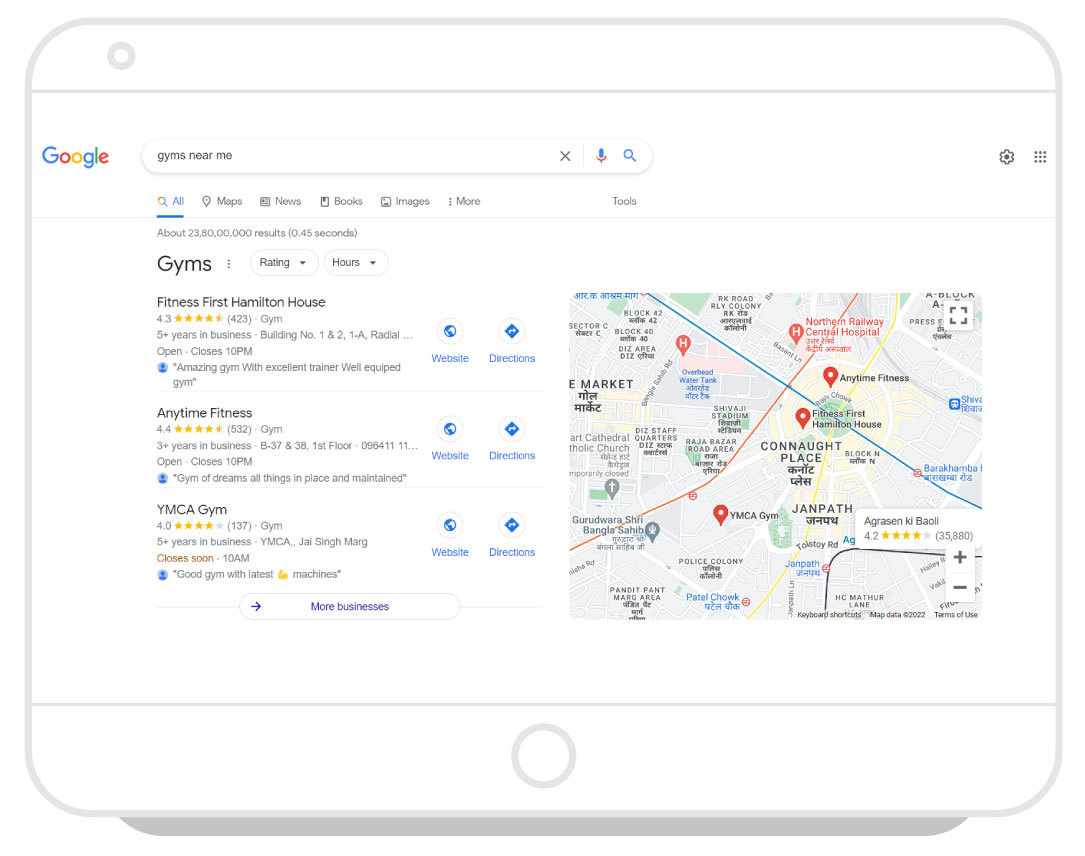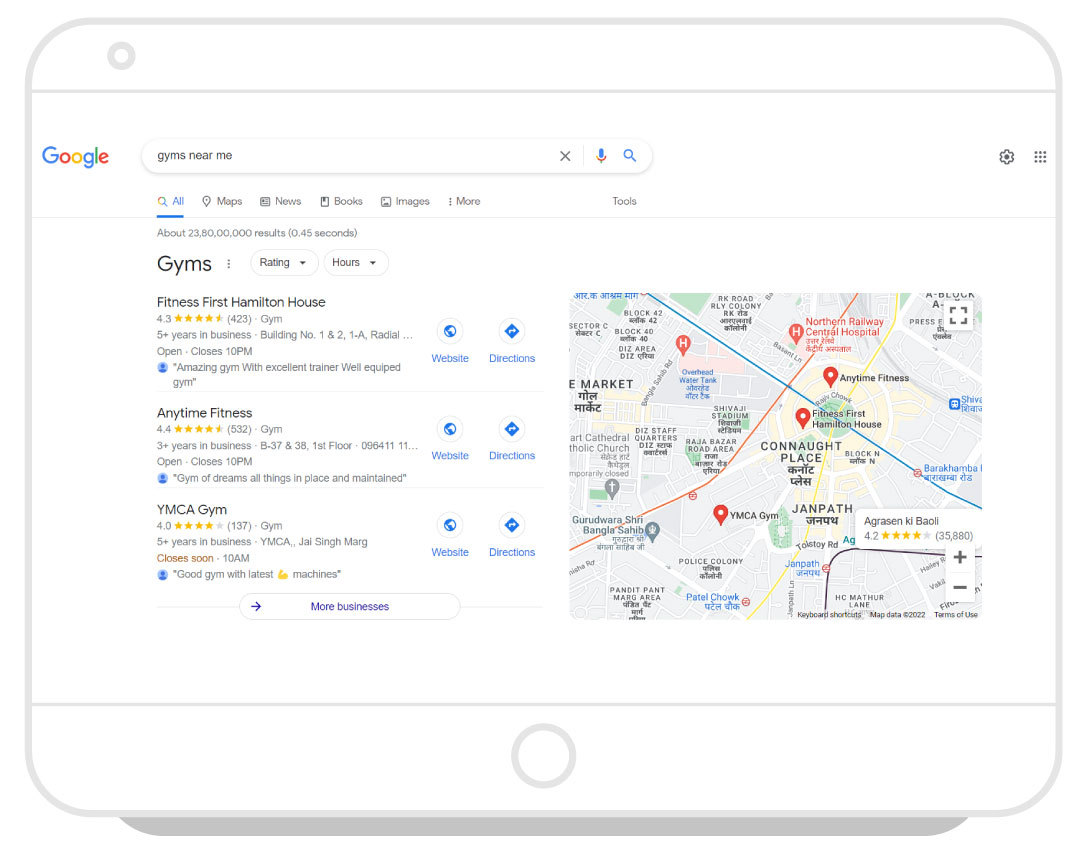 Example of Google Business listings
If you've been wondering how to expand your small business locally, Google Business Messaging is the right solution for you. Leveraging Business Messages via a Google Business Profile helps you stay ahead of your local competition. According to a popular survey conducted, 44% of respondents said that they initiated a conversation with a business over text. Google Business Profile Messaging allows you to stay accessible to your customers round the clock. Let us delve into some of the best benefits of crafting local small business marketing strategies with a Google Business Profile.
1. Enhances business visibility online
If you've been browsing 'how to advertise my business locally' on the internet and trying to figure out how to reach your local customers – setting up a Google Business Profile can be of great help. Local retailers can showcase products in their GBP to inform potential customers about in-stock offerings, while local service companies can include their service area in their profile listings. With an optimized Google Business Profile, you can be a part of Google's 3 pack display and improve your online presence.
2. Boosts sales
A Google Business Profile empowers local businesses with increased conversions. Google says that consumers are 70% more likely to visit and 50% more likely to consider buying from businesses with a complete business profile. Google makes sure to push business profiles every time an internet user searches using phrases like 'near me' or 'now.' The better the traction on Google, the higher the conversion rate for your business.
3. Facilitates cost-effective Google Advertising
With a market share of 85.55, Google is the most widely used search engine worldwide.  There are 5.6 billion searches made on Google per day. No wonder every marketer wants to advertise their business on Google. If you've wanted to do the same, you can use Google Business Profile. It is pocket-friendly and easy to use. Having a Google Business Profile helps you respond to queries and reviews and enables direct messaging with customers without incurring any cost.
Easy tricks to promote local businesses via GBM
1. Make a business profile
Creating a business profile is the first step you take towards leveraging Google's business messages. Signing up for a Google Business Profile is a simple process. Just follow the steps mentioned below:
Go to https://www.google.com/business/
Sign in to your Google account and then click 'Next'
Enter the name of your business or chain. Also, enter your business' address. You might be required to position a marker on your business' address or chain's branch on a map. Make sure to list your area if your company doesn't have a physical location.
As the next step, you must choose whether your company is a storefront or a service provider. If you're a storefront, you must fill up your address and click 'Next.' You may also enlist your service areas if you serve customers outside your business address.

Companies that don't serve customers at their business address need to enter their address > click 'I deliver goods and services to my customers' > Next. after listing service areas, click 'Next' again.

Choose your business category and click 'Next'
Add your phone number and business URL and tap on 'Finish'
Last but not least, verify your local listing
2. Optimize your listing
Optimizing your Google Business Profile is an essential aspect of your local business development and encourages your customers to message you. You must make sure that you complete all the elements of your listing. As per Hootsuite research, customers are 2.7 times more likely to consider any business reputable if they find a complete business profile. Add business photos and videos to ensure profile credibility. Also, ensure that your business location is verified. Most importantly, remember to include relevant keywords to enhance your business relevance and Google ranking. The better the ranking, the more chances your customer will contact you.
3. Use free GBP tools
Do not miss out on leveraging Google's free marketing tools for your business profile! Create custom posters, stickers, videos, social posts, and more to share your latest business highlights with your customers. This way, you can add a fun element to your marketing techniques and prompt your potential customers to message you.
The Gupshup way to empower local businesses
Leverage your Google local business profile to attract more customers and step up your business reputation with Gupshup. With our intelligent chatbot solutions, you can build smart replies, automated answers to FAQs, and much more. Let us help you adhere to Google  Business Profile messaging guidelines and offer the best interaction experience to your customers.
#LetsGupshup now and discuss the expansion of your local small business via Google Business Messaging!
Blogs you will want to share. Delivered to your inbox.
Business Email
×
Read: Redefining Customer Experience In Insurance Sector With Conversational AI