RCS Messaging – A Comprehensive Guide
On November 24, 2021
Conversational Engagement
Generic
RCS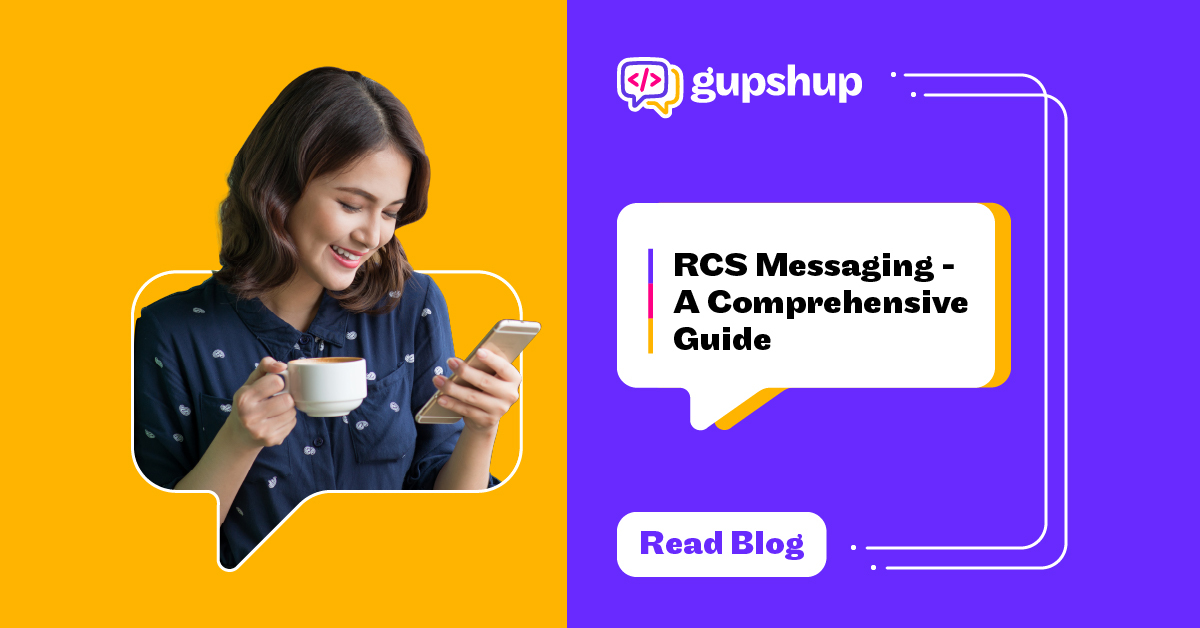 All over the world, millions of companies leverage SMS to connect and engage with customers. This is not surprising considering that:
From appointment reminders, account updates and delivery notifications, to sales announcements, limited-time promotions, coupons and even company updates; SMS is an easy, low-cost, scalable way to share relevant information with customers and keep them engaged with the brand. And now, businesses have an even more powerful means to communicate with customers: RCS business messaging.
With Rich Communication Services (RCS), any business can upgrade its SMS channel with branded communications, rich media, interactivity, and even data-driven analytics.
But what is RCS?
RCS business communication is designed to transition for mobile networks beyond simple text messaging. Through Rich Communication Services, companies of any type and size can deliver on-brand, interactive experiences to their target audience, right to their smartphone.
A Rich Communication Service message enables companies to enhance and elevate their business SMS messages with rich media that keep customers engaged for longer.
Keep reading this guide to know more about:
What is RCS messaging
How does RCS work?
How to use RCS in your business
What are the benefits of RCS messaging
What is Rich Communication Services (RCS)?
So what is Rich Communication Services?
RCS meaning is easiest to understand if you view it as a "next-generation SMS protocol". RCS provides the perfect combination of Short Messaging Service aka SMS, Multimedia Messaging Service aka MMS and mobile chat. Through RCS, your business can leverage the global reach, popularity and high open rates of SMS and MMS with the immediacy and experiential communications capabilities of chat applications.
Thus, with the RCS chat service, you get a rich user interface (UI) that allows you to send contextual messaging to a global audience and offer enhanced interactivity for all kinds of branded communication, including transactions, marketing, and customer support.
What is Rich Communications Explained
RCS messaging combines the best of two worlds: text or multimedia messages and the feature-rich, engaging messages of chat applications like WhatsApp, WeChat, Telegram, Slack, Skype, etc. This "upgrade" to SMS enables all kinds of businesses to engage mobile customers with messages featuring emojis, video, audio, high-resolution images and many other kinds of media-rich content.
Through RCS, you can even exchange group chats, get read receipts, make video calls, and get real-time updates when a user is replying to your message. RCS supports both person-to-person (P2P) messaging, and application-to-person (A2P) messaging for businesses.
You can easily incorporate RCS into your customer communications stack with an out-of-the-box RCS Business Messaging solution like Gupshup. With Gupshup's RCS business messaging API, small, medium and large brands in any industry including yours can deliver memorable customer experiences with a rich UI, contextual messaging and interactive mobile experiences.
The solution provides a unified and easy way to access the global communication channels used by customers to deliver interactive, delightful mobile experiences scalably, and at low cost.
What is Universal RCS Profile?
The main goal of RCS messaging is to allow brands to send more than simple texts to audiences. However, in the past, varied and inconsistent approaches made it difficult – not to mention, costly – for mobile carriers to bring RCS communication to users. This is one reason why it didn't take off in its early days.
But now, RCS works globally and seamlessly because of the GSMA's universal profile. The profile is a single, industry-standard set of features and technical enablers that help simplify RCS development and deployment on a global scale. By aligning on this profile, mobile operators can deploy a consistent RCS implementation, feature set and configuration. Google provides an Android RCS client ("Messages") that's based on the universal profile, which allows customers to access RCS services on their devices. Thus, carriers can provide RCS messaging across the Android ecosystem by aligning on the universal RCS profile with Google's Messages RCS client app (see this section) for Android.
Together, the profile and client support a consistent messaging experience between all Android devices and across all operators worldwide. The universal profile, which can be implemented by other operating systems, also simplifies interoperability testing between networks.
How Does RCS Work?
RCS is a universal standard between mobile operators and smartphone manufacturers. Since 2008, RCS has been supported and promoted by:
GSM Association, an industry organisation that represents the interests of mobile network operators around the world
Telecom carriers around the world
Mobile operating system creators like Google/Android
Mobile phone manufacturers like Samsung, Sony, Google Pixel, etc.
In 2016, many national and global operators and OEMs banded together to accelerate the availability of Rich Communication Services, which is now available globally. They also agreed to transition to a common, universal profile (see the previous section) based on the GSMA's RCS specifications and Google's Android RCS client called Messages. The goal was to provide an open, consistent, and globally interoperable messaging service across Android devices.
For example, a partnership between Google and Samsung allows RCS communication to work seamlessly between their respective apps: Messages and Samsung Messages. To enable RCS messaging in their Samsung Android phone, users simply need to follow the on-screen prompts from within the app.
Many other mobile device manufacturers also support RCS, including:
Google Pixel 3, 3a, and 4 series
Archos
BQ
Cherry Mobile
Condor
Fly
General Mobile
HMD Global
HTC
Kyocera
Lanix
Lava
LeEco
LG
Micromax
Motorola
MyPhone
QMobile
Sony
Symphony
Wiko
ZTE
On these devices, the availability of RCS depends on the country and carrier network.
No such partnership exists (yet) between Google and Apple for RCS. As a result, iOS does not support the protocol, and therefore Apple iPhone or iPad users cannot send or receive RCS messages.
RCS works much like WhatsApp or other chat applications, with its features such as live chat, multimedia support, etc. handled via the user's data network which can be either a mobile or WiFi network. This is one key feature that differentiates RCS from SMS, in which messages are sent over a mobile carrier network.
For RCS to work on Android, the mobile carrier, and the user's device, OS and messaging app must all support RCS messaging. And unlike SMS, RCS requires a smartphone app/client such as Google Messages to work. Otherwise, all RCS messages from the sender will revert to plain text messages on the recipient's device.
Also, the senders' and recipients' devices must both be connected to the Internet for the RCS chat service to work. On a mobile network, text-based RCS conversations use only a small amount of data. However, large files, images or videos count significantly towards the data limits set by the carrier network, so it's usually better to send such files over WiFi.
Sending and receiving RCS messages via WiFi is usually free unless the WiFi requires additional payment for using the service and/or RCS app. Roaming charges may also apply for mobile data.
In the U.S., four big carrier networks, Verizon, AT&T, T-Mobile and Sprint, have formed the Cross Carrier Messaging Initiative (CCMI) to standardise RCS independently of Google.
RCS Messaging, Google Jibe and Google Messages RCS Client App
To implement RCS messaging, mobile operators can deploy their infrastructure, or they can use Google's Jibe Platform, which supports the universal RCS profile. Jibe provides numerous tools and a hosted cloud to launch and manage RCS services across global networks for all leading mobile operating systems.
The Jibe Cloud is a GSMA-certified, hosted service that enables carriers to quickly scale RCS services. It supports all clients that implement the universal profile across leading smartphone platforms. Further, the "Jibe Hub" interconnects operator RCS networks and global carrier deployments through one connection for worldwide interconnection. The Jibe Hub is easily interoperable with third-party RCS networks.
Messages is Google's native client for Android that supports RCS, SMS and MMS messaging. It supports the GSMA's universal profile to enable interoperability across operator networks and devices. With the Messages app – which is included by default on many Android phones – anyone can send and receive RCS messages, including businesses. Messages deliver a unified messaging experience across the Android ecosystem. Within the RCS chat, Messages users can:
Find and share things
Share and receive high-quality media
Respond to messages with a single tap
Send payments
Messages also support Google Assistant, so users can easily ask for helpful information right within a conversation. Users who don't have Messages installed on their device can download it for free from the Google Play Store. All these features make it easier for brands to leverage RCS communication to enhance customer communications with rich messages.
Google Jibe's Early Access Program enables brands to adopt RCS business messaging. The best way to get started with this program is to work with a Google messaging partner like Gupshup. For more information about this program, contact Gupshup.
What are the Benefits of RCS Messaging
With RCS communication, brands can:
Send timely information to customers anywhere and at scale
Share high-def content like images, videos, gifs, PDFs, etc.
Send live updates
Show product carousels
Allow customers to take some action from within the RCS app
In fact, with RCS communication, many businesses see a tangible impact on:
Open rates
Customer engagement
Conversions and sales
Repeat sales
Loyalty
Furthermore, by leveraging an RCS platform like Gupshup, your brand can:
Engage with a captive audience that's most likely to take action, e.g. click on a link, complete a purchase, complete an upsell or cross-sell, etc.
Keep customers informed with real-time, timely and relevant information without delays or uncertainties
Send longer messages that are often constrained by the built-in character limits of SMS messaging
Send multimedia files to delight customers and enhance their brand experiences
Boost your brand's presence and recall value with notifications, updates, order confirmations, product announcements sent directly to customers' native RCS messaging app
Support customers on a broad range of issues with real-time RCS chat
RCS also supports many new features that are just not available with SMS or MMS, including group messaging, read receipts, message reactions, and a typing indicator. Customers love that they can receive high-quality documents, images, audio and video, cool emojis, creative GIFs, and interactive buttons and links that enhance their brand experiences.
RCS also provides higher security than is found with other apps and allows users to use a range of in-call and post-call features from right within the app. Further, RCS communication supports analytics capabilities, so you can easily analyse any campaign by measuring read receipts, transactions, suggested replies and actions, etc.
How to Use RCS
As a brand, you can easily use RCS to communicate with (Android) customers, as long as their phones, operating systems and mobile carriers support RCS messaging. Before sending these messages for the first time, you can connect with them via SMS or another communication channel, and ask them to download and install the latest version of Google's Messaging app from the Google Play Store.
Once users download the app, verify their number and activate RCS messaging on their devices, RCS will turn on (again, assuming that it is supported by their carrier network). At this point, they can start sending and receiving messages, files, GIFs, emojis, etc., via RCS. As mentioned earlier, if your users either don't have RCS turned on or are using devices/networks that are not RCS-enabled, your RCS messages will show up as simple SMS messages.
Conclusion
While SMS remains a powerful customer communications medium for brands everywhere, RCS is the future of text messaging on Android devices. Google research shows that with RCS messaging:
74% of customers are more likely to engage with a brand through RCS
Audiences are 35X more likely to read RCS messages compared to email
RCS chat allows users to ask questions in real-time, due to which 72% of customers are more likely to make online purchases
Keep sending SMS messages to your customers, but do consider adopting RCS as well. Packed with features – including many that are available on the most popular instant messaging platforms like WhatsApp, Telegram and Signal – RCS is an exciting development in the world of brand-to-customer communications. And the easiest way to enable interactive mobile experiences with RCS is with an out-of-the-box solution like Gupshup.
Gupshup, a global RCS partner, offers an RCS business messaging API that enables brands to upgrade their SMS capabilities with branding, rich media and enhanced interactivity. Want to make transactions including purchases and payments fast and seamless?
Help customers resolve queries and troubleshoot issues quickly? Market your brand to increase engagement and enhance brand love? With RCS communication and Gupshup, you can do all this and more.
Access every communication channel your customers use with a single API to send quick replies, offer world-class support, provide rich media product carousels, and increase engagement with suggested replies with Gupshup. Get started with Rich Communication Services.
#LetsGupshup to know more.
Blogs you will want to share. Delivered to your inbox.
Business Email
Recommended Resources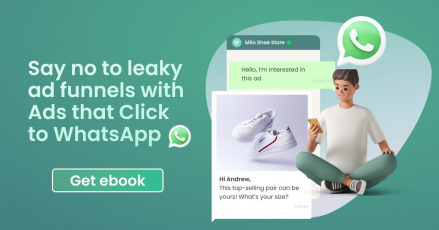 Read the eBook by Gupshup to uncover you can increase your return on ad spends by...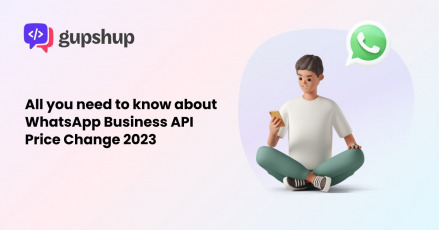 Learn about WhatsApp Business API's new value-based pricing and all the new features to look forward...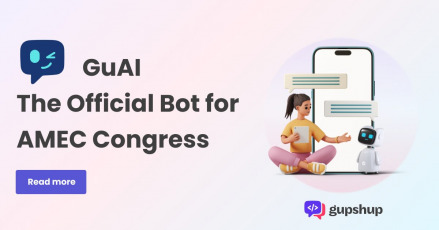 GuAI, the virtual assistant of AMEC Congress, enables attendees to interact with speakers and sponsors, access...
×
Read: 3 Key Reasons Why WhatsApp is the Next Big E-Commerce Channel