3 Key Reasons Why WhatsApp is the Next Big E-Commerce Channel
On November 25, 2021
|
4 Minutes Read
Conversational Commerce
Conversational Engagement
D2C & E-commerce
WhatsApp Business API
WhatsApp Commerce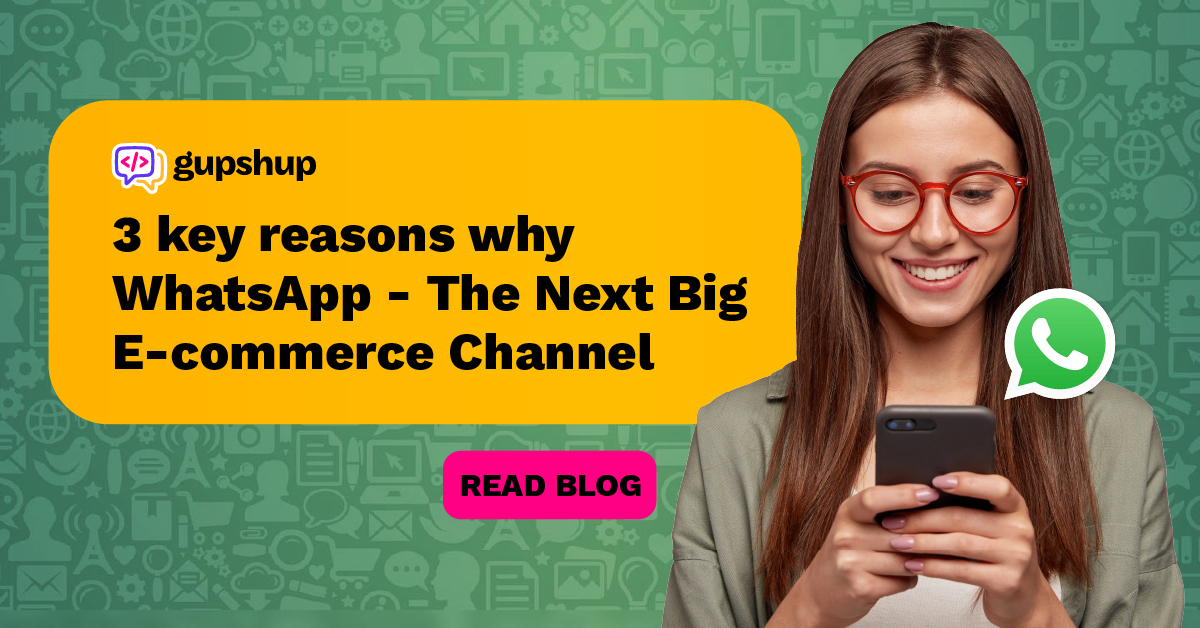 Messenger platforms are a hot topic today, thanks to the ease and intuitivity in using them. Speaking to family and friends has been a bliss due to the enablement of omnichannel communication replete with text messages, images, and more, by these platforms. Of late, a vast majority of customers are opting for messaging as the channel for interacting with brands as it allows them to reach out to enterprises on their own terms. The prospect of leveraging these platforms to provide a seamless shopping experience has gained a lot of traction in recent times. But which is the best platform to do so? WhatsApp clearly emerges as a winner as it has over two billion people across 180 countries using it for peer-to-peer messaging.
So, what are the reasons behind the optimism about WhatsApp's emergence as a successful e-commerce channel in the days to come? While there are many that can be stated, we confine ourselves to three important ones in this blog.
1. Reimagining WhatsApp Usage Patterns
As a messenger app, WhatsApp is easy for users to adopt. It is estimated that on an average, a person checks WhatsApp over 23 times a day for various reasons, which makes it a very effective customer touch point. Naturally, any promotional messages, product updates, notifications, sent over WhatsApp are bound to have high read rates. It is this aspect that the brands are seeking to tap into, for upping their lead generation and conversion rates. Further, the scope for two-way interaction between the brands and consumers paves way for greater interaction; customers can be more expressive in terms of their preferences, which allows brands to cater to them and eventually boost their customer satisfaction scores.
Businesses and retailers are brainstorming to provide an end-to-end seamless shopping experience over WhatsApp, which essentially calls for sharing information about products and services, apart from offers and promotions. So far, it was possible for brands to share information about one product to a consumer per message, which proved to be a hindrance as stores are likely to have multiple items in their inventory. Therefore, sharing information about multiple products required stores to send as many messages, which was a potential drawback. Not anymore, as WhatsApp commerce has addressed the matter through interactive catalogs.
2. Influence of Covid-19
Ever since the onset of the COVID-19 pandemic, the demand for online shopping has witnessed an upsurge. Also, in the last few years, there has been a fundamental shift in the way consumers interact with brands. Furthermore, as consumers interact with multiple brands, it is not practical to force them into downloading as many apps. Instead, allowing consumers to connect with brands/enterprises over a messaging platform where they already have a presence, is more appropriate. What better than WhatsApp?
WhatsApp usage recorded a 40% increase during the peak of Covid-19 that has piqued the interest of brands regarding its use as a business messaging channel. The user-friendly features of WhatsApp, if leveraged well, would help in crafting a successful customer engagement strategy.
3. Features for Interactive Business Messaging
Further, WhatsApp has introduced features to support interactive business messaging. Some of them are:
Single Product Messages: These are messages giving details about a single product in the store's inventory as illustrated in Fig 1.


Fig 1: Single Product Message (Source)

Multi-Product Messages: These are messages containing information about multiple items in the product inventory as shown in fig 2.


Fig 2: Multiproduct Messages (Source)

Add to Cart: Once the user selects the products, they can add their selections to a shopping cart without leaving the chat and send the cart over to the business.
Payments: Make payments directly from WhatsApp by leveraging any third-party payment options available or with the UPI-based AI powered smart messaging via 1-click bill pay once the invoice is generated for the items added to the cart.
Conclusion: WhatsApp Commerce Would Only Grow
The industry has taken cognizance of the fact that the messaging platforms are here to stay, more so the ones like WhatsApp that have a large user base across the globe. Given the comfort level that consumers of all age groups have developed with WhatsApp, it is imperative for businesses to create a presence on the platform to connect with customers.
Click Here to know more about Gupshup's offering for WhatsApp Commerce.
Gupshup's conversational commerce offering for WhatsApp can accelerate the process of creating the modern day storefront for your brand. Are you ready
Blogs you will want to share. Delivered to your inbox.
Business Email
×
Read: Make Automation More Personal with Conversational AI-powered Chatbots