Revenge Travel In The Age Of Hybrid Working
On June 29, 2022
|
5 Minutes Read
Chatbots
Conversational AI
Conversational Engagement
Travel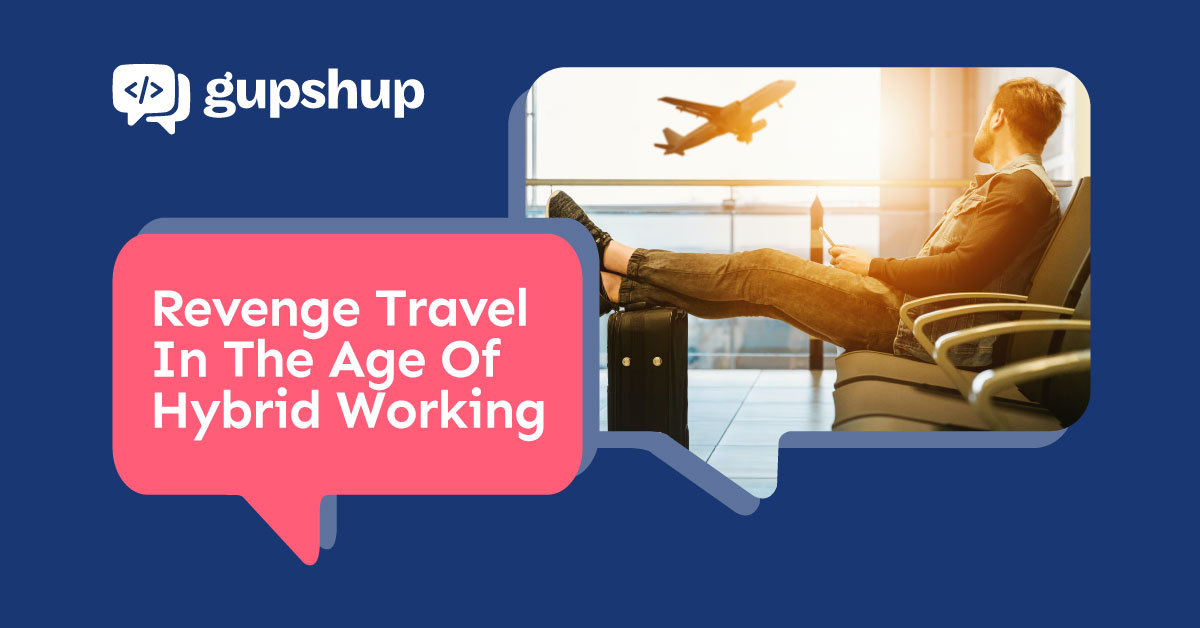 After months of pandemic-imposed restrictions, travellers, as well as the travel sector, is itching to come back to normalcy. This has resulted in a phenomenon colloquially known as 'revenge travelling' where the trends show that people are travelling or wishing to travel even more than in the pre-pandemic days.
Revenge travel also comes out of a deep need to make up for lost opportunities. It could be to make up for a lost time, the missed chance of exploring new destinations or connecting with faraway family and friends.
According to a recent survey from SAP Concur, 96% of 3,850 business travellers in 25 global markets say they're now excited to venture abroad again for work. Whereas 80% admit to worrying that unless they increase business travel, their professional lives will suffer.
This phenomenon has also given rise to a new concept known as 'workcations'. The desire to travel with the newfound flexibility, thanks to remote working options, also known as 'mobile office' has paved the way for the setup of workations.
A recent report from AltoVita covering the state of the flexible-rentals market coming out of COVID-19 found that 68% of the flexible-rental sector is seeing an increased demand for extended stays, whereas 59% is seeing a demand for large spaces.
Current Travel Trends
The rise of mobile offices is helping greatly, as people can now truly find a balance between work and pleasure travel. All that's needed is a stable internet connection and the travel and hospitality industry is ready.
Let us understand some of the very basic trends in the travel industry currently.
Preferences
Travellers are preferring less crowded destinations due to fear of Covid transmission. 'Free cancellations' and 'pay and stay' are some of the comfort options that travellers prefer. AltoVita's recent survey also highlighted key differentiators, which include flexible-renting providers in the sector who have prioritized high-speed internet (43%), providing desk and office spaces (29%), and laptop-friendly surfaces (9%). When it comes to the best lease structure to support working from anywhere, 74% favoured monthly leases and over two-thirds (68%) began offering flexible cancellations.
The new fad
Staycation and workation culture is growing. There is a higher demand for unique, remote, and off-beat destinations as travellers seek places that offer access to nature or maybe a new perspective.
Information is key
Travellers are now doing a lot more research on places they want to visit, itinerary, cost and other aspects of travel. Much more research material is available now, such as travel vlogs, articles, reviews, recommendations and more.
Tailored travel experiences
Every individual has a unique preference when it comes to travel. With advanced technologies like AI (artificial intelligence), now it is possible to understand those preferences and create customized itineraries for each traveller.
Conversational Engagements & AI Can Help Travel Companies
Conversational engagements include taking the help of conversational AI-powered tools. These  combine natural language processing (NLP) with traditional software like chatbots, voice assistants, or an interactive voice recognition system to help customers through either a spoken or typed interface.
Chatbots help understand the travellers' preferences by prospecting the user. Travel companies need to leverage conversational AI to have contextual conversations with the traveller while prospecting. Some other nudges include:
Creating tailored itineraries for each traveller after understanding their preference. Use machine learning to predict their dream experiences, and craft the itinerary accordingly.
Nudge offers, travel recommendations to the customer on their preferred messaging channels such as WhatsApp, Telegram, or Instagram.
Create a strong connection with the customers through conversations, so that they will stay with you, and come for repeat travel.
Most travellers who face issues during travel (e.g. hotel denying check-in, changes in itinerary, visa expired, ticket invalid, flight cancelled), require ad-hoc assistance during the travel. Giving them real-time customer support on the go saves them from a really bad experience at an unfamiliar place.
The Gupshup Solution
Make travel and the hospitality experience conversational with AI. Travel companies can improve booking, travel and guest experience with chatbots and communicate on messaging channels that travellers are already on. Conversational solutions for travel and hospitality help increase bookings with personalized deals and offers, help make check-ins for travel and stay contactless and also help in handling reschedules efficiently, providing 24×7 traveller support.
Build conversational AI-powered travel chatbots with Gupshup. Our pre-trained travel-specific AI models automate pre-booking, booking, customer support, payment, and consultative selling workflows. Our NLP-on-the-Fly API helps process natural language queries with no additional  training requirement.
Plus with our omnichannel messaging experience, gain a competitive edge over other travel agencies in terms of technology and customer experience. Control overheads by reducing staff involvement and deploying an AI layer for intelligent conversations. This is just the tip of the iceberg of benefits! #LetsGupshup to get started now.
Blogs you will want to share. Delivered to your inbox.
Business Email
×
Read: 5 Ways OTT Players Can Use Chatbots For Customer Engagement