5 Ways OTT Players Can Use Chatbots For Customer Engagement
On July 1, 2022
|
6 Minutes Read
Chatbots
Conversational AI
Conversational Commerce
Conversational Marketing
Conversational Support
Media & Entertainment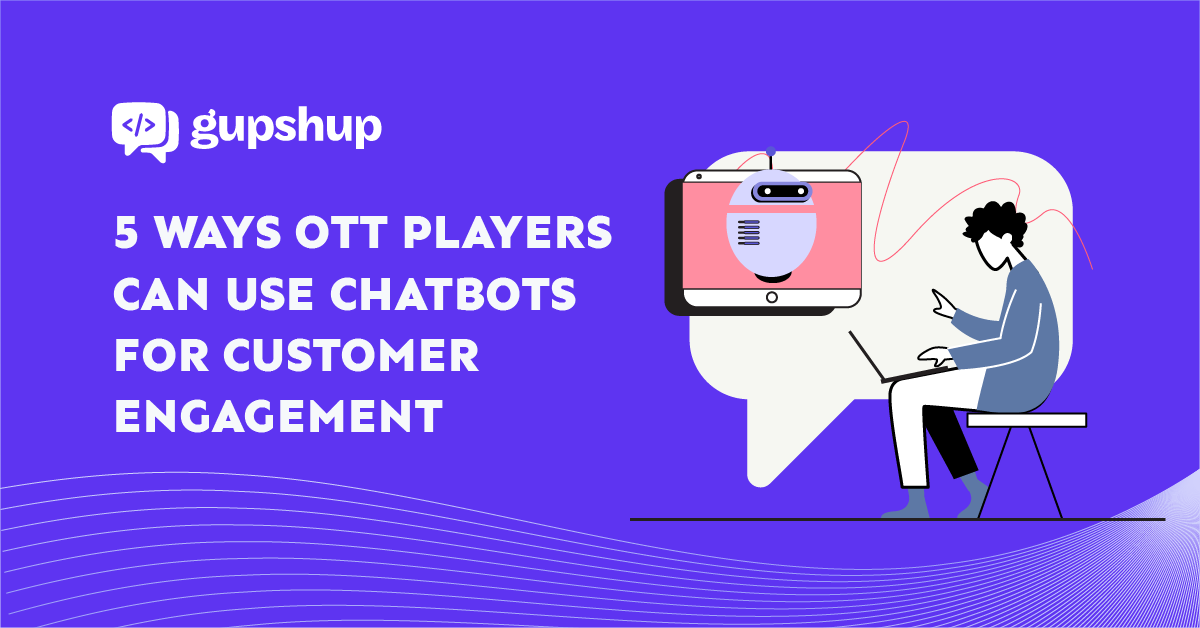 Over the past few years, the OTT (Over-The-Top) industry has undergone quite a revolution. Research suggests that the global OTT market will grow to $157.9 billion by 2024, at a CAGR of 14% during the forecast period. It is safe to say that the OTT popularity is here to stay! Also, the competition between different OTT platforms will increase, and here is exactly where the significance of AI comes into play.  While offering entertaining content is the core of OTT services, artificial intelligence technologies are indispensable for acing customer engagement.
In this article, we shall discuss how conversational AI, in the form of chatbots and voice bots, can make OTT platforms smarter and optimize customer satisfaction.
The era of conversational AI is here
New-age customers are always searching for quick and relevant information from brands. For this reason, companies have started utilizing conversational AI to manage customer communications.
Let's look at some statistics:
The global conversational AI market is predicted to grow to $18.4 billion by 2026 at a CAGR of 21.8%.
40% of millennials claimed that they engage with bots daily.
77% of customers say that chatbots will transform their brand expectations in the next five years.
AI will take over 95% of customer interactions by 2025.
57% of organizations say that conversational chatbots can generate a large ROI for minimal efforts.
Businesses can have up to 30% cost savings by leveraging chatbots.
Thanks to chatbots, businesses and consumers will save 5 billion hours on interactions by 2023.
If we talk about media & entertainment, the global AI influence is expected to reach $8.4 billion by 2023 at a CAGR of 30%. The role of conversational chatbots for OTT channels is remarkably significant and can help the platforms live up to changing customer expectations.
Let's move on to the next section to dig deeper into the benefits of OTT chatbots.
Five ways to use AI chatbots for OTT platforms
There's no denying that modern customers are fond of the 'chat-first' practice these days and prefer connecting with brands on messaging platforms that they are already present on. The advantage of building OTT chatbots on popular messaging channels like WhatsApp, Viber, SMS, or others can help you enhance one-on-one engagement with your customers via conversational interactions. Here's a list of five different ways in which OTT chatbots can step up your platform's popularity among audiences:
1. Enhance customer support
Quality customer support is essential for any business to succeed, and the OTT space is no exception.
Imagine a situation where a customer named Mary follows content on two different OTT platforms – say X and Y, and has subscribed to both of them. But for some reason, she is facing trouble renewing her subscription on platform X. She tried reaching out for support but did not get any quick acknowledgment and help from the X OTT brand. Disappointed with the poor response, Mary unsubscribes from platform X and continues with platform Y.
This example clearly shows how poor customer support can lead to higher chances of subscription churn. Customers look for quick resolutions to their issues these days. Consider leveraging conversational chatbots to connect with customers exactly when they need you. With OTT chatbots, you can become the OTT brand that offers solutions on the go by responding to customers in real-time.
OTT chatbots can be used to automatically answer FAQs concerning subscription charges, content options, and much more. It also automates the entire customer information gathering process and helps address customer issues without human intervention, thereby saving your resources and leveling up overall customer experiences. You can even run surveys and record subscriber feedback via conversational AI technologies.
2. Facilitate faster content discovery
Conversational AI analytics has the potential to delve into customers' behavioral patterns on your platform easily. This way, it becomes easier to learn about their preferences and help them discover relevant content that matches their taste. With popular OTT messaging apps like WhatsApp, you can improve your viewership by sending out personalized content alerts directly to your subscribers.
3. Deliver hyper-personalization
With a deeper understanding of customer choices, OTT brands can offer quality services to their audiences. 66% of consumers expect brands to understand their individual needs and expectations. Personalization can be defined as one of the key drivers of brand success. Conversational AI deliver at scale. garners more clicks and views for your platform by offering context-driven content to existing and potential customers based on their preferences. With a leading third-party chatbot integration partner offering pre-trained media-specific AI models and supporting NLP on the fly, OTT brands can boost customer satisfaction via a more humanized approach.
4. Reach a wider audience base
Imagine that a prospective customer is interested in your services but is uncomfortable with the language you offer for customer support. The language barrier may ultimately lead the customer to lose interest in your platform. This is where AI-enabled intelligent chatbots can be of great help.
Thanks to multilingual chatbots, OTT brands can expand their business reach across various regions. A multilingual chatbot is a conversational AI bot that can converse with customers in their native language. Chatbot localization can help audiences feel more valued and connected with your platform. This, in turn,  helps you tap into broader markets.
5. Conduct intelligent promotions
By enabling chatbots on leading OTT messaging channels, you can quickly initiate conversations with your potential audiences and encourage them to register on your platform. Leverage conversational bots to create excitement around upcoming content, nudge teasers and trailers, and much more. For instance, as part of an outdoor advertising campaign, OTT platforms can deploy a chatbot that reflects the personality of a popular character from a particular show. It can be a fun way to engage with your customers and drive better conversions.
Chatbots and chill with Gupshup
Leveraging conversational AI for OTT platforms is essential to beat the edge-cutting marketing competition. Gupshup can help you move up the customer engagement ladder by enabling conversational experiences. With our AI-driven chatbots, you can enhance viewership via personalized content alerts and drive 2-way engagements over popular messaging channels like WhatsApp, Telegram, SMS, and others.
#LetsGupshup and take a step towards transforming your OTT brand with conversational solutions.
Blogs you will want to share. Delivered to your inbox.
Business Email
×
Read: How Conversational AI Enhances Edtech Customer Journey