Revolutionize your lead generation with Google Business Messages
On March 30, 2023
|
8 Minutes Read
Conversational Engagement
Conversational Marketing
Generic
Google Business Messaging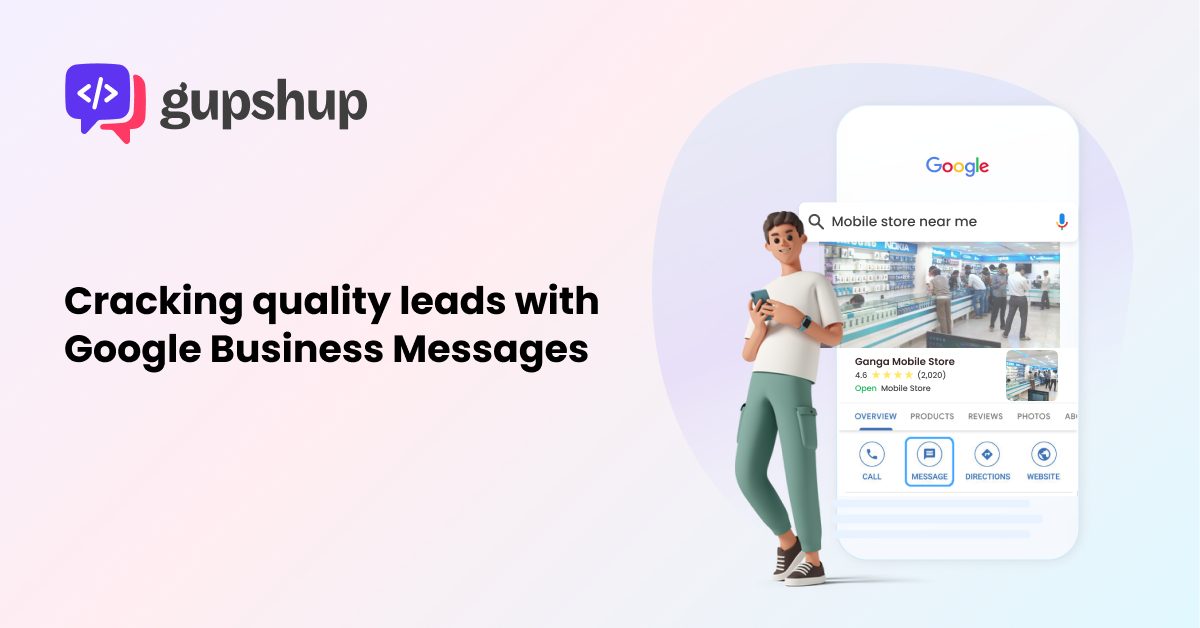 In a fast moving digital world, people are increasingly turning to online for everything–whether it's a buying decision, to know something or to go somewhere. But consumer intents don't exist in isolation, deep down they are meant to achieve a goal, possibly by connecting with a brand or a person. Looked at from a brand perspective, every such intent is an opportunity for a brand to create a delightful digital customer experience which leads to engagement and thus conversion.
Given that a large part of user intent today is captured via Google Search, it's imperative for brands to engage users on the platform right at the time the intent is effected. And there's no better way to do it than Google Business Messages (GBM), messaging being a powerful tool for engagement. While GBM is used for a wide variety of use cases, it works particularly well for lead generation.
Imagine a user searching for a certain smartphone brand's customer care on Google search. Say the brand is Xiaomi. Now, if Xiaomi has already configured a GBM chat, a chat button would appear near the featured snippets for the search. Instead of calling up on the customer care number, the user can click on the chat and start directly chatting with Xiaomi's customer care. The bot then collects the user's name, email, phone number to help him/her with the query.
One of the reasons why GBM works well for generating leads compared to other marketing channels is because GBM allows for real-time two way communication between brands and potential customers. It gets interested customers right at the time they are searching for it. This helps in building trust and establishing a deeper connect which is then more effective at converting these leads into customers. 
While other channels connect you with the database of existing customers, GBM, being available for Google Search and Maps, helps connect with new prospects who are actively looking for the product or services you offer on search and maps. But before elaborating further on GBM as a tool for lead generation, it's important to understand what makes Google and thus GBM best suited to capture leads.
Why should you include GBM in your marketing mix
According to research, Google held an estimated 84.81% of the global search market as of December 2022. Given Google's strong hold on search, it makes sense to be present where a majority of your customers are turning up as a lot of these searches could be very valuable from a lead generation perspective.
Secondly, the sheer convenience of allowing customers to communicate with businesses from within Google, rather than navigate through a separate website or app makes GBM a great tool for brands. Its automated response feature allows brands to quickly and easily respond to common questions, reducing response time and increasing the efficiency of customer support. Moreover, it can be integrated with other CRM and e-commerce systems to provide a more streamlined and efficient lead generation process.
GBM's popularity as a channel for lead generation is also partly to do with the increased acceptance of messaging among customers when it comes to approaching brands. Today's customers, particularly the Gen-Z and millennials do not want to spend hours waiting for email and customer care responses, rather they want it to be as easy as chatting with a friend.
The growing preference for messaging is also reflected in data. According to a recent Juniper Research study the global OTT business messaging traffic will rise from 93 billion in 2023 to 254 billion by 2027, registering a growth of 172%. Platforms such as Google's Business Messaging come under OTT messaging services.
GBM is the perfect tool for brands to leverage this growth in messaging given its wide reach. The best part about using GBM for getting potential customers is that the service is embeddable across search and maps.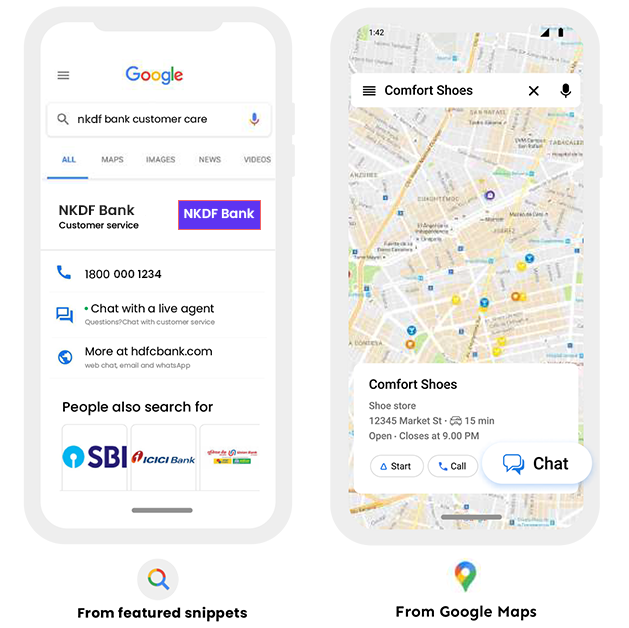 Besides, GBM's 30-day re-engagement window means that brands can go back to the chat initiated customers with deals, offers and latest updates to get them to finally bite the bullet. If and whenever needed, GBM also provides the option of transferring the conversation to a live agent, in case the customer query can't be handled by the chatbot.
By using live agent transfer, brands can offer quick and effective support to their customers leading to trust-building and increase the chances of generating leads and conversions.
Other than Google search,  brands can also take advantage of Google Maps. Especially for hyperlocal businesses, Google Maps offers a great potential to engage with interested customers and capture their details for further marketing.
Now that we have understood GBM's potential for lead gen, let's see how one can build an effective messaging strategy through the channel
Formulating an effective messaging strategy on GBM
Crafting convincing messaging and offers is crucial for generating leads through GBM. Here are some best practices to follow:
Be clear and concise: Keep your messaging simple, straightforward, and easy to understand. Focus on the benefits of your products or services and make sure your messaging accurately reflects what you are offering.
Personalize your messaging: Use the customer's name and tailor your messaging to their specific needs and interests. Personalization can go a long way in building trust and establishing personal connections with potential leads.
Use a call-to-action: Encourage potential leads to take action by using clear and direct calls-to-action in your messaging. Examples include "Get started today!" or "Learn more.
Make it visually appealing: Use images, videos, and links to make your messaging more visually appealing and engaging. This can help to increase engagement and encourage potential leads to take action.
Offer incentives: Offer potential leads something of value, such as a discount or exclusive offer, to encourage them to take action.
Keeping all these aspects in mind, once a messaging campaign on GBM is created and rolled out, the next step is to track the success of your messaging and make adjustments as needed to continuously improve your lead generation efforts.
Some real world examples and use cases
While GBM can be used to engage customers at various steps in the purchase journey, it has witnessed a lot of demand from brands for lead generation. Especially in certain sectors which see high volume of generic searches, GBM could come as a blessing for brands.  Here are some of the sectors where we have seen high traction among brands for GBM:
Automotive brands and dealerships

– Google gets a large number of searches from people who are either looking to buy or sell a car, explore vehicle models, find out the nearest showroom or book a test drive. Brands can embed chat buttons in their showroom or service centre map locations, giving a quick and easy option for customers to reach out to them, rather than calling a car showroom.

2. Financial services

– People are always looking for best interest rates, options to make investments,  financial planning services or simply inquiring about charges and fees. For banks and financial services, it could be a good opportunity to respond to these queries and ones who are interested can be moved down the funnel.

Real estate agents/ Property listing sites– House hunting for most people begins on Google. By putting in a chat option, real estate agents can connect one on one with customers on their requirement, booking house visits or searching for an agent.

Retail– GBM can be used by retailers to communicate with their customers in real-time and provide better customer service. This can include answering customer inquiries, providing product recommendations, offering personalized promotions, and facilitating online orders. By offering a quick and convenient messaging option, retailers can enhance the customer experience and improve their overall satisfaction, which can lead to increased customer loyalty and higher sales.

Travel & Hospitality– ​​Brands can capture leads either on search or maps when potential customers are actively searching for travel or hospitality services. By providing personalized responses to customer inquiries, brands can build rapport and establish trust, which can ultimately lead to more bookings and reservations.
In conclusion, GBM is a valuable messaging channel for brands looking to generate quality leads and improve customer service. What's more- brands can use the data collected through these messages to segment their audience and personalize their marketing efforts. At Gupshup, we can get GBM working for you in just a few days helping you connect with people who are already searching for you.
Blogs you will want to share. Delivered to your inbox.
Business Email
×
Read: Mastering the game: Score big this IPL season with Conversational Gamification