Mastering the game: Score big this IPL season with Conversational Gamification
On April 10, 2023
|
6 Minutes Read
Conversational Engagement
Conversational Marketing
Generic
WhatsApp Business API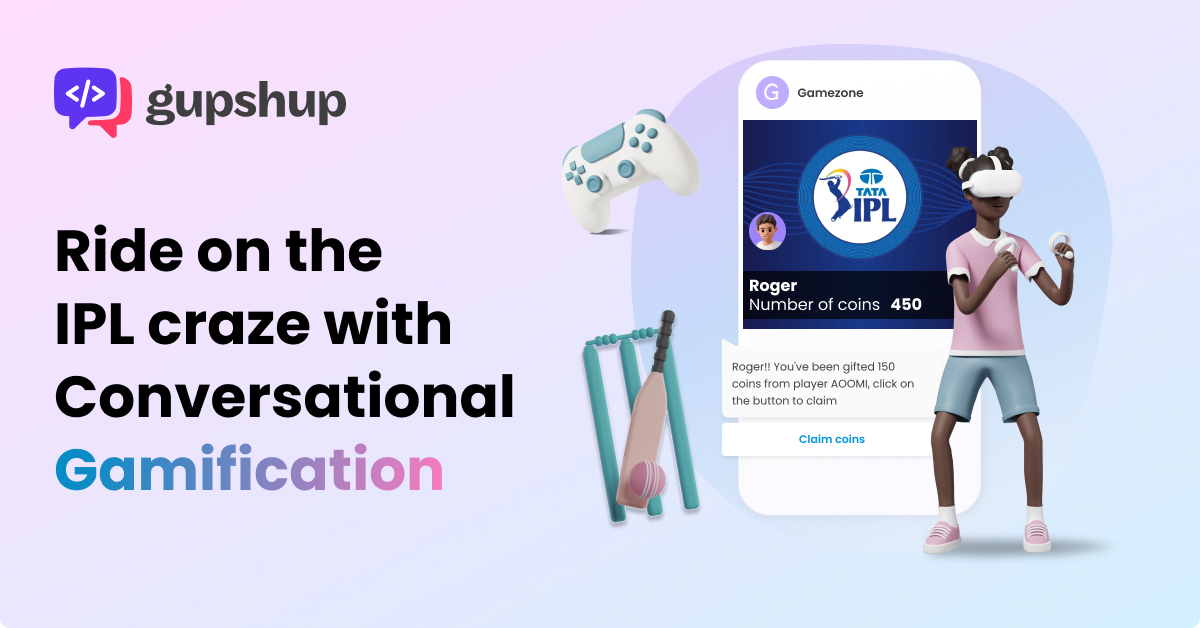 There are few things in India that get the fandom and attention that the Indian Premier League (IPL) does. In its 16th season now, the annual tournament sees fans across the country go from passionate to hysterical during the almost two month long cricket festival. From excitement, viewership to budgets, everything reaches a crescendo during this sporting event. Thus, it's only natural for brands to jump on this opportunity to be seen and heard among millions of cricket followers.
With a viewership of 300 million, it's too appetizing for brands to miss being part of this high octane event. In the current season, the viewership is expected to touch 500 million leading to brands benefitting from consumption and spending by the huge audience base. This spending happens in various forms–it could be high impulse purchases such as smartphones, wearables, apparels, spending on merchandise or a high spending on food and drinks as people are glued to the match. There could be other spends as well- on wellness, travel, home improvement etc; the crux being a high intent to spend during the IPL.
Brands therefore must use innovative ways to reach out to this audience, keeping them engaged and inspired during the IPL season. And, a highly engaged audience typically leads to better conversions, maximizing profits for brands. So far, marketers have mostly looked at TV and digital to drive these objectives. But it's time to go deeper within digital and look for out-of-the-box solutions that drive a high RoAS (Return on Ad spend). One such avenue is Conversational Marketing, in the form of gamification, also known as Conversational Gamification.
Conversational Gamification and IPL- A match made in heaven
Conversational Gamification is a way of marketing that uses game-like elements through conversational interfaces such as chatbots and messaging apps to engage and attract users. Particularly during IPL when people's gaming spirits are at an all time high, it's a great idea to indulge them in game-like experiences to get them hooked. And when these games are on their preferred messaging channels such as WhatsApp, it undoubtedly leads to higher user engagement.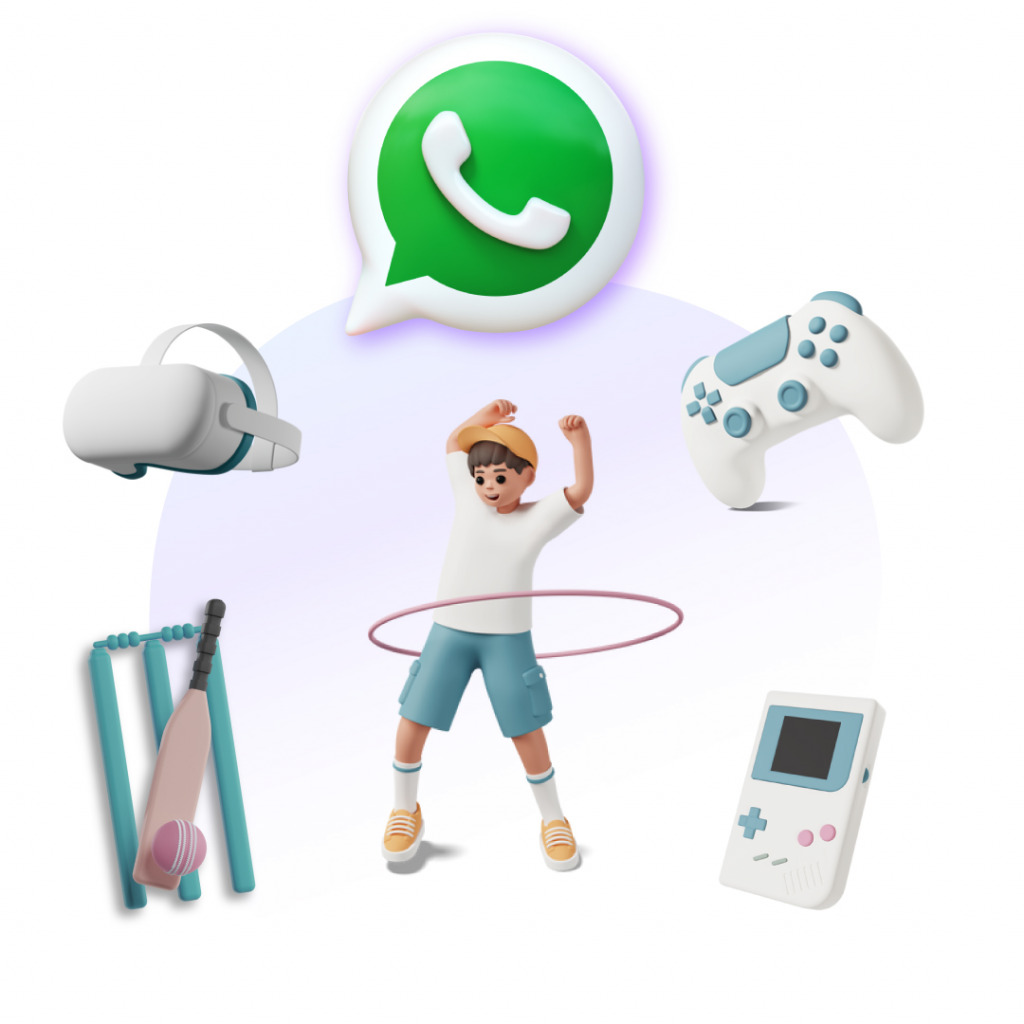 Gamification combined with WhatsApp is an extremely powerful tool that can work wonders for your brand during this IPL. Take the example of an edtech brand. The brand can take a traditional route- get celebrity endorsers, pay a hefty fee for IPL ad spots and get  a handful of interested users. Or it can share gamified quizzes on WhatsApp and offer a discount to users who complete it. This leads to higher engagement and more signups, thus bringing more value for each penny spent.
The reason it clicks is because gamification appeals to deeper human psychology. Scoring points, reaching the next level or winning something–these aren't mere actions. Games reinforce people's innate need for status, accomplishment and fulfilment, making them more likely to develop a lasting relationship with a specific brand.
And in case you're wondering why WhatsApp works best– It's the sheer number of users and the stickiness that the channel has. With 390 million monthly active users in India and 19.4 hours spent each day on WhatsApp, there is no other channel that comes close. Not only that, it has a 98% open rate and 45-60% Click through rate which is higher than email and SMS. There's also the component of personalisation which makes messages tailored to the user,and therefore more relevant.
Transforming IPL into an engaging and interactive fan experience
Now, let's see how you can leverage Conversational Gamification to create user delight and higher engagement, consideration and retention for your brand during the IPL
Match Day rewards-

  Match days can be a great CTA-Catalyst to action, inducing users to complete a desired action. For example- if you're an e-tailer, you can offer personalized exclusive discounts, deals and extra loyalty points to shop on those days. Brands in the BFSI sector can offer extra reward points for transactions done on match days.




IPL Themed Merchandise

– Brands can promote and sell IPL themed merchandise

and product bundles and offer free tickets to the finale for the highest spenders. It can also be used to reward a desired action, say sharing feedback on their recent purchase or completing a survey.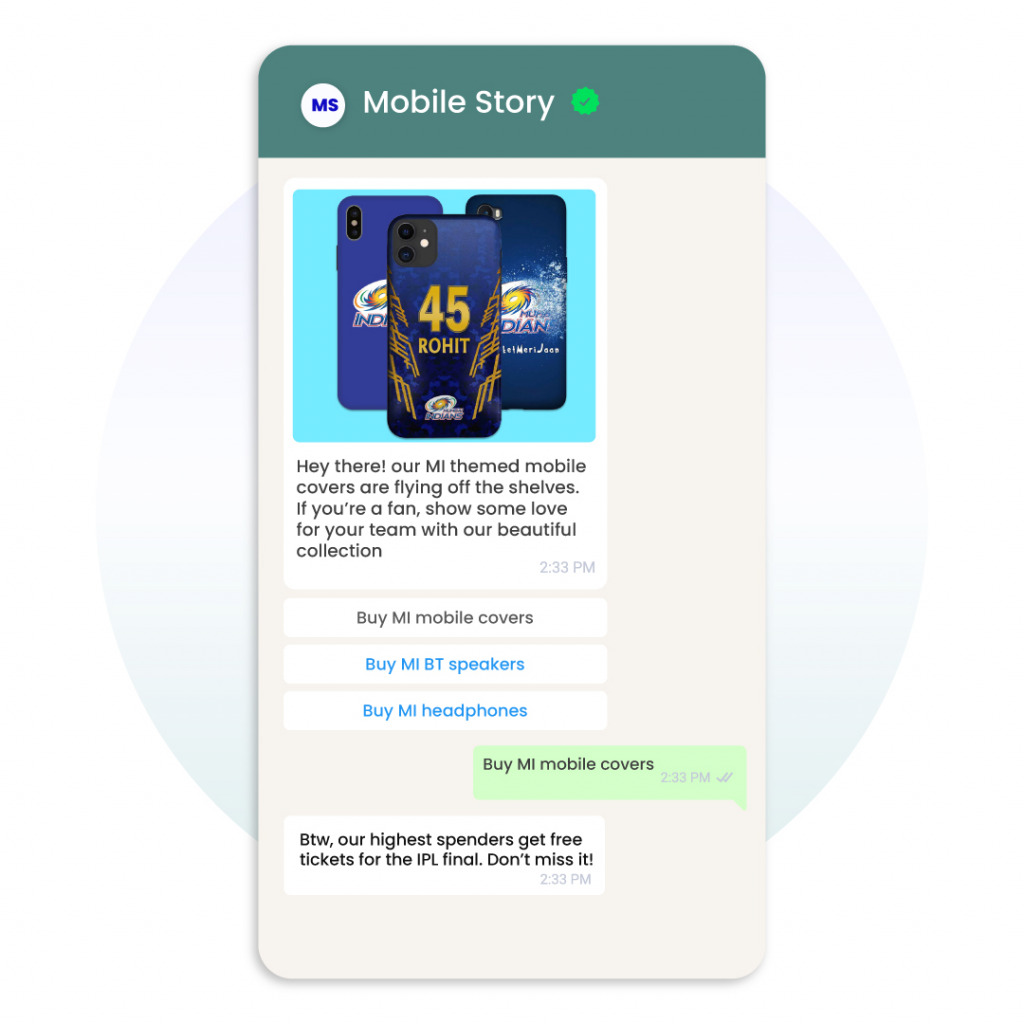 Quizzes, Predictions and Polls

–  Trivia quizzes about IPL cricketers and past matches are a great way to engage cricket fans. Once engaged, these users can be offered exclusive deals to complete a transaction. Brands can include Predict the match winner, toss winner, highest run scorer and more in their conversational strategy – with surprise discounts for right guesses. All of these can be done via polls too.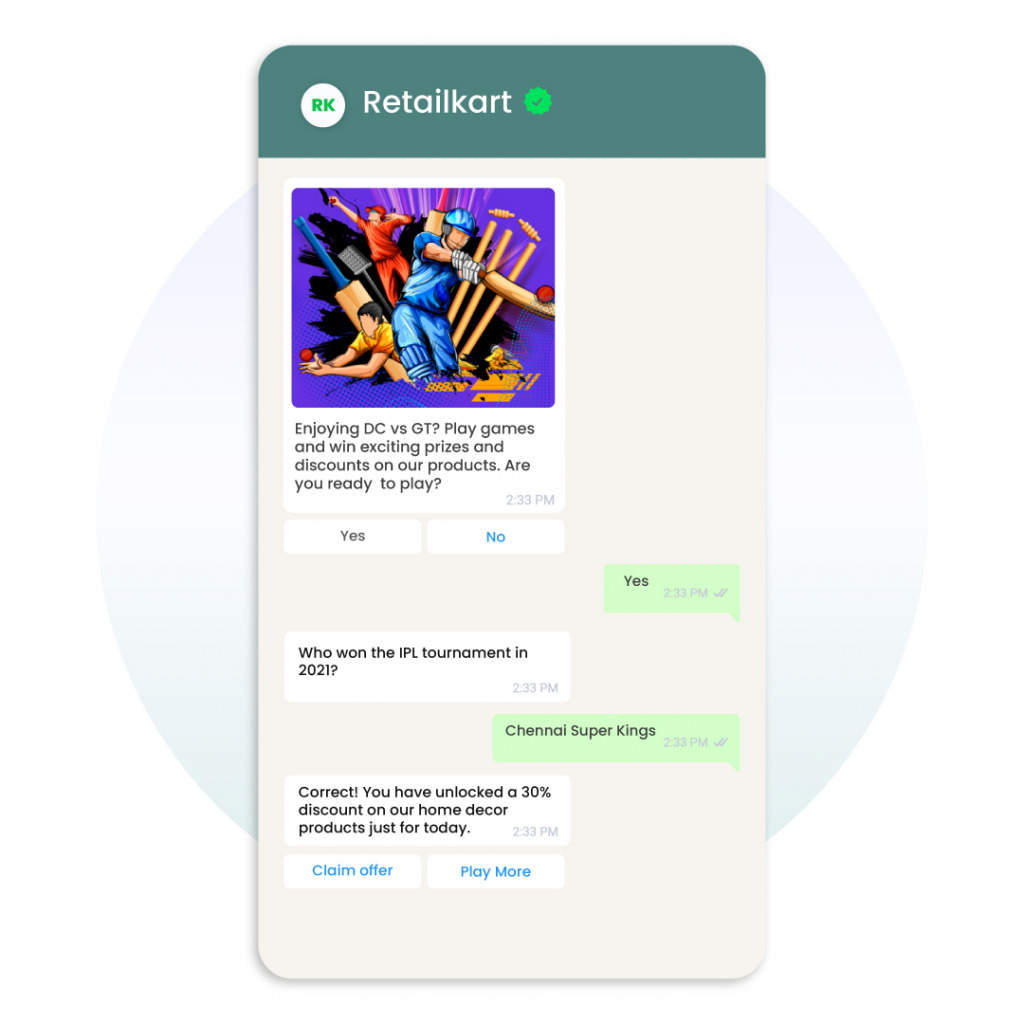 Stickers and GIFs-

  Brands can make shopping fun by unlocking celebrity stickers and trophies for purchases made during the IPL season. The stickers can also be used as a reward for playing a game, participating in a quiz, or making bill payments.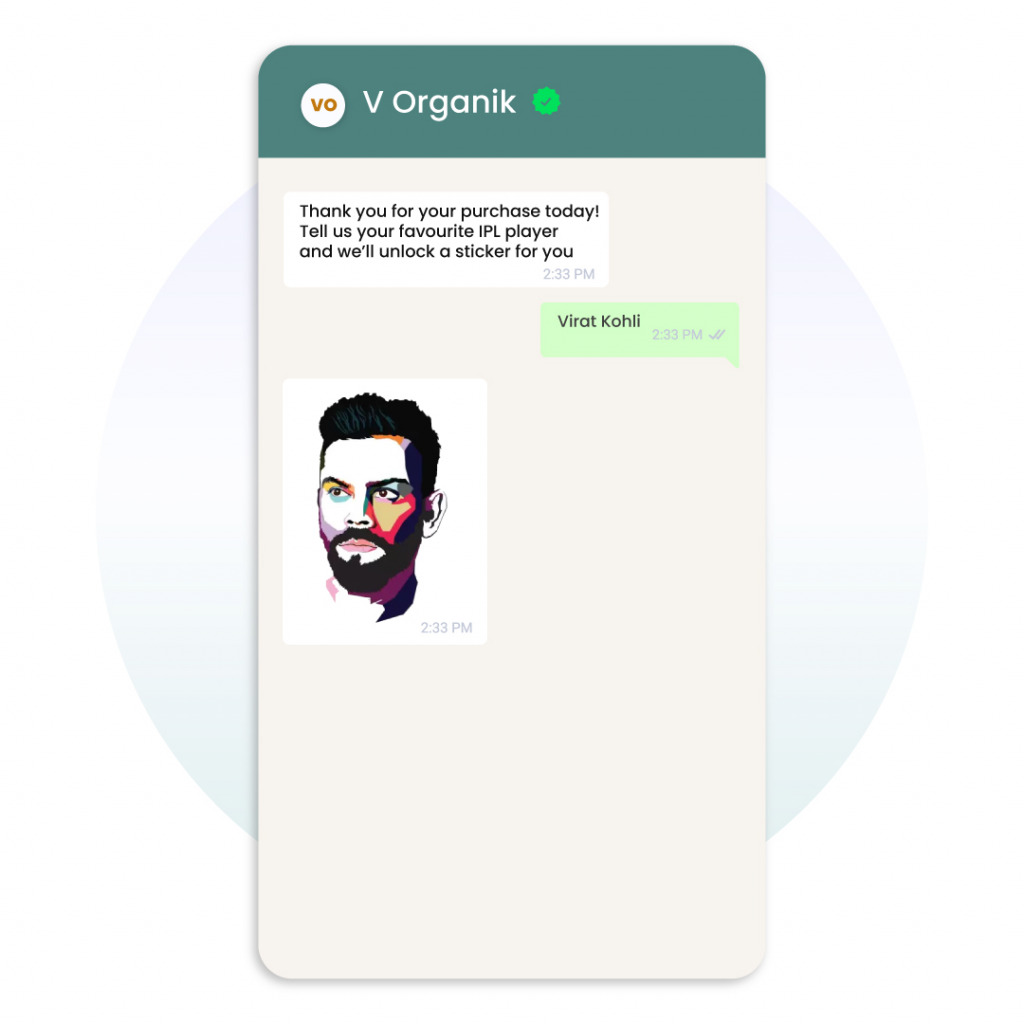 Curated Menus and Food Trivia

– Food aggregators and restaurant brands witness huge demand during the IPL. Restaurants can send match specific/team specific discounts, design match day menus and can create excitement by enabling fans to explore the favorite comfort food of their beloved players. Food ordering apps can also use timeout sessions to send food ordering reminders.
Conversational Gamification IRL
Gupshup worked with a leading radio station to come up with a Cricket Jockey contest to connect with their listening audience. 
A fintech company engaged opted-in users with a timeless cricket quiz. Customers could play the quiz by selecting from multiple choice answers. The CTA led them to the app to check and redeem rewards.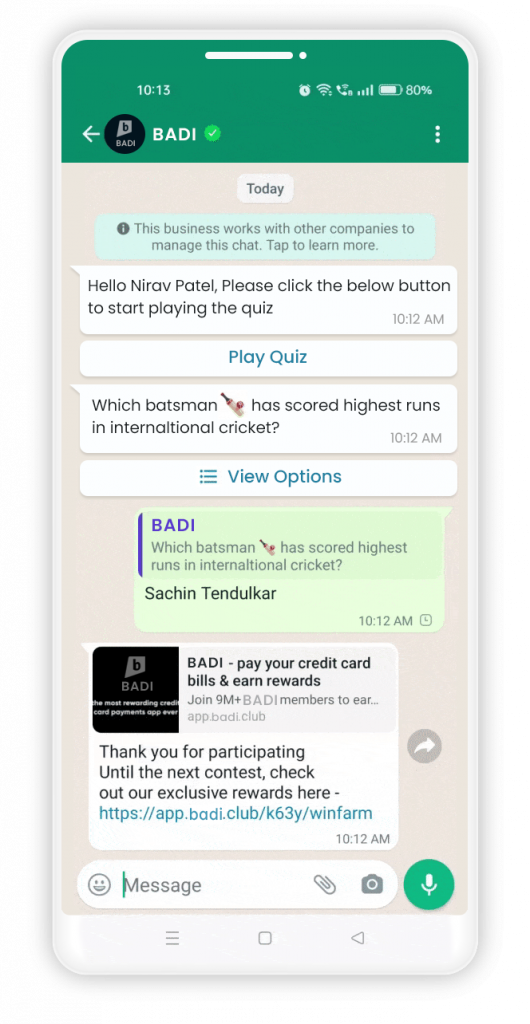 Another real world example-  a leading global sports body launched a WhatsApp bot where fans could choose between categories like stats, quizzes, fantasy teams and get the tournament schedule. Fans could also browse and shop for limited edition merchandise of their favorite teams and players.
Effective for brands, powerful for IPL teams
Besides brands, IPL teams can gain tremendous benefits with conversational gamification. IPL teams can excite their fans with exclusive content, get them to play games, quizzes, interact with players, engage with fellow fans, earn loyalty points and encourage them to shop for merchandise.
In fact last year, Gupshup helped Rajasthan Royals leverage Conversational Gamification to build a significant traction both in terms of engagement and sales. Its fans participated in contests, bought merchandise and made payments- all through WhatsApp. 
In just one season, the team saw half of its total orders coming from WhatsApp. Within just two and a half months of it adopting the messaging app for fan engagement, Rajasthan Royals saw over four times the sales than the entire previous year.
With Gupshup's Conversational Gamification solutions, you can use WhatsApp to target fans in real-time and drive engagement. Don't miss out on this opportunity to connect with your customers and create memorable experiences! Reach us to learn how you can get started with conversational gamification on WhatsApp and engage your customers this IPL 2023!
Blogs you will want to share. Delivered to your inbox.
Business Email
×
Read: Streamline Login Experience with 1-Click Auth on WhatsApp