The new disruptor – Conversational Marketing and its practices
On October 24, 2017
|
4 Minutes Read
Conversational Marketing
Generic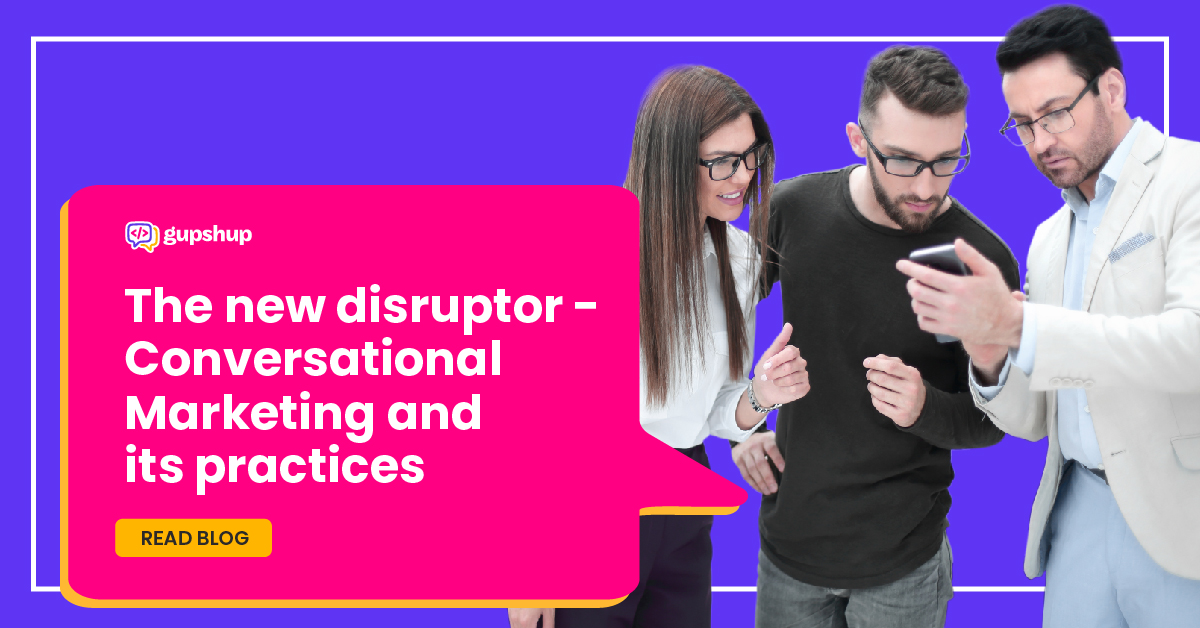 Would you like to understand what customers really want and how to give it to them? Then start conversations! Conversational Marketing is the latest buzzword in marketing.
Conversational marketing is a unique and emerging marketing methodology through which brands use one-to-one conversations that are personalized in order to learn and remember customer interests through automated technology.
In short, conversational marketing is a distinctive interaction of 'You tell me and I'll listen' instead of I'll tell you and you listen'.
Why do businesses today need to consider conversational marketing?
Customers are comfortable using conversations to express themselves
An open conversation is important to understand customer needs and preferences
The conversational mode is better because the right questions can be asked based on previous interactions with different customers
Such conversations aid in providing personalized services and recommendations to the customer
Feedback and suggestions can be received directly from the customer
There is an opportunity to innovate and grow your business
Helps your business stay ahead of competition
This quote by Maya Angelou can be related to conversational marketing.
"I've learned that people will forget what you said, people will forget what you did, but people will never forget how you made them feel".
Conversational experiences make customers feel as if they are being heard and if your business ensures this, it will be an unforgettable experience for your customer.
Gupshup's Smart Messaging is conversational!
Gupshup's Smart messaging platform is powered by Artificial Intelligence and uses Natural Language Processing. This means our platform is intelligently designed to understand conversations and gives the right response. Brands can also create automated, contextual and personalized conversations with customers.
Smart messaging is multi-channel; a single API works across all channels. You can also use rich media like pictures, video, audios, GIFs, emojis etc. to create engaging conversations with your customers.
Let's understand some practical examples using Gupshup's Smart messaging platform:
Natural Language Processing: In a conversation with your brand, your customer could say "Recharge my mom's phone". Our Smart messaging platform will remember the last or frequent recharge done for the customer and the customer's mother. What's more is that, if the customer uses words like 'top up' or 'add' money in mom's phone which are different variations to 'recharge', the system can still decipher the meaning and do the needful.
Contextual: Your customer could chat with you saying, "I'd like to order a pizza, give me the usual." Since the system has had a conversation with the customer in the past on ordering pizzas, it is able to remember the customer's 'usual' order without the need to ask her again.
Personalised communication: Continuing with this pizza example, the system will suggest her for a coke along with the pizza as in her previous orders she always ate pizza with coke. This adds the personalized touch and replaces humans in conversations with customers.
Automated: If your customer wants to understand loan eligibility and limit, he would need to wait for a response after visiting the bank, enquiring on call, or filling a form. But using smart messaging, just by answering a few relevant questions he can understand his loan eligibility and instantly apply for a loan. All responses given by the system to the customer are instant and direct.
Conversational marketing is all about encouraging users to engage with your brand. Gupshup's smart messaging platform offers a conversational experience that leads to quicker conversions. Conversations drive targeted messages that result in higher responses and better ROI. Marketing is continuously evolving, is your business keeping up with the trending conversational marketing?
Blogs you will want to share. Delivered to your inbox.
Business Email
×
Read: Conversational Marketing : Bots are the new Marketers