The Rise and Rise of Conversational Everything
On April 26, 2023
|
1 Minute Read
Chatbots
Conversational AI
Conversational Commerce
Conversational Engagement
Conversational Marketing
Conversational Support
CX
Generic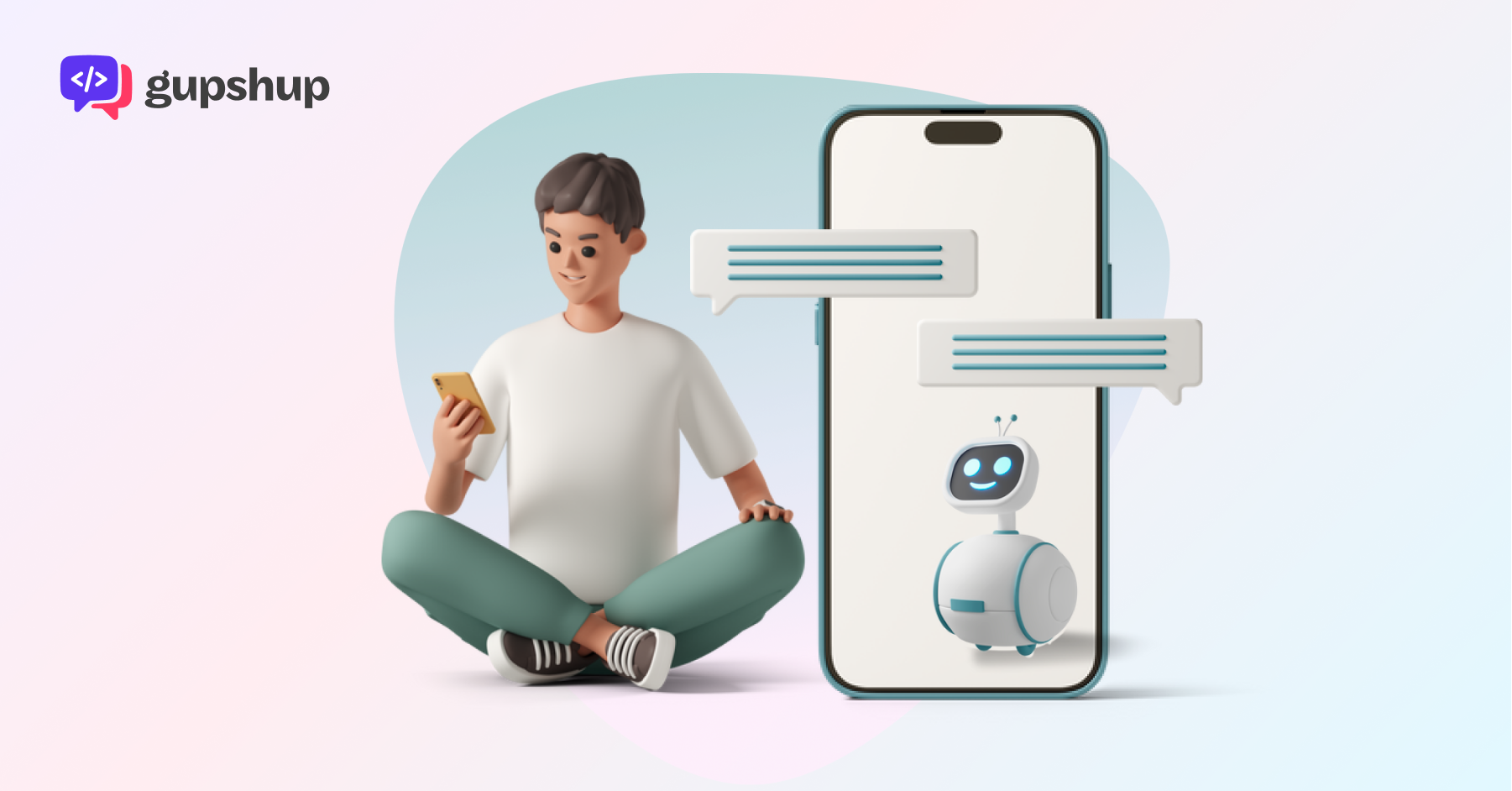 How Two-Way Messaging is Transforming Customer Engagement Across Marketing, Commerce, and Support?
TL;DR: Conversational everything targets the entire customer lifecycle, unifies the entire customer experience (CX) from their first interaction to marketing engagement, product discovery and commerce, through to post-purchase support and loyalty. Instead of a linear journey, it's a flywheel that results in a genuine connection and higher lifetime value.
gtg, fwiw, jk, bff, bae, ctc, dos – chances are you're familiar with at least some of these seemingly incoherent acronyms, thanks to messaging. I'll admit that I had to look up some of them (Just found out that DOS stands for Dad over shoulder).
Chatting is now second nature to us, a lot of us prefer it to other modes of communication – not just for personal and professional conversations, but also for interacting with a business.
It's quick, it's easy, it's personal and it allows for richer expressions with emojis, rich media, images and videos. Businesses realized the potential of messaging a while back – starting with SMS and are now adopting richer over-the-top (OTT) messaging channels that allow for more personalized experiences tailored to their customer's preferences and behaviors. OTT messaging includes instant messaging applications like WhatsApp, Facebook Messenger, Google Business Messages, Instagram, Telegram and LINE. Juniper Research predicts that global OTT business messaging traffic will rise from 93 billion in 2023, to 254 billion by 2027, a growth of 172 percent.
Seamless business to customer engagement is the holy grail, but it's hard to make it work. We've all experienced frustrating messages or emails that require us to toggle apps and screens, and we often drop off before completing what we started. The reason is friction – the experience doesn't flow, and results in a lost opportunity.
Enter Conversational Everything
Conversations are different from messaging. First, conversations are intuitive and two-way, meaning, businesses aren't limited to just sending a transactional alert, an order update or bill payment reminder. They can turn that message into an interaction and achieve the desired objective by executing end-to-end processes such as payment collections, subscription renewals, appointment booking, gamify engagement and even complete the KYC process (Watch how), all without leaving the chat window.
Second, conversations are actionable. Unlike an alert reminding users about phone bill payment, an actionable message lets the user view the bill and complete the payment (Watch how 1 click bill pay works) using their preferred mode – without having to visit the website or toggle apps.
Third, conversations can engage customers in natural language, replicating a human-like exchange. Beyond the known benefits of AI chatbots gauging a user's intent and responding appropriately, the right platform capabilities can orchestrate complex exchanges. If a valued customer raises a concern, and the AI engine senses they're irate, the chatbot can skillfully manage the situation. It can even consult the customer data platform (CDP) to identify just the right offer based on their past transactions and browsing history. 
And voice conversations take this to the next level. Whether it's just for fun, for shopping, or to seek support, we've all come across some stellar no-UI experiences. These are not only efficient and novel, but have the potential to tremendously improve access to different demographics. Imagine someone not comfortable with apps/ online shopping, describing what they need in their language (e.g. mujhe shayad covid hua hai, jaanch karwani hai ghar pe)
Conversational everything has come into its own with technological shifts towards AI chatbots, voice capabilities, speech recognition and rich messaging channels that can deliver a custom app-like experience. It's transforming the marketing, commerce, and support experience across industries. Let's take a look at some examples of how businesses are using conversational messaging:
Marketing: Businesses can move away from one-size-fits-all campaigns, and send targeted, relevant messages to customers based on their interests and behaviors. For example, a fashion retailer could send customers personalized recommendations based on their browsing history and purchase patterns. A bank could engage with customers on their preferred channels such as WhatsApp, Instagram, web, RCS, GBM and Line to offer targeted loan or insurance products with a link to a WhatsApp bot where the customer can get their queries answered, ask for alternative products and even complete the application.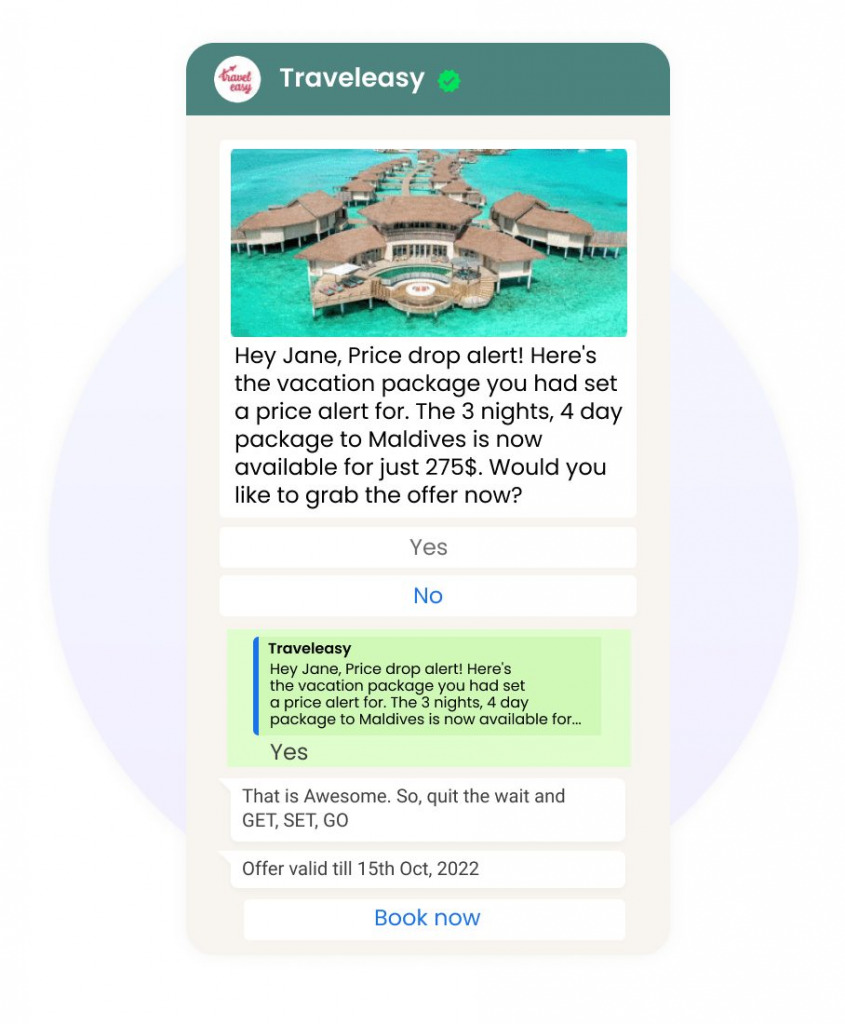 Commerce: Conversations can be used to run end-to-end processes such as order fulfillment, delivery scheduling, and payments. For example, a quick service restaurant could create their storefront on messaging, letting customers explore the menu, discover new items, place and track order, as well as make payments, all through a single messaging platform, such as WhatsApp. In the travel or airlines industry, a conversational experience can allow customers to book and manage their travel itineraries, share boarding passes and also provide them with real-time updates on their journey such as gate changes or flight delays. For high-involvement or high-value decisions, businesses can design journeys with expert agent guidance early on.
Support: Conversational messaging is a great way to send less-glamorous, but valuable proactive post-purchase updates, such as account activated, loan approved, order out for delivery – communications that can reduce contact center loads by addressing customer anxiety.
Businesses can also address post purchase concerns, reschedule appointments or identify when a customer is dissatisfied. For example, a telecom provider could use conversational messaging to troubleshoot customer issues and provide personalized solutions based on their individual needs. An eCommerce company could use conversational messaging to offer real-time support through ChatGPT or Conversational AI bots, or a live chat feature.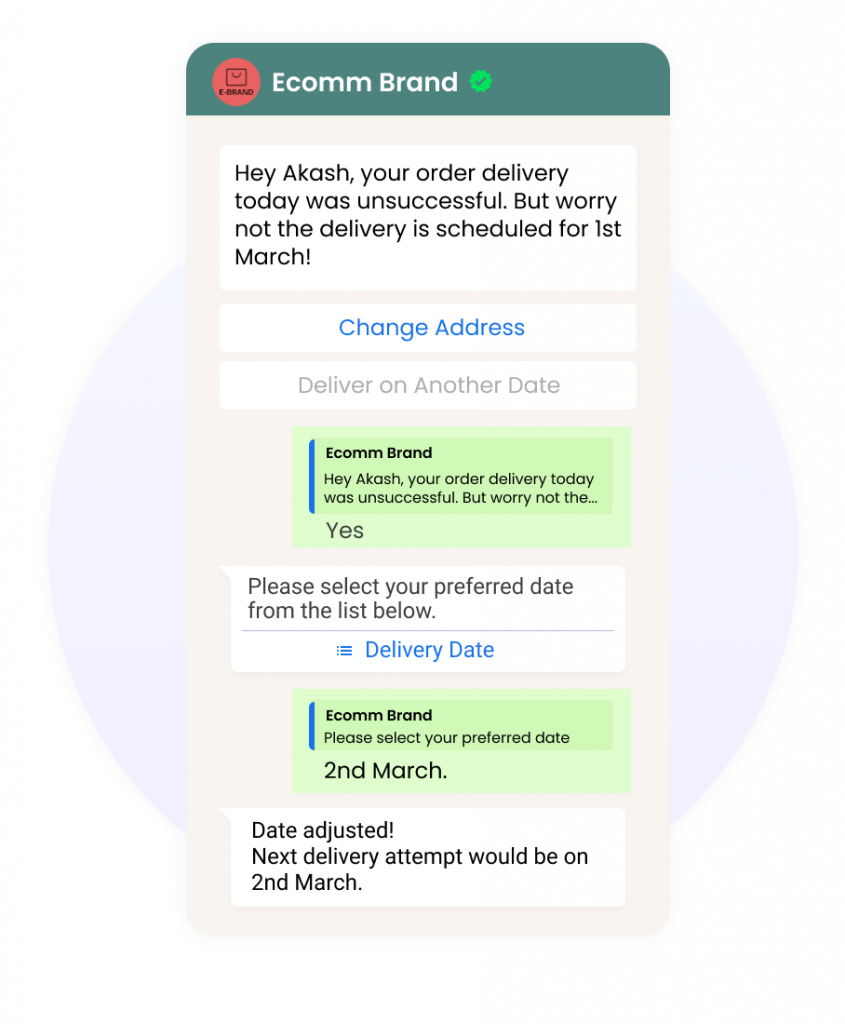 The crux of impactful conversations lies in a business' ability to analyze journeys at scale – where do customers fall off, which points will benefit from natural language assistance and critical points for live agent assistance.
Customers are showing a clear preference for conversations – let's look at some numbers:
What will you reimagine conversationally?  GTG now!
Gartner positioned Gupshup as Customer Experience as a Service (CXaaS) player
Blogs you will want to share. Delivered to your inbox.
Business Email
×
Read: Conversational Commerce is LIVE in Singapore!