The Ultimate Guide to Conversational Marketing
On June 14, 2021
|
4 Minutes Read
Conversational Marketing
Generic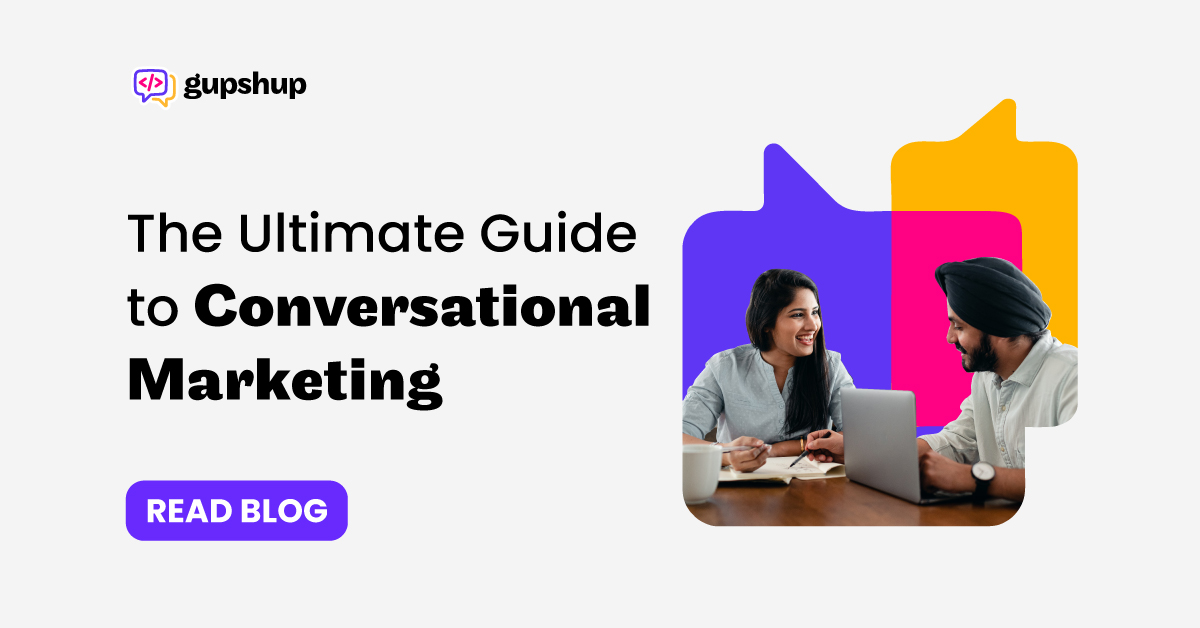 Have you ever wondered how to engage with your customers who visit your website? Do you wish to convert leads via dialogue-driven activities? Here is where conversational marketing comes to the forefront. But before we dig deeper, let us first understand what conversational marketing is?
What is Conversational Marketing?
Conversational marketing is a form of inbound marketing where the focus is on customer interactions. The primary aim of conversational marketing is to build customer trust through conversations and enrich your buying experience. HubSpot research reveals that 77% of customers recommend a brand to a friend after a single positive experience.
Gupshup, a leading platform, enables better customer engagement through conversational messaging. Powering over 6 billion messages per month, it is a preferred choice for emerging businesses to build conversational experiences across marketing, sales, and support.
Let us look at some conversational marketing examples.
Not every conversational marketing strategy is suitable for every industry. However, it has become a revolutionary move for traditional businesses to venture into the digital space. It offers them innovative ways to interact with their audiences.
From Hyundai's One-To-Many solutions to Vodafone Spain's conversational marketing solution, there are various examples. Others include Sun 50, Gupshup IP, and conversational marketing bot by Gupshup.
Conversational marketing has benefited the luxury travel industry. Bahia Principe, a leading luxury travel company, improved their online experience, changing the way its customers experience its products. By addressing customer doubts, they built a trust factor in their customers.
Is Conversational Marketing Easy?
Conversational marketing, when done the right way, can help achieve significant results. However, there are some pain points that you need to look at when choosing it:
Managing your lead engagement
Improving your net promoter score
Lowering your customer acquisition cost
Shortening your sales cycle
Productivity pain point like a manual process which takes hours to complete
Financial pain points like the conversational messaging platform you choose and the costs associated with it
Support pain point like the platform you choose is providing the required support to your customers
When choosing a conversational marketing platform for your business, ensure it well tackles all the pain points. To overcome these pain points, you must follow these tips:
Ask open-ended questions: When talking to a prospect, you must ask the right questions. Ask qualitative, open-ended questions which will ensure the resolving of your issues.
Use customer testimonials to share solutions: Using customer testimonials provides proof to potential prospects. Make your use cases as genuine as possible. For example, at Gupshup, you can create your customer support app.
Align sales and marketing data: Aligning your data will help all your teams be on the same page. Sending out surveys and conducting qualitative research will provide you with more data.
Benefits of Conversational Marketing
Conversational marketing has a lot of benefits. Let us have a look at them:
Helps you become a market leader in digital experience: It helps establish your brand as an innovator and raise the bar for customer experience. It helps improve your online buying experience and gather feedback.
Building effective relationships through personalization: It allows you to build stronger relationships with your customers through personalization. Gupshup provides bot development services that can lead to significant results for you. They know the dos and don'ts of developing a bot. Hence, the process is much faster and cheaper.
Improves customer satisfaction: Engaging with the customers better without having them go to the FAQs page or wait for callbacks.
Other benefits include:
Generating sales and leads through new channels
24/7 availability and automation
Saves time by shortening the sales cycle
Increased conversion rates
Maximizing call center and retail staff
The Bottom Line
Conversational marketing can turbocharge your strategies without modifying too much. It is a tremendous opportunity for remote teams to automate the services and make their business more efficient. Customers expect personalization services without having to ask for them. Conversational marketing strategy does just that.
Gupshup's products and services and its carrier-grade platform have changed the way businesses engage with their customers. Its rich conversational experience-building tool kit for any use case and a network of emerging market partnerships across emerging channels is the ideal choice. Contact us to give your customers the best experience.
Blogs you will want to share. Delivered to your inbox.
Business Email
×
Read: 5 Reasons to Integrate a Chatbot on Your Website