WhatsApp Business API – Phone Number Migration
On July 9, 2021
|
3 Minutes Read
Generic
WhatsApp Business API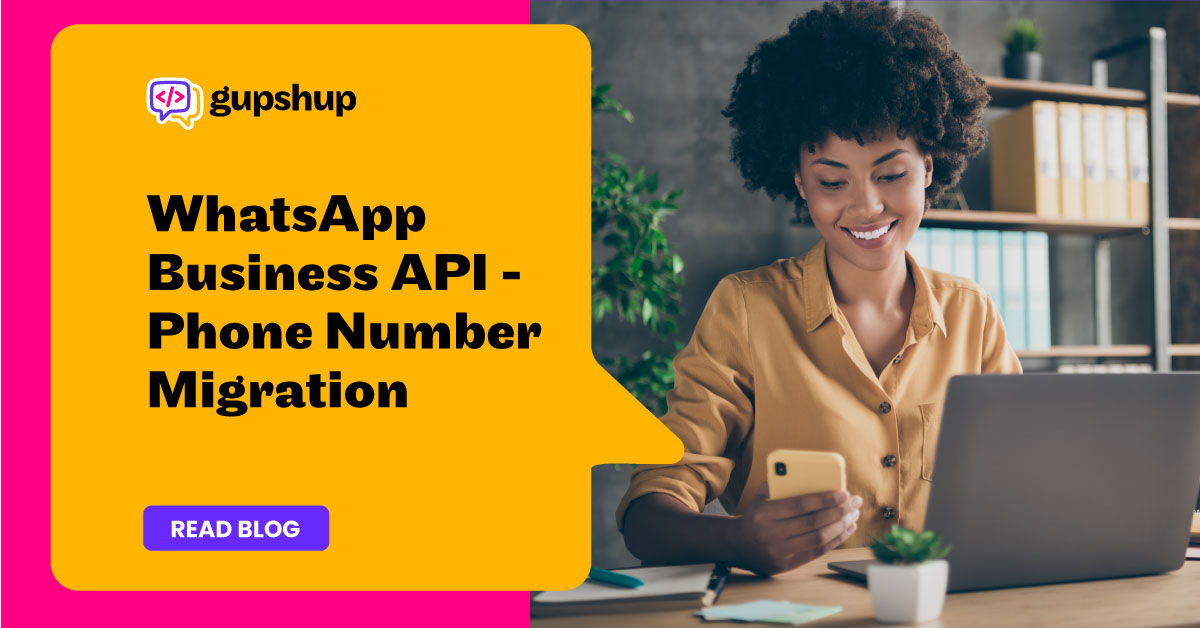 Businesses who have directly integrated with the WhatsApp Business API can now migrate their WhatsApp phone numbers from one Facebook Business Manager account to another. This allows flexibility to the businesses to offer the best experience to their customers.
Once the migration is complete, a phone number can still be attached to its display name, quality status, messaging limits, Official Business Account status, and any high quality message templates which have been previously approved. Phone number migration does not necessarily create any downtime in sending messages, and does not affect billing and invoicing.
The migration process is initiated by the Business Solution Providers and involves a source WABA (the account with whom the phone number is registered) and a destination WABA ( the account where the phone number will be migrated). Also, only Business Solution Providers and the businesses directly integrated with the WhatsApp Business API can perform the phone number migration. To know more about the WABA migration process in detail, read through this post.
To migrate your WABA to Gupshup, fill in the Early Request Form and we will let you know as soon as migration is available by WhatsApp.
Why migrate to Gupshup?
Gupshup offers the best-in-class WhatsApp business API onboarding program. There are some unique features which make us stand out from the crowd, such as:
No commitments and a pay-as-you-go model
Set up of an automatic prepaid wallet
No setup costs, no maintenance costs and no hidden costs whatsoever
You pay only the per-message cost
Simple automated wizard flow with no follow ups or requirement of manual intervention
Local language assistance is provided for all the geographies that we support, which includes all Latin American countries, India, Russia, Spain, Italy, Turkey and more.
I18N compliant with Cyrillic support
Simple steps to migrate to Gupshup
Once you or your clients are ready to migrate to Gupshup, you can follow a few steps to get on board:
Fill up the BSP Form with all the necessary details.
On receiving the details, the support team will initiate the migration process.
Simultaneously, you can visit our website gupshup.io and sign up to create a new account.
You can start testing Gupshup with the free credit we provide there.
How can you benefit by partnering with Gupshup
Not only do you partner with the best in the business but you get access to our partner tool once you apply for partnership. Some features include:
Automated onboarding
Early access to features
Automated management of contracts
Better API controls and tagging mechanism to manage your customer apps
Transparent process with super incentivized commission program
Superior insights and analytics on app usage and partner performance
A little bit about Gupshup's WhatsApp API Solutions
WhatsApp for Business is a key channel-based API solution in the Messaging Layer of the Gupshup Conversational Messaging Platform and an important part of the Gupshup Messaging API suite. Gupshup's WhatsApp API is the easiest and quickest way to introduce WhatsApp to your technology stack. The API is well-bundled with some advanced features for you to do a variety of things. Take up this opportunity to come and be a part of the Gupshup family.
Blogs you will want to share. Delivered to your inbox.
Business Email
×
Read: Contactless Menu for Restaurants