A comprehensive guide to WhatsApp Business API
Welcome to the comprehensive guide on WhatsApp Business API – the ultimate communication solution for medium- to large businesses seeking to enhance their customer communication and experience. In this guide, we will take you through the key features of WhatsApp Business API, and provide you with invaluable insights on how to maximize its potential for your business. So buckle up and get ready to revolutionize your customer communication strategy!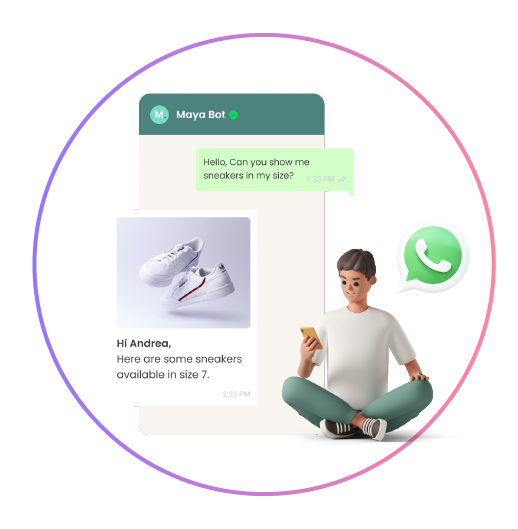 What Is WhatsApp Business API ?
Have you ever heard the term API but weren't quite sure what it meant? Don't worry, we've got you covered. 
An Application Programming Interface (API) is a software interface that enables different applications to exchange information with each other. APIs are commonly used in various online activities such as social media interactions, like sending a message or posting a photo.
The WhatsApp Business API provides businesses with a dedicated WhatsApp account that enables them to communicate with their customers. This platform is specifically designed to facilitate business communication on WhatsApp and offers numerous benefits. The WhatsApp Business API simplifies the process of handling unlimited WhatsApp messages, enabling businesses to provide personalized customer experiences. This solution was developed in response to the growing trend of businesses using their personal WhatsApp accounts for customer communication.
Meta introduced the WhatsApp Business API in August 2018, which was specifically designed to enhance customer engagement on WhatsApp for businesses looking to expand their operations. To maximize the benefits of this platform, businesses require a Business Solution Provider (BSP) that can seamlessly integrate with the API, enabling them to offer unparalleled customer experiences.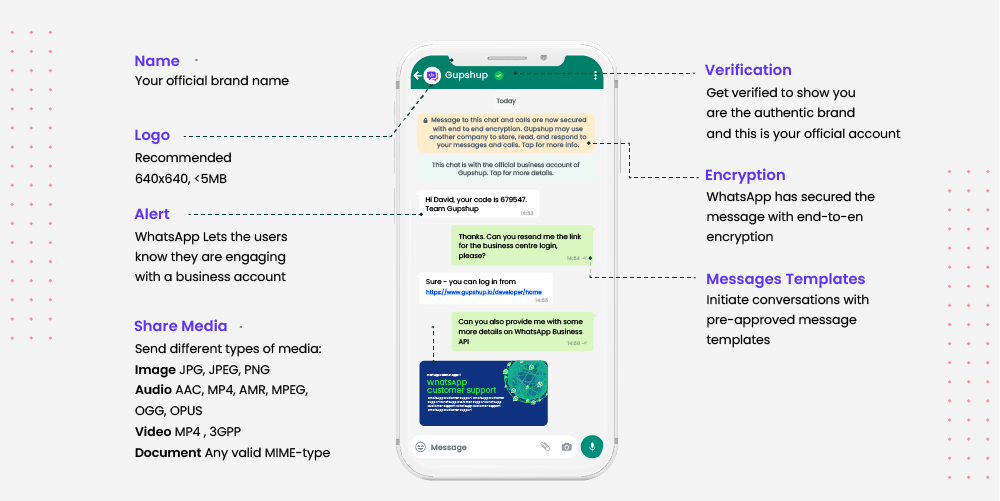 What sets apart WhatsApp Business app and WhatsApp Business API from each other?
Are you wondering what the difference is between WhatsApp Business and WhatsApp Business API? Well, let us break it down for you.
The WhatsApp Business app caters to the messaging needs of small businesses with low volumes. It offers essential features such as automated messages, quick replies, and chat labelling to streamline communication.
However, if your business has higher messaging requirements, the WhatsApp Business API is a more suitable option. It overcomes the limitations of the basic app, such as limited automation, user sessions, and media support. With the WhatsApp Business API, businesses can send proactive messages, create custom chatbots, and handle larger volumes of customer queries.
The WhatsApp Business API boasts a user-friendly interface that simplifies scaling of customer support operations. With a vast user base already relying on the platform, businesses can leverage its popularity to enhance their customer experience.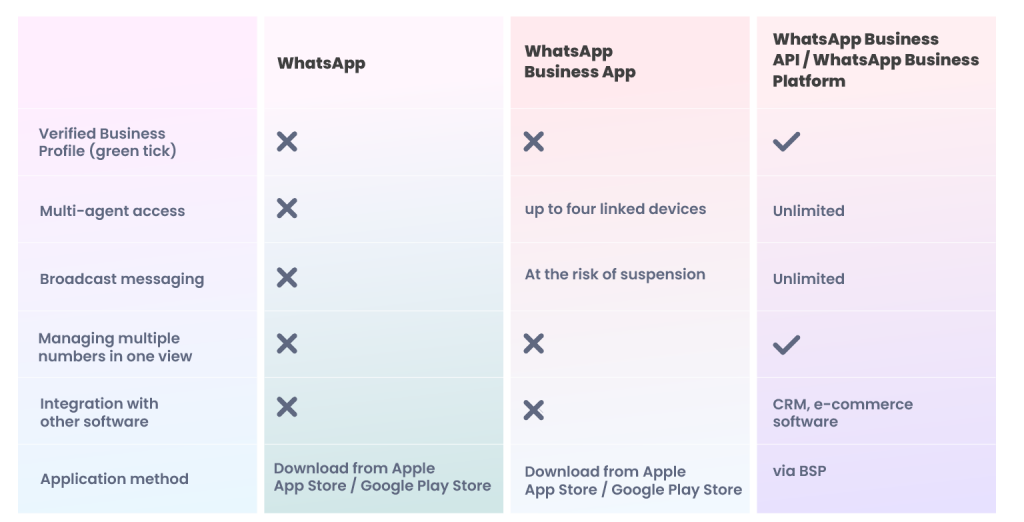 Who can use WhatsApp Business API?
The WhatsApp Business API is a robust solution that enables businesses to communicate with their customers on the most popular messaging app. However, before utilizing this API, businesses must confirm their eligibility. This guide outlines the criteria that determine a business's qualification to use the WhatsApp Business API.
Business Size
The first factor that determines your eligibility for WhatsApp Business API is the size of your business. The WhatsApp Business API is specifically designed for medium and large businesses that require a more advanced messaging solution with high messaging requirements. This API overcomes the limitations of the free WhatsApp Business app (which is designed to cater the needs of relatively smaller businesses) and provides businesses with a comprehensive messaging platform that caters to their high-volume messaging needs. Therefore, small businesses may face challenges in obtaining approval for using the API. 
Industry
The second factor that determines eligibility for WhatsApp Business API is the industry. WhatsApp has a strict commerce policy that outlines which industries are allowed to use the API. Some industries, such as independent software vendors, gaming and gambling, adult content and entertainment, arms, alcohol and tobacco, and supplements and other medical drugs are restricted from using the API. However, most other industries are allowed to use the API. These include eCommerce, travel and hospitality, real estate, education, and telecommunications. If you're in one of these industries, you may be eligible to use WhatsApp Business API.
Benefits of using WhatsApp Business API
WhatsApp Business API is a powerful tool that can help businesses to improve their customer engagement and customer support. Let's take a closer look at the top 10 benefits that businesses can enjoy when using WhatsApp Business API.
– Instant Responses: With WhatsApp API, businesses can automate responses to their customers, which can leave them engaged and satisfied. This feature includes welcome messages, after-office hours messages, and delayed response messages. Additionally, with WhatsApp auto-reply and WhatsApp notifications, businesses can effectively interact with their customers 24/7, even during the off-hours or public holidays.
– Personalized Experiences: WhatsApp uses variables to personalize messages by fetching data from pre-existing customer contacts. This feature allows businesses to interact with customers in their preferred language and build trust with them.
– Answer FAQs: Simple self-serve queries can easily be automated by automating replies to all the frequently asked questions. With WhatsApp, businesses can help their customers with instant replies to simple queries.
– Seamless Agent Hand-off for Complex Queries: With the WhatsApp CRM, businesses can add a team of customer support representatives to work on the queries that come in through WhatsApp. This feature is useful for handling complex queries and highly-qualified leads.
– Schedule Appointments: WhatsApp API can be integrated with your calendar to automate scheduling appointments without any phone calls or email threads.
– Send Payment Reminders: With WhatsApp API, businesses can send notifications about due payments and reduce drop-offs. Customers can even clear their dues over WhatsApp with the rollout of WhatsApp payments.
– Collect Documents: WhatsApp can help businesses collect all the required documents for multiple use cases such as onboarding, admissions or verification.
– Provide Post-Sales Support: WhatsApp API is ideal for providing customer support immediately over the channel. From sending shipment and delivery updates to solving complex customer queries, all can be done on WhatsApp.
– Transform Marketing: With an open rate of 99%, WhatsApp API is an effective tool for result-driven marketing. Proactive marketing and messaging can take advantage of the growing attention and eyeballs.
– Powerful and Secure Conversations: With end-to-end encryption and GDPR compliance, WhatsApp Business API is a safe platform for customer interactions, including payments and banking-related support. Due to this limitation, businesses send powerful messages without any ambiguity, making the complete conversations extremely user-friendly.
Why should you use a Business Service Provider (BSP) for WhatsApp Business API
There are two ways to get WhatsApp API working for your business:
– WhatsApp Cloud API 
– WhatsApp Business API
The cloud-hosted version of the WhatsApp Business API is referred to as the WhatsApp Cloud API. This variant is hosted on Meta's servers rather than on a business's private servers or through a BSP. While it is possible to obtain the WhatsApp Cloud API directly from Meta, its limited capabilities make it less effective for brands. Additionally, Meta offers limited support for this version of the API.
Instead, brands are better off obtaining the WhatsApp Business API through a Meta-approved BSP like Gupshup. BSPs act as intermediaries between Meta and brands, assisting them in effectively using the WhatsApp Business API. BSPs like Gupshup offer easy-to-use platforms that aid in the onboarding process, green tick verification, and provide support as needed. This makes the WhatsApp Business API a more appealing option for brands.
Gupshup can assist your brand in acquiring a WhatsApp Business API in less than 24 hours. Our platform includes helpful features like Campaign Manager, which enables brands to broadcast campaigns to millions of customers using pre-approved templates. Our insightful dashboard allows brands to track user engagement and CTR at the campaign level, as well as offer a live agent handover through Agent Assist. Our 1000+ integrations allow brands to seamlessly connect WhatsApp with their preferred CRM tools.
How to get started with WhatsApp Business API?
WhatsApp has always prioritized security and user experience in their communication platform. As more and more businesses join the platform, WhatsApp is cautious in granting access to the WhatsApp Business API. However, working with a preferred partner Business Service Provider (BSP) like Gupshup can simplify the process significantly.
To acquire a WhatsApp Business API account, businesses must follow three main steps as explained below.
Step 1: Apply for the WhatsApp Business API
Businesses have two options for applying for the WhatsApp Business API: 
They can sign up directly with WhatsApp or go through a BSP.  Direct sign-up with WhatsApp can be challenging and time-consuming, especially for small businesses. It is recommended to choose a business solution provider such as Gupshup to simplify the process. You only need to provide business related details, and the provider will take care of the rest.
To begin the process, you must have a Facebook Business Manager ID with a verified number and a display name. If you don't have one, you can easily create a Facebook Business Manager page with your business name and contact number by logging into Facebook Business Manager, clicking on Business Settings, and selecting a WhatsApp account in the accounts section. After that, fill in your details, such as name, Facebook Business Manager ID, and the number for verification. Confirm your business details, and a verification code will be sent to your business number. Enter the verification code to complete the verification process.
Step 2: Verify your legal business name and address
Once your mobile number is verified, you need to verify the legal business name by providing certain documents. Additionally, business address verification is also required as part of the application process for the WhatsApp Business API. You can provide any of the acceptable documents to the Facebook team to get your business address verified.
Step 3: Provide necessary information to start using the API
Once you have completed all the verification steps, provide Gupshup with your Facebook Business Manager ID, verified phone number, and display name to start using the WhatsApp Business API.
In addition to making it easier for brands to get a WABA (WhatsApp Business AccountI), Gupshup's platform offers several benefits that make reaching out to your customers a breeze. With pre-approved templates on Gupshup's platform, brands can create personalized campaigns at scale and track campaign performance in real time. The bot studio allows brands to build automated user flow journeys with no-code visual builder. Gupshup's in-house work on generative AI helps brands easily combine AI journeys with GPT-3 models. And wherever needed, intelligent routing to live agents is seamlessly possible through Gupshup's Agent Assist.
Once you've successfully set up your WhatsApp Business API, what are the recommended next steps? 
Now that you have the WhatsApp API up and running, the next steps are equally important in building trust and engaging with your customers.
Green tick badge verification
To enhance your customers' trust in your business, you can display a green tick badge next to your business name on WhatsApp. However, this badge isn't essential for the chatbot to function properly.
Please note that not all businesses are eligible for the green tick badge. 
Businesses that send at least 500 messages per day and have an international brand presence are more likely to receive it. If you're eligible, working with a WhatsApp API partner like Gupshup can help you obtain the verification quickly.
Set up WhatsApp notifications
If you want to proactively send messages to your customers on WhatsApp, you can do so through WhatsApp notifications. However, it's important to remember that customers must first agree to receive these notifications from your business. WhatsApp notifications can be a great way to engage with your customers and keep them updated about their orders or requests. To send out these notifications, you simply need to follow two steps: create a contact list and design a message template. Keep in mind that there are rules you must follow in order to get your template approved by WhatsApp. This includes ensuring there are no grammatical errors or mistakes, and avoiding any sales-oriented language. 
WhatsApp Business Messaging Categories and Pricing
In February 2023, WhatsApp came up with a new pricing model that covers four types of conversations instead of the current two (User initiated and Business Initiated Conversations). Businesses are charged on the basis of conversations. While the pricing for all these categories varies from region to region, more details on WhatsApp's new pricing (effective 1st June 2023) structure can be found here. Following are the new conversations categories:
Service Conversations: Formerly known as UIC (User initiated conversation), all user-initiated conversations will now be categorized as service conversations which help customers resolve enquiries. Encourage more engagement with high returns on investment.
Utility Conversations: Templates that facilitate a specific, agreed-upon request or transaction or update to a customer about an ongoing transaction, including post-purchase notifications and recurring billing statements.
Authentication Conversations: Templates that enable businesses to authenticate users with one-time passcodes, potentially at multiple steps in the login process (e.g., account verification, account recovery, integrity challenges)
Marketing Conversations: Templates that include promotions or offers, informational updates, or invitations for customers to respond / take action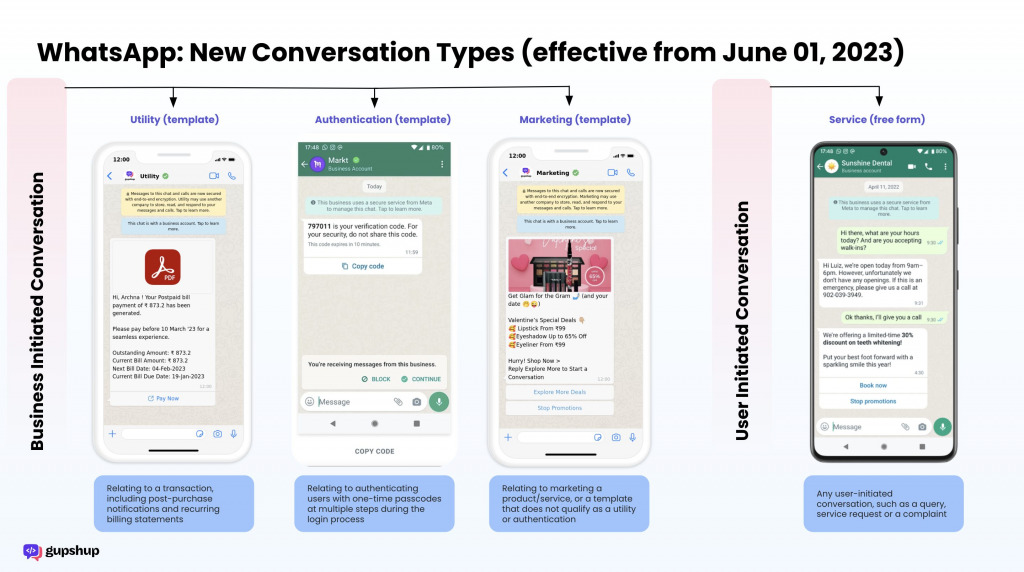 WhatsApp Business API Use cases
Of late, precise marketing has become a challenge for a lot of brands. Social media is fast losing its appeal and traditional channels are simply not enough to reach every segment of the audience. Given WhatsApp is where most customers are, the channel works as a great tool for marketers. Brands are able to reach out to a highly engaged audience which eventually helps supercharge revenues. Besides marketing, WhatsApp is an impressive tool for commerce and support as well, helping brands keep a track of the complete consumer funnel. Let's look at some ways in which WhatsApp Business API can be used:
Send promotional messages and abandoned cart alerts to your customers  
Brands can send sale alerts, deals, discounts and more to draw customer interest and derive better conversions.  Once the message is received , the customer is tempted to engage more with the brand, boosting website traffic and cart-fills. And in case the purchase doesn't happen, brands can always remind the customer with abandoned cart alerts and messages for wishlisted items.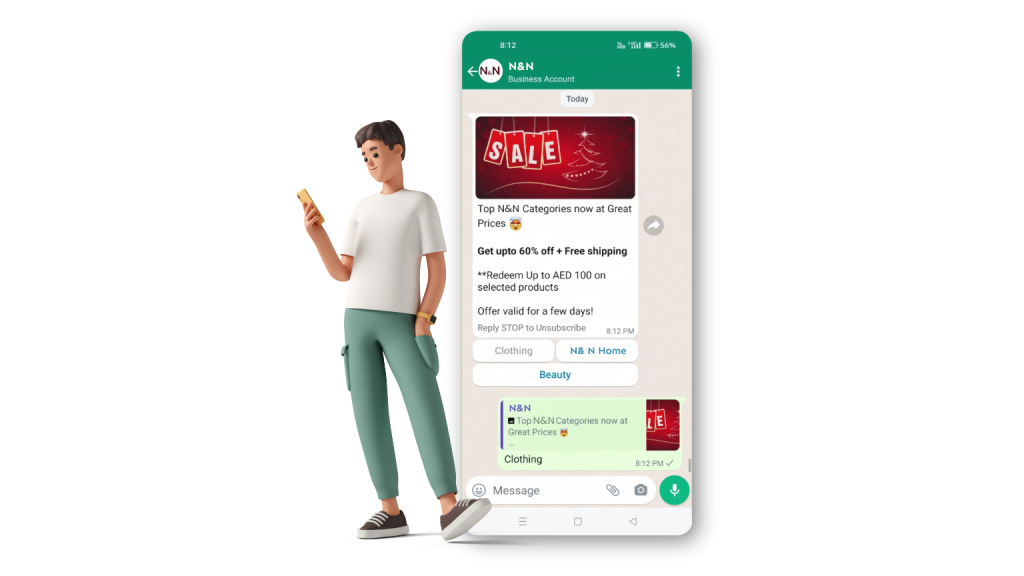 Allow your customers to buy directly on WhatsApp
Brands can build detailed product catalogs, search, pincode driven inventory and payments on WhatsApp to offer more ease and convenience to their customers. More and more brands are adding commerce to their list of features on WhatsApp to bring a seamless buying experience and establish a direct connect with their customers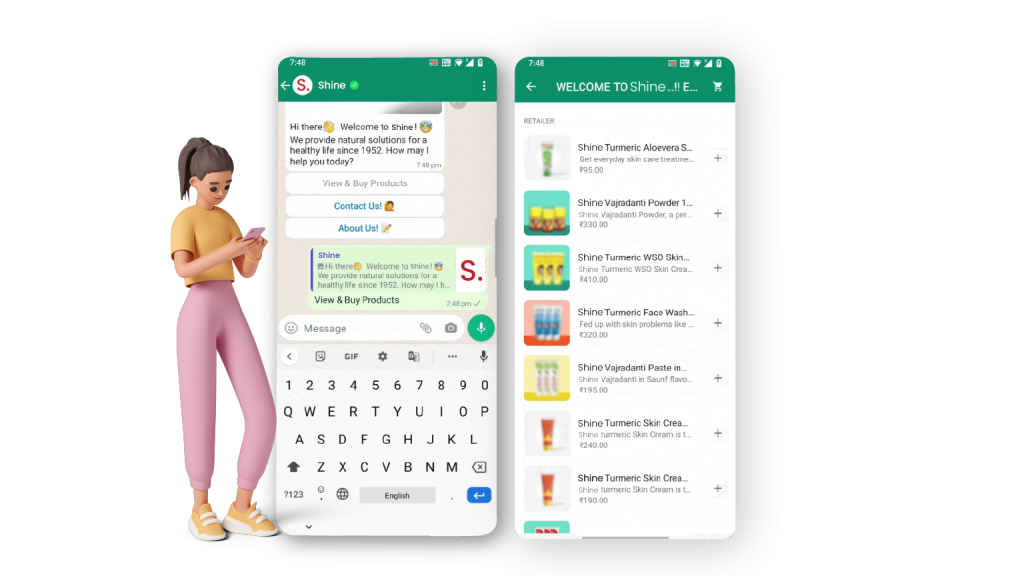 Send order updates and payment notifications

 Today, customers are more active on WhatsApp than any other channel. Therefore, it works best for routine notifications such as delivery updates, order confirmation alerts, payment notifications etc.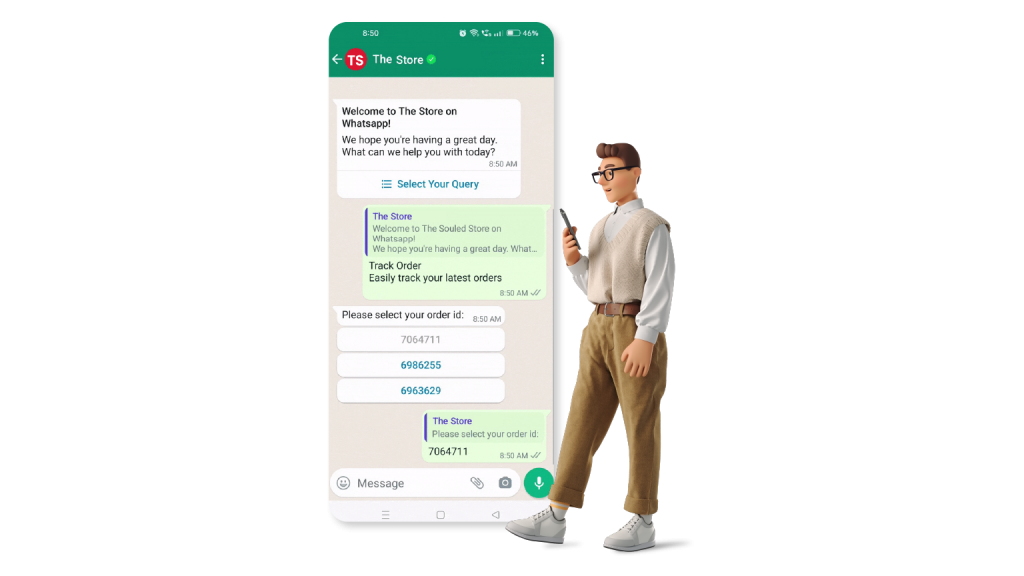 Offer Chat Support and Live Agent Integration
WhatsApp is an extremely effective and efficient channel for customer support. Instead of having an army of live agents, brands can use chatbots on WhatsApp to offer generic customer support and integrate it with live agent for complex queries, reducing the response time and enhancing customer experience.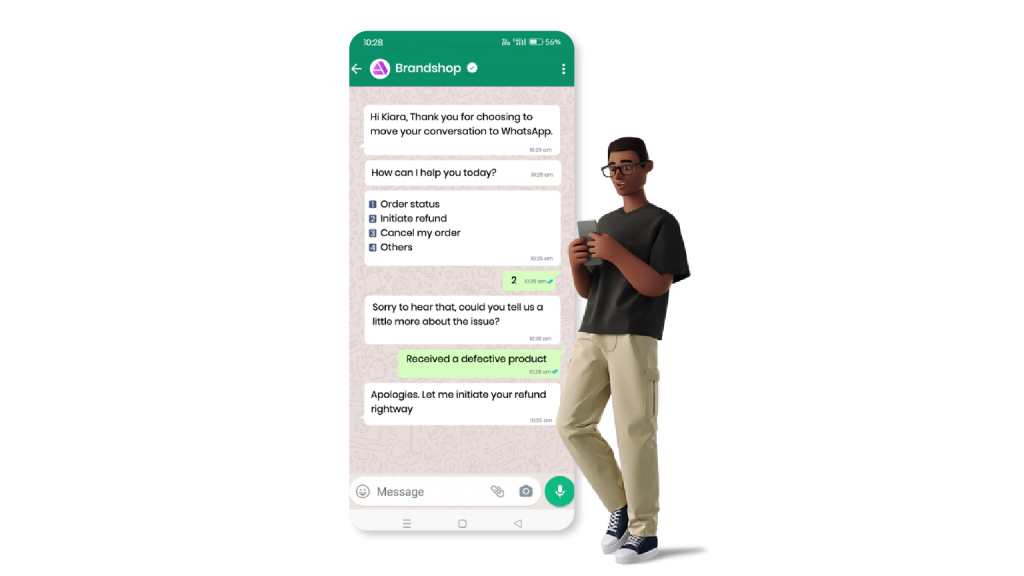 Offer branch-less and app-less banking

Banks and fintechs can use WhatsApp to offer a host of services to their customers without requiring them to visit a branch or ATM. These could be things such as- credit card statements, applying for loan, end-to-end insurance policy issuance including KYC checks, customer FAQs etc.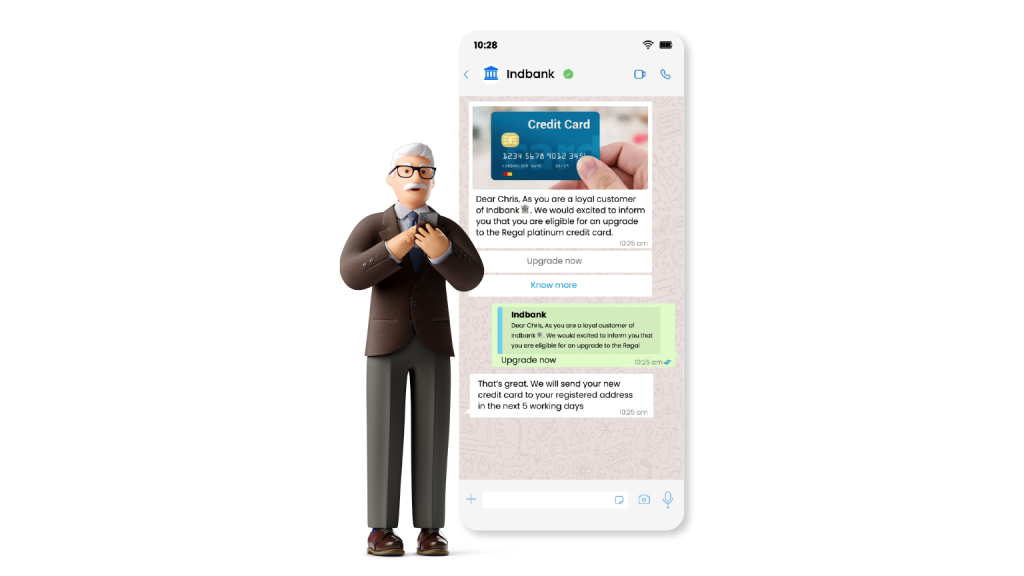 New customer acquisition with Click to WhatsApp ads
Brands can acquire qualified leads and convert faster with ads that click to WhatsApp.  Not only does it help brands build first party data, but also helps  Reduce drop-offs by answering questions, clearing doubts and nurturing prospects right from discovery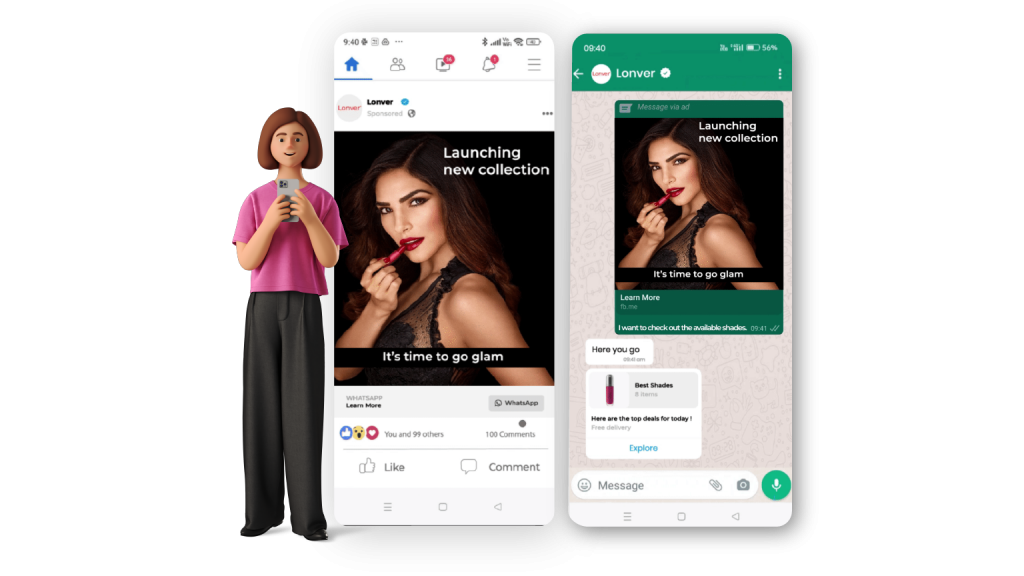 Best Practices to unlock WhatsApp's full potential for brands
Create valuable conversations with your customers by following 3 key attributes of communication
Expected-Businesses must provide an opportunity for customers to opt-in to conversations first. That way, you can be sure your messages are always welcome and each exchange helps build a stronger relationship between you and your customers, instead of having the opposite effect.
Timely-The message should be timely. It should have a purpose for being sent at that exact moment. For example, you might consider sending a relevant offer based on an upcoming event such as a holiday weekend, or letting a customer know that an item they searched for is back in stock.
Relevant-The message should be relevant. It should be personalized to the customer. Treat them like any other customer, using your knowledge of their past purchases and previous interactions to craft valuable conversations.
Best practices to maintain high-quality customer experience and achieve superior business outcomes
Build a Brand Identity
Business profiles are a must for brands on WhatsApp. Build a branded business identity that serves as the familiar face that greets users when you message them, increasing their trust and loyalty to your brand.
Engage Your Customers
WhatsApp Business is an ideal channel for two-way communication. Although you can send promotional, educational and entertaining content, it is widely used by people to see customer support before, during and after a purchase. Make sure to have a balance of automated responses and have them backed by a human to be able to solve the queries faster and encourage more sales.
Message Wisely. Don't Spam
Provide customers promotional, educational, and entertaining content like vouchers, new arrival alerts, discounted sales, offers, behind the scenes, quizzes, etc., via WhatsApp to strike conversations. Plan your messages strategically to avoid spamming. Ideally, about 5-6 messages throughout a week is an excellent frequency to maintain; anything above that results in recipients either blocking your number or unsubscribing from your list.
Think Business Casual
WhatsApp is where consumers interact informally with their friends and family, and businesses that use an overly formal tone of voice, are going to stick out like a sore thumb. Your messaging campaigns should reflect (and respect) the personal tone of this channel while not losing touch with your brand identity.
Concise Reachouts
Keep your messaging straight to the point.Customers who chat on the app are probably on-the-go and intermittently looking at their phones. So, it's best to keep messages as concise as possible and must be easy to read at-a-glance.
Get Creative
WhatsApp has plenty of features such as stickers, emojis, gifs, options to send images, documents, locations, etc. With the help of WhatsApp Business API, businesses can utilize each of these features to make their messages more visually appealing.
Connect With Existing Customers
WhatsApp is like a closed community of people. It is best to market your products to existing customers rather than targeting new ones who haven't interacted with your business in any way before.
Conclusion
In conclusion, WhatsApp Business API offers a powerful communication platform for businesses to connect with their customers on one of the most popular messaging apps in the world. With features like automated messaging, message templates, and chatbots, businesses can streamline their customer support and marketing efforts while providing a more convenient and personalized experience for their customers. 
We've covered all the important details about WhatsApp Business API in this guide and hope it has given you a better understanding of how to use WhatsApp Business API for your business.If you're looking to get started with using WhatsApp to connect and engage, Gupshup can get you started quickly. 
Get started with your WhatsApp Business messaging journey with Gupshup
Gupshup is the #1 Conversational Engagement Platform for Marketing, Commerce, and Support automation powered by AI, for businesses to deliver human-like conversations that boost customer satisfaction and revenue at scale. By unlocking the power of conversational engagement, Gupshup makes it easy for businesses to engage, interact and transact with their customers over 30+ channels (including WhatsApp) – anytime and anywhere. With an industry-trained conversational platform and real-time unified profiles, Gupshup enables over 45,000 businesses in more than 60 countries to create one-on-one, frictionless experiences across the customer lifecycle.
Request for a demo today and empower customer conversations on WhatsApp with Gupshup.