Whatsapp Direct Messaging API
On December 22, 2022
|
9 Minutes Read
Conversational Engagement
Conversational Marketing
Generic
WhatsApp Business API
WhatsApp Commerce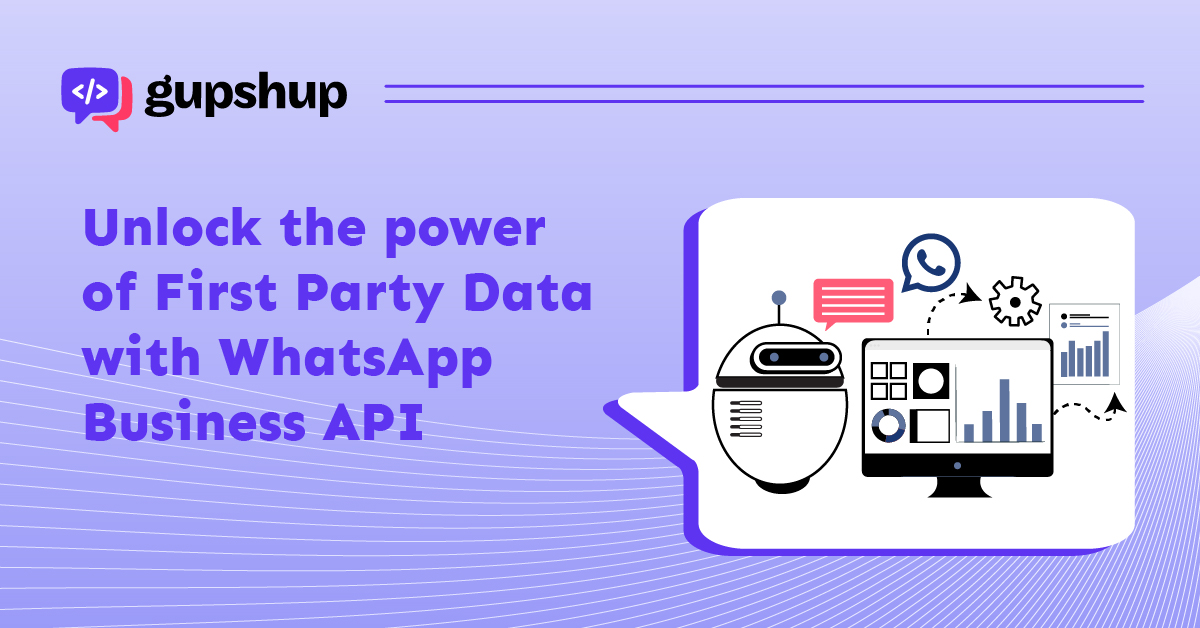 Consumer brands are calling dibs on user data with direct messaging. Here's how you can leverage it
In the last two decades, two major trends have defined the retail sector and therefore consumer shopping patterns. These two trends, somewhat like Newton's law are opposite forces but have been pivotal in changing the current shape and form of retail. Aggregation and disaggregation are the two sector-altering events that have seen the retail sector move from being controlled by behemoths to individual brands. A key factor across both these trends is the changing consumer behavior post-pandemic.
Aggregators are essentially marketplaces that assemble a plethora of brands under their umbrella. Since the time Amazon was founded in the US, aggregators, both horizontal and vertical have taken the market by storm. Thanks to their scale, aggregators have been able to offer convenience and assortment, drawing customers in hordes. Amazon in the US and elsewhere, Flipkart in India, Aliexpress in China, and Tokopedia in Southeast Asia have all been part of a wave that saw customers throng to these platforms for convenience and attractive pricing.
That is changing now. Brands that were earlier content with being on these platforms, leveraging their scale and reach are now taking the reins into their own hands. Disaggregation, or in other words going direct is the latest trend sweeping the retail sector. The deluge of D2C brands right from beauty & personal care to food and furniture is a testament to the growing popularity of the movement. Though this shift began with D2C brands, it has caught on to legacy brands as well, with many of them now looking at reaching out to their customers directly.
At the heart of this movement is brands' need for first-party customer data. And while websites and apps have been commonly used for data collection, WhatsApp is increasingly catching the fancy of brands as a reliable first-party data collection source. But before getting into how WhatsApp works as a great first-party data source, it's important to understand why first-party data is even important and why did brands move away from aggregators in the first place.
In the heyday of aggregation, brands were happy to be in a marketplace for they were able to reach out to an entirely new set of consumers. Consumers too were happy as they benefited from increased choice and flexibility. But in a world where data was increasingly becoming important, consumer brands had little to no data on consumer buying behavior. Marketplaces simply became a channel to reach out to a set of consumers and nothing else.
However, it was the marketplaces' double-dealing that proved to be the final nail in the coffin, pushing brands to go independent. Marketplaces were leveraging brands' buying pattern data to build their own private labels, pushing them at the cost of other brands. Much to their chagrin, the marketplaces were unwilling to share customer data. This story is true not just for retail marketplaces but has played out similarly in food and OTAs. 
Thus came brands that shunned the traditional model of distribution by going completely digital. Most of these brands were serving an online audience and that's why, when Covid-19 struck pushing digitization all the more, these brands had a wild ride.
Data is everything
One of the major reasons D2C brands have been successful is that they have used data as the bedrock to build and distribute their products. Consumer buying and search data help brands tweak their product line-up to suit consumer needs. Later, with data-driven marketing which brings in precise targeting, many of these searches can be converted. 
Take, for example, a beauty brand. If the brand has insights that a lot of customers are looking for aloe-vera-based products, or that they are searching for products to deal with the hair-fall concern, the brand can modify its product basket accordingly. Not only that, it can reach out to those particular customers through remarketing ads or deals on WhatsApp, making them convert from just a lead to a customer.
As mentioned earlier, close in the footsteps of D2C brands, a lot of legacy consumer brands are making an effort to claim consumer data. They have clearly understood that consumer buying data is valuable and unless they own it, they can't be closer to their customers.
The realization emanates from the deeper problem CPG brands have been facing, having been heavily dependent on retailers and aggregators for customer data. These brands now want to own customer data and thus experience. According to BCG research, data-driven marketing can double revenue and increase cost savings by 1.6 times.
So far, most of the data harnessed by consumer brands has been third-party data. Third-party data is essentially data that's collected through third-party cookies that track website visitors across the internet. With rising privacy concerns, however, Google has decided to do away with third-party cookies. Lack of cookies will mean brands will have lesser insights into consumer buying behavior and hence the clamor for first-party data.
WhatsApp for first-party data
First-party data is proprietary information that a company collects directly from the customer, with consent. In that context, WhatsApp is emerging as a preferred channel with several brands using it to gain access to first party data of their consumers. Clubbed with WhatsApp marketing, the channel is becoming a go-to source for brands looking to reach out to their consumers directly.
First-party data is a better indicator of user intent making it easier for brands to build customized marketing strategies. And given that WhatsApp is where modern consumers are, the messaging channel is a great source of actionable first-party data. Take for example a fast food brand. The brand has largely been dependent on aggregators for delivery orders. This has resulted in zero insights into consumer buying behavior for the brand as the aggregator doesn't share any data. Now, the brand does not know which demographic is most frequently ordering dim sums, or which locations have seen lesser order flow.
Enter WhatsApp. With a WhatsApp end-to-end commerce solution, the brand allows its customers to browse through a catalog, order, and pay for items. Every such order leaves a data trail behind, strengthening the brand's understanding of the customer. This highly valuable first-party data can then be used for sending personalized recommendations to the user or offering deals and discounts.
With more user interactions over time, the data engine keeps getting stronger.  A stronger data engine will lead to better and more precise targeting leading to more conversions, engagement, and thus retention. In a nutshell, first-party data not just bring revenue but also builds loyalty for the brand.
Ways to leverage WhatsApp for first-party data
For consumer brands, going direct is a valuable proposition. If you're a brand planning to directly reach out to your customers, look no further.  Besides a commerce journey, there are several other ways in which you can build first-party data through WhatsApp. Let's look at some of them:
Click to Chat ads on WhatsApp

– Click to Chat ads are basically social media ads, which when clicked take a user to either WhatsApp or messenger.  The best part about CTC ads is that they get a user on WhatsApp without needing the opt-in requirement. And once the user is there, brands can show a catalog, get to know their interest, and even convert the lead.  All of these help build the data muscle for the brand which can later be used for tailored marketing. These ads are also good proof of user intent.

QR codes

– QR codes that open on WhatsApp are again a great way to get users on to your WhatsApp channel. These codes can be placed on packaging, print advertisements, or any physical touchpoint to help users connect directly with the brand. For example, if a newly launched detergent brand wants to get consumer feedback, it could be a good idea to place these QR codes in the print ad. As and when a customer scans the QR code and shares their feedback, the behavioral data about the customer keeps getting stronger.

Subscribe to WhatsApp box on website and apps–  A subscription to WhatsApp pop-up box on the website is a good tool to get first-time users. Brands can tempt users with a discount to get them on WhatsApp and once there is a lead, conversational engagement can be used to make them share more, eventually leading to conversion.
 Surveys and Polls–  Another way for businesses to get first-party data through WhatsApp is by using the app's chat function to conduct surveys or polls. By sending out a message to a targeted group of customers, businesses can ask them questions and collect their responses in real-time. This can provide valuable insights into customer preferences, behaviors, and satisfaction levels, which can then be used to inform product development and marketing strategies.
Opt-in for updates

– Offer your customers the option to opt-in to receive updates and information from your brand. By providing customers with the ability to sign up for notifications through WhatsApp, businesses can build a database of opt-in customers who have explicitly expressed interest in hearing from them. This can be a valuable source of first-party data, as it allows businesses to target their communications and offers to only those customers who are most likely to engage with them.
It's important for businesses to remember that collecting first-party data through WhatsApp, or any other platform, comes with certain responsibilities. It's essential to be transparent about how the data will be used and to only collect information that is relevant and necessary for the business's purposes. Additionally, businesses must ensure that they are complying with all relevant laws and regulations, such as the General Data Protection Regulation (GDPR) in the European Union, which sets strict rules for the collection and use of personal data.
In conclusion, getting first-party data through WhatsApp can be a valuable way for businesses to gain insights into their customers and improve their operations. By leveraging the popularity and ubiquity of the messaging app, businesses can easily collect important data directly from their customers in a way that is both convenient and unobtrusive. By following best practices and being transparent about their data collection efforts, businesses can effectively harness the power of first-party data through WhatsApp to drive growth and success.
Incorporate WhatsApp into your brand's marketing strategy today to get an edge over your competitors when it comes to first-party data. With Gupshup's WhatsApp for Business solution, reach out and engage your customers with QR codes, intelligent product recommendations, Quick CTA buttons, and much more.

Blogs you will want to share. Delivered to your inbox.
Business Email
×
Read: Gupshup launches AutoBot Builder: Accelerates domain specific applications of GPT-3 to drive conversational engagement