Why Marketers Should Use RCS
On October 12, 2021
|
3 Minutes Read
Chatbots
Conversational Marketing
Generic
RCS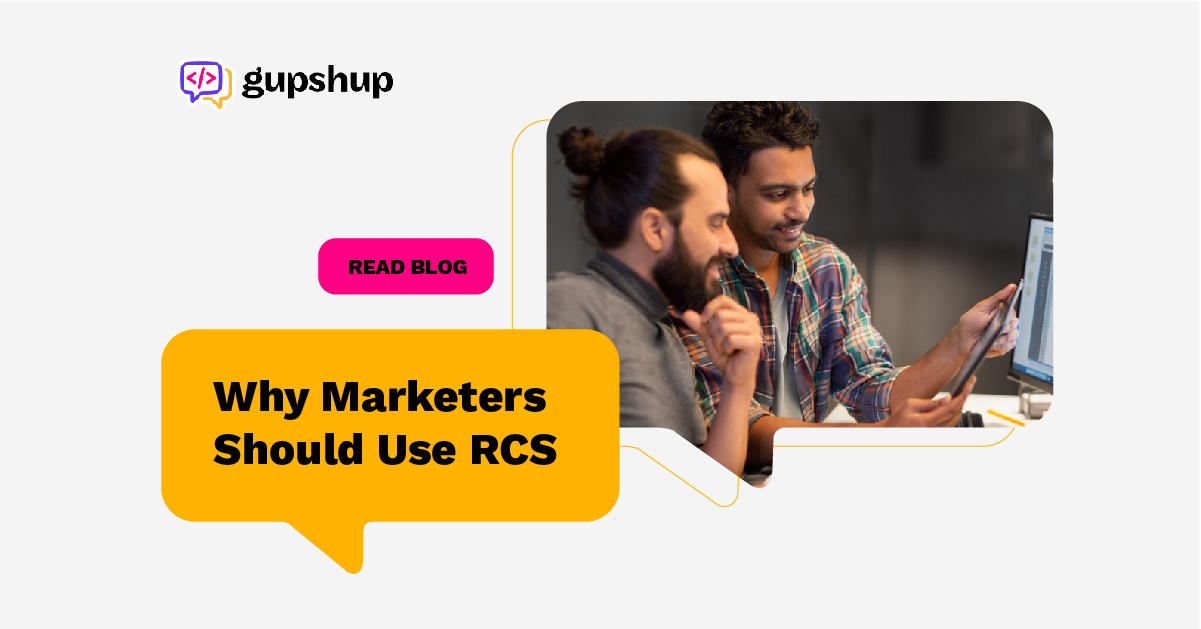 Along with Email marketing, SMS marketing is the only digital marketing tool that has been in existence for nearly two decades. SMS marketing was an easy and convenient way for brands to reach the masses and generate new leads.
But there is a decline in the number of SMSs sent by users. In 2011, 2.3 trillion messages were sent, which has declined to nearly 2 trillion messages in 2019 in the United States alone.
The reason behind the decline is the rise in Over-The-Top (OTT) messaging platforms like WhatsApp, Facebook Messenger, and so on. Due to its rich media capabilities like sending videos, images, embedded maps, users prefer these platforms over SMS, and so do enterprises.
But there is a new messaging platform that enterprises, especially marketing executives and agencies, should note, and that is Rich Communication Services (RCS). RCS is the next generation of SMS.
RCS chatbots provide the best of two worlds: Reach of SMS + Features of OTT platforms. Also, RCS chatbots have some advanced features from OTT platforms such as:
Carousel Images
Suggested Replies & Responses
Verified & Branded Profiles
Personalized Conversations
Benefits of RCS for Marketers
Let's take a look at how these features will help marketers accelerate growth for the brands they represent:
Gain Customers' Trust:
RCS chatbots can send messages to users from verified and branded profiles. This allows for transparency with the existing customers and helps build credibility with the newly acquired ones. Messages sent from verified profiles will have higher open rates, which will lead to higher engagement and improved customer interactions.
Enhance Customer Satisfaction:
Suggested responses, replies with a single tap, and one-on-one conversations with users are some of the reasons your brand's marketing team should use RCS chatbots. Hence, it will make it easy for users to send messages and improve the overall experience with your brand. Further, quick responses from brands can increase the chances of retaining customers.
Lead Generation:
One of the most stressful tasks as a marketer is to generate new leads. Through chatbot directories* RCS chatbots can be accessed by users directly and can initiate conversations with your brand. Giving a missed call or scanning a QR code are some ways where users get in touch with your brand.
Personalized Messaging:
RCS chatbots allow the messaging experience to be personalized based on the interest of users. Marketers can provide product or service recommendations to users based on their preferences. Therefore, it will increase the conversion rates because, as a marketer, you are aware of your audience's choices, and through RCS, you can provide them exactly that.
*Chatbot directory is a platform where various chatbots are created by brands and developers, which can be listed. End-users can also access these chatbots through different access points like scanning a QR code. Our GIP Store is one such example of a chatbot directory.
Final takeaway
The RCS ecosystem is gaining momentum and becoming the go-to messaging platform worldwide. Build a trusted brand presence with customized branding options, ranging from logos to brand colors to brand names. Enhance business messaging and communications at every stage of the customer journey – acquisition, on-boarding, engagement, support, retention, offers & rewards. Enable interactive mobile experience between enterprises and customers with RCS.
Leverage the power of RCS and the capabilities of Gupshup to better engage with your customers and get higher conversion rates. Use Gupshup's Single API to reliably send and receive rich messages on RCS and 30+ other messaging channels. Leverage our unmatched channel, operator and handset partnerships today.
Blogs you will want to share. Delivered to your inbox.
Business Email
×
Read: Using AI In Marketing: A Beginner's Guide