Power Of RCS: Ways It Can Be Used For Business Messaging
On March 4, 2022
|
4 Minutes Read
Conversational Engagement
Conversational Marketing
Generic
RCS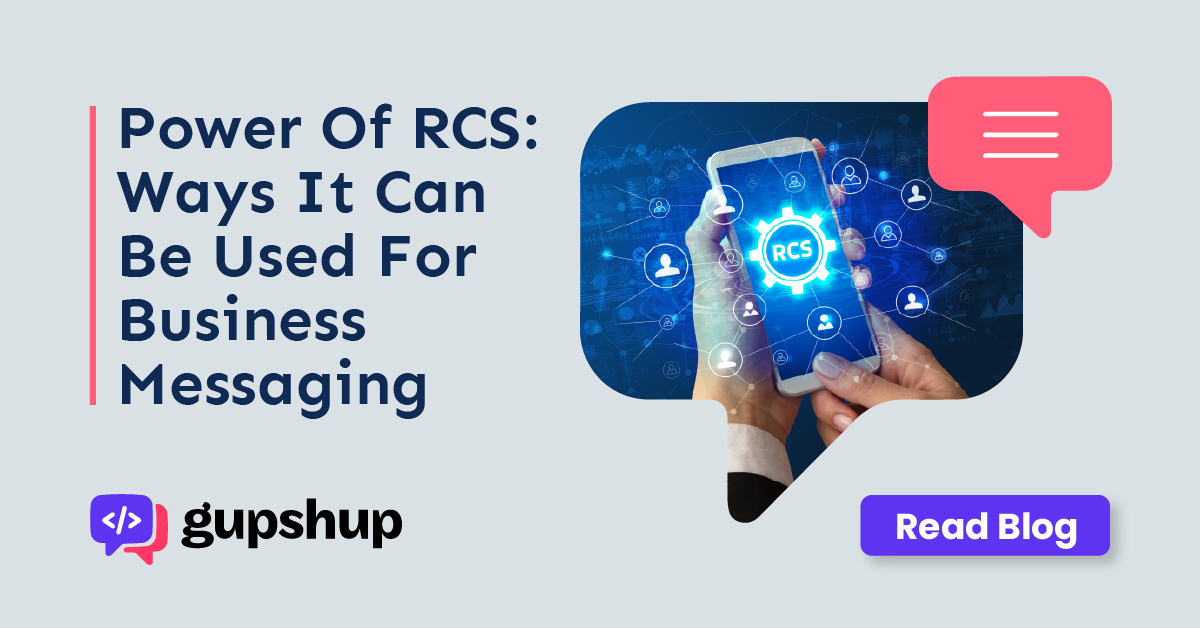 Mobile communication is an inseparable part of the modern world. What started as a simple text-based Short Message Service (SMS) delivered through carrier networks, have evolved into internet-based over-the-top (OTT) apps with very little dependence on carriers. However, of late, the next generation of SMS – Rich Communication Services (RCS) is getting increasingly popular in the business messaging arena.
Brands are constantly on the lookout for effective ways to communicate with their customers. Similarly, consumers desire convenient, fast and secure ways to reach out to brands. The rich media features, instant two-way communications, and enhanced reporting capabilities of RCS make it a perfect channel for personalized and enriching business to consumer interactions.
Here's how businesses can add RCS to their communications strategy and enhance their consumer's experience right in their native messaging app.
Conversational Messaging 
Conversational messaging is an emerging customer engagement paradigm that enables two-way conversations between brands and their customers. Businesses are increasingly leveraging RCS to serve customers in real time with automated chatbots using rich media functionalities such as payment gateways or suggested actions and more, thereby offering a more conversational, contextual and interactive experience.
However, there may be cases when the bot may not be able to comprehend the text keyed in by a customer. In such a case, the control is smoothly transitioned to a live agent. The figure below shows a case in which the customer seeks to understand the brand's return policy by connecting with a live agent.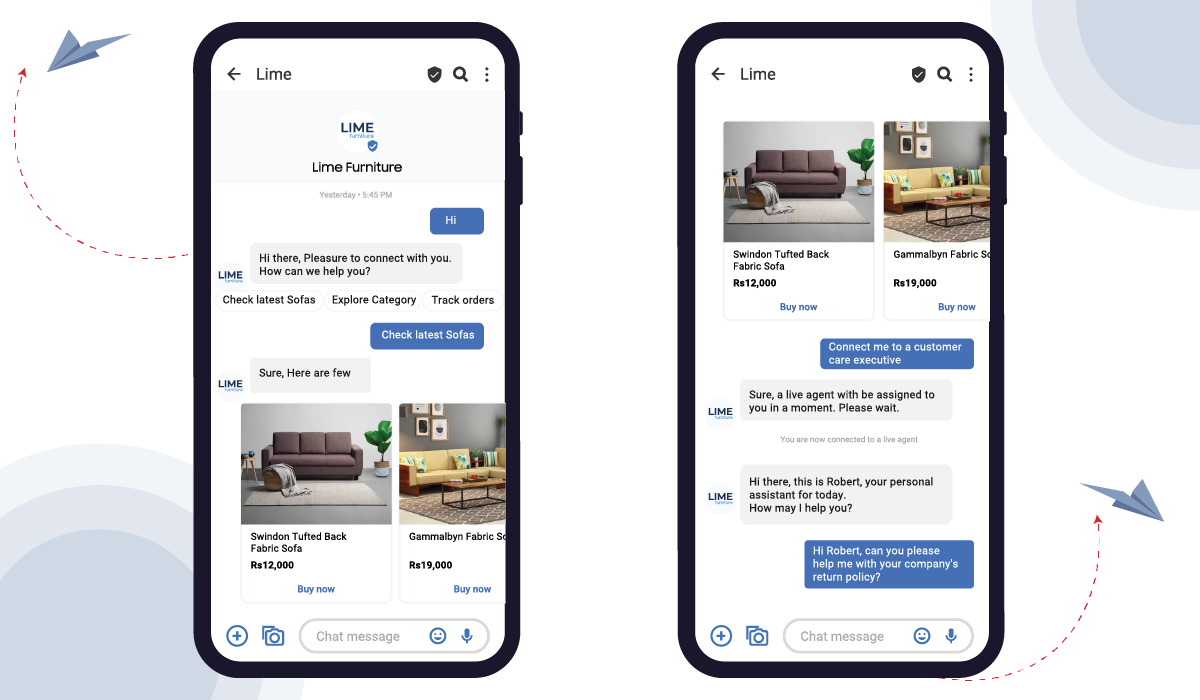 Figure: Conversational Messaging through Chatbots & Live Agents 
Consumers these days are preferring live chat over phone calls for customer service. This has been demonstrated by a survey done by eDigital's Customer Service Benchmark which surveyed 2000 consumers on their experience of interacting with various customer service channels. Here's what the results show.

Figure: Customers prefer live chat over other channels 
Marketing and Promotional Messages  
Marketing and promotional messages shared over the RCS channel can feature attractive rich media to grab the customers' attention. More than 25% of consumers receive an unwanted SMS every day, and SMS phishing accounts for over 25% of the $2 billion global fraud cost. In such a scenario, getting messages from verified brand profiles increases consumers' trust, and enables brands to see the following improvements across the customer journey.
Positive brand impression
Increase in business consideration
Increase in likelihood to purchase
Increase in likelihood to recommend
Marketing and promotional use cases for RCS include announcements of new products, sales, offers, and coupons. The richer media of RCS drives a high customer engagement rate, which ultimately translates into more sales (compared to traditional SMS and email). The below example demonstrates the use of promotions over RCS by BankBazaar.com with the use of eye-catchy images and links to their credit score calculator page.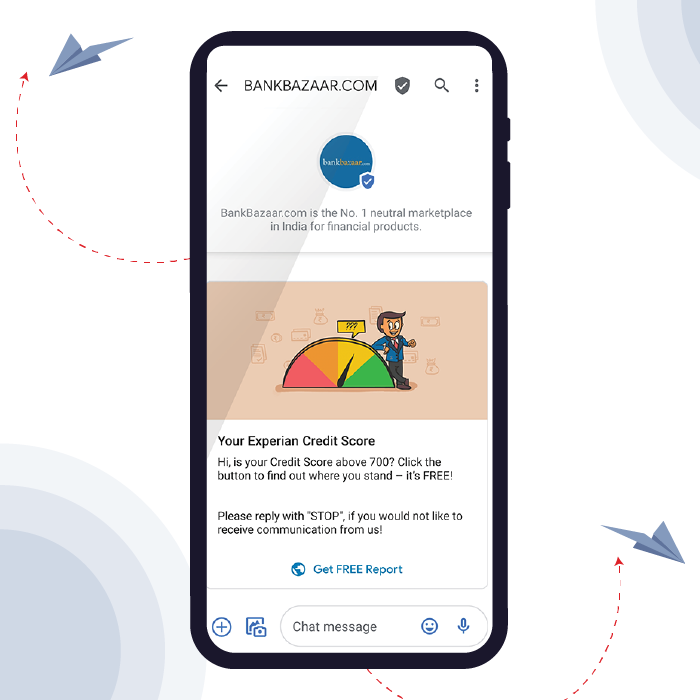 Figure: Sale Announcement
Transactional Messages Using RCS
Transactional A2P messages sent by a brand to a consumer through SMS, such as one-time passwords (OTPs) and notifications, can be enriched with RCS. Some of the transaction use cases are mentioned below:
One-time Password (OTP) – OTPs are one-time passwords generally associated with two factor authentication (2FA) or financial transactions. Enterprises can use RCS to send OTPs, along with their verified brand logo that gives customers confidence regarding the authenticity of the message. As shown in the figure below, the user experience drastically improves when they receive the OTP over RCS as compared to SMS.Brands can use the RCS to deliver OTPs for about the same price as an SMS. They also get access to new KPIs such as read and click through rates to help track the transactions better.

Figure: OTP over RCS

Rich Notifications
Brands can send notification messages, such as alerts, payment reminders, payment confirmations, service messages, shopping confirmations, delivery notices, account balances, enriched with images, rich cards or carousels, suggested responses, and more, to provide the best-in-class user experience. The figure below illustrates the difference between a notification delivered over RCS and SMS.

Figure: Notifications over RCS
Final Takeaway
Users have adopted messaging as the new paradigm for communications. RCS paves the way for brands to engage with their customers with rich, two way, trusted, and secure messaging using the native messaging app on the hot seat on their mobile screens.  Brands can leverage RCS APIs to enrich current use cases, and build new ones – with RichOTPs, Rich Notifications, Rich Promotions, Rich Surveys, and two-way Rich Conversations for marketing, sales and support.
To know how you can enhance customer interactions using RCS, #LetsGupshup
Blogs you will want to share. Delivered to your inbox.
Business Email
×
Read: How Coinbase Used Conversational Advertising During The Super Bowl LVI