Adopt RCS To Boost Your CX In The Year 2022
On February 11, 2022
|
6 Minutes Read
Conversational Engagement
Generic
RCS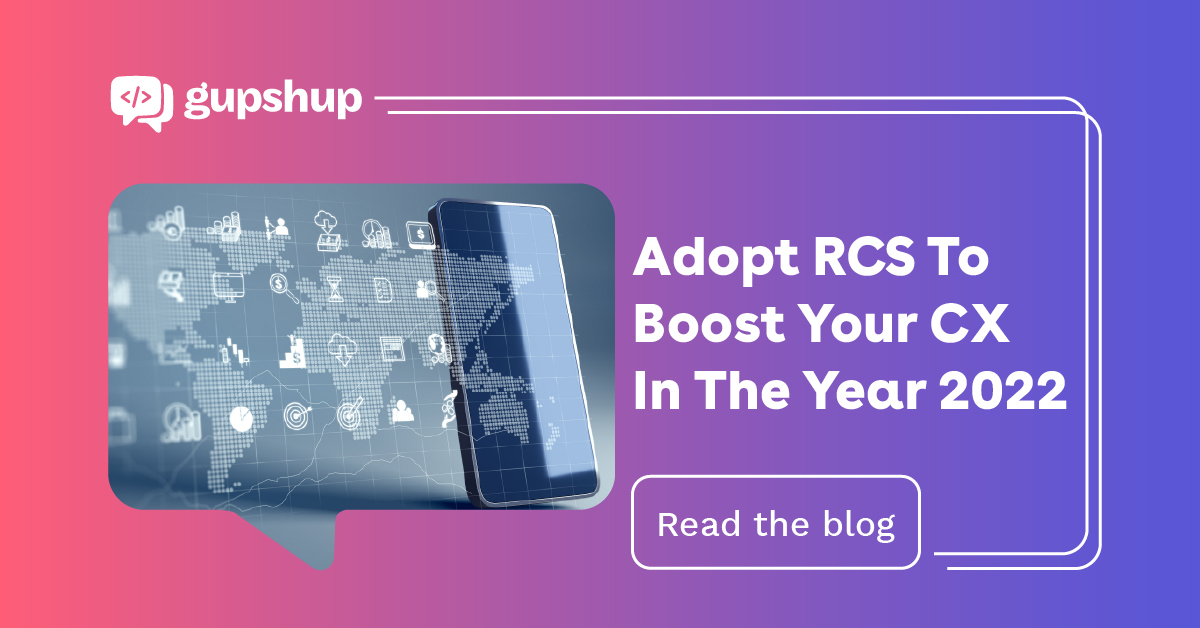 RCS (Rich Communication Services) has been "just around the corner" for almost a decade, but several recent developments in this space and more than 700MM RCS users globally – it is seeing an increase in interest from the brands. It offers them the ability to engage with customers like never before on the user's native app by sharing high-resolution photos, videos, location, group chats, read receipts, suggested replies, among several other functions.
OTT apps such as WeChat, WhatsApp, Facebook Messenger, Line and Viber have been popular messaging channels. However, if you're a brand that wants to reach and engage with as many customers and prospects as possible,  you may need to have a presence on each of those platforms. With RCS user adoption is simple and straightforward. Customers no longer need to download multiple apps to get a rich messaging experience. Instead, they will be able to get direct access to the brands from within their messaging app, allowing them to engage with automated chatbots/live agents to buy clothes, book flights, make restaurant reservations, etc.
A study by Markets and Markets estimates the global RCS market size to grow from $5.2 billion in 2020 to $11.7 billion by 2025, with a compound annual growth rate (CAGR) of 17.6%. The study even mentions that the rising internet penetration across the globe followed by strong initiatives of operators to promote the RCS through campaigns, continue to drive the growth of RCS in developing economies.
A study by Juniper Research predicts a 2500% growth in RCS Business Messaging traffic by 2025 to 415 billion messages, up from 160 million in 2020.
With brands like Subway seeing more than double the conversions achieved using RCS on their most successful SMS campaign, and many others leveraging the rich capabilities of RCS for marketing, support and commerce workflows – we believe it is now for others to unleash the potential of RCS.
Reasons why you should add RCS channel to your CX strategy
Part of 5G standard
RCS, the next generation of SMS, is part of the 5G standard. RCS works on 3G and 4G networks along with SMS; in 5G networks, RCS replaces SMS. Implementation of RCS has been mandated by the 5G standards in 5G networks and devices. RCS will enhance 5G, as it will offer subscribers a new, tangible service with 5G's flexibility, low latency and bandwidth. As more and more users are experiencing RCS, it is now on the brands to offer them the rich messaging interface that they are now getting used to or rather expecting.
Google's worldwide RCS rollout
Google has been actively working with the mobile industry and device makers on several carrier networks in various countries to provide chat-like messaging experience in users native messaging apps. As smartphones are getting more advanced, and with the advent of several OTT apps, it has become of paramount importance to progress and deliver a rich messaging experience on customers' native messaging app.
Last year Google completed the global rollout of RCS, now anyone using google message's app as their native messaging app will be able to receive RCS messages either from their carrier or directly from Google. This announcement comes as a boon for brands, as it helps curb the problem of reach.
Major ODMs and carriers supporting it
RCS is supported by GSMA, MEF, Google, Samsung, major ODMs including Xiaomi, Vivo, Oppo, Oneplus; major carriers including AT&T, Verizon, T-Mobile, Vodafone, Orange, Airtel, Telefonica, British Telecom, Claro, Rogers, NTT Docomo, Softbank, SK Telecom, China Mobile, Jio, VI, and Globe. Till date, RCS has been launched in over 90 carriers and we are seeing the entire ecosystem being ready for enabling RCS globally. See all the global launches here.
Rich and secure messaging interface
A typical RCS business message differs from an SMS in that it has features that offer branding, security, trust, and a rich conversational experience akin to what is available in the OTT apps such as WhatsApp, Facebook Messenger, Telegram, and Viber. It offers an app-like experience through the native messaging app of the phone. Along with this it offers end-to-end encryption ensuring that no one, including Google and third parties, can read the content of your messages shared between the brands and customers.
Some of the features are:
Branding
Verification and trust mark
Delivery and read receipts
Suggested actions and replies
Rich cards and carousels
Enables 2-way messaging
Conversational messaging is an emerging customer engagement paradigm that enables two-way conversations between the brands and their consumers. Businesses are increasingly leveraging conversational messaging to serve customers in real time with automated chatbots using rich media functionalities such as payment gateways or suggested actions and more, thereby offering a more conversational, contextual and interactive experience.
However, in cases where the bot may not be able comprehend as the text keyed in by a customer lies outside the scope of the predefined FAQs. In such a case, the control is smoothly transitioned to a live agent. RCS provides the scope for personal touch when required – the ability to dynamically move from an automated chatbot to a live agent can be the difference between customer satisfaction and frustration.
Reach iPhone users with Universal RCS
The current reach of RCS being limited to only RCS enabled android mobile devices restricts the potential benefits that  brands  can reap by deploying RCS. With Universal RCS, a solution that extends the reach of RCS to non-RCS devices such as I-phones, brands will be able to provide the RCS experience even to all users and devices. Universal RCS leverages Gupshup IP (GIP) Messaging to send a fallback SMS with a link to RCS like experience over mobile browser to customers. Thus, enabling brands to deliver rich messaging experience with every customer and in turn, increasing revenue opportunities from RCS for all stakeholders.
To remain competitive, investing in RCS is not just beneficial, but has become almost a necessity. If you are looking to explore the capabilities of RCS for your brand, talk to our experts.
Blogs you will want to share. Delivered to your inbox.
Business Email
×
Read: 3 Ways to Capitalize 2-Way Messaging With WhatsApp