6 Advantages Of Chatbots For Companies & Customers
On June 17, 2022
|
7 Minutes Read
Chatbots
Conversational AI
Conversational Engagement
Generic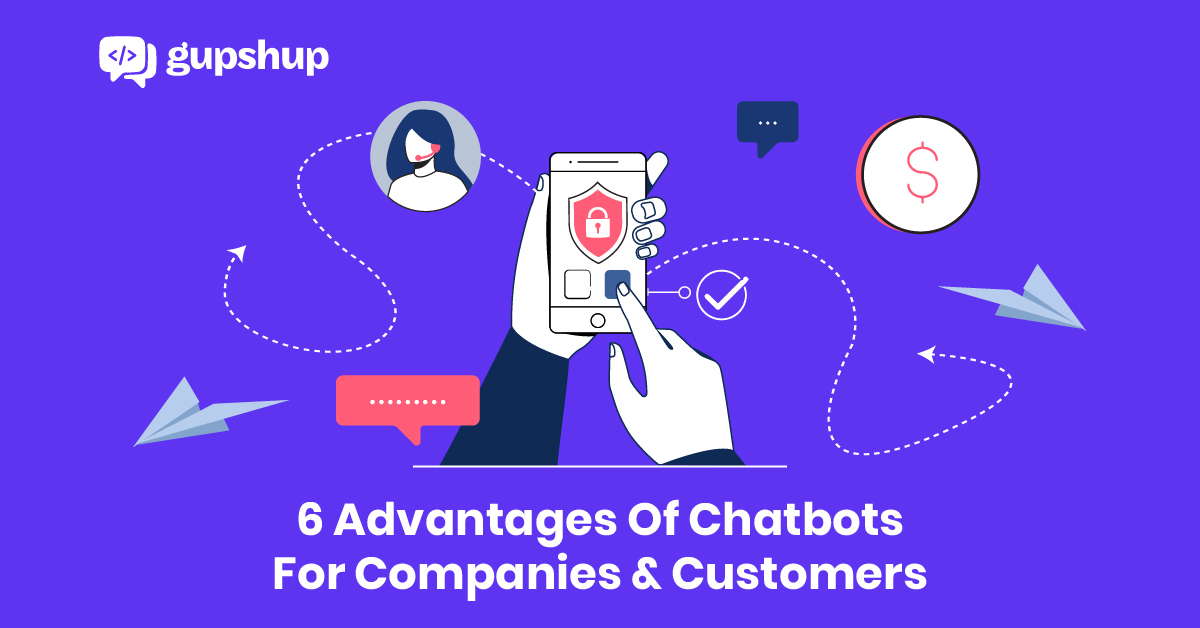 Chatbot marketing or chatbot support are common buzzwords in the enterprise world. Chatbots can be very efficient and help provide real-time assistance to customers over text, voice, or video-based conversations. Statistics show that the artificial intelligence (AI) market will grow at an exponential rate of 41.2% over the next decade, making it $29 billion annually by 2023.
Chatbots are generating increasingly mainstream interest as one of the fastest-growing technology sub-categories to be adopted in its infancy stage. The market for chatbot software is expected to reach $3.89 billion by 2024 at a Compound Annual Growth Rate (CAGR) of nearly 26%. That's because chatbots can carve out substantial time savings for companies and consumers alike when it comes down to repetitive procedures such as responding to questions or setting up new policies, products, or services, for example.
What is a chatbot and how does it work?
A chatbot is a computer program that makes use of artificial intelligence to converse with humans through back-and-forth text messages inside a defined dialog system. Chatbots are often deployed on messaging services, such as WhatsApp, Facebook Messenger, Slack, and Telegram. The more advanced versions rely on machine learning and statistical techniques to retrieve information from content and perform tasks without human intervention.
More sophisticated chatbots can make it seem like customers are interacting with another human by "understanding" natural language better and adapting their responses accordingly. They do this by learning about the context of the conversation, seeking that information if it's not part of its knowledge base, formulating an answer, and finding the best words to respond to it. With chatbots, companies can automate customer communication and provide exceptional customer service.
Bots use a combination of NLP (Natural Language Processing) and machine learning to analyze data insights. Chatbots powered by conversational AI learn from their interactions with customers. It's important to note that the technology is relatively new and requires constant tweaking to reduce errors while continuing delivering on the promise to give customers what they want.
Benefits of chatbot integration
With the right features, chatbots can change the way you do business. Today, companies have a choice: they can adapt or die out by not changing with the times.
Let us understand some key benefits of integrating chatbot ai in the business scheme of things.
1. Clean Customer Service
Chatbots allow you to provide clients with real-time assistance in moments where an email may take hours or even days to reply. Chatbots also reduce the risk of miscommunication and negative reviews by immediately responding to customers.
2. Enormous Savings In Time & Money
A report by Retaildive says chatbots are bound to change the way businesses interact and sell their services in the next few years. Chatbots are projected to save $11 billion by 2023 by reducing time wasted and money spent during transactions. The same report found that chatbots will grow the e-commerce business sector to $112 billion this year and will be responsible for almost 2.7 billion hours saved – all because of automated chatbots powered by the AI technology and software that provides solutions in real-time by responding to consumer questions, concerns, and requests.
3. Elimination Of Tedious & Time-Consuming Tasks
When a customer requires assistance during off hours, you can be sure that your chatbot will be there to help without delay. Chatbots can answer complicated and repetitive questions like FAQs efficiently. Many companies who have integrated chatbots into their business's infrastructure report happier customers who feel more satisfied knowing they won't have to wait around for a reply to an email or voicemail message.
4. Guarantee Of A Smoother Customer Journey
The biggest benefit of chatbots is the ability to make the experience smoother for the customer. Anyone who owns a company that sells products online knows that it doesn't take much to tire your customers out with a subpar experience and, in turn, make them not want to continue with their purchase. With chatbots, businesses can keep an eye out for what customers might need help with during or after checkout or offer perks during the shopping journey to reassure potential customers to go through with their purchases.
More brands are leveraging retail bots. These days, it's not uncommon to see one pop-up on any given page advertising a product or offering information about shipping costs when someone hovers over an item they might be interested in buying.
5. Reduction In Stress & Anxiety For Consumers
Research by Helpshift discovered that most consumers fear talking to customer support reps because they feel uncomfortable, inconvenienced, and otherwise irritated by it. They believe phone calls are inconvenient, while others think they are expensive or a waste of time. Giving your customers the option to connect with you on a platform that is more convenient for them, like messaging apps,helps boost customer satisfaction, lowers support costs, and improves contact center metrics.
6. The Opportunity To Humanize Your Brand
There is flexibility to make it possible for chatbots to engage customers on various levels. This way, businesses can use chatbots for multiple things, including technical support, sales information, and account management. This gives brands the ability to create a chatbot that fits whichever role they program them for – whether it be affable tech/sales/account managers – if you're looking for something more on the friendly side of the business spectrum.
This personification of chatbots is not only helpful but may be rather beneficial depending upon how your brand voice is visually and audibly portrayed to build good customer relationships. It may also help dispel people's concerns about interacting with chatbots, which will spark curiosity in those already weary.
The Gupshup Solution
Did you know that Gupshup was named by Hacker Noon as one of the 10 best AI-powered enterprise chatbot builders in the world for 2021?
Gupshup's bot platform enables businesses to build intelligent chatbots and voice assistants that can be built once and deployed across 30+ channels. Developers can create documentation with details about each feature and inline documentation to help develop the bots for use cases. #LetsGupshup to know more.
Now that we have understood some crucial benefits of integrating chatbots into an organizational setup let us try and answer some basic FAQs around the topic.
Are chatbots cost-effective?
As per estimates by IBM, chatbots can successfully answer up to 80% of routine, repetitive, and commonly asked questions. The overall costs involved in customer support come down drastically as a chatbot can address thousands of queries at once, whereas human support or live chats are limited to one query at a time.
How can chatbots help my business?
Chatbots are a form of self-help tools for improving communications. Brands and organizations of any size can integrate chatbots on websites to improve customer experience, generate more sales, and build a deeper relationship with customers. Chatbots allow potential customers to easily interact with your brand through simulated conversations.
Are chatbots the future?
Technologies like conversational AI-powered chatbots have opened doors to faster customer service support and solutions. The future of customer support includes conversational support, which helps provide faster customer service in the form of smart product recommendations, and engaging customers through targeted marketing campaigns. And in this endeavor, chatbots can play a significant role.
Do chatbots help bring companies and customers together?
The answer is a resounding yes.
Today, chatbots are a winning formula for any small or big business and are an incredible addition to any technology stack. The benefits of chatbot technology are visible when it comes to offering exceptional customer service, but AI-powered chatbots also have the potential to do so much more in bringing companies and their customers together.
Blogs you will want to share. Delivered to your inbox.
Business Email
×
Read: 8 Clever Ways To Use Persistent Menu To Boost Engagement On Instagram