8 Clever Ways To Use Persistent Menu To Boost Engagement On Instagram
On June 20, 2022
Conversational Engagement
Generic
Instagram API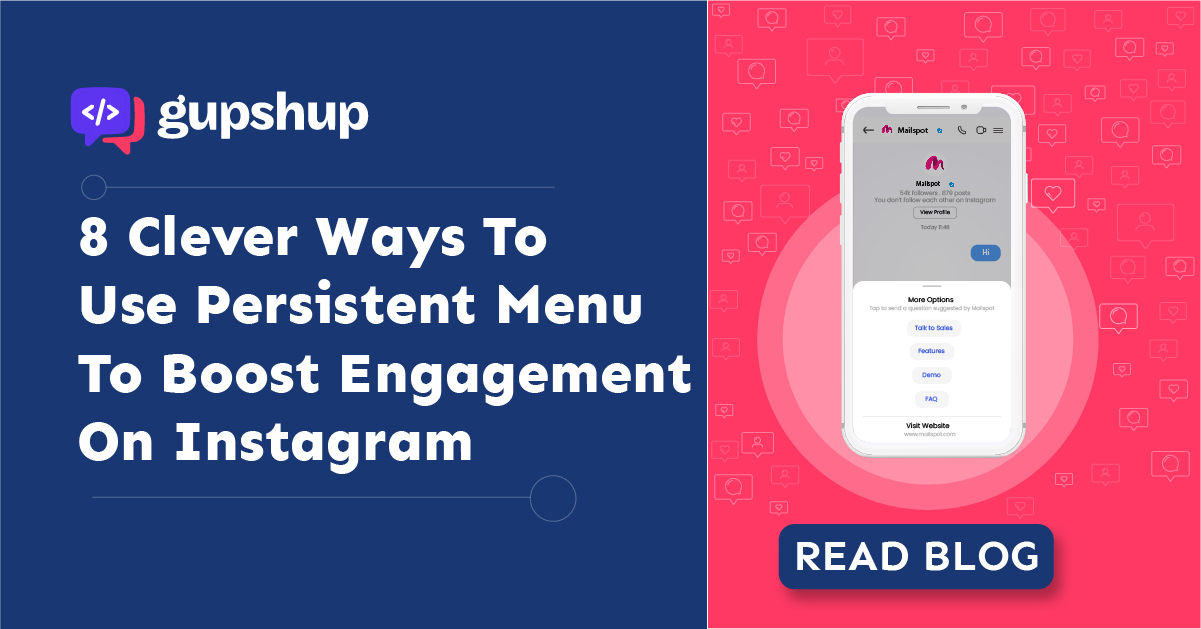 Instagram messenger API has changed the way brands engage with their customers and followers. By automating Instagram DMs, brands can level up engagement through one-on-one conversations with their followers and users, across marketing, commerce, and support scenarios. If you have been following our blogs, you must have been aware of the various possibilities that the API offers, such as:
In an attempt to help marketers offer an engaging customer experience during conversations on Direct Messenger, Instagram API comes with many features such as:
Ice breakers
Product templates
Carousels
Quick replies
Now, to make it easy for your customers to navigate and access the core functionality of your automated Instagram Direct Messenger, the Instagram Messenger API has introduced a feature called Persistent Menu.
What is a Persistent Menu on Instagram DM?
Persistent Menu, is a user interface pop-up within Instagram Direct Messenger that is designed to give your customers quick access to the core functionalities of your Instagram DM bot. It is a slider that makes the main menu of your Instagram bot available to your customer at all times during a conversation, thus saving them the trouble of restarting a conversation to access different topics. Below is what the persistent menu on Instagram looks like.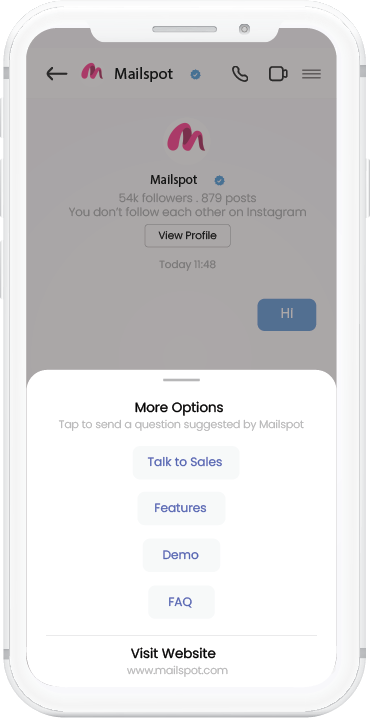 How can customers access Persistent Menu on Instagram bot?
Your customers can access Persistent Menu by going to your Instagram DM and clicking on the hamburger icon on the top right corner. The Persistent Menu option then slides up on the screen with various options and links.
How can one leverage Persistent Menu to increase engagement on Instagram?
Think of Persistent Menu as the menu card of your Instagram DM. You can use it to plug in and showcase topics that might be of interest to your customers. The menu allows you to place a total of 20 options. But for the sake of simplicity we recommend to add only as many options as you think would be needed to help your customers when they visit your Instagram DM.
Here are some ways how you can use Persistent Menu to engage with your customers and add value to conversations they might seek to have with you on the channel.
1. Showcase product categories
If your business has a large product catalog, then you can add "Product Categories" as an option in the Persistent Menu. For example, if you are a telecom company offering broadband, satellite TV, and prepaid and postpaid SIM services, "Product Categories" option on the persistent menu will make it easy for your customers to get to the relevant category and start their journey. You may also think of getting more personalized and add "Customer Profile" and "Personal Recommendations" as options.
2. Offer access to frequently asked questions
As per the pareto rule, 20% of questions are probably asked by 80% of your customers, thus giving an opportunity to increase efficiency by introducing automation. Designing your Instagram bot to present answers to such questions in the form of FAQs can come in really handy for your customers. And placing "FAQs" as an option in the Persistent Menu to access them can make the customer experience really simple.
3. Highlight what's new
As a company, you and your team might be launching products, features and services at every quarter, season or year. Your Instagram bot can be a great place to showcase those. Therefore, adding a "What's New" option on your Persistent Menu can be a great idea to keep your repeat visitors abreast of the latest offerings.
4. Boast trending items
While you might have a long product line, there will always be some items that may be more popular among your existing customers. Then why not make these items easily available to your Instagram DM visitors? This can be a great way to allure prospects to explore trending products, get their questions answered, and then buy from right within the Instagram DM.
5. Offer easy connection to a live agent
A well-designed Instagram DM can be configured to offer impeccable customer support via automated conversations. However, the truth is – having a live agent escalation capability is still crucial to addressing queries that are complex. Therefore, adding the "Speak to a live agent" option on the Persistent Menu can go a long way in improving the customer support experience. With Gupshup's smart Agent Assist dashboard, your team can connect and chat with your customers on Instagram in real-time. Not to mention the numerous integrations that Gupshup offers to make the bot agent transfer seamless.
6. Plugin feedback and surveys
Conducting surveys and collecting feedback are crucial to know your customers better. And since your potential customers engage with you on Instagram, why not make quick access to such surveys available to them through your Instagram DM? Having an option of ongoing "Surveys and Feedback" on Persistent Menu will not only keep your customers aware of these activities but will also help you get genuine responses.
7. Allow tracking of orders
Every activity in business directly or indirectly leads to sales. Then why not make it easy for customers who have already bought your products to track their orders / check their appointments right from within Instagram DM? Having a "Track Orders" option in Persistent Menu can be a wonderful idea to help your customers know the status of their orders or bookings right within Instagram.
8. Showcase current contests, quizzes, or games
Contests, quizzes, and games are a great way to keep your customers engaged. In fact, an Instagram contest or giveaway can help you grow your followers 70% faster in a span of few months. And with conversations, these activities can be made more interactive on Instagram. Therefore making them available from Persistent Menu is a smart way to attract new customers and increase traffic.
Conclusion
Instagram Direct Message Automation is transforming the way businesses engage with followers, users, and customers on Instagram. Leading brands all around the world are harnessing it to establish a stronger relationship with the Instagram community. Livon and Vicco are two such renowned brands that are leveraging Instagram. In an age where chatting on messaging apps is the norm, developing conversational capabilities for brands is not a question of whether or not, but when and how. Automate your Instagram DM today and take a step towards building an omnichannel conversational experience for your customers today.
Blogs you will want to share. Delivered to your inbox.
Business Email
Recommended Resources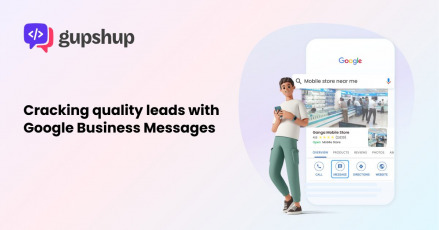 Learn how to revolutionize your lead generation strategy with Google Business Messages. In this blog post,...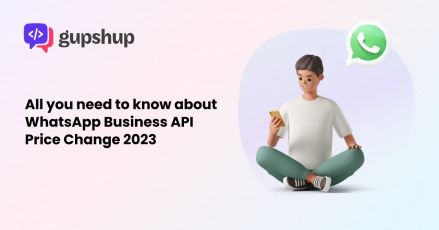 Learn about WhatsApp Business API's new value-based pricing and all the new features to look forward...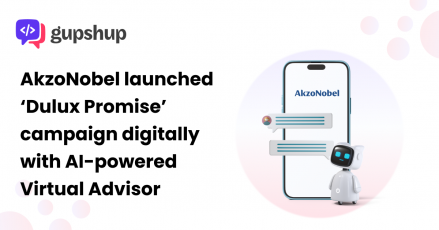 Learn how Gupshup's conversational support solution helped Akzonobel launch a customer loyalty campaign using AI-powered Virtual...
×
Read: 5 Ways To Increase Sales With Chatbots