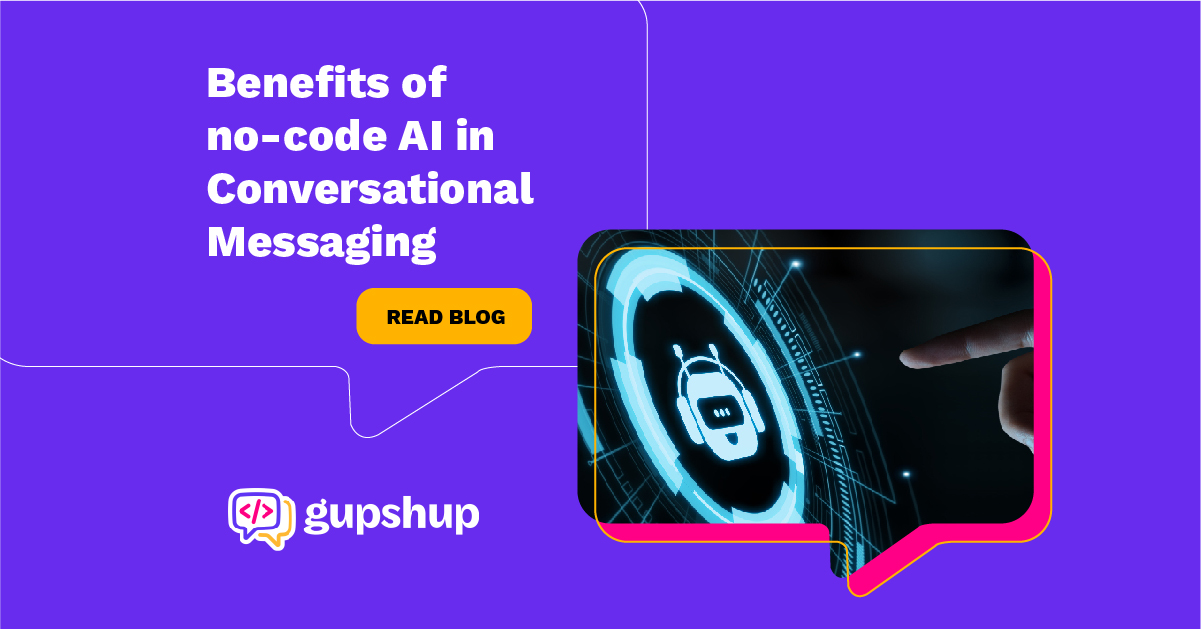 Benefits of no-code AI in Conversational Messaging
Bot Builder, Chatbots, Conversational AI, Conversational Engagement, Generic
On October 11, 2021
Artificial intelligence would be the ultimate version of Google. The ultimate search engine that would understand everything on the web. It would understand exactly what you wanted, and it would give you the right thing.

–Larry Page, Co-founder of Google
Artificial Intelligence (AI) and related technologies like Machine Learning (ML), Automatic Speech Recognition (ASR), and Natural Language Processing (NLP) are making a massive impact on the world by helping to create "smart" machines that can think, learn, reason and even act in human-like ways.
In 2021, AI is expected to create $2.9 trillion of business value and add 6.2 billion hours of worker productivity. By 2030, it will add an estimated $15.7 trillion (26%) to global GDP. So it's clear that AI will generate immense business opportunities in the coming years and improve the human experience in innumerable ways. This is why organizations are harnessing AI to accelerate innovation, transform operations, enhance performance, and strengthen their competitive position.
In this rapidly developing AI landscape, Conversational AI applications like chatbots, voice bots, and virtual assistants are notably garnering a lot of interest in every possible industry – from finance, insurance, and education, to healthcare, retail, travel, and hospitality. According to recent research by TCS, 32% of companies globally are already using chatbots to automate and personalize customer conversations, streamline back-office operations and optimize Customer Experiences (CX).
And implementing chatbots is now easier than ever – thanks to no code AI.
According to Gartner, the number of enterprises using AI grew by 270% in just four years (2015-2019). The growth of low code/no-code platforms for AI applications is partially responsible for this trend. If your organization is exploring the potential of AI but doesn't have the necessary resources to create AI applications like chatbots, consider investing in a low-cost, no-code AI platform like Gupshup.
Read on to know more about the four amazing benefits of no-code AI and no code AI platforms that can potentially transform your organization's future.
What is No-Code AI?
No code AI is "AI without coding." A no-code AI platform provides a fast and easy way for organizations to implement AI-based applications without coding, testing, debugging, or documentation. This is a game-changing benefit for organizations that want to implement Conversational AI applications but lack the development or technical skills.
Using a no-code AI builder like Gupshup, they can design and develop any Conversational AI chatbot or virtual builder and deploy it quickly. The best no-code platforms provide user-friendly visual interfaces, templates, guided actions, and pre-built integrations so that they can develop chatbots in just a few days or even hours.
In addition to chatbots, companies can also take advantage of no-code app development and no-code platforms to build:
Websites and landing pages
User login pages and payment gateways
Website applications
Mobile applications
Software applications
eCommerce applications and stores
Databases
Automated web workflows
The following few sections explore the benefits of no-code AI.
#1. Accelerate Application Development
It's faster to create a no-code application than an application that requires weeks of coding, testing, and debugging. No code development replaces hundreds of lines of code with simple visual instructions so organizations can create and deploy the applications they need faster and with minimal hassle. Since no code apps eliminate coding and debugging, users can quickly go through multiple iterations to speed up solution development and deployment and accelerate time-to-value. According to some studies, no code AI solutions can cut development time by 90%.
Moreover, a traditional AI process involves data preparation, feature extraction, model selection, model fine-tuning, and model training. These require trained/skilled experts and hundreds of hours of planning, execution, and testing efforts. A no-code AI platform eliminates or speeds up most of these steps. It allows users to classify and analyze data quickly, build and train accurate models, and make predictions – all with a simple, visual, drag-and-drop interface and using built-in project templates. They can also experiment with data to improve the quality of their algorithms and predictions.
No programming knowledge or ML expertise is required, so the platform can be used by enterprise leaders, artists, teachers, medical technicians and nurses, factory managers, or anyone else who needs an AI application without the hassle of coding.
#2. Intelligent Automation with Minimal Human Intervention or Errors
Organizations have been using rules-based automation for years. Such systems apply human-made rules to store, sort, and manipulate data and trigger certain actions. Although useful, there is no cognitive, intelligent, or autonomous element to the machine's activities which remain unchanged until the rule itself is changed. Such machines cannot 'converse' with humans to answer their questions or resolve their issues in relevant, contextual, and meaningful ways. This is why such systems are highly limited in their ability to augment human activity.
Cognitive AI and conversational messaging can address these gaps of rules-based automation. However, programming-based AI is intimidating to users who are not techies, data scientists, developers, or engineers. This often limits the full potential and scale organizations can achieve with these technologies. Of course, they can hire AI talent to develop such applications. But since the demand for AI talent is very high (doubled between 2017 and 2019), they can't always find the right professionals to meet their needs. No code development platforms provide an easy solution, so organizations can easily develop AI tools and implement intelligent automation to meet their business requirements.
Moreover, no code AI tools come with robust defaults and safety measures. Many also have built-in human review processes to ask for and accept human input when required. These capabilities reduce human errors and their impact and allow human-tool interactions for more streamlined operations and optimum results.
#3. Growing Number of Use Cases and Applications
No code/low code platforms support the "democratization of AI," making it easier for organizations of every size and industry to tap into the power of AI. A no-code AI platform like Gupshup no longer requires expensive AI specialists, models, or platforms. As a result, even small organizations can create business applications and accelerate digital transformation with minimum effort or technical expertise.
No code AI provides easy-to-use user interfaces (UI), drag-and-drop options, and a visual development environment. It also offers functionalities like analytics, data synchronization, and integration with back-end services. All these advantages enable companies to build any AI-based application for numerous use cases, including:
Marketing: To reach the right customer with the right offer at the right time
Sales: To improve sales forecast efficiency, generate better leads and qualify them faster
Customer support: To deliver personalized support and enhanced brand experiences with conversational messaging chatbots
Business decision-making: Structure data into a meaningful, visual format to improve decisions
Fraud detection: Detect fraudulent and abnormal behaviors, reduce risk, and uncover non-compliant or illegal actions
Healthcare: Analyse patient data to improve diagnostic efficiency and deliver customized medication or care plans
Recruitment: Evaluate candidates' skills and understand their potential "fit" before hiring
Cybersecurity: Predict and thwart impending attacks, and protect enterprise data and intellectual property
#4. Accessible, Affordable, Easy to Use
In 2019, AI was a strategic priority for 83% of businesses. Another 75% believed that AI would enable them to expand into new ventures and enterprises. The popularity of AI is surging. However, AI is a narrow, high-tech niche that requires in-depth knowledge of technology, coding, and data modeling. Many organizations lack skilled AI professionals or the funds needed to invest in the technology. That's why not all of them can tap into their potential.
No-code AI tools simplify AI application development tasks to make the technology more accessible for all kinds of organizations. They can develop applications that offer intuitive user experiences and speed up time-to-market while cutting costs and boosting their competitive position. Such tools can also ease their AI-powered digital transformation journey and prepare them for more intensive use of AI processes, tools, and algorithms in the future.
Moreover, no code (and low code) tools are designed with non-technical or semi-technical users in mind. That's why they usually offer pre-defined components, intuitive UIs, visual programming, and plug-and-play usability, allowing a wide range of users to design AI solutions for any business requirement.
Become An AI-Powered Organization with No Code AI and Gupshup
The world of Artificial Intelligence is poised at a critical tipping point. The number of AI applications and use cases is growing by leaps and bounds. However, a majority of businesses struggle to implement AI to its full potential and scale. This is either because they don't have the budget to invest in ready-made AI tools or lack the skills and resources required to develop them in-house. No code AI addresses the needs of both groups.
Gartner predicts that by 2024, about 65% of application development will be low-code – and AI will be a big part of this trend. No-code AI tools are visual, often drag-and-drop, and easy to use. This allows users with no AI coding skills to build AI apps that address a particular business need in a budget-friendly way. With a no-code AI builder like Gupshup, organizations can quickly iterate through the AI value chain and create high-quality apps that support advanced and error-free automation, scalability, and usability.
Leverage the power of AI in your organization to automate or streamline processes, boost workforce productivity, enhance the effectiveness of marketing, sales, R&D, customer support, and improve business decision-making. With a no-code AI platform like Gupshup, you can achieve all these goals and more.
Blogs you will want to share. Delivered to your inbox.
Recommended Resources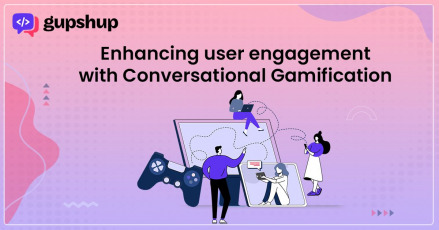 How gamification using Conversational AI builds engagement for customers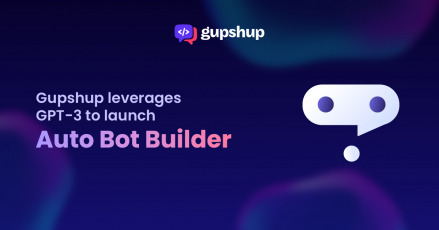 Discover the power of GPT-3 with Auto Bot Builder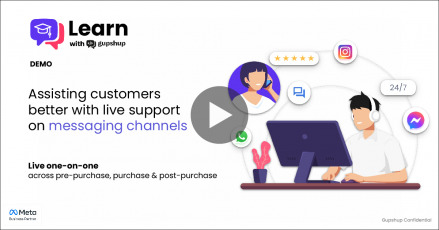 Customers today expect businesses to be there for them on messaging apps. Learn why and how...
×
Read: Why Marketers Should Use RCS