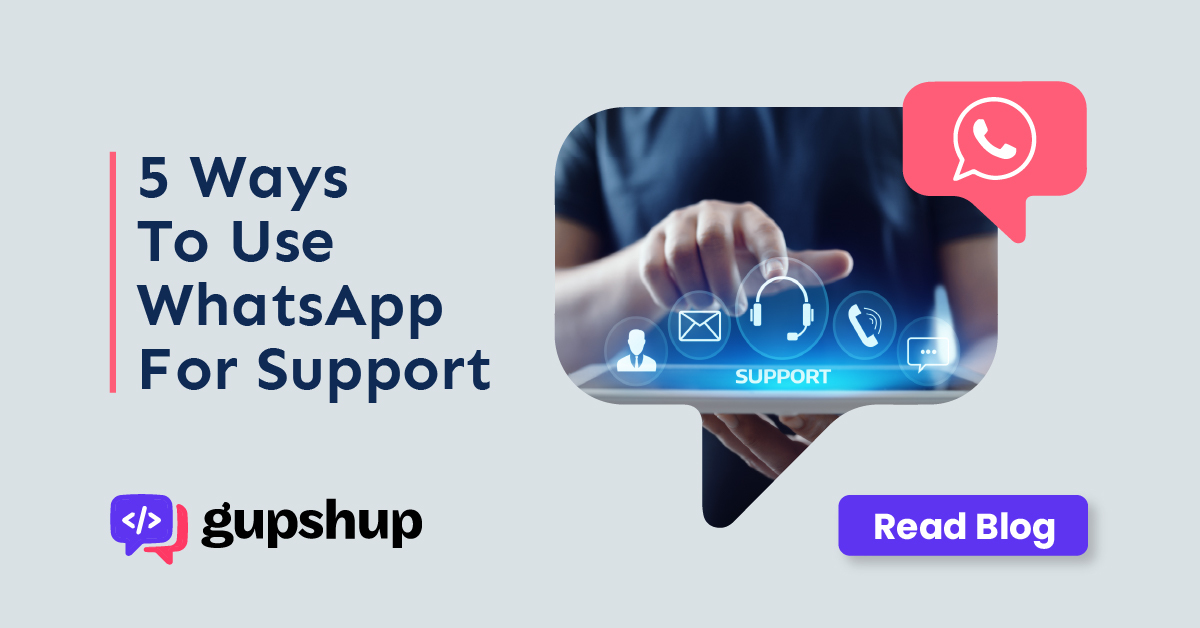 5 Ways To Use WhatsApp For Support
Conversational Support, Generic, WhatsApp Business API
On February 16, 2022
When most people think of WhatsApp, they usually think of it as a messaging app. Not many businesses see it as an appropriate avenue for customer support, or communication for that matter, but when you're in business for yourself and there are over two billion users worldwide who use the services to send text messages, images and videos from mobile phones – not using WhatsApp to communicate with your customers is a major opportunity cost because this number will only increase as more people continue to sign up. Why? Because more than five million businesses around the world currently use WhatsApp Business to connect with their customers and build positive relationships.
There are tons of convenient customer support options out there, but few come close to the reach WhatsApp (owned by Facebook) has. According to the company's own data, it claims that it reaches nearly 1 billion active users across all its platforms, with 200 million using its messaging service every day. New features offer business owners the ability to create "bots" that essentially function as "agents" of sorts whose sole purpose is to service your messages quickly and effectively. With all this massive potential, you might wonder why so many businesses continue to rely on thin social media updates or email follow-ups for their customer support needs!
Using WhatsApp for Support
WhatsApp is a popular on-platform customer service tool for businesses around the world. You see, having two billion registered users means that a lot of your customers are already using it to communicate with family and friends, so why not use it as a way to get in contact with them? It may represent the first step for you to retain happy customers who could potentially spread positive word of mouth marketing about what a great product or service you provide! And should all go well and your business grows into something more than five million others are doing right now, there's an excellent opportunity for you to improve it by staying ahead of the curve!
There are many use cases that exemplify how WhatsApp can be a powerful tool for supporting and being there for your customer 24/7. Let's understand five important ones:
· Multimedia messaging options
Businesses can better help customers when the messages contain images, videos and other multimedia elements. Customers are better able to explain the issues they are facing with a product or service and this, in turn, helps the business in resolving the issue quickly and efficiently by escalating to the correct department.
· Follow-ups and regular reminders/notifications
If a business sells products that particular customers buy regularly or on a recurring basis, they can send product notifications, offers, and discount notifications on a regular basis. Post-purchase relevant reminders, follow up on services, etc can be handled in an automatic manner.
· Call options
There's always the option to jump on a call when needed. Texting is always the mainframe agenda, but customers and businesses alike can indulge in a quick call to resolve an issue faster, with permissions granted suitably both ways.
· Automated messages
One of the prime messaging features of the WhatsApp business is its automated messaging systems. Businesses can set up automated 'away' and 'welcome' messages and create templates for 'quick replies', which could be sent out as prompt customer support messages.
· Chatbots to automate conversations
With WhatsApp chatbots, the most common questions or queries can be handled with ease and utmost efficiency. The bot can actually help offload more than 70% of the customer query load, which indirectly frees up your live agents to focus on more complex customer issues.
If you indeed decide to use a chatbot for WhatsApp, make sure to choose a chatbot platform that allows you to run the bot anywhere, and deploy it on multiple messaging channels, including Google Business Message, Signal, Facebook Messenger etc.
Use WhatsApp Support To Your Advantage
Most businesses see WhatsApp as an app for basic chatting and for communicating with their customers. However, it's obvious that the world has moved on from static marketing tactics to messaging apps and thereby other avenues of communication between companies and consumers because instant messaging is becoming more ubiquitous by the day and so essential as an option of company-consumer interaction. Ultimately, not appreciating this latest trend means fewer firms making use of what is essentially needed to push their customer support a notch up. And who knows how many more customers would be potentially retained? So, if any businesses are unaware of these possibilities and have kept their marketing strategies unchanged for years, now is the time to think again!
If you are a company looking to integrate WhatsApp into your business for various marketing, support or commercial departments, the easiest way to do it is with a seamless, low-code platform like Gupshup. Gupshup facilitates easy coordination between you and WhatsApp and saves you a lot of trouble. While most of the communication is automated, Gupshup efficiently takes care of processes that WhatsApp has deliberately left to human expertise. Start engaging with customers, addressing their questions and concerns, encourage conversions and repeat sales, and even send automatic updates, alerts and notifications easily from your mobile phones.
#LetsGupshup to get started.
Blogs you will want to share. Delivered to your inbox.
Recommended Resources
What are AI-powered chatbots, how do they work, the benefits of chatbots and why are they...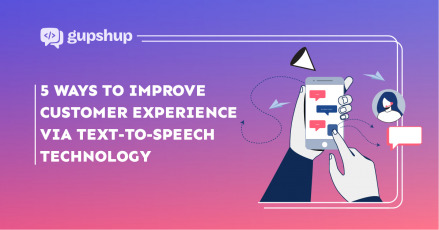 Take your customer support to the next level with text-to-speech technology! Read the blog to dig...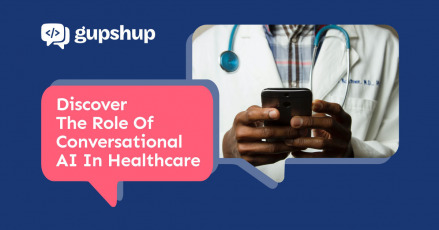 Conversational AI can enhance user journey and offload work pressure in the healthcare sector. Read on...
×
Read: Integrate WhatsApp With Your Shopify Store