Interesting Logistic Problems Solved With Conversational Messaging
On May 6, 2022
|
4 Minutes Read
Chatbots
Conversational AI
Conversational Engagement
Logistics
Omni-channel Messaging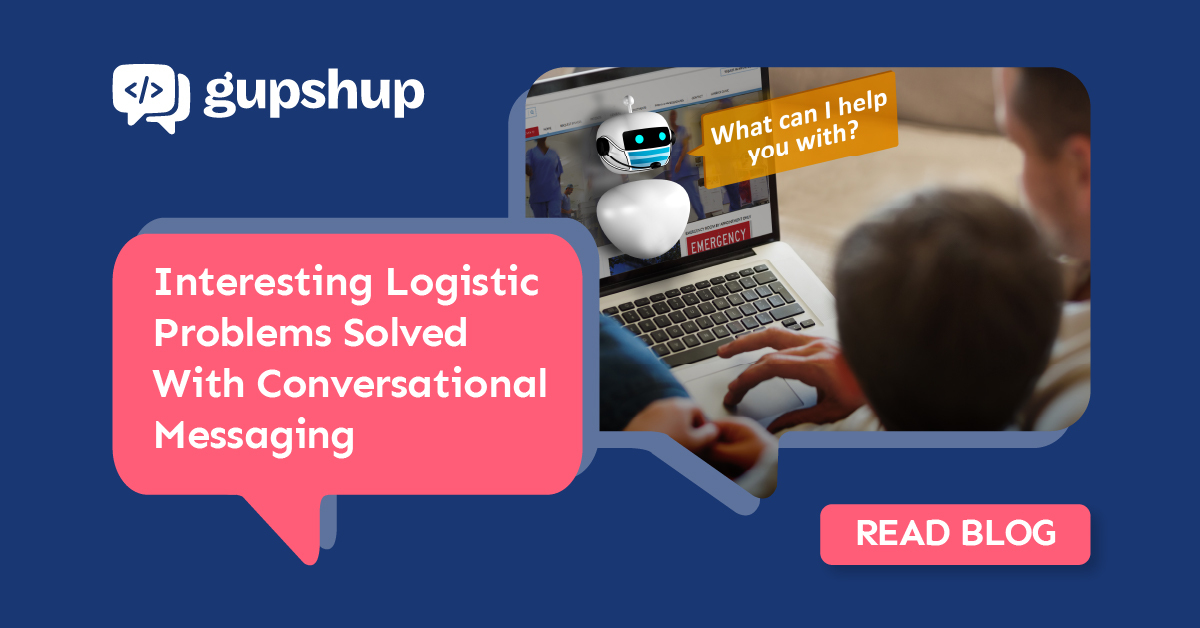 When it comes to the logistics sector, customer support is a vital operation. Dealing with queries, slotting processes and handling day to day operations can be overwhelming. Communication issues in supply chain management can quickly lead to an avalanche and disrupt an entire shipment or workflow. Communication delays can cause a cascade of problems in a logistics company's supply chain, reducing efficiency and increasing costs.
Communication delays can create serious problems throughout the supply chain, reducing
productivity and hurting a company's bottom line. Automation definitely becomes the need of the hour. And with the power of conversational AI-powered tools, its becomes all the more easier.
With a conversational AI platform, you can automate answering customer questions, executing transactions, or achieving any related goal—all conversationally. In addition to improving the customer experience and meeting high consumer expectations, AI conversational applications can also help transport and logistics companies improve efficiency and reduce costs. Done right, conversational AI applications can improve the customer experience and provide T&L companies with a competitive edge, helping them retain and win business in the future. There is a great opportunity for logistics service providers to use conversational AI to improve customer experience and efficiency while reducing costs.
Implementing conversational AI applications such as intelligent virtual assistants (IVAs) enables automated self-service such as real-time monitoring, outgoing notifications, and a personalized omnichannel experience for each customer.
Simplify communication between companies and customers
Conversational AI systems in the logistics industry improve workflow by removing distractions from customer interactions. Conversational AI platforms automatically assess user interactions and reduce operational risk by closely monitoring all customer relationships.
Enterprise messaging enables real-time communication, giving employees and management time to respond to the ever-changing conditions in the logistics industry. Instant messaging for business and mobile solutions can help keep operations in sync. With so many moving parts, a mobile solution allows teams to automate critical business processes and communications to simplify logistics management, ensure workflow continuity and stay on schedule. Mobility provides the answer by simplifying logistical communication and solving the key challenges faced by companies in a globalized economy.
Logistics companies can solve the communication problem in the supply chain and speed up past problems that may have slowed down their competitors. From fleet management to ordering supplies and supplies, one communication problem can cause a ripple effect and completely disrupt shipments or the entire workflow. To mitigate this problem, supply chain workers can use conversational ai-powered communication tools to increase the speed and flexibility of logistics communications.
Role of chatbots
When it comes to logistics, chatbots excel at customer service. Chatbots provide operational support in the form of conversational support, as they can offer possible solutions to various customer issues. A chatbot can act as a shopping assistant and help speed up the process by making it easier for your customers. Once their requirements are identified, the chatbot can suggest solutions and provide options to develop a flawless purchasing strategy.
For example, during an automated WhatsApp Business conversation with a WhatsApp Logistics Chatbot, the customer will be redirected to a Service Desk Manager if the bot suspects this is necessary. You can also transfer chats to different departments according to some specific keywords that the WhatsApp logistics chatbot will detect. Chatbots also allow for a two-way conversation between a company and its customers. Some chatbots collect and store customer information over time and automate the transfer of information to sales teams to close deals.
Message templates can be used in conjunction with chatbots to update and initiate two-way communication with customers at minimal cost. WhatsApp business message templates can be customized according to customer needs to optimize customer service in the logistics industry.
With the WhatsApp Logistics chatbot, you can auto-answer up to 80% of support questions and reduce the cost and staff associated with support and your employees' free time to solve complex problems that require human intervention. Chatbots can be your solution to easily guide customers to what they are looking for and make their life easier.
Conclusion
Brands are using chatbots for just about every possible activity in customer service, improving sales and marketing, effective team communication, etc. Right now when most people think about chatbots and the types of areas they excel in of all work, marketing and customer service seem to come out the most. One chatbot can easily take care of most of the communication needs of a logistics company; coordinate delivery and collection, help drivers find the right places, and more.
Probably the biggest benefit of incorporating conversational chatbots into your business is to simplify the user experience and provide a unique customer experience worth keeping in mind. #LetsGupshup to know ore.
Blogs you will want to share. Delivered to your inbox.
Business Email
×
Read: How Cloud Telephony Boosts Growth Prospects Of Startups and SMEs