Boost Your ROAS With Click To Instagram Direct Ads
Conversational Engagement, Generic, Instagram API
On March 2, 2022
Tracking Return on Advertising Spends (ROAS) is one of the key metrics for any Demand Generation Marketer. How many dollars are being spent and how much revenue is it bringing in is crucial to keeping your marketing budgets under control and returns from it higher. While a lot has been said about tracking these metrics, you might find little information on ways to increase them with an innovative approach. Some of the popular techniques that you might have heard of and probably are already practicing are:
Experimenting with your advertising bidding strategy
Tweaking your target audience
Changing your keyword targeting
And improving landing page experiences
But the question is, is that all? Not really. With Instagram's Click to Direct Messenger Ads, there is a whole new advertising experience which if you deliver to your potential customers can help you establish an instant connection with them, generate leads, close deals and thereby increase your Returns on Advertising Spends exponentially.
What is Click to Instagram Direct Ads?
Click to Instagram Direct Ads, also known as Instagram DM Ads, Instagram Chat Ads, Click to Chat Instagram Ads, is an innovative feature from Instagram which enables businesses to integrate Instagram Direct Messenger into their Instagram advertising campaigns. This gives your customers an opportunity to connect and converse with your business one-on-one from your Instagram ads.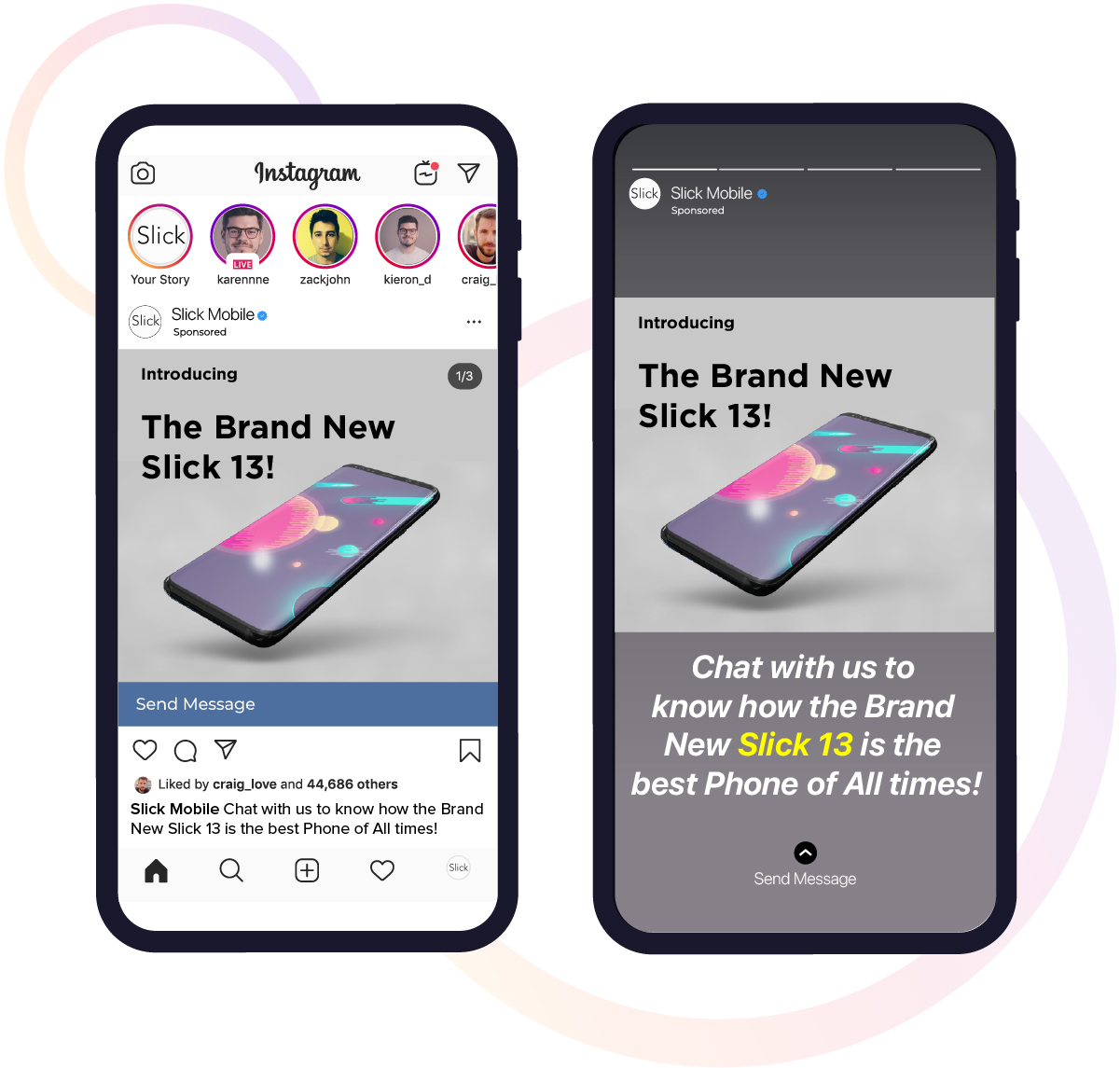 Your customers, after clicking on your Instagram ad, get to chat with you to explore more about the products or services they have seen in the ad, ask any queries that they might have with respect to those products or services, and place an order right from within the Instagram Direct Messenger. With the help of automation, the feature weaves in conversational commerce beautifully into Instagram thus helping your business pay personal attention to their millions of potential buyers on Instagram.
Why Click to Instagram Direct Chat Ads is important?
The rule of thumb when it comes to running a successful business is to give customers what they want. This is not only relevant with respect to the value your products or services offer to your customers but also the experience you deliver to them as a brand. Materializing click to Instagram Chat Ads is essential for brands for the same reasons:
1. Your customers want to chat with you
The advent of OTT platforms has changed the way consumers interact. They prefer to chat. And not only with their friends and families but also with brands and businesses. And why wouldn't they, it is so much easier to chat over messing channels like Instagram Messenger than to call or email. Chatting is prompt, makes customers' experience more personalized, and therefore has the potential to move things faster.
2. 72% of shoppers are more likely to buy if they can ask questions in real-time
Numerous surveys done around the world suggest that not only do customers want to chat with businesses, but they are also more likely to make a purchase if they are able to message a brand and ask questions in real-time – a logical expectation. Being able to ask questions in real-time would help customers clear their apprehensions and thereby make an informed purchase decision. Not being able to do so leaves room for doubts, hesitations and thus increasing drop-offs.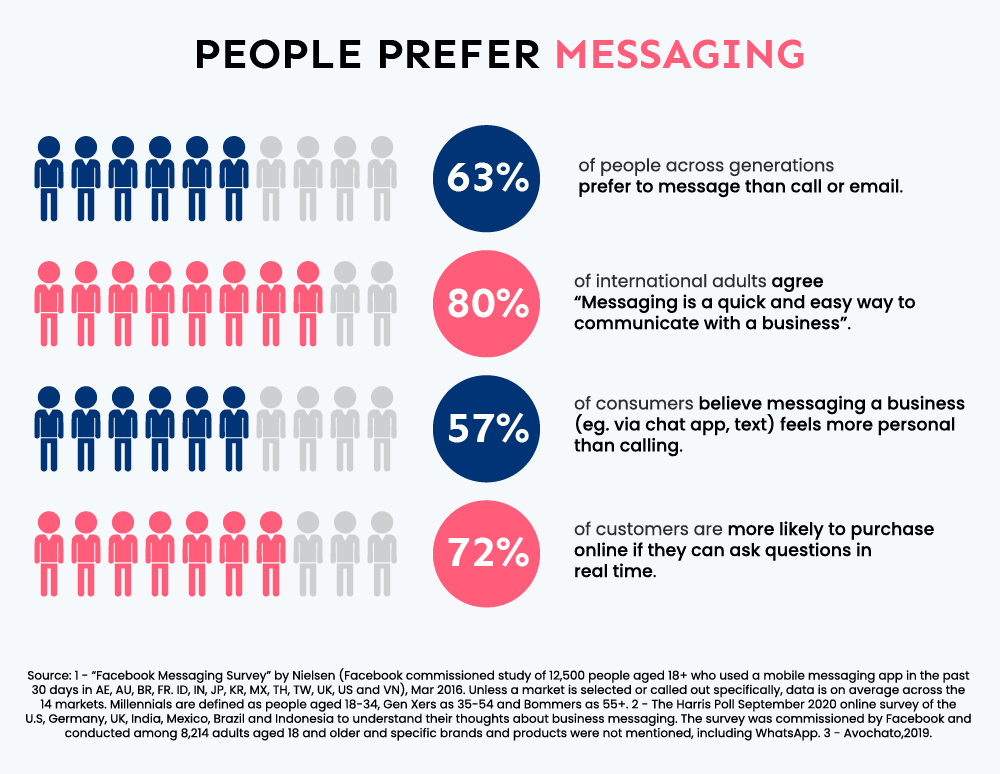 4 Business Benefits Of Running Click To Instagram DM Ads
Apart from offering the chat experience that consumers expect from your brand, running a click to Instagram DM advertising campaigns have 4 concrete business benefits:
1. Monetize Marketing Spends Better
The end goal of any marketing dollars that you spend is to increase sales and bring in revenue, in some form or the other. The Instagram Chat Ads helps you achieve the same by devising action-based conversational journeys. The click to Instagram Direct Messenger Ads can help you navigate your potential customers from Sponsored Posts/ Stories to query discussion to conversion.
2. Reduce Drop Offs that occur due to Redirection
Redirection often leads to drop-offs. The Click to Instagram Direct Messenger Ads, help you reduce this by interacting with your customer and building a connection with them throughout their journeys. Since the customers are not directed to a static landing page with uni-directional information, but to an interactive conversational experience where they can explore, chat and place orders, it reduces customer drop-offs dramatically.
3. Increase Sales with Keyword Based Conversational Triggers
With AI-based chatbots, Instagram chatbots can be configured to trigger keyword-based conversations. This enables brands to showcase and drive conversions towards the products and services that the potential customers might have a preference towards and they are more likely to buy.
4. Use Automation to Nurture Leads Instantly
Being able to reply promptly to queries when your customers are in the mindset to purchase can help them make their purchase decisions faster. Thus leading to faster conversions. And with innovative use cases such as Gamification, the potential to start nurturing your customers the moment they discover you is immense.
Some Quick Use Cases of Click To Instagram Direct Ads
Product Enquiry
Set up keyword-based micro-journeys to answer a variety of questions related to the product.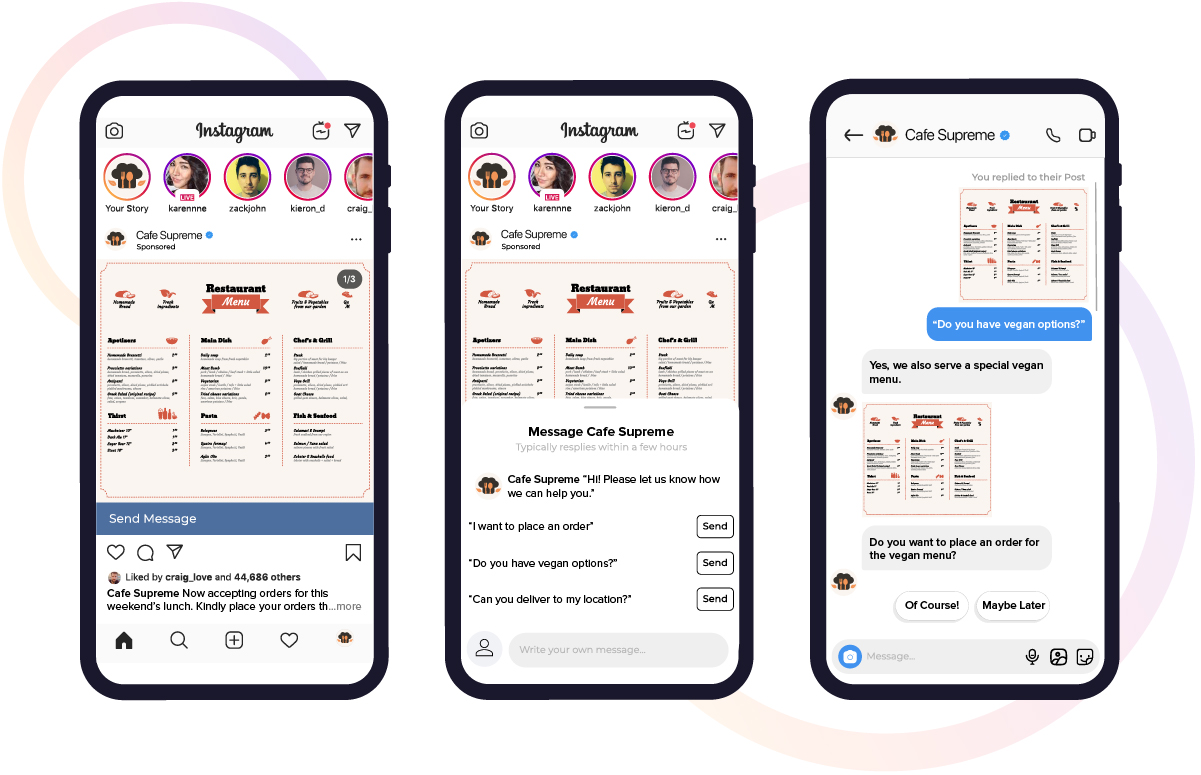 Lead Generation
Collect customer information when they show interest in the product by clicking on the ad.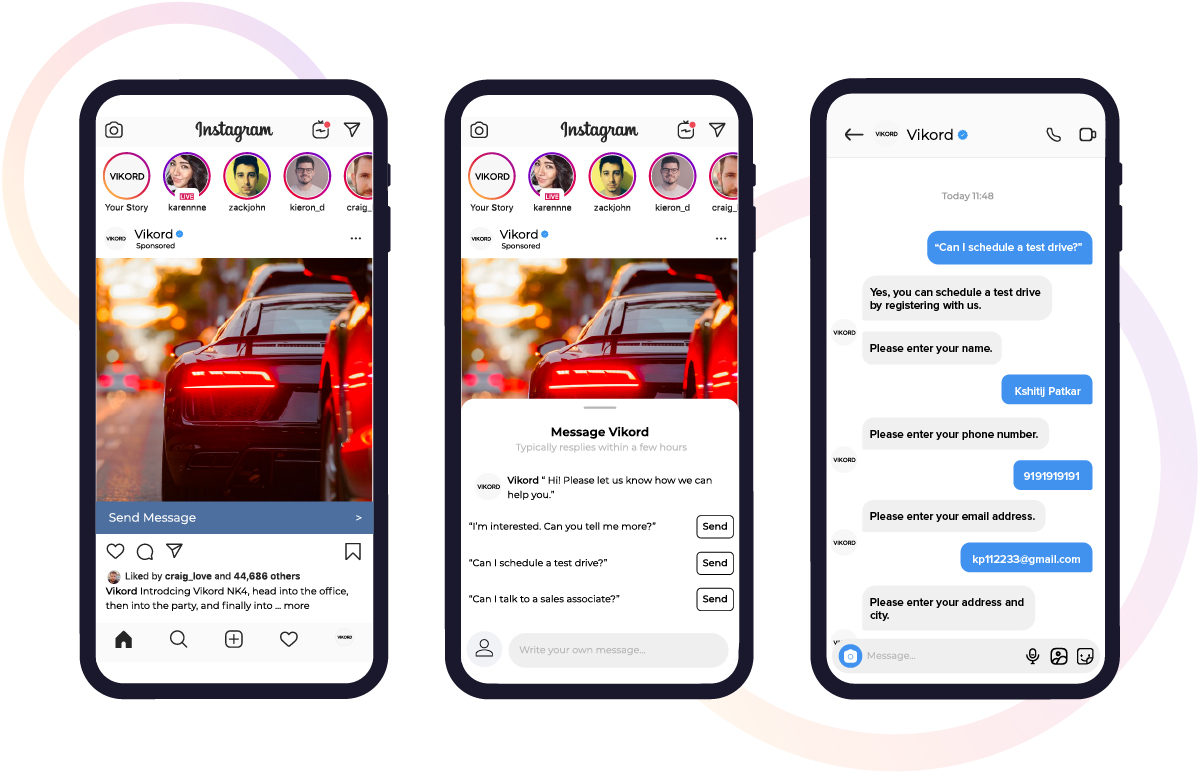 Shopping
Allow the customers to place an order for the product shown in the ad.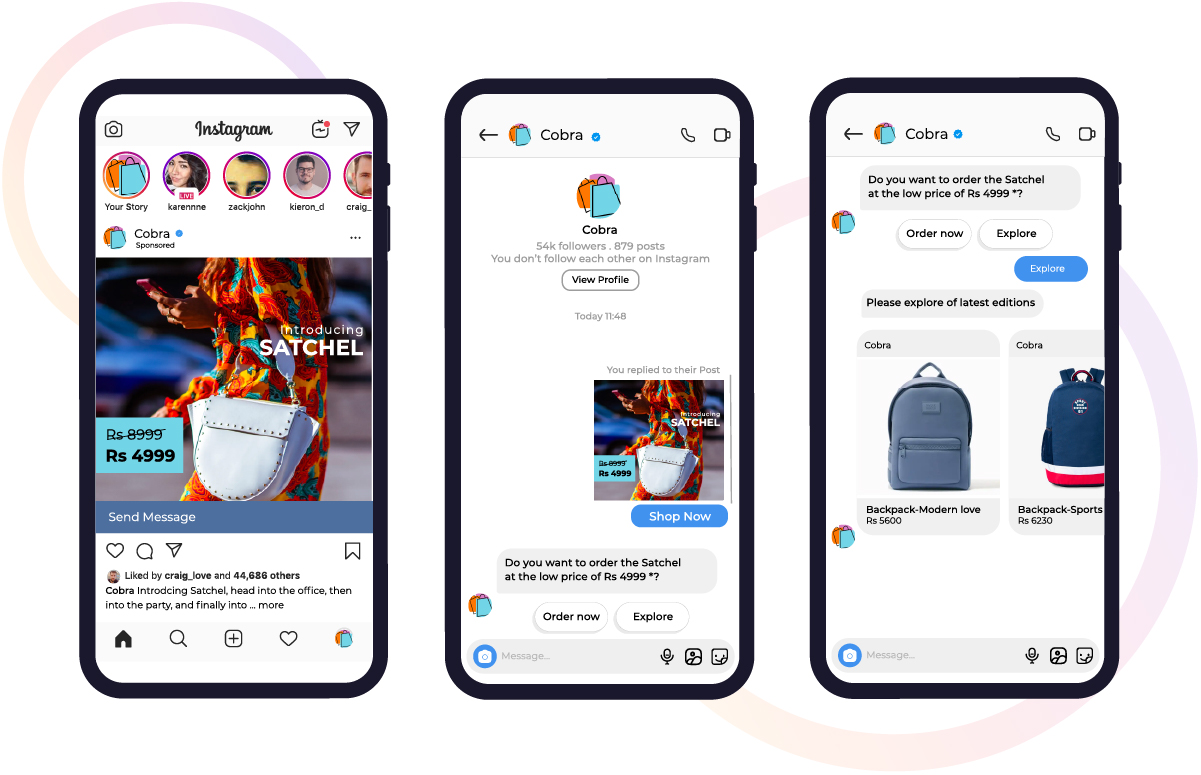 Collect Feedback
Ask customers to send feedback about their experience by clicking on the ad.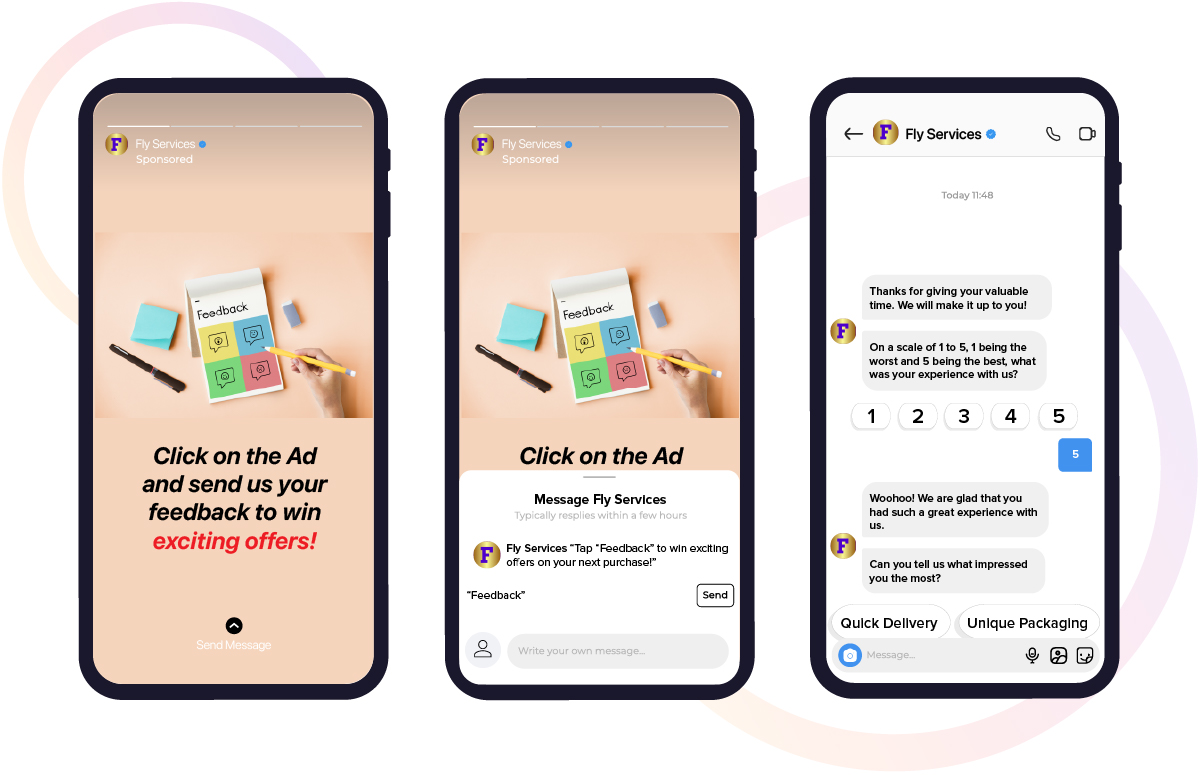 How to Set Up Click to Instagram Direct Ads?
Create a new ad in Facebook Ads Manager & select the Messages objective
Open your Facebook Ads Manager and create a new ad by selecting Ad Creation.
When given the choice of what ad you want to create, select the "Messages" objective.
After selecting the Messages option, click "Continue".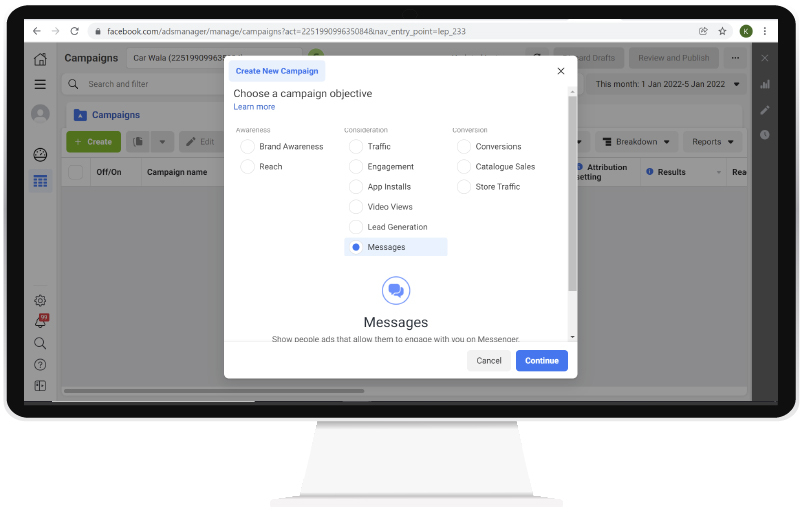 Choose Instagram Direct as the Message Destination
Go to "New Messages ad set" in the sidebar.
Select "Instagram Direct" in the "Messaging apps" under "Destination".
Then choose your preferred Instagram business account and Facebook Page in the "Accounts" section.
Edit your Budget, Schedule, Audience and Placements
Go to "New Messages ad set" in the sidebar.
Scroll down and configure the budget, schedule and audience as needed.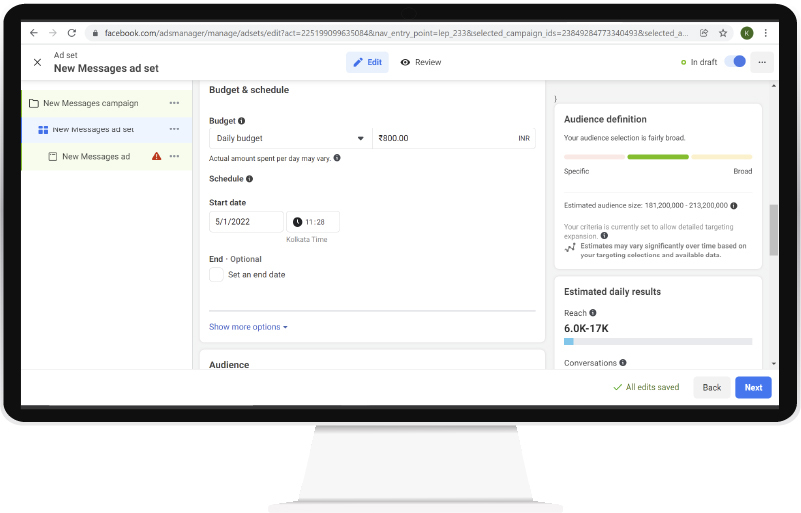 In the "Placements" section, select the "Manual placements" option and select "Instagram Feed", "Instagram Explore" under "Feeds" and "Instagram Stories" under "Stories and Reels".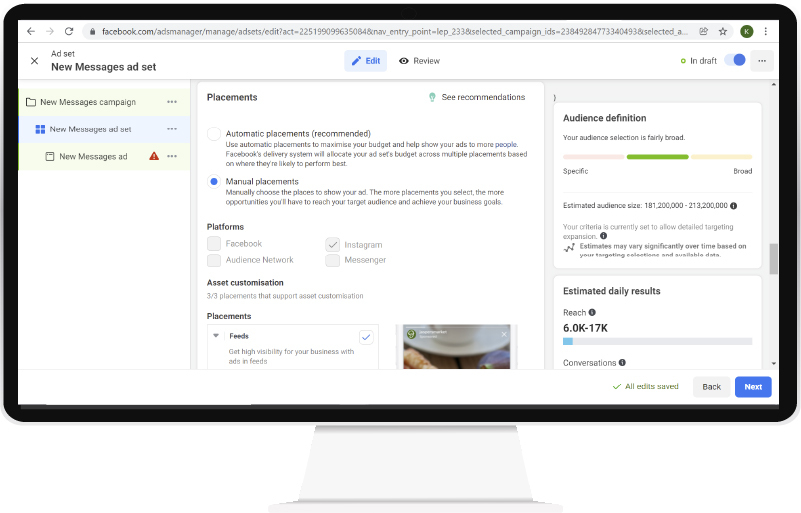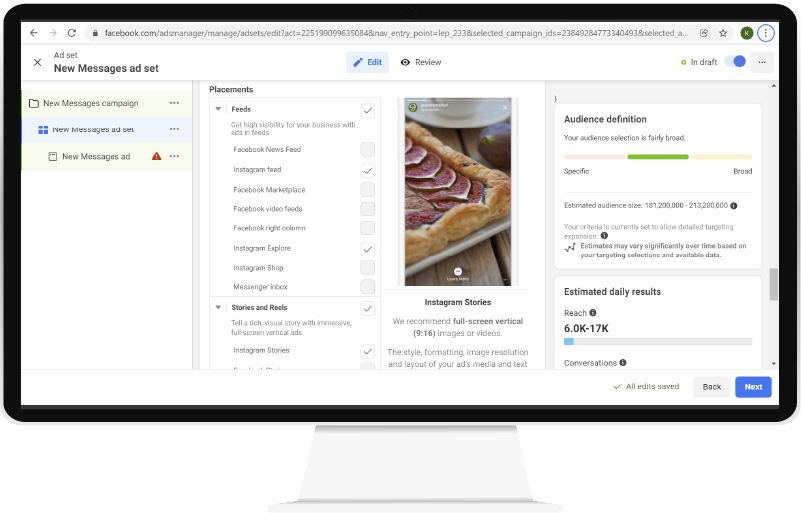 Configure your ad and complete your ad setup
Go to "New Messages ad" in the sidebar on the left.
Enter an ad name and choose the ad setup mode.
Select the media (image or video) and the primary message i.e. the caption of the ad under "Ad creative".
Set the "Call to action" as "Send Message".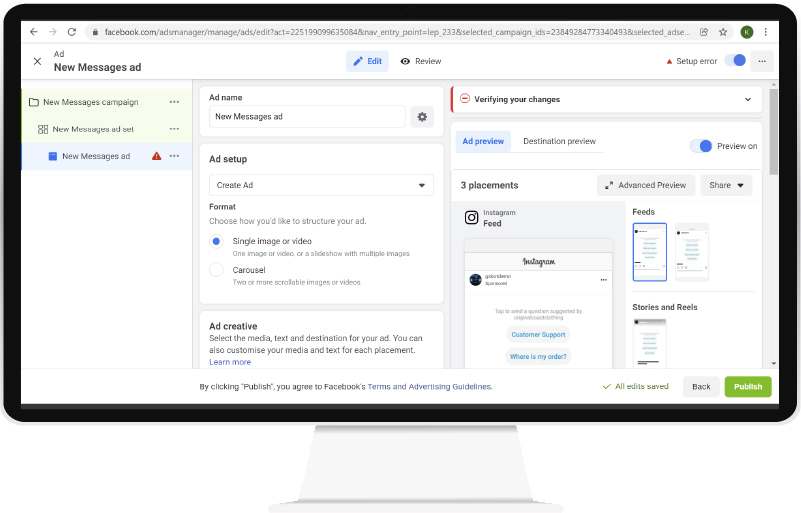 Scroll down to the "Message template" section and click the "+ Create" button after selecting "Create new".
Enter the Greeting Text and the Frequently asked questions as suggested replies for the user.
You can add up to 5 questions here. After entering the questions, click "Save and Finish".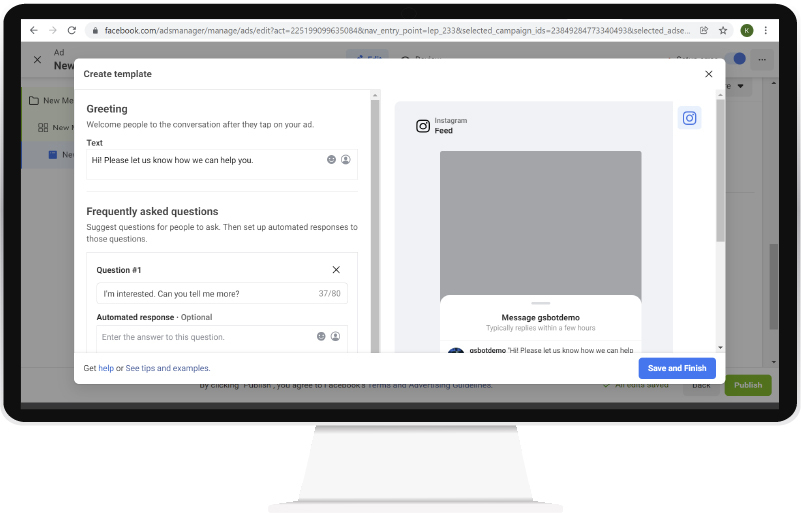 Get Your Automated Custom Instagram Chatbots Configured from Gupshup Today
Automated chatbots with the capability to deliver a customized conversational user experience is the key to excel when it comes to implementing Click to Instagram Direct Ads. Gupshup, a leader in conversational messaging and an official partner of Instagram, helps brands with tailored conversational journeys. Every business is different and so will be the conversational experience that you would want to deliver to your customers. Gupshup's Instagram Chatbots, built with conversational AI capabilities, can help you offer a seamless customer experience. And with various system integrations available, you are able to build a conversational infrastructure with no friction whatsoever.
Blogs you will want to share. Delivered to your inbox.
Recommended Resources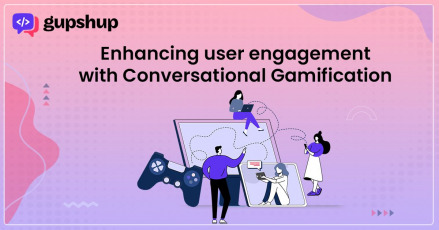 How gamification using Conversational AI builds engagement for customers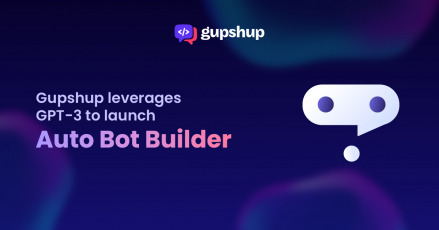 Discover the power of GPT-3 with Auto Bot Builder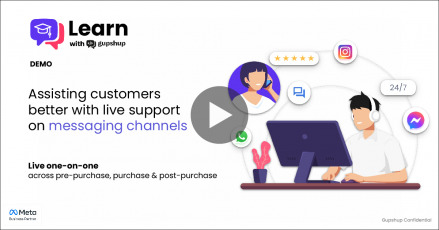 Customers today expect businesses to be there for them on messaging apps. Learn why and how...
×
Read: Power Of RCS: Ways It Can Be Used For Business Messaging