Conversational AI For An Improved Customer Hospitality Experience
On June 1, 2022
|
5 Minutes Read
Conversational AI
Conversational Engagement
Conversational Marketing
Conversational Support
Hospitality
Messaging API
Omni-channel Messaging
Travel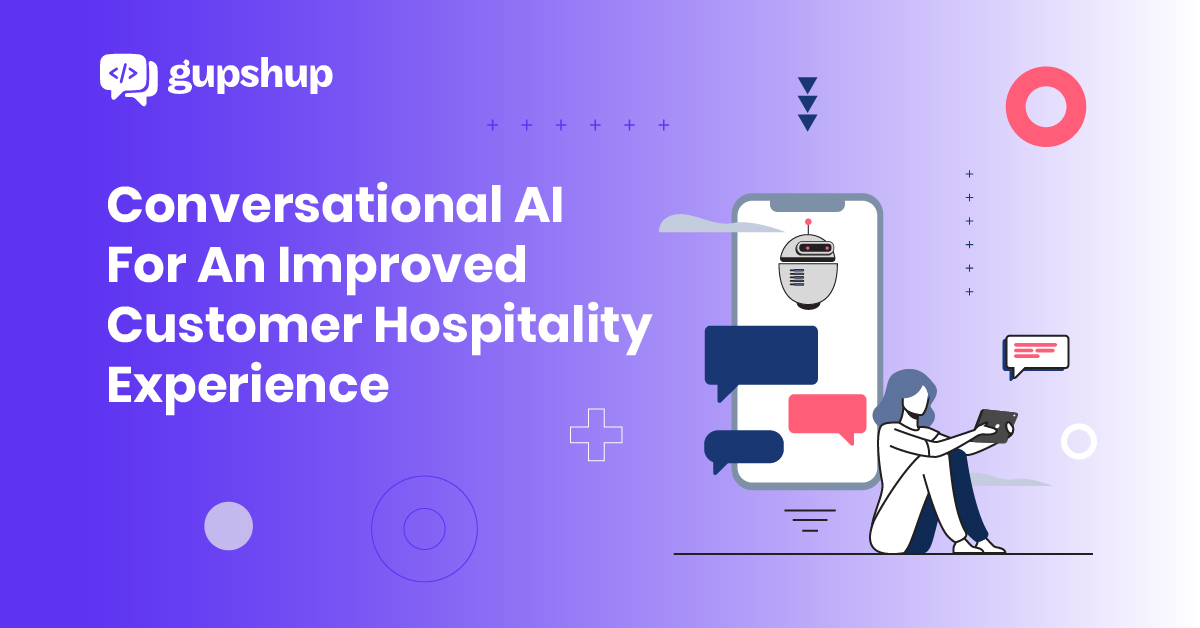 Expectations about a positive customer experience (CX) have changed substantially, be it more personalization, improved online compatibility with traditional services, or faster responses. The COVID-19 pandemic has merely expedited these tendencies, putting the travel industry on the back foot.
Customers may often find it challenging to get their queries answered despite your best efforts. According to Kolsky, 72% of travelers share their travel experiences with six or more people, while 13% of travelers certainly share a bad experience with 15 or more people. This explains why customer experiences are essential for businesses today.
Hospitality & Travel CX Problems
Travel firms focused on customer experience can win loyalty, establish resiliency, and future-proof the company in this constantly transforming industry. There is always room for improvement even when travel and hospitality companies provide the best services for customers. Striving to provide a positive user experience at every step of the user journey by leveraging technology to analyze customer sentiments and cater to them accordingly is indeed the best way forward for the travel & hospitality brands. The most reliable approach to achieve it, is through deploying conversational AI.
Let's look at how conversational AI helps the travel and hospitality industry.
Conversational AI At The Rescue!
1. Constant Engagement
Conversational AI is highly relevant as businesses strive to keep customers constantly engaged. Brands can now stand out from the crowd, offering personalized updates and services by adding a conversational touch to customer interactions. Personalization makes a huge difference!
Once programmed, conversational AI takes up the daunting task of maintaining a constant connection with your existing and potential userbase. Whether it's WhatsApp or native SMS or the scores of messaging apps available today, Gupshup has you covered.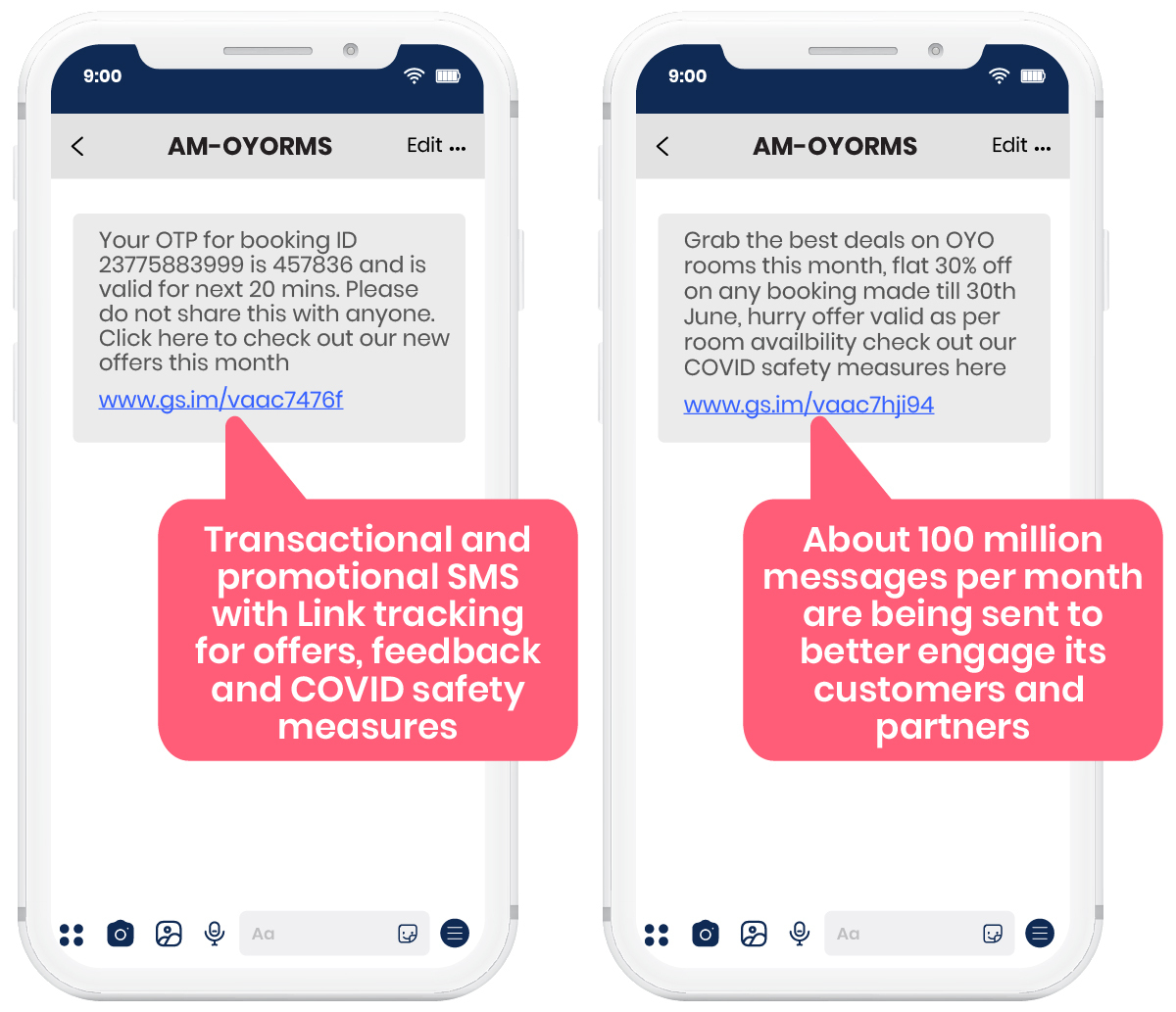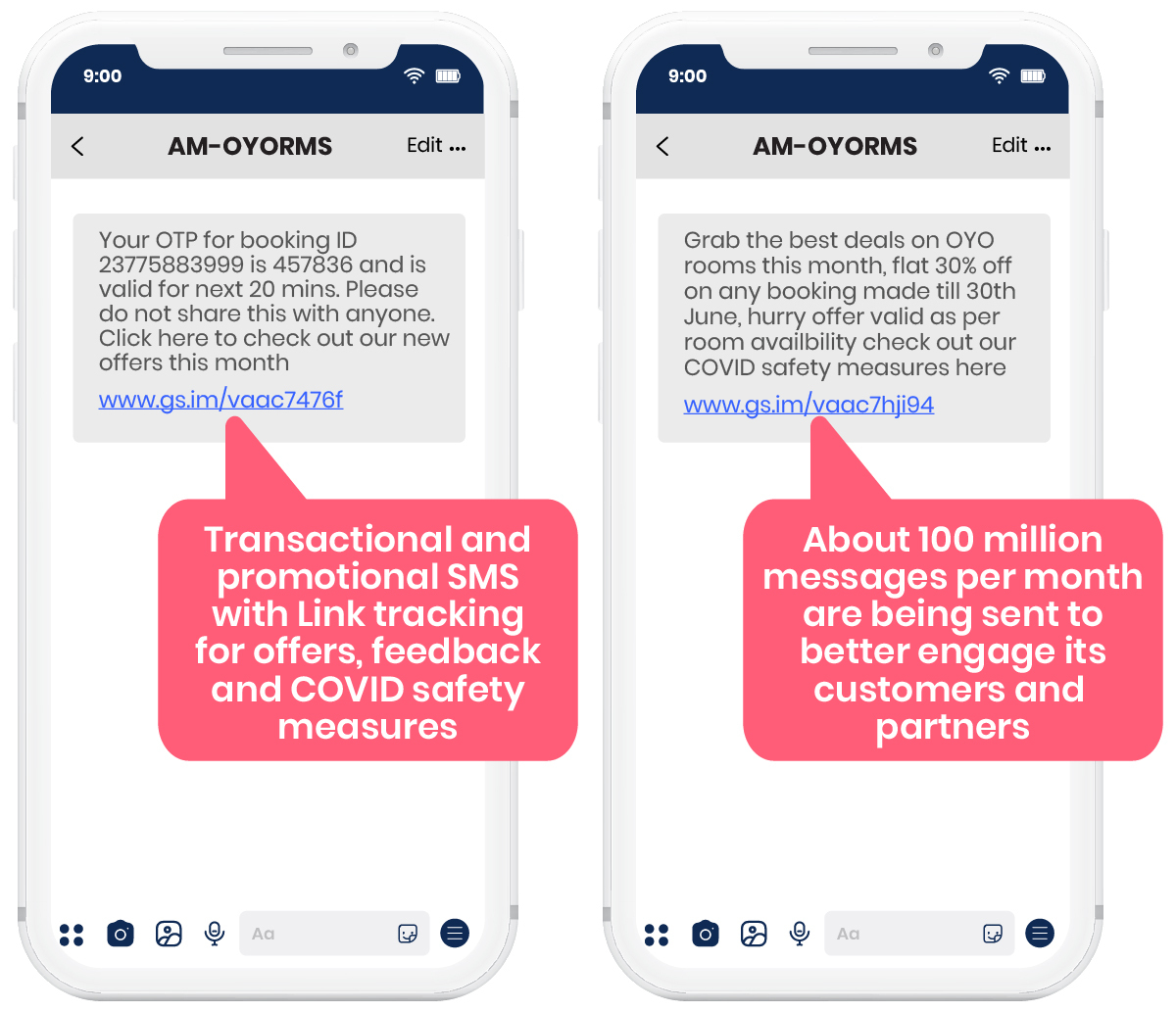 2. Immediate Customer Support During Emergencies
Emergencies can strike one anywhere, anytime! It could be the loss of baggage or travel documents, a health risk, and so forth. When your customer needs assistance in a foreign location, you as a brand, would want to be of immediate help by catering to their needs or at least connecting them to people who can. The best way to achieve it is through a bot and Gupshup helps you remain accessible round the clock.
To try it yourself, scan the QR code in the below image: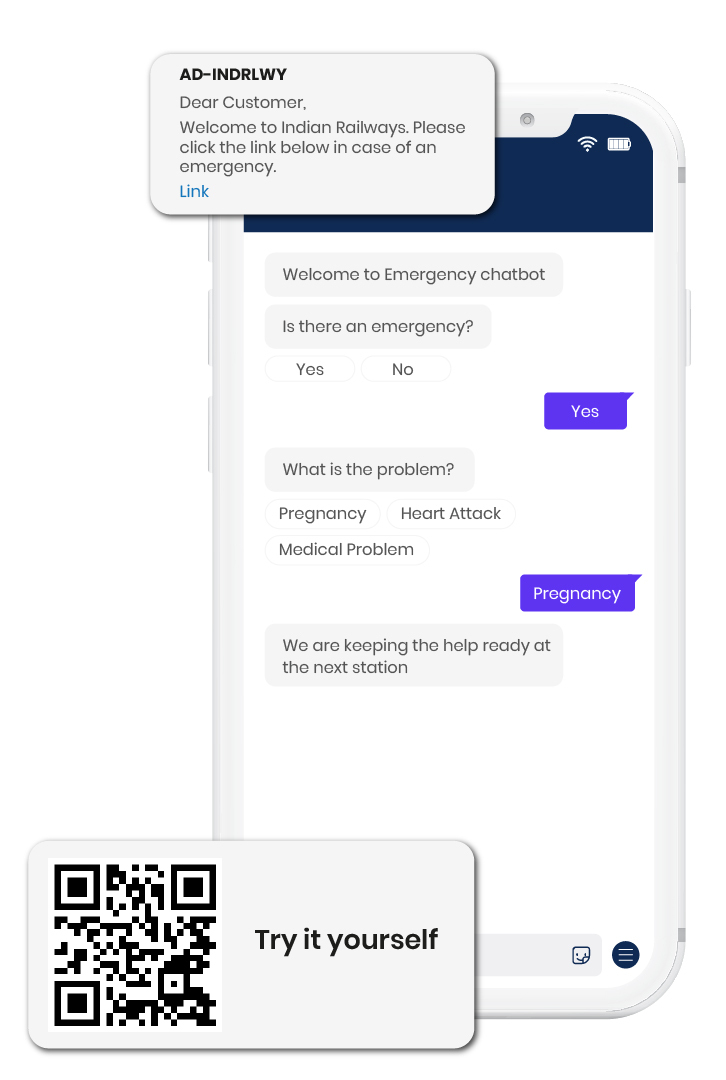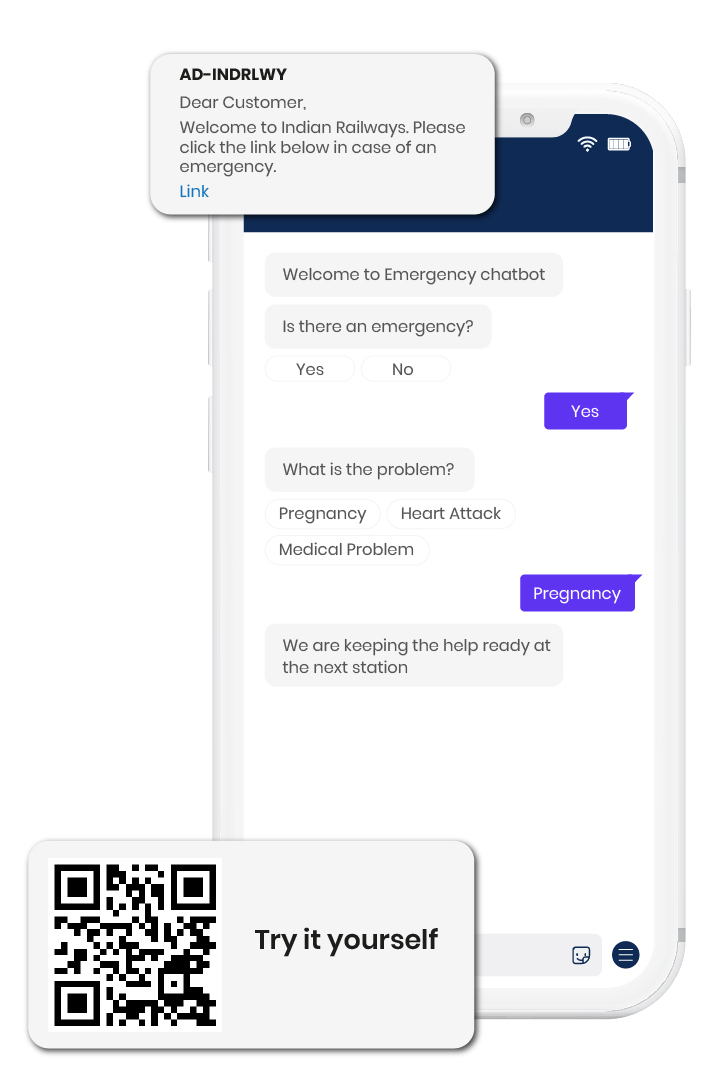 3. Reduce Workload Of On-ground Executives
Consider the example of a hotel: once a visitor checks in, the front desk staff must constantly be available and on their toes. Nevertheless, when occupancy is at peak, there are delays and problems in providing services. To avoid this, a simple chatbot that immediately books services for customers as per their needs can be integrated with your reservation system or CRM.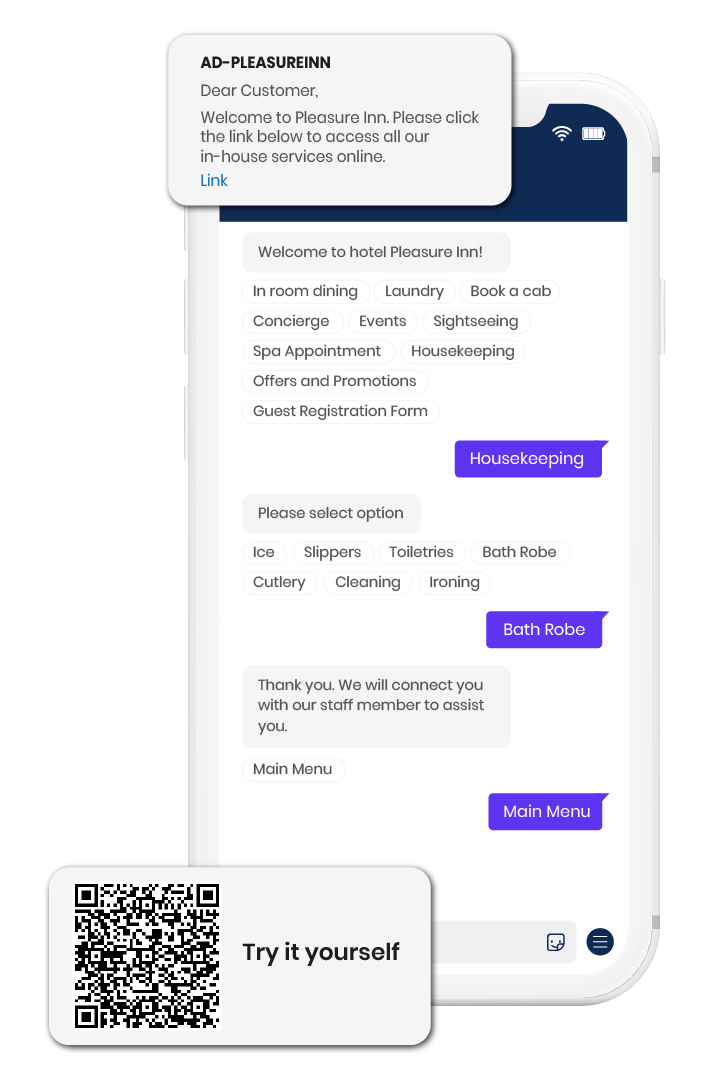 4. Booking Management
Flights, hotels or experiences, booking services have never been easier. End-to-end bookings, along with payment collection, invoicing and keeping a consumer updated with progress, change management etc., can all be done using a messaging app, eliminating the need for expensive booking management portals on websites.
5. Recommendations & Personalized Suggestions
Chatbots also make great concierges! Your guests can easily specify their preferences for a hotel. The conversational AI-powered chatbot lists relevant recommendations, and allows users to book their favorite hotel besides facilitating payments.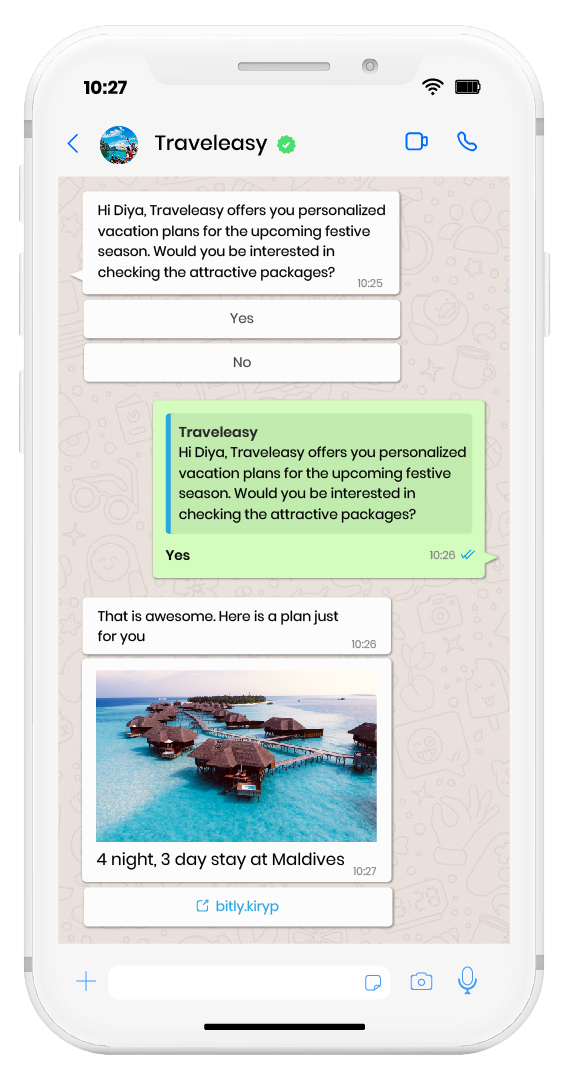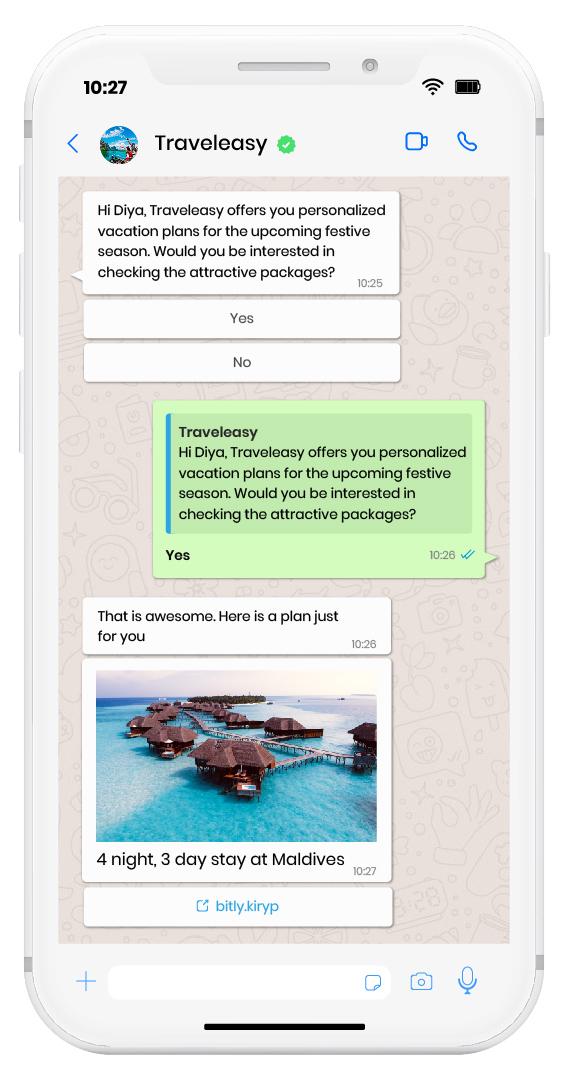 6. Virtual Guides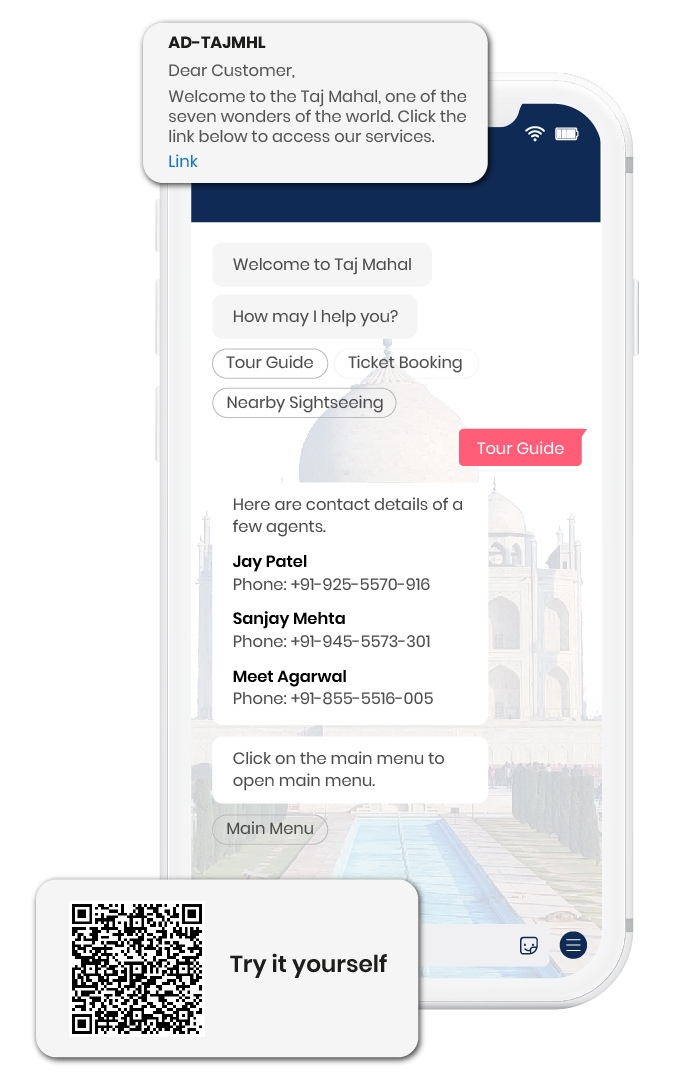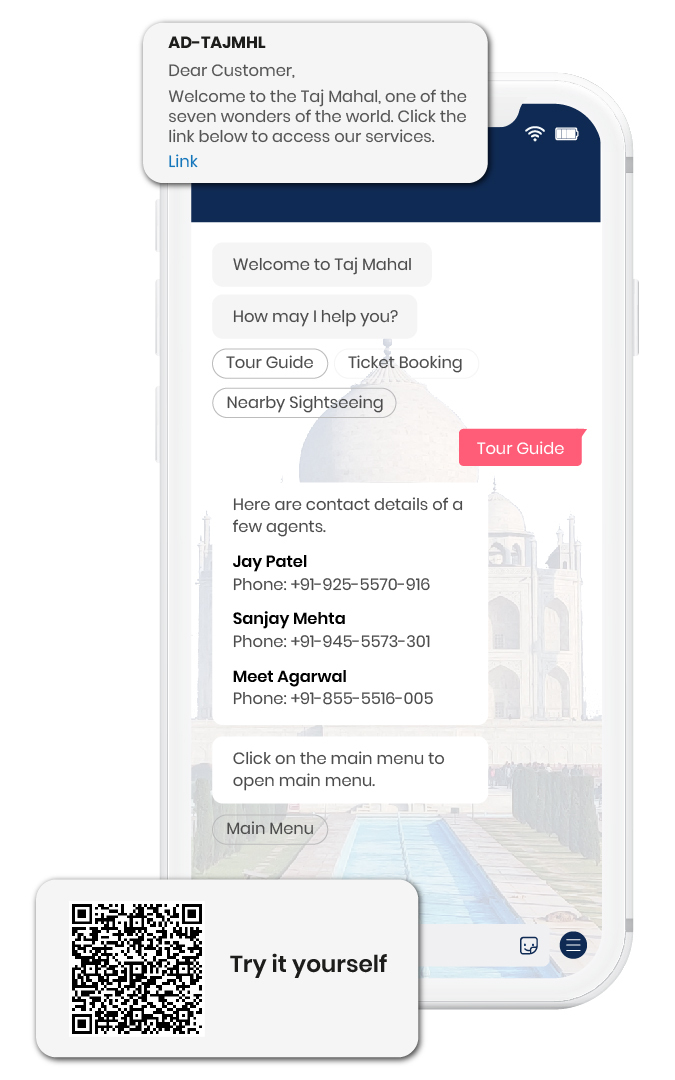 Let's consider a museum or a place of historical importance your customer wishes to visit; as a value-added-service providing an all-encompassing information guide is a brilliant step in pleasing the customers.
Virtually guided tours aren't novel, but they've never been more prevalent as a marketing tactic. They could now be strategic, significant, and eventually vital for just about any organization.
Such virtual tours can contain materials including films, music, images, and records to offer crucial additional information related to tours of an area. Users are willing to experience more than mere appearance; they would love to experience what they are poised to witness.
7. Instantaneous Feedback
Thanks to conversational AI, sharing feedback happens at the click of a button.
Whenever it comes to business services, there are always improvements to be made. Varied people that come to see you may have different opinions about your services. It's critical to constantly inquire about this. The ideal approach is to interact with them, but now it is even wiser to use a review tool that allows you to collect visitors' comments inside a location and evaluate them later on your desktop, mobile device, or ipad. This electronic method eliminates the need for hardcopy feedback, which is not only inconvenient to maintain but can produce false findings.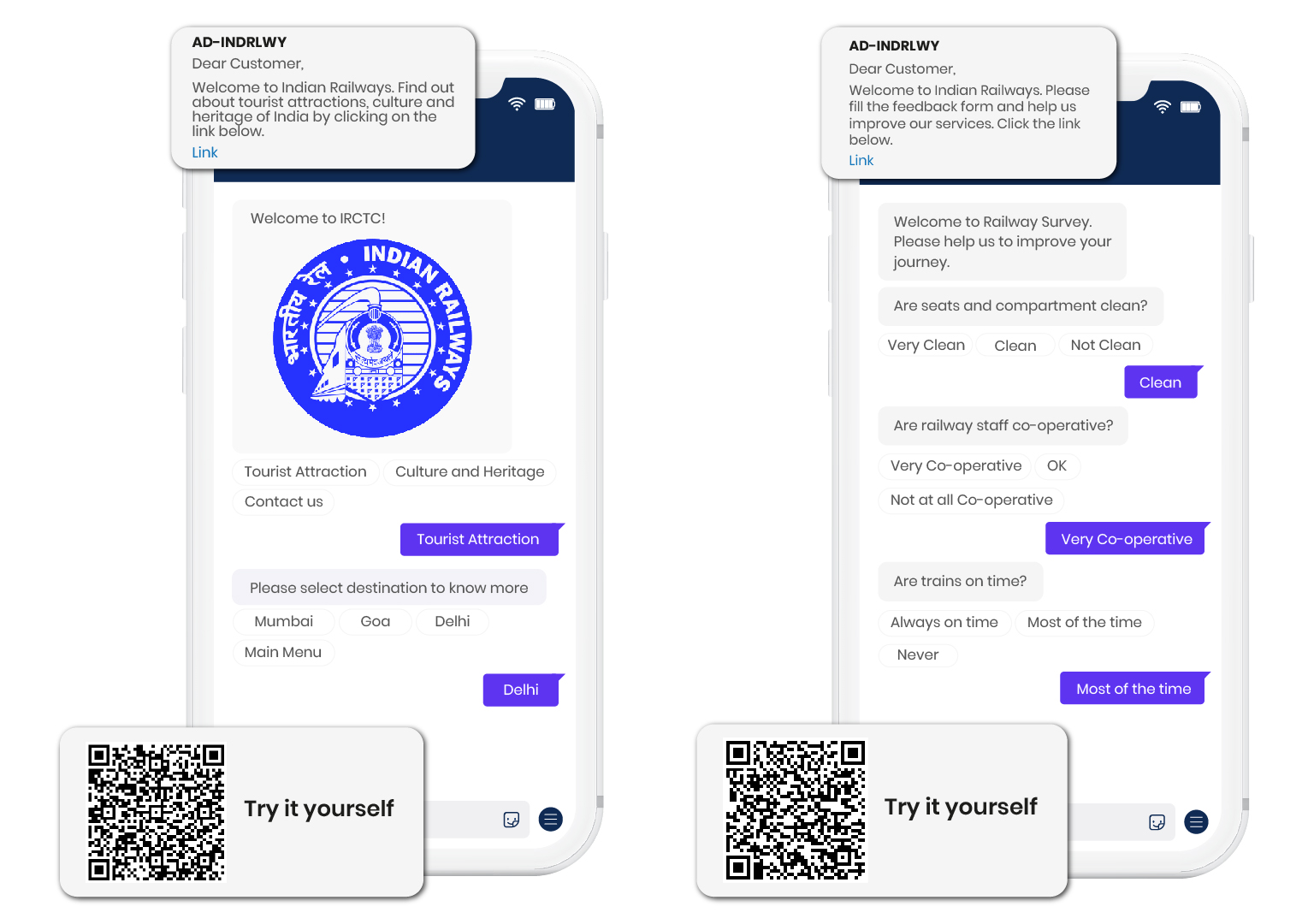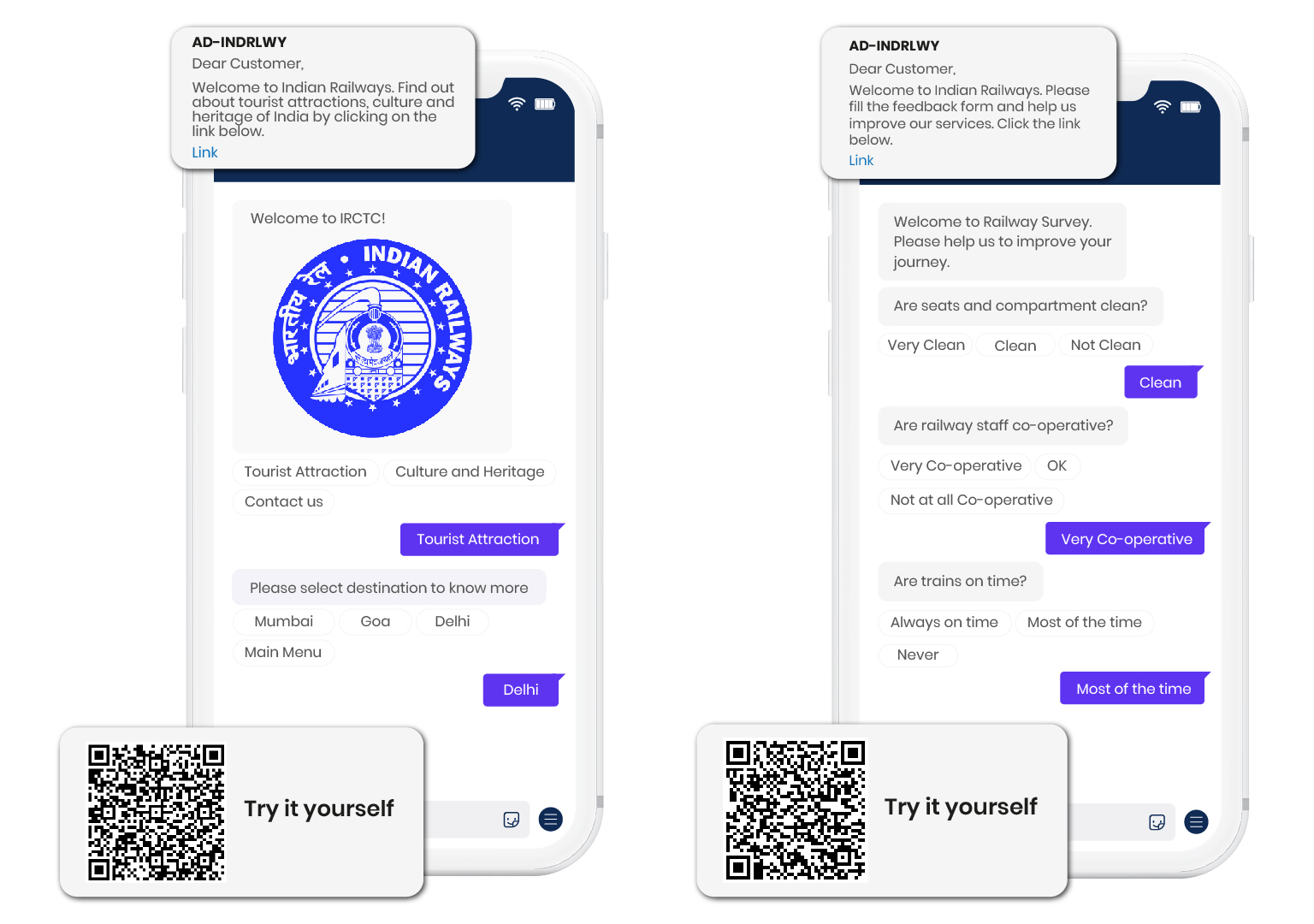 The pandemic has negatively impacted most travel services, and investment in CX today might seem as too much of an economic strain for most of them. Businesses that prioritize customer experience during a recession, on the other hand, are likely to perform better than their competitors for years to come, according to a McKinsey study on the 2007-09 slump. Therefore, prudent CX expenditure might be critical towards the brand's growth and survival amid this post-pandemic era.
Want To Try Gupshup?
Leaders in the hospitality sector should consider the following questions:
How do you rate your service quality, products, and digital experiences?
Do you also have a sense of what the consumers are thinking without asking them?
Did you push as hard as you could for business, when the virus initially hit?
Finally, how could you be better with reclaiming the romance of traveling by maximizing the value of customer service experience?
Let Gupshup help your travel or hospitality business reach new heights. Get more users engaging with your brand. With a single API for messaging that can support over 30 channels, your consumers can receive personalized experiences on their most favorite channel!
Gain a competitive edge among other players and introduce innovative strategies to help your travel and hospitality business grow faster.
Amplify your performance in the travel and hospitality industry today. Schedule a demo with us to see how Gupshup can be the right fit for you.
Blogs you will want to share. Delivered to your inbox.
Business Email
×
Read: 3 Tips To Promote Local Business With Google Business Messaging