Conversational AI can transform your restaurant business
On September 22, 2021
|
4 Minutes Read
Conversational AI
Conversational Commerce
Conversational Marketing
Conversational Support
Food & Beverage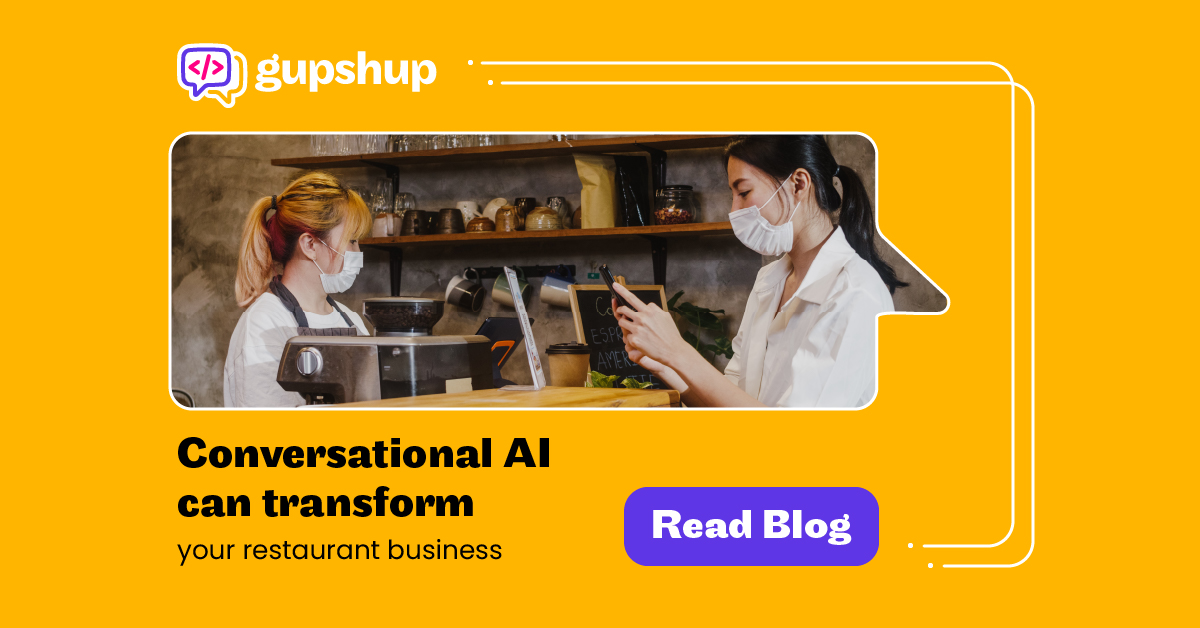 The rise of digital smartphones, messaging apps, and the ongoing pandemic have significantly impacted the food and beverage industry in the past year. Social distancing ensured that most people used online platforms to order food from restaurants. Though it is considered a very relaxed approach, consumers do miss the experience of in-house dining. Restaurants thus need to make the ordering process as smooth and effortless as the dine-in experience for their customers.
Listen to Gupshup CEO Beerud Sheth and VP of Marketing Srinivas Vijayaraghavan as they discuss how the pandemic and the rise of digital smartphones affected the consumers' dining experience here.
How has the ordering process changed over the years?
Earlier, you came to a restaurant directly for dine-in or made a reservation before showing up. Then came a time where you went to a restaurant, ordered your food, waited for it to be prepared, and took it to your home. With the increase in delivery options came the era of getting your food home delivered. Go to a restaurant's website or download a food delivery app and place your order with a single click. Simple, fast, and efficient.
Yet, there is something amiss in the overall experience amid all these automated delivery options. Is it the human interaction and personalization that got diminished? The automation and mechanical behavior in which the food and beverage industry has evolved has created a pretty somber ambiance for diners and hoteliers alike.
Is there any way to solve this problem?
Of course! Restaurant businesses can only benefit from integrating conversational experiences into their workflows and better engage their customers. Conversational AI and AI-powered chatbots are the significant game-changers in this segment. The general idea is to take the help of a messaging-based communication platform where a customer can 'talk' and interact with the business. The experience should be simple and easy enough, just like talking to your close friend.
Conversational experiences should cover every aspect of the food ordering journey. Be it the creation of digital menus, contactless payment options, 1-click bill pay methods, etc. For example, in a dine-in situation, every table in the restaurant can have a QR code menu ordering system, making it a unique contactless menu for restaurants. A customer can scan the code and land upon the restaurant's menu, from where they can place their orders.
At the time of payments, customers can be pushed towards exciting offers, deals, and coupons from restaurants or popular brands of credit cards or other promotional discounts. Restaurants can even start a loyalty program for their loyal and regular customers.
To summarize, conversational AI helps you streamline several significant areas of your business to transform your customer journey by making it more conversational. Let's list out some of these areas:
Ordering and management
Make your restaurant ordering and queue management more digital and conversational.
Guest support 
Make your support and service segment more conversational to keep the flow of two-way conversations always open.
Information about your restaurant 
All the information regarding your restaurant should be readily available via the chatbot to engage visitors at all times better.
Rewards and programs 
Your conversational AI solution should give visitors an insight into your rewards program by providing relevant information, helping enroll guests in programs, providing redemption options, etc.
Take your restaurant online with the Gupshup solution
It is a fact that the way people order food and experience restaurants is rapidly changing and will keep changing henceforth too. Making sure your restaurant stays up-to-date with the latest and ever-evolving technology will not only increase sales but also keep your steady stream of customers coming in.
As a food and beverage industry business owner, do you wish to build and implement a digital menu for your restaurant? If getting your restaurant online is something you are looking at, getting a digital menu for your restaurant is one of the essential steps. Learn how to build an interactive digital menu and make it more accessible for your customers with Gupshup. Experience contactless dining by smoothly integrating with your existing order management system with no additional hardware costs. Get insights on creating a contactless menu, implementing contactless orders, enabling contactless pay, etc. Contact us to know more.
Blogs you will want to share. Delivered to your inbox.
Business Email
×
Read: Conversational Marketing Takes Brands Closer To Customers