Engage with customers efficiently via Conversational Bots
On October 20, 2021
|
5 Minutes Read
Chatbots
Conversational Engagement
Generic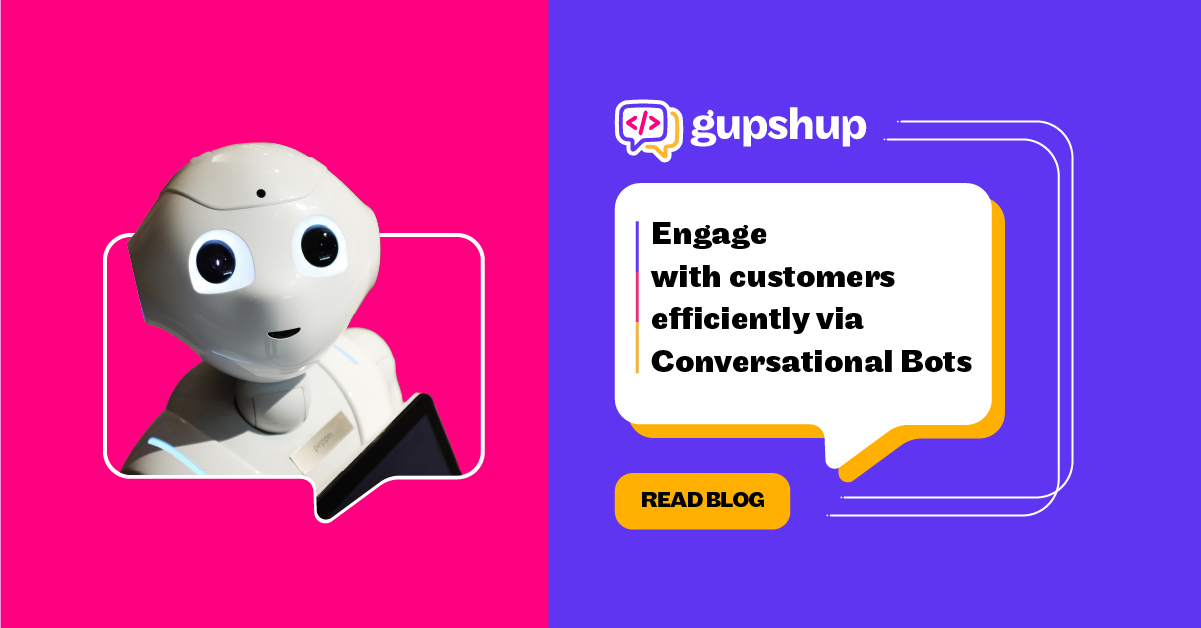 Consumer engagement is becoming increasingly important for brands. Be it a well-established brand or a new and upcoming brand, consumer engagement has become the most important phenomenon of business marketing. It has become important mainly due to the ease of access for brands to reach consumers. Be it the increased availability of information, or their availability on e-commerce and social media apps, consumers are being more and more conscious of their choices.
Most of the outreach and marketing happens via social media, and therefore, the social media handles need constant engagement and respondents who can engage with queries and questions of the consumers.  Srinivas B Vijayaraghavan, VP Marketing and Niyati Agarwal, Head of Conversational AI at Gupshup, talk about how and why you should invest in social media bots to bolster the presence and reach of your brand. Listen to their conversations here.
Understanding Consumer Behavior
Social media is a wide landscape. There are many different platforms, and there are various groups of consumers in them. Each one needs to be dealt with patience and immediate response; otherwise, the consumers tend to get dissatisfied and annoyed in no time. Consumers voice out their grievances, reviews as well as feedback in different ways. They have different approaches to voice out their opinions. Sometimes, there is genuine feedback that can help you in growing your product and brand.
The bottom line is, you have to be quick in response and patient in tone, regardless of how the consumer is behaving because it's a 'Brand' that you are ultimately representing.
Consumer Engagement
Consumers can be a bit candid and private with you while engaging on social media channels and voicing out their concerns. However, it has been increasingly noticed that bad engagement and response can lead to public shaming by the very same consumers. It is also noticed how polite and calm responses can turn a customer who is angry and disappointed into a neutral one if you focus on solving their problem. Hence, engagement and support with personalization is the key to keeping your brand in a good light.
It must also be noted how it is impossible for a brand to engage with each and every customer after reaching a certain point. Like in customer support, if you are engaging customers via associates or hiring people to do so, they can be more compassionate and get the context more rightfully, but that becomes impossible once your customer base expands. It will eventually lead to slow response and get you negative feedback. Increased wait time, over burdening of your customer care centre, etc lead to a lag in response time. Hence, social media bots for engaging customers online become a game-changer for your rapport building.
Social media bots are known to have generated quick responses in a considerably short period of time.. However, one needs to be very mindful about the kind of bots that are employed. There are many variants available in the market, and you ought to choose the one which is best suited for your brand and considering the volume of your consumer base. You need to make sure that the bots you employ are able to understand the context of the conversation to respond efficiently.
Dealing Rightfully with Feedback
One of the other main aspects of public engagement is dealing with criticism and complaints in the public domain. It happens quite often, especially with the prevalence of the current influencer marketing, that a bad review is put out in public. You can't make them pull it down, as it messes up your brand image further. Hence, making a quick and efficient response with an apology is a much better way to tackle this situation. Hence, you need a bot that gets the context or directs the query to a live agent who can take the complaint further with the customer.
Another important thing that brands are missing out on is employing social media bots in the entire social media conversational marketing strategy. This helps in building the overall social media approach where you are engaging not just in direct conversational messaging, advertisements, and emails but also via Instagram stories, comments, and shares. It helps you in reaching out to more and more customers who might be interested in buying your products / services or simply knowing about your brand.
Smart Social Media Bots
Brands must keep in mind that customers usually do not trust a new brand quickly. It's a journey they venture on, and they tend to take their time. They might not make a purchase as soon as they visit your Instagram page for the first time. They might follow you or keep visiting your page again and again before they hit the 'follow' button. They scroll through your page and see what you do as a brand and your brand ethos. They see how satisfied customers are and the kind of bond they share with the brand, thereby enhancing customer loyalty.
Using social media chatbots can also help in maintaining a good repo with a loyal customer base. They make sure customers don't feel alienated and keep them in constant touch with the brand. Hence, it becomes important to use smart social media bots in your overall social media strategy.
Brands also need to keep in mind that the success of social media bots depends on how deep the context bots can perceive. If the bot is programmed right and is smart enough to determine what a consumer needs, a consumer who is simply engaging online to leave feedback can be led to making another purchase. Social media bots can definitely establish a deeper connection between brands and consumers that is beneficial for both sides in the long run.
To learn more about how conversational messaging is changing the way businesses and their customers engage, get in touch with us.
Blogs you will want to share. Delivered to your inbox.
Business Email
×
Read: OTT Messaging Apps: Winning Over Technology-savvy Customers