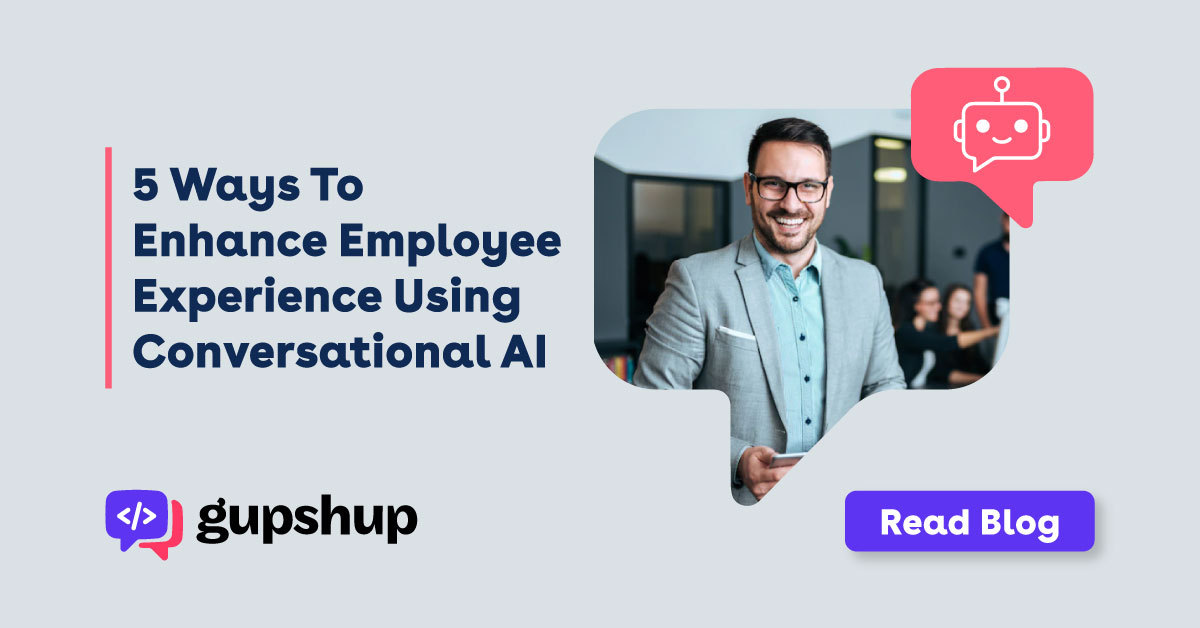 5 Ways To Enhance Employee Experience Using Conversational AI
Chatbots, Conversational AI, Conversational Messaging, Human Resources
On March 23, 2022
What is conversational AI? It's any technology that a user can converse with, like a chatbot or a virtual assistant. Conversational AI is being used extensively for customer-facing conversations allowing businesses to stay online 24 x 7 and improve customer experience, provide support and service, facilitate sales, market services and products, and more.
But how can a conversational AI platform, a chatbot, for example, be used in the context of employee experience and to improve internal processes?
A study by The Workforce Institute at the Ultimate Kronos Group (UKG) which provides workforce and human resource management services found that 86% of employees globally feel they are not heard equally or fairly at the workplace. In India, this issue seems to be more pervasive with over 93% of employees making this claim.
This is leading to disgruntled workers, disengaged employees, poor business performance, and an increase in attrition rate.
A simple solution is to create a more accessible and available atmosphere within a company, one where employees can reach out easily and feel heard. Doing this with a limited workforce of HRs and managers, however, is a challenge. That's where conversational AI comes in.
5 Ways Conversational AI Enhances Employee Experience
1. Streamlines the entire recruitment process creating a stress-free environment for both HRs and candidates
The process of searching, screening, interviewing, and hiring a single candidate is time and effort-consuming. When a limited HR workforce has to hire a huge number of candidates, it can quickly become a challenge. The Covid pandemic normalized remote working and this has removed geographical barriers that previously existed when it came to recruitment, and this has further increased the complexity of the hiring process.
This is not an issue that is only recently being addressed. Alternative solution is there in the form of HR Software that infuses technology in the recruitment process, but it still heavily depends on human intervention.
Conversational AI platforms like AI-powered bots are the solution to streamlining and simplifying the entire recruitment process. Gupshup's HR bot Roborecruiter, for example, aims to increase candidate screening time by 5X by helping recruiters automate repetitive processes in recruiting: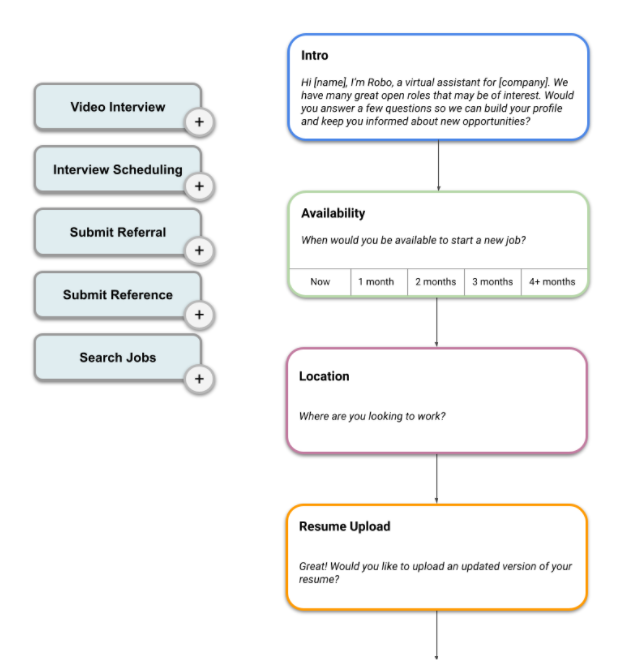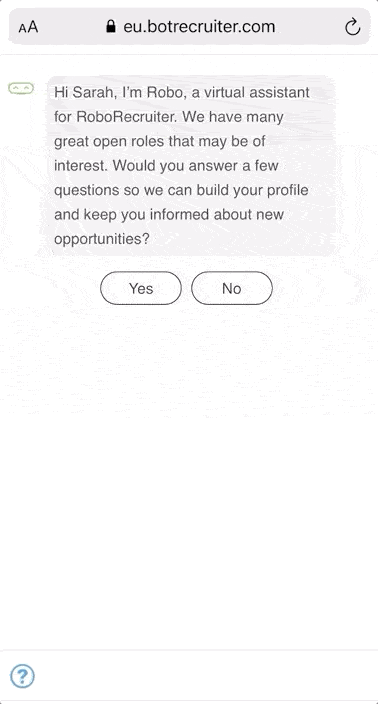 A bot implemented as the first line of communication for applicants helps reduce time and effort:
The bot accepts resumes and reviews them against the JD to screen viable applicants.
It extracts information from the resume to categorize candidates into different streams so the right interviewer can be assigned.
It facilitates the interview by fixing time slots and sending invites.
The interviewer can add their review, and the bot takes over again, either sending a rejection mail or taking the applicant through the joining formalities.
This frees up the HR and recruitment team to focus on the candidates who are being onboarded so that they have an excellent experience right from day one.
2. Helps automate repetitive tasks in the onboarding process
Once an applicant is selected, the process of performing a background check and onboarding the employee is linear and largely consists of clerical and documentation work. This is the textbook definition of tasks that can be automated.
The entire onboarding activity can be automated using a bot with the option for manual intervention by an HR rep when necessary:
The bot can notify applicants about their recruitment status, send the offer letter and notify them about what documents are required.
The bot then accepts the documents sent by the applicant, extracts the information from these documents, and populates the employee details in the company database.
The onboarding process and orientation program (which mostly involves watching recorded videos about the company culture, work ethics, etc.) is conducted and monitored by the bot.
The bot walks the applicant through the post-onboarding survey and notifies them of when to report and to whom.
The bot facilitates any questions the applicant may have so they get answers quickly without having to wait for an HR rep.
The bot gives the applicant the option to contact a human HR rep for any information that the bot is not able to deliver.
Using a bot to cover the onboarding process also helps employees go through this vital first step at their own pace. They can access information by simply asking the bot, and this becomes a handy resource for new employees who generally have a lot of questions when they start working at a new company.
Gupshup helped a leading global restaurant aggregator and food delivery company develop an automated end-to-end workflow for the onboarding of delivery executives on WhatsApp. The company was experiencing high candidate interest from their ads but low onboarding rates as delivery executives failed to complete the onboarding process that was set in place.
After testing the new automated onboarding process in two major cities, we found the results to be:
The company was able to reach out to 10000+ potential delivery executives via WhatsApp
They experienced an onboarding rate of 30% which was significantly higher than before
This was because of the reduced response time and onboarding time that the new process delivered, as compared to the earlier app-led registration process.
3. Enables the centralization of all communication and engagement 
Organizations usually follow a hierarchical process when it comes to employee communication – an employee has a dedicated HR rep who they go to when they need help. While this creates a personal bond that is great for employee experience, it also creates a silo – the employee doesn't know whom to approach if their rep isn't available, and other reps don't have the employee's information at hand to help them out.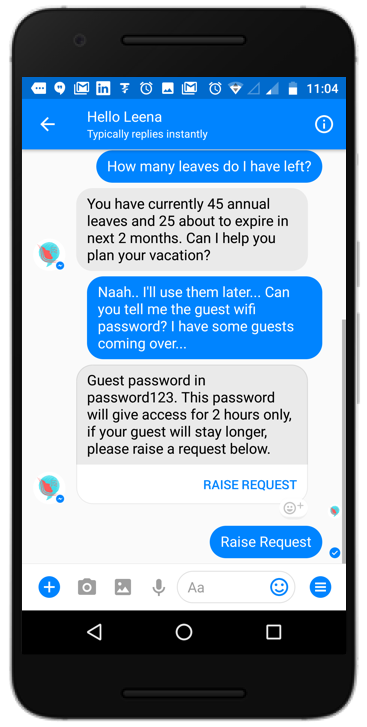 Chatbots can handle transactional inquiries for employees (source)
Jithin Chakkalakkal, an Associate HR Manager at Reflections Info Systems, recalls this incident:
There was an incident when one of the employee's father was hospitalized and the employee urgently needed his corporate insurance number. Though the requested details were already shared with the employee, he was not in a position to trace it. He immediately contacted me, as I am his HR point of contact. This was on a holiday, and I was away attending a family function. I immediately sought help from other HR team members. And to cut it short, it took over 3 hours to finally share the requested details with the employee.
Maintaining a central point for all employee communications is one of the most powerful strategies in business. Employees work out of different locations and time zones today, and this has become much more urgent and vital.
This helps both the employees and the business – employees can get the information they need quickly through a central portal (like a bot), and managers/HR reps can help employees faster because they now have all the information they need at one location.
Employees can get any information they want, whenever they want it simply by communicating with the bot.
Here's a real-world example of a virtual HR agent at work:
In mid-2020, UL Technology Solutions implemented a virtual HR agent, Eva. They analyzed HR queries prior to implementing Eva and found that they received 150+ transactional queries per month on average from employees, and these were being handled by the HR team. They also found that 70% of these queries could have been resolved through data readily available in the HR database; in other words, manual intervention was redundant.
On performing the same analysis in 2021, they found that, on average, 100+ employee queries per month were being serviced by the HR bot without the need for any manual intervention.
4. Fosters employee skill development and growth within the organization
A report by Total Jobs stated that 68% of employees quit because of a lack of learning and development opportunities and 9 out of 10 employees expect their employer to provide more skill development trainings and courses.
Virtual coaches and chatbots help businesses deliver skill development sessions and courses, ensuring employees get the knowledge they need.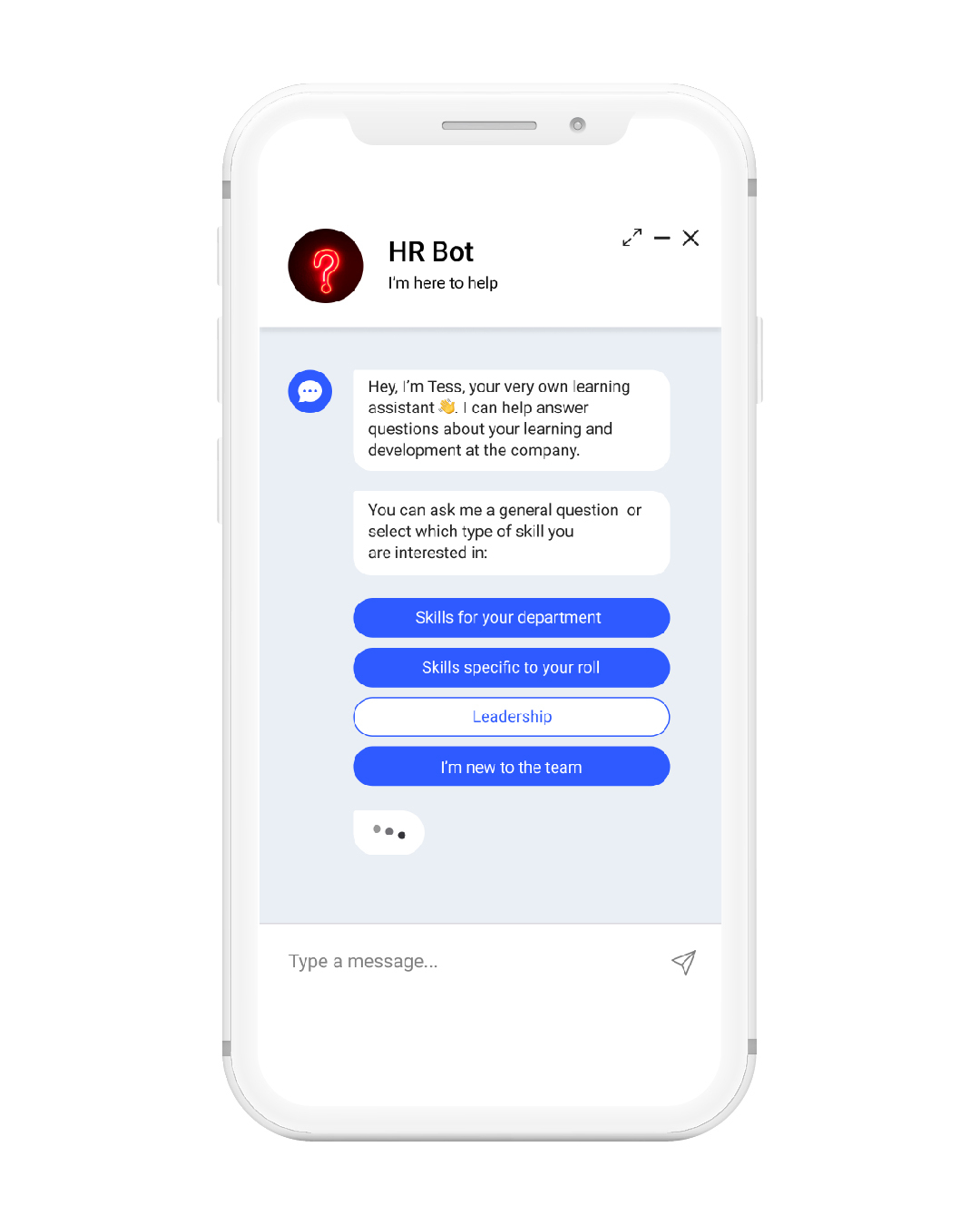 An employee can use a chatbot to find the right training for them. The chatbot, using NLP (a subset of artificial intelligence technology), is able to have a conversation and understand the employee's requirements and then direct them to relevant courses that are available.
Virtual sessions allow employees to take the course at their own time and pace. They can always ask questions, and the bot responds with an answer or relevant reference content.
The bot can also be configured to track an employee's progress and send reminders to ensure they follow up on the training.
This creates a more simplified system where employees do not need to talk to multiple managers and sort through numerous courses to find what they need. They directly communicate with the bot to find the right training for them and go ahead and upskill without needing any manual intervention.
5. Supports and promotes employee well-being
Employee well-being is an important topic that has magnified in importance since the pandemic. Well-being refers to mental, emotional, social, and physical wellness.
Most employees hesitate to reach out when they need help with wellness for fear of being judged or ridiculed. In some cases, employees aren't sure whom to reach out to.
Employees are, however, comfortable using conversational AI to get answers according to this Service Now survey:
A report by Keka stated that 61% of employees are burned out at their job. it also stated that 51% of employees who made healthier life choices did so because of their company's wellness program.
Having a well-rounded wellness program is vital but making it accessible is even more important. And this can be achieved through a conversational AI platform, like a wellness bot.
Employees can reach out to the bot and describe their problems. A well-developed bot is capable of responding with empathy (using NLP) and giving employees the resources they need to cope while also directing them to a human specialist who can help them further if needed.
Conclusion
Chatbots and virtual assistants are common customer-facing practices and your employees are already used to communicating with them when they interact with other businesses for personal reasons. It won't be difficult for them to adjust to an internal bot set up for their own wellbeing. You may think the human touch is most important for employee wellbeing but it actually takes a balance between technology and human touch to ensure your employees are happy and satisfied.
Gupshup's Conversational AI Engine enables the creation of Intelligent Bots and improvement in on-device messaging experiences. Use our DIY AI Tools (no-code, low-code, yo-code), plug-n-play AI Models and Templates (pre-built, pre-tested AI data models and industry AI templates) and personalize customer engagement at scale with Conversational AI.
#LetsGupshup to know more.
Blogs you will want to share. Delivered to your inbox.
Recommended Resources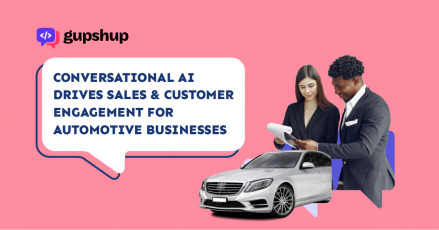 From product discovery to after-sales support, Gupshup offers an end-to-end solution that enables conversational interactions between...
What are AI-powered chatbots, how do they work, the benefits of chatbots and why are they...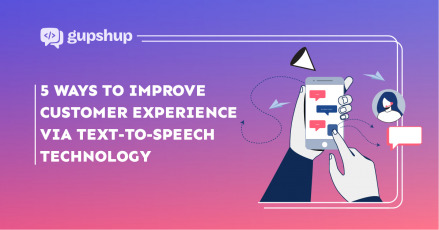 Take your customer support to the next level with text-to-speech technology! Read the blog to dig...
×
Read: 3 Compelling Reasons To Use WhatsApp Chatbot For Customer Support