11 Ways To Enhance Instagram Engagement
On March 14, 2022
|
9 Minutes Read
Conversational Engagement
Generic
Instagram API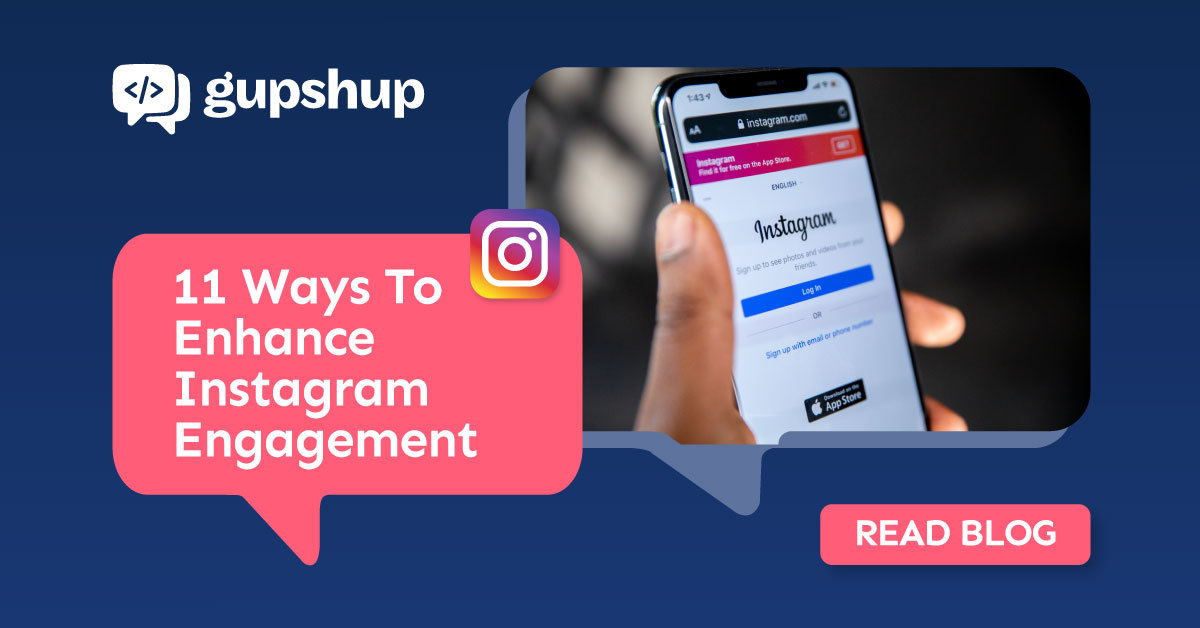 With over 1 billion monthly active users, Instagram is among the most popular social media networks on the planet. It has become a gold mine for businesses, marketers, and entrepreneurs. For this reason, having a low Instagram interaction rate may be a nightmare. A sudden decline in Instagram reach can be aggravating because it can lead to a drop in engagement. As a result, if your Instagram interaction is low, you won't grow an Instagram community.
Lowering your Instagram reach/engagement reduces your chances of reaching a new audience and increasing brand visibility.
Have you been wondering why your Instagram engagement has decreased?
Why are your Instagram likes decreasing?
How to get more engagement on Instagram?
Why is your Instagram engagement down?
There are two plausible explanations for the decline in Instagram engagement:
The recent Instagram algorithm changes impacted you.
Your Instagram activity isn't on the proper track.
This article discusses why there is a considerable decline in Instagram engagement and best practices that answer how to increase engagement on Instagram.
Instagram Engagement Rate
What are engagements on Instagram?
User activities like commenting, saving, liking, and messaging on Instagram are examples of Instagram interaction that are identified as engagement on Instagram. Your Instagram engagement rate is calculated by adding the number of comments and likes you receive per post and dividing it by the number of followers you have.
Here's how to how to check your engagement on Instagram:
Instagram Engagement rate = [(Likes + Comments)/ Followers] * 100%
What is a Good Engagement Rate on Instagram?
There isn't a well documented definition about what constitutes a "good" interaction rate. However, most social media marketing experts agree that significant involvement is between 1% and 5%. In 2021, Hootsuite's own social media team recorded a 4.59% average Instagram engagement rate.
Here is what's a good engagement rate on Instagram. As of 2021 as per Hootsuit, the following were the global average Instagram interaction rates for corporate accounts:
All types of Instagram posts: 0.82 percent
Instagram photo posts: 0.81 percent
Video posts: 0.61 percent
Posts on the carousel: 1.01 percent
Importance of Instagram Engagement
Instagram interaction is essential for several reasons: First and foremost, it is critical to demonstrate whether you are using the correct social media strategy. The engagement on Instagram tells you how people react to your material. Your engagement will be stronger if your audience can relate to your material.
Second, interaction is a significant ranking component in the Instagram algorithm. Instagram curates a user's feed based on the content they are most likely to engage with. Instagram algorithms alter the user's feed order, surfacing posts from profiles and subjects they have frequently interacted with in the past, at the top of their feed.
In general, the more engagement your content receives, the more likely your followers will see it. And the more likely it will be to reach out to newer audiences too.
Why has my Instagram engagement decreased in 2021?
If your Instagram reach has suddenly fallen, and you're wondering why your Instagram engagement/likes have dropped, read on to see if it's because of Instagram algorithm changes or if there are other reasons.
Let's start with a quick refresher of the algorithm if you've noticed a significant decline in Instagram reach 2021. Then, several different values come together and are considered by the algorithm.
It tracks different values for the first 30 minutes after a post goes live. Consider the following scenario:
The number of likes you receive
Shares and Direct Messages you receive as a result of this post
They examine all the values, keep track of the velocity, and then piece everything together into a net connecting everything. Then, finally, they look for similar accounts, have identical people conducting similar acts, and compare everything.
How to Get More Engagement on Instagram? 
If your Instagram engagement is low or needs improvement, here are some tried and tested ways of how to get your engagement up on Instagram.
1. Take advantage of an Instagram management service
If you don't have enough time/energy or just want to concentrate on other aspects of your business, Instagram Management Services is what you need to learn how to obtain more Instagram views.
They are Instagram management and growth professionals who can help you accelerate your growth and gain Instagram engagement with an effective Instagram engagement plan. There are hundreds of such businesses that you can find on the internet.
2. Make Shareable Content
Your content is what gets viewed, liked and shared on Instagram. It is the king. The more interesting it is, the more engagement it will drive in. The less interesting it is the more drop in engagement it will lead to on Instagram
Therefore the fundamental strategy to increase your Instagram engagement rate should be to optimize your content to be entertaining, engaging and interesting..
Here are some most effective tips to increase Instagram engagement:
Create amusing posts that can entertain your followers
Posts something educational that would make users want to follow you
Tap into user-generated content that make users feel special
Add in motivational pieces that can inspire your your followers and want them to stick around
3. Use IGTV, Videos, Gallery Pieces to increase Reach
Instagram makes money by having people spend time on the network and displaying advertisements to them. It's only natural to reward accounts that encourage users to remain longer and view more ads. So, similar to YouTube, it would be fantastic to create content that could keep your followers on your page, or at the very least on the site itself. This will further give signal to the algorithms about the potential engagement your posts can drive in and thereby boost its organic reach accordingly.
Create content, such as IGTV posts, videos, or even gallery pieces, that consumers connect with for more extended periods. Just remember that not all of your content has to fall in these categories; instead, aim to strike a balance.
4. Maintain Consistency
Having a continuous presence on Instagram is imperative to building engagement. No matter how big your audience is, if you don't publish regularly, Instagram will reduce your reach, which will lead to lesser engagement. So make every effort to keep your account active. Brainstorm on new engagement ideas for Instagram and don't be afraid to try new things.
5. Use Instagram Stories to your advantage
Even though engagement stats Instagram from your Stories aren't factored into the engagement calculation, they're essential aspects in increasing your Instagram audience engagement. It might surprise you, but Instagram Stories has over 500 million users. Creating stories regularly is a great way to re-engage with users who already follow your account on Instagram.
6. Find out the best time to post
The time of the day you share your posts is as crucial as the content you post on Instagram and the consistency with which you post on Instagram. If you have noticed your Instagram following dwindling in 2022, this can be one of the reasons. Discovering the optimum time to post, or when your audience is most engaged, is one of the simplest ways to solve the Instagram engagement problem. You can check Instagram post engagement statistics to find the best time to post your content.
7. Make proper use of hashtags
Hashtags are essential on Instagram since they can be searched and followed by users. You may get more Instagram engagement rate by employing trending niche-specific hashtags.
Instagram hashtags can assist you in reaching out to more users thus gaining more likes, Instagram followers, and engagement.
8. Go live
Using Instagram Live to broadcast live video is a fantastic method to connect with users, communicate updates, and increase engagement. 80% of viewers would prefer to watch a live stream than read a blog post. Give them exactly what they want!
You may answer questions live, greet viewers by name, and generally welcome your audience into your world in a personal, engaging way using Live video. You can also use Instagram's new Live Shopping feature to build an eCommerce audience.
9. Use Instagram Reels to your advantage
In the summer of 2020, Instagram Reels joined the Insta family, ostensibly as a TikTok replacement. Users can make and edit short multi-clip videos with fantastic audio and effects using Reels. Today reels drive the highest engagement on the platform. Any new feature added to social networking platforms boosts the algorithm, so it's in your best interest to try out the most recent feature
10. Boost your posts
Promoting your posts is a straightforward approach to get more people to see your content, thereby boosting your Instagram engagement growth.
Your next superfan could be out there, waiting to discover what you have to offer. Thanks to Instagram's potential audience of over 1 billion  users. Using Instagram advertisements or boosted posts to get your name in front of the appropriate people might be a great strategic approach.
11. Adopt Instagram DM Automation
Instagram DM automation is a new feature which let's businesses automate Instagram Direct Messenger with the help of Instagram Messenger API. This helps businesses respond to customer messages faster thereby leading to higher participation from users and customers on Instagram. With smart automations offered by Gupshup, businesses can configure their Instagram DMs to engage with user comments on posts, driving further engagements. Businesses can also use Instagram DM automation to initiate conversations with customers from Instagram Ads, stories and story mentions. Engaging in conversations with followers and users is a new way to drive engagement on Instagram and brands can harness it to generate better results.
Conclusion
Instagram today is one of the most favorite channels where customers spend a lot of time. Therefore you as a brand need to ensure that your Instagram engagement remains higher. Consistent dropping of Instagram engagement means  that users are not relating to your activities. If unchecked it can lead to fall in business results as well.  We hope the above 11 points will help you boost your plan for your Instagram activities in a way that gives a boost to your customer engagement on Instagram. To take your Instagram performance to next level by automating your Instagram Direct Messenger, write to us at converse@gupshup.io. Know more by checking our E-book –  "Instagram Messaging API For Businesses: A Complete Guide"
Blogs you will want to share. Delivered to your inbox.
Business Email
×
Read: HR Chatbots Are Automating & Improving Employee Experiences