Everything That You Ever Wanted to Know about ISVs
On November 29, 2021
|
13 Minutes Read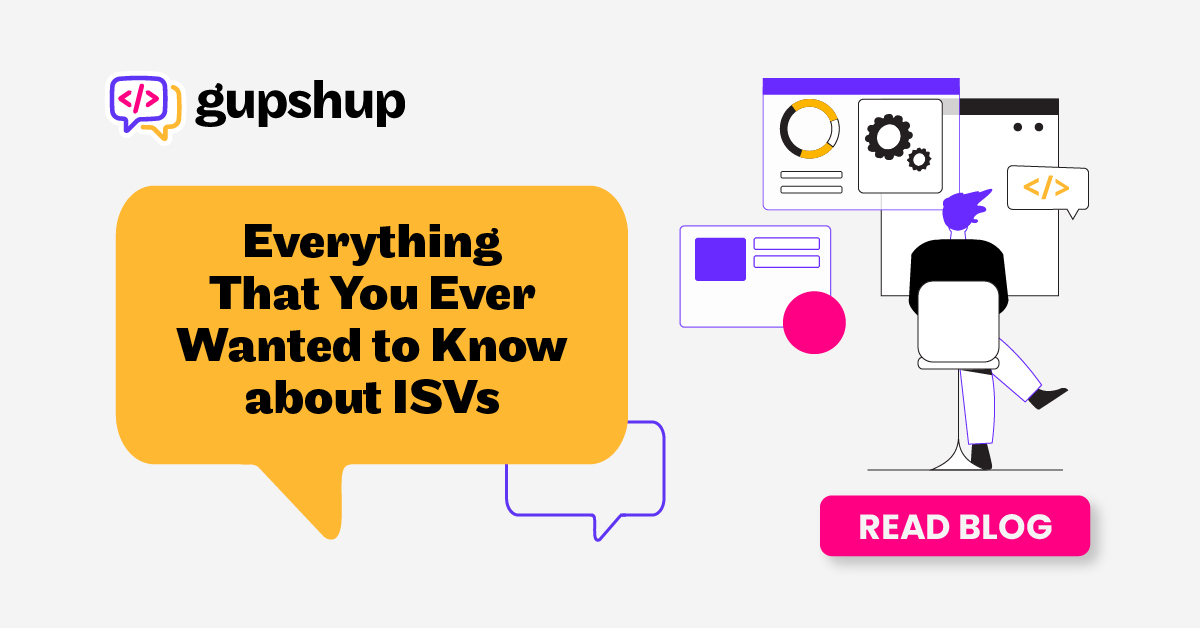 We live in a hyper-connected, hyper-digital world that's driven by software. In this world, software is everywhere – in computers and mobile phones, homes and factories, offices and laboratories. Software – powered by trillions of lines of code and complex inter-connected systems in the front and back ends – runs planes, cars, washing machines, airplanes, aeroplanes, and anything else you can think of. And Marketing Technology (MarTech) companies play a vital role in ideating, designing and bringing this software to its target audience. These MarTech companies are also known as Independent Software Vendors (ISVs).
So what does an ISV do? Why are ISVs important? What is an ISV partner and certified ISV?
This detailed blog will address all these aspects of ISVs and more.
What is an ISV?
Here's how Gartner defines an ISV:
"A software producer that is not owned or controlled by a hardware manufacturer; a company whose primary function is to distribute software."
Furthermore, Gartner clarifies that
"Hardware manufacturers that distribute software (such as IBM and Unisys) are not ISVs, nor are users (such as banks) that may also sell software products."
Here's the answer to the question: What is an ISV company? in simple terms:
ISVs refer to any company (or individual) that develops, markets, sells and distributes software solutions. These solutions can be either "consumer" or "enterprise", depending on the end-user – individuals or companies, respectively.
ISV software may run on different operating systems like Windows, Android or iOS, on cloud platforms like Amazon Web Services (AWS) or Google Cloud, or on on-premises systems placed within the enterprise, IT environments.
ISVs are also known as software publishers. Since they create and distribute new kinds of software, they play a very important role in furthering technology innovation, and in solving many real-world challenges. They also create price competition in the software and Information Technology industries. Thus, they help to prevent the creation of monopolies that often curtail the pace of technological innovation, and limit any economic growth that may result from that innovation. For these reasons, the global ISV market is already very valuable and is constantly growing. In 2019, it was worth $202.85 million. By 2026, it is expected to increase at a steady CAGR to $408.15 million.
When ISVs sell their software for end-user consumption, they do so based on a "licence model". The ISV continues to own the software as their intellectual property. The software's users – whether these are individual consumers (retail) or companies (enterprise) – purchase one or more licences to legally use the solution for their needs.
Some ISV Examples
Hardware manufacturers such as IBM or Dell, or companies that sell software do not qualify as ISVs. Rather, ISVs develop products that the primary vendor (e.g. Microsoft) does not offer. They thus help meet the software needs of the customers of that particular vendor.
Thus, ISVs identify a gap in the software market that they can help fill with their offerings. These offerings could be anything from basic utilities or HRMS, ERP or CRM platforms, to automation tools, financial software, marketing software, and much more.
ISVs develop and distribute many different kinds of software to meet all kinds of individual and enterprise needs. In 2008, there were roughly 10,000 ISVs around the world. By 2018, this number had grown to 100,000. In 2017, Jay McBain of Forrester estimated that there will be upwards of 1 million ISVs operating globally by 2027.
Some well-known ISV examples include:
The Difference between ISV and OEM
The terms ISV and OEM (Original Equipment Manufacturer) are sometimes used interchangeably – albeit erroneously.
The most significant difference between ISVs and OEMs is that ISVs primarily develop software applications for human use. OEMs focus on building back end, system-level applications.
Another difference is that ISVs usually build application-specific software to function on a particular platform(s), while OEMs use the components of hardware platforms to develop larger products.
Where ISV Technology and Software Are Used
ISV software can run on one or more back end platforms and operating systems. In some cases, the software may only run on a particular vendor's hardware and/or with the specific operating system(s) supported by that platform or device. Some ISVs specialise in building applications to meet the needs of a:
Specific niche or use case: E.g. data migration or RCS Business Messaging
Market: E.g. manufacturing companies, or
Business function or vertical: E.g. Accounts Payable automation
Other ISVs provide software in the form of virtual appliances that run on virtual machines (VMs).
ISVs have advanced or specialist knowledge that allows them to offer products that larger companies cannot – at least not without significant time, cost and resource investments. Thus, when an ISV partners with such primary vendors, together they can leverage joint strengths, and create new opportunities for mutual growth.
This is why thousands of ISVs partner with Microsoft to sell software for Office, Xbox or Azure, with Amazon to sell software for AWS, while others partner with Salesforce to develop products for Marketing Cloud, Sales Cloud, Pardot, Analytics, and more.
What Does "ISV Certified" Mean?
ISVs want to offer their software solutions to their target audience. For this, they often partner with hardware providers (e.g. IBM or Intel), operating systems providers (e.g. Microsoft), and increasingly, with cloud platforms such as AWS or Salesforce AppExchange to resell their solutions on these partners' marketplaces.
These marketplaces are often cloud-based, which enables ISVs to reach their target audience or customers easily and at scale. Almost always, such partnerships involve some form of revenue-sharing between the marketplace owner and the ISV.
But these partners don't simply allow any ISV to sell their solutions on their marketplaces. Rather, they first check if an ISV's solutions are the best and most relevant for the partners' offerings.
For instance, HP manufactures and sells a wide range of hardware products, including laptops, desktops, and workstations. HP offers a "workstation ISV certification" program to ensure that end-users get the best possible software solutions when they buy an HP workstation. The certification process ensures that HP's workstation hardware is compatible with ISV software. It also aims to optimise the performance of both the hardware and the software for the end-user.
Many other hardware manufacturers, operating systems providers and cloud providers also offer ISV certifications, including:
Microsoft
AWS
Apple
IBM
Salesforce
Oracle
What is an ISV Partner?
An ISV partner can also resell its software solutions on a marketplace operated or owned by a computer hardware manufacturer, operation system provider, or cloud services platform. Essentially, an ISV partner is the same as an "ISV certified" ISV. The only (small) difference between them is that ISV certification programs tend to be more exclusive than ISV partnership programs. In other words, it's easier for an ISV to become an ISV partner than it is to become ISV certified.
For instance, for ISVs looking to participate in the Salesforce Partner Program (AppExchange), the process of becoming a partner is fairly straightforward. Salesforce provides many resources – including an AppExchange team – to guide ISVs throughout each step. ISVs can start onboarding onto Salesforce AppExchange even if their ISV development solution is incomplete or in progress.
They must click-through and accept the Salesforce Partner Program Agreement (SPPA). Once this step is complete, they are a formal Salesforce ISV partner. Next, the ISV's solution goes through a security review. Once it passes the review, the ISV can list its offering on the Salesforce AppExchange marketplace.
Similarly, ISVs can become Microsoft Partner Network (MPN) members by registering on the MPN website. After registration, ISVs can access a range of tools and resources to connect with potential customers and grow their business. They can also sign up with ISV ConnectED, the members-only site for ISVs participating in Microsoft Marketplace or AppSource. On the other hand, the process for becoming ISV certified (silver/gold) with Microsoft is slightly more complex and takes longer to complete.
Many ISVs start by building their product and selling it directly to their audience or customers. Even though this approach works well in the beginning, at some point, ISVs find it difficult to scale their business on their own. To drive consistent growth, many ISVs sign up for a partnership program with a hardware manufacturer or cloud company. Such partnerships benefit both parties. ISVs get technical, business or marketing support from the primary vendor, and can tap into the larger company's market access to:
Scale their business
Find and connect with potential customers
Promote their solutions, and
Bring their offerings to end-users
A platform provider may also provide training and validation programs to its ISV partners. In return, it gets access to innovative applications that can run on their platform, and thus generate greater value for their end-users and ultimately, for the companies themselves.
Types of ISV Partners
ISVs can partner with many companies to drive scalability and growth. These partnerships can take different forms, such as:
OEM Partnership
An OEM may make software that can be integrated into an ISV's solution. Such partnerships can help improve the ISV software's functionality and usability for the end-user. It can also reduce development time, and accelerate time-to-market for the ISV.
Reseller Partnership
A software reseller partnership program may allow the ISV to distribute its product to customers and markets that it may not be able to reach on its own. It can thus provide a substantial boost to its expansion and growth prospects.
Among SaaS reseller channels for ISVs, the value-added reseller (VAR) model is very common. In this model, a business customer adds the ISV software as an essential add-on to its product after paying a licence fee or royalty to the ISV. This helps improve the value of the ISV offering, which can boost the ISV's presence and help grow its customer base. VAR also helps meet the specific needs of the software's end users.
Payment Partnership
In this partnership, a payment solution is integrated into an ISV's software. One benefit for the ISV is that it may earn a percentage of revenues from transactions processed by a merchant user. The integration also provides additional value to users.
How Much Do ISVs Cost?
Whether an original vendor needs an ISV or not usually depends on the vendor's business needs, budget, target audience, and ISVs' capabilities. For instance, if end users are fine with the "base" software or platform, the vendor may not want to add additional functionality, so it won't need an ISV. On the other hand, if the vendor aims to provide value-add to its users, it may consider partnering with one or more ISVs to upgrade its original offering.
Some primary vendors choose to develop any required functionality in-house or by outsourcing the project to an external company. However, both these choices can be time-consuming and costly compared to partnering with an ISV. Moreover, ISVs usually specialise in a particular business area or niche and have already spent time and expertise building a solution that can offer considerably more functionality and usability to the vendor's platform at a low cost.
The cost of ISV solutions varies, depending on:
Solution type
Functionality
The underlying business problem that the ISV's solution can address is usually one of the most important factors in determining ISV cost. The amount of functionality – extensive versus bare-bones – also affects the cost.
In the World of Low-code/No-code Software – Do ISVs Matter?
In late 2019, Forrester predicted that more organisations will adopt low-code products in 2020 (and beyond) to build apps and product-centric teams. Forrester also predicted that by mid-2020, more than 50% of developers will use low-code products.
Low-code (and no-code) platforms enable organisations to quickly design and implement software applications with minimal or no coding, testing, debugging or documentation. As the adoption of such platforms increases, do ISVs still play an important role in software development and delivery?
In a word – YES.
Today, low-code platforms are not just a "nice-to-have" development tool, but a game-changing initiative to speed up software delivery. In the past, low-code development was considered a way for citizen developers and business users to build product prototypes, rather than complete products for end-users, since such platforms could not handle complex business logic or technical requirements.
Today, low-code/no-code platform developers like Gupshup have evolved into business-critical partners that help to:
Speed up application development and modernisation
Add useful features and functionalities without slowing down time-to-market
Modernise existing/legacy applications at low-cost, especially when paired with agile DevOps and DevSecOps processes
Onboard new developers quickly with minimal need to reskill or upskill
Onboard business users quickly, so they can use the product effectively and with minimal training
Enable product customisation, scalability and integration with component-based models, micro-services, session-less architecture, and APIs
Use and maintain open standards-based code for consistency, usability and easy maintainability
Specialist ISVs can leverage all these benefits of low-code/no-code platforms to quickly develop best-of-breed software solutions to meet specific business needs, or address their audience's specific business challenges.
Conclusion
ISVs like Gupshup are helping to bring cutting-edge software applications like SMS API, WhatsApp Business API and RCS Business Messaging platforms that enable organisations to innovate, differentiate, and compete more effectively in their market. ISVs bring a unique mix of expertise and skills to develop world-class software applications in a variety of business-critical areas, including marketing, accounting, HR, analytics, strategy, finance/budgeting/planning, operations, project management, communications, digital transformation, and much more. By partnering with ISVs, hardware manufacturers, cloud providers and operating system developers can provide their users and customers with greater value than would be possible otherwise.
To know more about how Gupshup delivers value to thousands of organisations all over the world as an ISV and no-code platform expert, talk to our authorised sales representative. #LetsGupshup to get started.
Blogs you will want to share. Delivered to your inbox.
Business Email
×
Read: Diving Deep Into RCS Business Messaging