Grow And Scale Your Business With WhatsApp Commerce
On December 2, 2021
|
6 Minutes Read
Conversational Commerce
Conversational Engagement
D2C & E-commerce
Retail
WhatsApp Business API
WhatsApp Commerce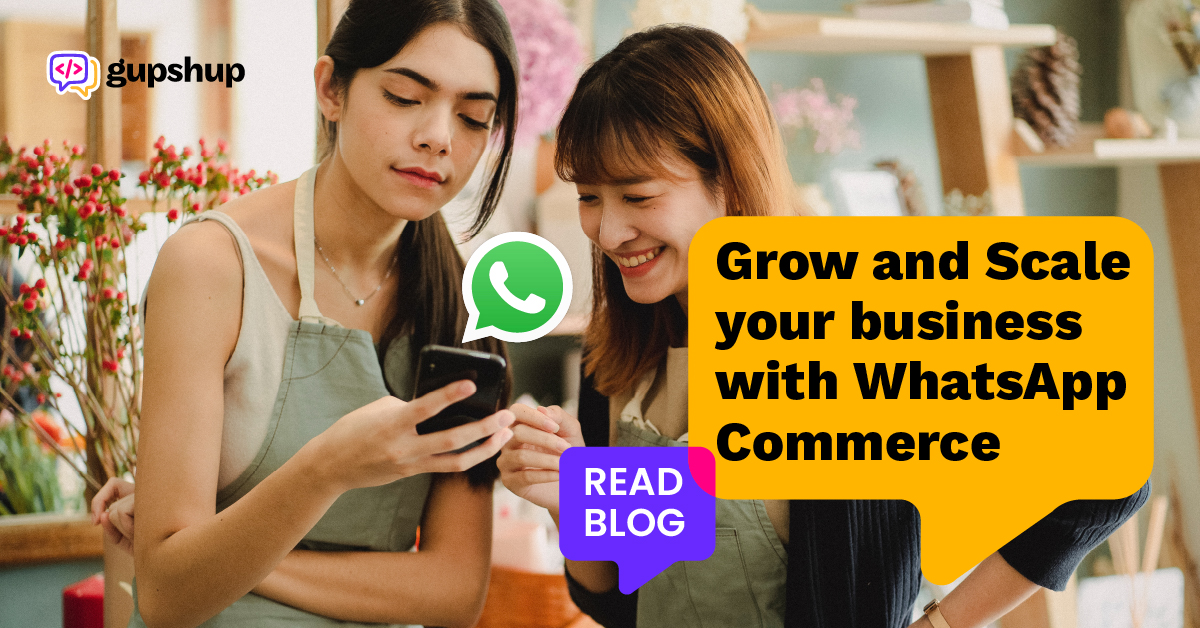 Conversational messaging apps like WhatsApp have a simple, less-confusing interface which people are already familiar with. With almost 50% of the active Internet users on WhatsApp and an extensive adoption of digital payments and UPI in the last few years, India has seen an unprecedented adoption of messaging apps – primarily WhatsApp – for both communication and business. Given this, it has become imperative for retail businesses to reach users where they already reside, as research shows customers now expect a brand to be available through messaging as much as possible. In order to do so, retailers need to offer a service that customers will find useful.
The last few years have seen many changes in the way people interact with brands. Users are no more interested in downloading dozens of applications to their mobile phones. They want to get things done using one application at a time, which makes conversational apps the most preferred mode of interaction these days. Users would rather reach out to their favorite brand in the manner they communicate with friends and family – without having to download multiple apps all over again!
The WhatsApp Solution
One solution is the advent of WhatsApp Commerce by Facebook, which will enable businesses to create actionable 'buy now' or 'chat with us' capability within the platform – a solution which also works for e-commerce platforms by letting them to digitally place products in a customer's cart via a fully secured checkout process that leverages username and password or one-time access code sent over SMS.
WhatsApp Commerce empowers businesses to sell their products to customers directly through WhatsApp, without having to worry about the barriers presented by other social networks. It includes an easy-to-use payment gateway, empowering businesses/brands to accept payments through multiple payment gateways. It manages all orders made via WhatsApp so they are sent securely to the business owner's email account along with screenshots of each purchase. Read more about WhatsApp Commerce policies.
Gupshup's Conversational Commerce solution for WhatsApp
WhatsApp for commerce helps businesses with increasing sales and customer conversions by broadening reach and engagement and ensuring higher customer satisfaction and improving CSAT. Gupshup's conversational commerce solution for WhatsApp is designed to be the new storefront for digital India, offering customers an interactive environment to see, discover and place orders directly through the app.
With the inclusion of visual elements, businesses can visually display their offerings through professional looking catalog pages with product images and details of each item; all within the customer's messaging application. Customers also benefit from the convenience of creating personalized shopping carts directly on WhatsApp where they can interact with businesses in real-time, via live chats.
Make the online store experience as comfortable as the in-store
WhatsApp business API is specially designed for small and medium businesses that want to take advantage of WhatsApp's popularity to improve their sales, and boost their customer support. With WhatsApp commerce, and its host of new features, businesses can now power the end-to-end shopping experience for their customers. Brands from various industries like e-commerce, travel, education, food & beverage, automobiles, outdoor media, banking and finance, etc. can benefit by leveraging WhatsApp commerce.
Broader reach and engagement
With the aid of multi-product messages, which can be used when your customers want to browse multiple products or services and can display almost thirty offerings in one go, businesses can retain customer attention more easily. The single product messages are best used to showcase one specific product or service to a customer. This ensures that detailed information is passed on to the customer, who can take an informed decision while purchasing a product or service. With the help of chatbots, customers can message the businesses anytime 24/7 and get their queries answered in real-time. For complex queries, the intelligent chatbots handover the customer to a live agent for unified support.
Increased sales conversion
Customers are presented with a choice of menu items, right on their WhatsApp messages. Users can now simply use the 'Add to Cart' button to browse through the catalog and include multiple products from a merchant. They can then share it with the seller to place the order directly through WhatsApp itself! You can integrate with your existing e-commerce stores on Shopify, Woocommerce, or Magento and other third-party payment gateways, which enables your customers a seamless experience and increases sales directly on WhatsApp.
Higher customer satisfaction
Since businesses can now offer their products or services in an interactive manner, resulting in a much better user experience that is faster and much more effective than conventional ways of engagement. Customers can browse through their options for shopping from an all-in-one app. Businesses can now utilize all the means by which they can engage with users, no matter what sector they are in, even if they need to send data over the airwaves.
The Final Takeaway
Selling your products on WhatsApp has now become easier, thanks to WhatsApp Commerce. Businesses can now power an end-to-end shopping experience for their customers on the most popular and favourite messaging channel – WhatsApp. Enable all this and more on top of providing timely notifications and real-time support on WhatsApp Business Account which includes delivering relevant notifications to customers at the right time to help them with purchase decisions.
Make online payments easy for your customers. Users can make direct payments from WhatsApp while they are going through the purchase journey, without having to navigate between multiple applications. For enabling direct and secure payments via smart messaging, integrate with the one-click-bill-pay option.
Brands today are keen to explore new channels and ways to engage with their customers, and conversational channels like WhatsApp are changing the way we interact with them, which is a clear game changer for  DTC and online retail brands.
Building a robust conversational commerce engine on WhatsApp is imperative to keep growing and boost sales. Know more about Conversational Commerce on WhatsApp.
#LetsGupshup
Please enable Javascript in your browser to enable this button
Blogs you will want to share. Delivered to your inbox.
Business Email
×
Read: Comprehensive Guide to SMS Marketing for eCommerce