Diving Deep Into RCS Business Messaging
On December 1, 2021
|
5 Minutes Read
Bot Builder
Chatbots
Conversational Engagement
Generic
RCS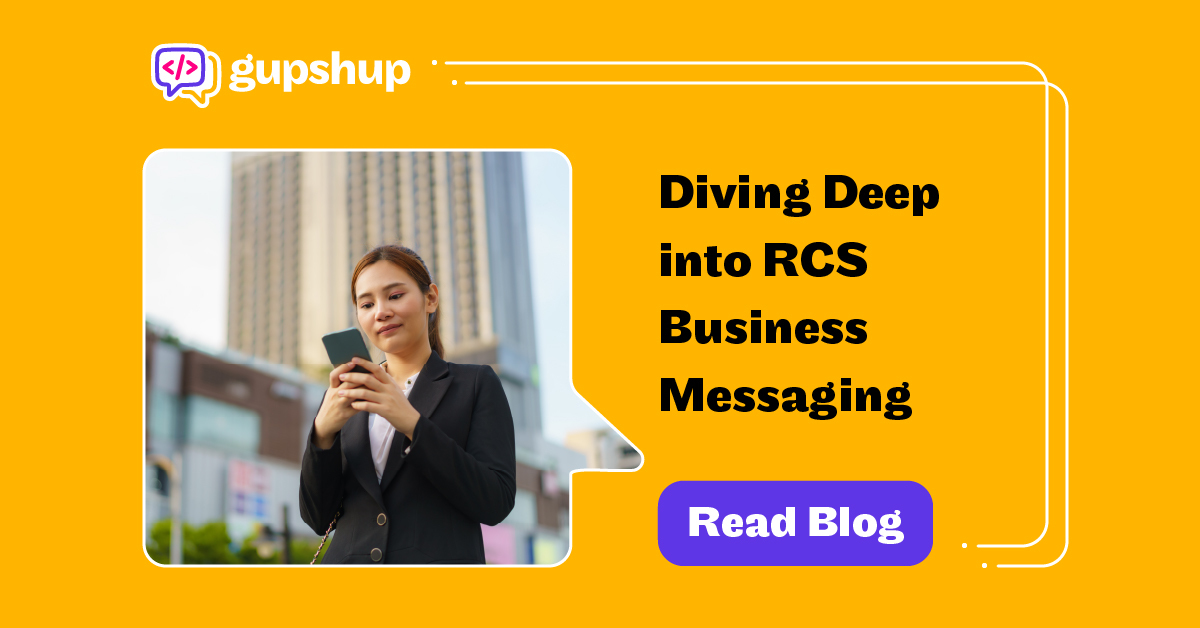 Conversational messaging is innovating at a rapid pace. Over the years, there has been a paradigm shift as to how two or more  people send messages and have conversations virtually. With the imminent rise of social media, connecting with people from any part of the world has become as easy as buying your daily groceries. With the emergence of rich messaging features such as gifs, emojis & so on, messaging over the apps has become even more human and personalized.
Social media and messaging apps allow users to build a community of like-minded people who can share information and opinions easily with one another. Rich messaging makes this experience even more fascinating as it helps to explore other unknown facets of human connection and communication. This aspect of conversational messaging helps businesses to provide even more personalized user experience over messaging apps. Rich Communication Services (RCS) is exactly trying to achieve that.
What is RCS?
RCS is the next generation of SMS communication. Person-to-Person (P2P) messaging is being redefined thanks to RCS technology. RCS provides a rich messaging experience on the native messaging app of the users.
Imagine sending a digital postcard via SMS or avoiding the need to re-enter OTP once you receive it on your mobile; you can simply tap and confirm it from the app. Imagine if you can avail offers on your next food or shopping order in a few taps without exiting the messaging app. Those are a few of the many capabilities of RCS.
While RCS provides P2P messaging experience, using the same technology, brands and developers can provide automated and even richer conversational experience to users through RCS Business Messaging and convert P2P messaging to P2A (Person-to-Application) messaging.
RCS Business Messaging
Simply put, RCS Business Messaging takes place when RCS technology is customised as per the requirements of enterprises and developers. RCS Business Messaging allows brands and developers to build on the RCS technology and provide rich business messaging solutions on the default messaging app of the users' device.
RCS Business Messaging can be further divided into two parts:
Rich Messaging on Native Messages App
RCS Chatbots
Rich Messaging on Native Messages App
RCS allows businesses to send OTPs, promotional messages, notifications, coupons and even surveys on the default messaging app of the user. This is an upgrade from the existing promotional messaging done via SMS.
Brands can now deliver notifications about bills due or festival promotional messages using rich cards, suggested actions and so on. These messages are sent by the brand and therefore fall under Application-to-Person (A2P) messaging. Users can not reply directly to these messages. However, through buttons and other suggested actions, users can interact with the brand without replying to the messages directly.
Brands can use these messages to send one-time reminders, promotions, surveys etc. to the users and get the desired action from them. This allows brands to reachout to users and provide them with a much more engaging experience for a one-off message.
RCS Chatbots
RCS Chatbots allow brands to develop an automated business messaging tool that helps users solve their queries promptly. RCS chatbots are usually automated but they also have the ability to handover the conversation to a live agent if needed. This helps to solve complex queries of users in a conversational way.
RCS Chatbots are considered part of P2A messaging as users can reach out and get connected to the brand. Chatbot accessibility depends on the mobile network they are using and the country they are from as RCS technology is heavily dependent on carrier providers and countries they are currently deployed in.
RCS Chatbots provide similar rich messaging features as the ones in native messages app with one major distinction – RCS chatbots have two-way communication. Therefore, these are known as conversational chatbots as they respond to users' queries. Apart from that, RCS chatbots can include carousel images, suggested actions, brand logo – similar to the one-off messages.
Final Takeaway
RCS Business Messaging is one of the most exciting technological developments of this era, in the context of creating engaging conversational experiences. The tech giants of Silicon Valley and telecom leaders across the globe are working towards engaging RCS as the go-to solution for P2P as well as P2A messaging for the future. Given the number of benefits and features it provides for conventional business messaging, the picture is clear that RCS will become the industry standard sooner than later.
If you are a business who wants to have an edge over your competitors, irrespective of whether you are an e-commerce company, a real estate management firm, a financial service provider or belong to the  hospitality sector, RCS Business Messaging solution can be tailor-made for any and all industries. Connect with our experts if you wish to provide interactive and rich messaging experience to your users.
#LetsGupshup to know more.
Blogs you will want to share. Delivered to your inbox.
Business Email
×
Read: Grow And Scale Your Business With WhatsApp Commerce