How chatbots can disrupt the Banking and Finance sector
On April 18, 2017
|
4 Minutes Read
BFSI
Chatbots
Conversational Commerce
Conversational Marketing
Conversational Support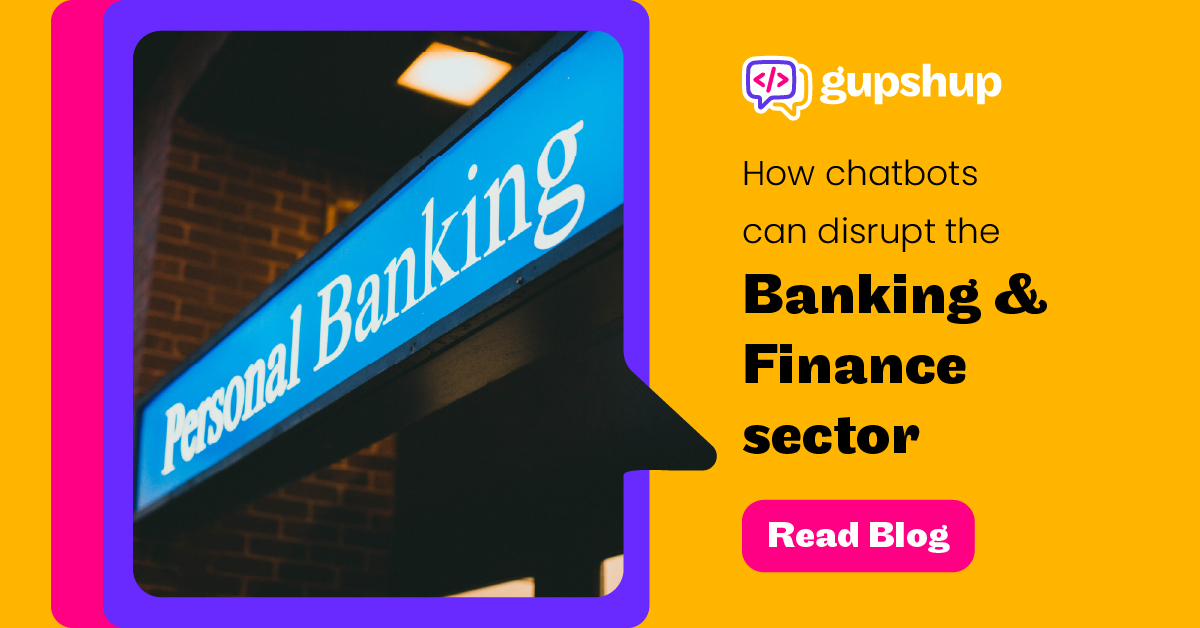 Few years ago, at their 360 Summit, Gartner predicted that by 2020, customers will manage 85% of their relationship with the enterprise without interacting with a human. This prediction may have seemed audacious at the time but certainly looks to be true as companies are jumping on the chatbot bandwagon. The rush to adopt this new paradigm isn't without cause though. Conversational interfaces, often combined with intelligent backends, are slowly transforming the fundamental way we use computers and software. Soon, every service delivered today via website or app will be delivered via. bots. Every brand, business and startup will need to build bots. For brands, literally, every customer touch-point will now be enabled via. bots.
The banking and finance sector have always been quick to adapt to user needs. When the paradigm shifted from website/browser to mobileOS/apps, banks were quick to roll out handy apps that helped customers perform transactions on their smartphones. Now with the paradigm shifting to messaging/bots, there is no doubt that there will be a transformation in the world of financial technology aka fintech.
As the old adage goes, time is money. Chatbots are here to simplify and automate our lives.  Imagine a chatbot that can take care of all your financial needs, a personal finance concierge if you will. This certainly is an improvement on using multiple banking apps, each with their own user IDs and passwords to memorise. With the help of some intelligent design, a chatbot can also provide a user with detailed analytics of their spending habits. For instance, a banking app or website will currently only provide you with a by-the-numbers monthly account statement. But you can gather information about 'money spent on hotels in September' or fuel costs for the year' using intelligent chatbots. Banking statements are information intensive and a chatbot is an ideal way to present this data to a user. It is worth noting that chatbots also provide a more secure user-experience. For starters, when a user is interacting with a chatbot on a messaging app, he/she is already authenticated. These bots use (or should use) authentication (the process of verifying a user's identity) and authorization (the process of granting a user permission to execute a given task) before completing any transaction. Also messaging services transmit encrypted data via HTTPS protocols which are the industry-standard.
The types of intelligent chatbots in the banking and finance sector can largely be divided into two types: Consumer-facing and employee-facing, with both designed to make people's lives a lot easier. Since this sector is not a short tail, the possible growth in the consumer-facing category can be massive. At a very simplistic level- banks, insurance companies and other institutes can have chatbots that serve as a product lookup. These simple bots will provide accurate information to the user about the minutiae of each product without the need to trawl through dozens of documents to find your answer. This sort of highly engaging chatbot has already been successfully implemented by many national and international banks.
One problem that many banks face is their customer support (or lack thereof). Social media is frequently flooded with exasperated consumers venting their woes about the lack of customer service. Chatbots and artificial intelligence can disrupt this space by providing instant answers to customer queries. Building a self-learning FAQ chatbot can provide contextual, personalised and accurate responses to the user thus increasing engagement and customer satisfaction. These bots can also be used to alert users of transactions and market alerts. While it's early days in the ecosystem, soon you will be able to make transactions via a chatbot. Imagine typing 'Send Rs 1500 to @Rohit' to your chatbot to complete a transaction. Simple and efficient!
Employee-facing chatbots, on the other hand, will simplify enterprise processes to a large extent making the workforce far more efficient. Teams across the world already use collaborative messaging tools such as HipChat, Slack and Teamchat to improve productivity. These messaging tools employ bots to propagate company-wide business alerts and send out internal reports. These chatbots can also automate workflows, provide reports and even connect to your custom ERPs and CRMs. Companies worldwide have used intelligent bots to improve efficiency and reduce company costs through automation.
In the tech industry, 2016 was the year of the chatbot. It went from being a virtually unknown concept at the beginning of the year to the most talked about topic in tech. The sustained interest from every major tech company as well as many startups, investors, media publications and consumers is simply undeniable. With artificial intelligence and natural language processing improving in leaps and bounds by the day, chatbots are primed to be the next big thing and are sure to disrupt the banking and financial sector. Stay tuned!
Blogs you will want to share. Delivered to your inbox.
Business Email
×
Read: F8 updates for Bots