5 Ways To Improve Customer Experience Via Text-to-Speech Technology
On June 15, 2022
Conversational AI
Conversational Marketing
Conversational Support
Generic
Voice API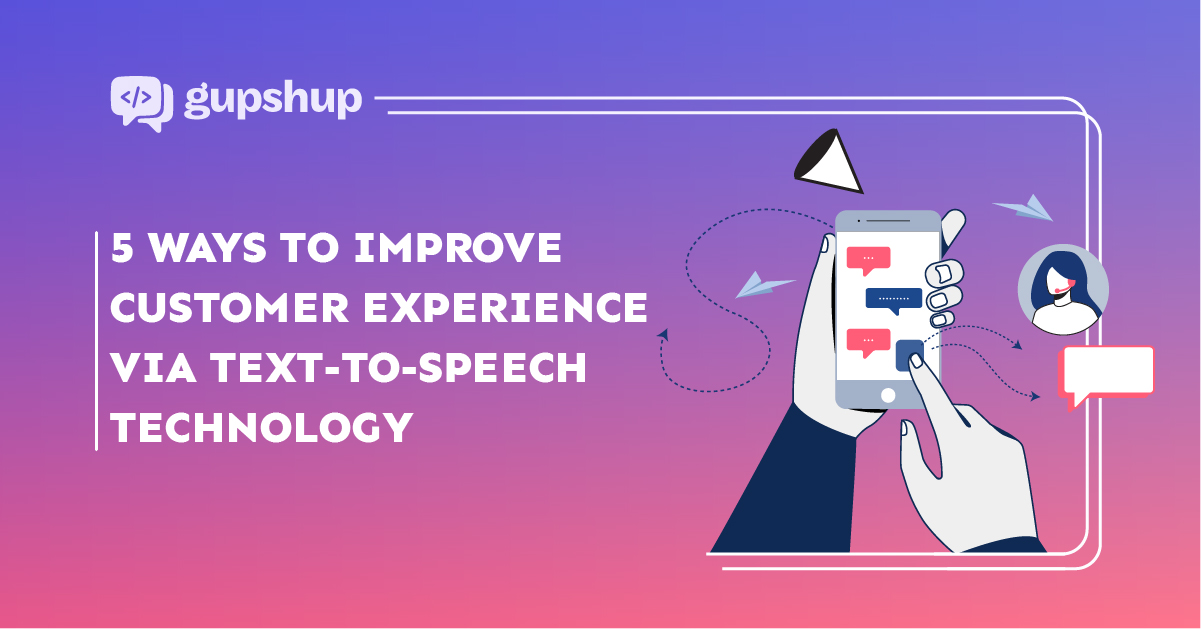 With rapid digital advancements, modern customers have more expectations from brands. 66% of customers expect companies to understand their unique needs. It has become essential for brands to adapt to customers' changing desires to stand out from the crowd.
74% of customers say they are likely to purchase from a brand based on experience alone.
77% of consumers consider a brand's customer experience as crucial as its products or services.
44.5% of business entities worldwide agree that customer experience is a crucial competitive differentiator.
91% of customers agree that they are more likely to make another purchase after a great service experience.
Using text-to-speech technology is one way you can turn interactions quick, smooth, and effective, thereby clearing the way for great customer experiences. Customers can easily opt to listen to the message you want to convey while performing other tasks.
In this blog, we will discuss how brands can level up customer experience via text-to-speech technology.
What is text-to-speech technology?
Text-to-speech (TTS), also known as read-aloud technology, can be referred to as an assistive technology that tends to read digital text aloud. It takes text as input and produces audio as output. TTS can also be referred to as speech synthesis technology.
With a simple click of a button or the touch of a finger, TTS technology can convert words on a digital device into audio. It enables your audience to view text and hear it aloud simultaneously while engaging with your brand.
As of 2020, the text-to-speech market was valued at 2 billion US dollars. It is predicted to grow to 5 billion US dollars by 2026 at a CAGR of 14.6%.
Businesses efficiently leverage TTS to alleviate human agent workload and offer customized conversational customer support. By using artificial intelligence to their advantage, brands can make speech more human. Such AI-powered TTS is known as neural text-to-speech. This, in turn, tends to reduce business' operational costs.
Text-to-speech provides your audience with intelligent self-service and steps up your customer engagement game. More importantly, it helps maintain a consistent brand reputation by using a single voice across multiple contact points.
Here are some more points on how brands can benefit from AI-enabled text-to-speech:
Converts all texts into natural-sounding speech with the support of a powerful voice API.
Helps build lifelike responses and boost user retention.
Conveys your brand message easily to wider audiences, especially people with learning disabilities, visual impairments, or literacy challenges.
Creates a robust multi-lingual support system and promotes personalization. TTS enables you to accelerate intelligent conversations by interacting with customers in their preferred native language.
Leveraging TTS solutions for a better customer experience
Good customer experience can be regarded as the key to business growth. The global spending on customer experience technology is predicted to grow to over 640 billion US dollars in 2022. If you're a brand striving to improve customer experience, here's a list of five areas you should consider focusing on:
1. IVR
Interactive voice response (IVR) is an automated phone system technology that allows callers to receive information via pre-recorded responses. It leverages spoken service menus with pauses for customers to respond. IVR is a critical building block for delivering extraordinary customer experiences.
Thanks to advancements within the TTS space, IVR systems have turned more conversational in nature. An efficient third-party voice solution can provide you with IVR technology that can successfully automate several aspects of interactions with consumers and optimize your customer support.
The integration of text-to-speech in IVR allows businesses to deploy integrated voice response in various languages and remove communication barriers. Moreover, it will enable customer communications to flow naturally. IVR, TTS, and conversational AI constantly blend and allow brands to facilitate smart and personalized self-service to customers.
2. Outbound dialing
The beauty of text-to-speech technology also extends to outbound calls. TTS can empower you with smart automation. It is quite pocket-friendly and saves you from the burden of dialing multiple calls every day. Imagine hundreds of customers dialing to check their payment due date or other vital information. Now, connecting them to a human agent every time can be a time-consuming and complex process and can make the user lose interest in your brand. But thanks to TTS, almost every aspect of the interaction can be automated. Businesses can make AI-enabled routine calls with text-to-speech capabilities and inform their customers about promotional offers, payment reminders, and much more.
3. SMS campaigns
While 75% of customers want offers sent via SMS, 48% of consumers prefer SMS to receive brand updates. SMS continues to be an effective messaging channel used by brands for marketing purposes. TTS can help you boost the effectiveness of your SMS campaigns. It enables you to craft a text message and conveniently turn it into a call. Text-to-speech SMS is best suited for delivering emergency notifications to your customers, including limited period offers and others.
4. Voice assistants
Conversational AI-supported voice assistants help build your unique and customized brand voice. If you want to create an AI voice assistant for every point of customer engagement, it becomes essential to have a human-like TTS voice that can easily be deployed across all your brand platforms. With the help of NLP and ML, voice assistants can easily grasp text input from users and deliver a more context-driven response.
5. Voice-enabled chatbots
In modern times, chatbots have been a great boon to brands to encourage smoother interaction and engagement with their customers. But the role of chatbots is not limited to forwarding quick text responses. With text-to-speech assistance, you can build chatbots, popularly known as voice bots, that can deliver voice responses! Voice-activated chatbots can provide your customers, especially the visually impaired, with a more immersive experience, thereby enriching the customer experience.
Let your voice be heard with Gupshup
Are you a business looking to deliver interactive customer experiences? Having worked with 44,000+ brands across 20+ regions and countries, we can be your reliable partner! Gupshup's voice API provides you with personalized voice rendition via text-to-speech. It allows you to conduct a more tailored and human-like conversation with customers. The TTS feature ensures higher customer interaction and calls success rates. Moreover, the outbound calling suite is powered with text-to-speech capability and allows you to send OTP over voice, enabling you to handle peak traffic and volumes. Build user-friendly chatbots and interact via voice in multiple languages to expand your audience reach.
#LetsGupshup to discuss how you can incorporate life-like voice synthesis to boost customer satisfaction.
Blogs you will want to share. Delivered to your inbox.
Business Email
Recommended Resources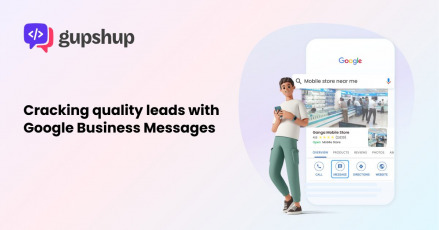 Learn how to revolutionize your lead generation strategy with Google Business Messages. In this blog post,...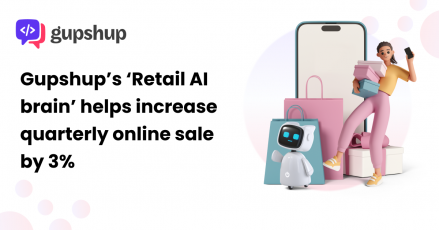 Learn how Gupshup's retail AI Brain helped a Austrian skinwear brand increase quarterly sales by 3%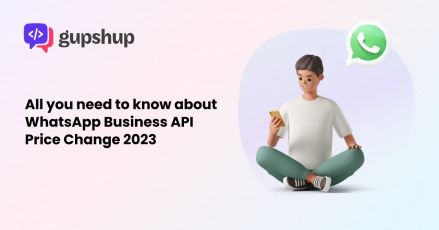 Learn about WhatsApp Business API's new value-based pricing and all the new features to look forward...
×
Read: 6 Advantages Of Chatbots For Companies & Customers