Mastering WhatsApp Business API: Your Ultimate Festive Season Marketing Companion
On October 20, 2023
|
8 Minutes Read
Conversational AI
Conversational Engagement
Conversational Marketing
Conversational Support
Generic
WhatsApp Business API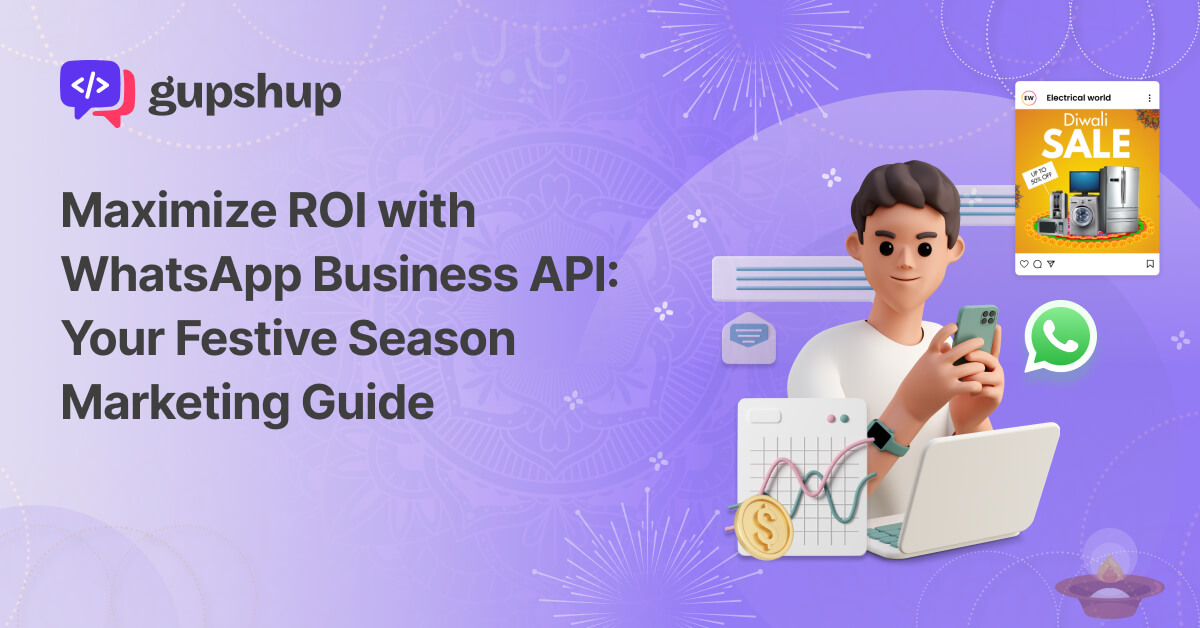 Shubharambh – which means 'A Good Begining' resonates with everyone as we step into a Quarter of festivals (Navratri to New Year). This is the heightened time for consumer activities & provides a golden opportunity for businesses to boost their sales.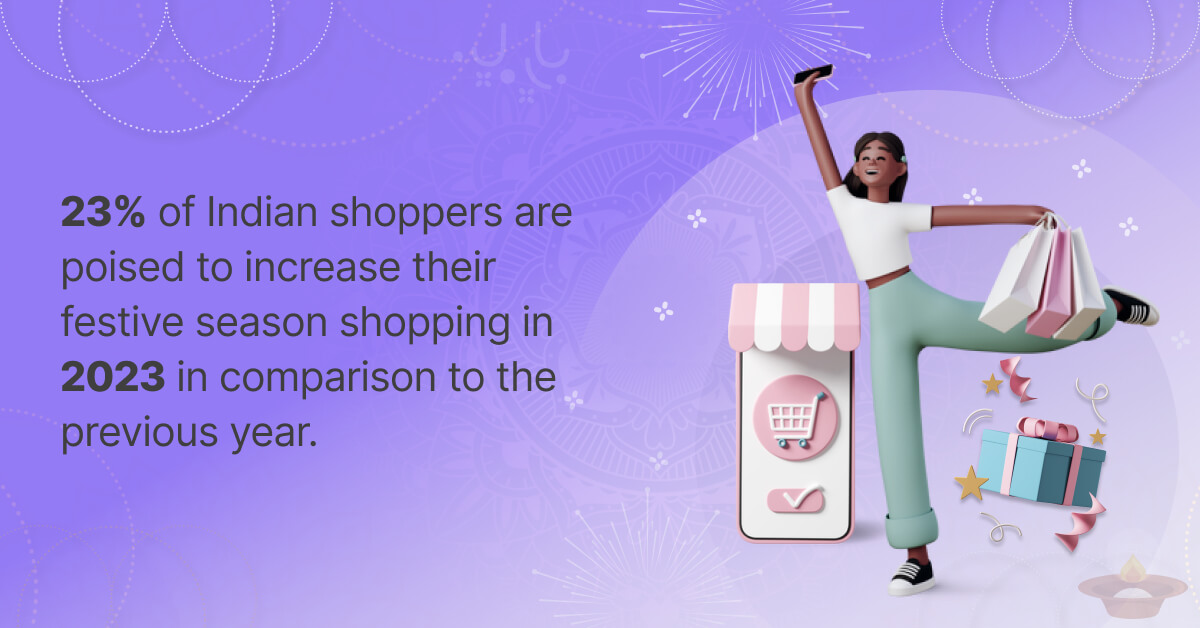 Considering the quick increment in online purchases, this year businesses can expect to have more sales! Every brand wants to have a successful festive season. However,  this brings a lot more competition in the market this year.  You have to opt for ways to grab consumer attention and that's exactly where WhatsApp Business API comes into the picture!
In this blog, we'll explore the communication opportunities that brands can leverage through the WhatsApp Business API during this Diwali & festive season as a perfect marketing companion.
Here's what Brands stand to achieve by using the WhatsApp Business API in marketing campaigns during the festive season:
Reach new & existing customers

Offer versatile customer service

Upgrade your post-purchase customer experience

Eliminate the need for multiple business accounts, WhatsApp is enough!

Enable customers to explore, order, & pay on WhatsApp

Boost marketing with

conversational commerce

Boost customer conversations with automation

Engage with global customers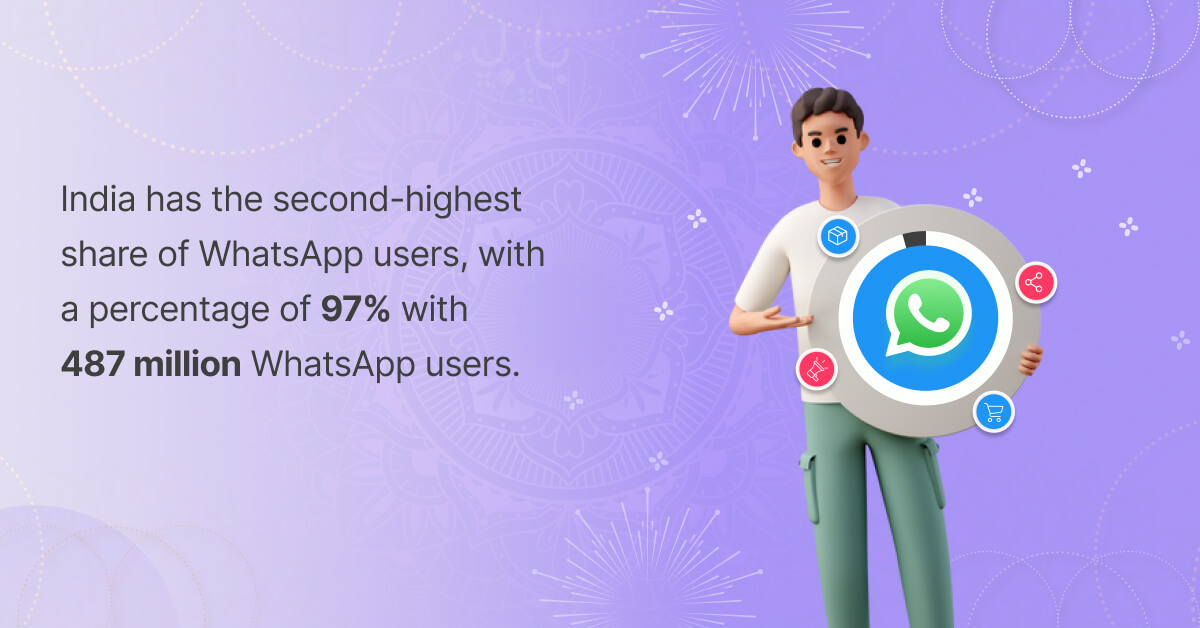 WhatsApp Business API For Your Diwali Marketing Strategy
The festive season is a time when business typically launches their new range of products, collections, deals, & discounts and this is the ideal time to use WhatsApp Business API in your festive marketing campaign for promoting products or services, increasing your customer base, improving brand awareness, and enhancing sales.
Now, let's talk about some campaign ideas that any business can use. By starting early you can build excitement amongst your customers and let them be hooked to your festive offerings.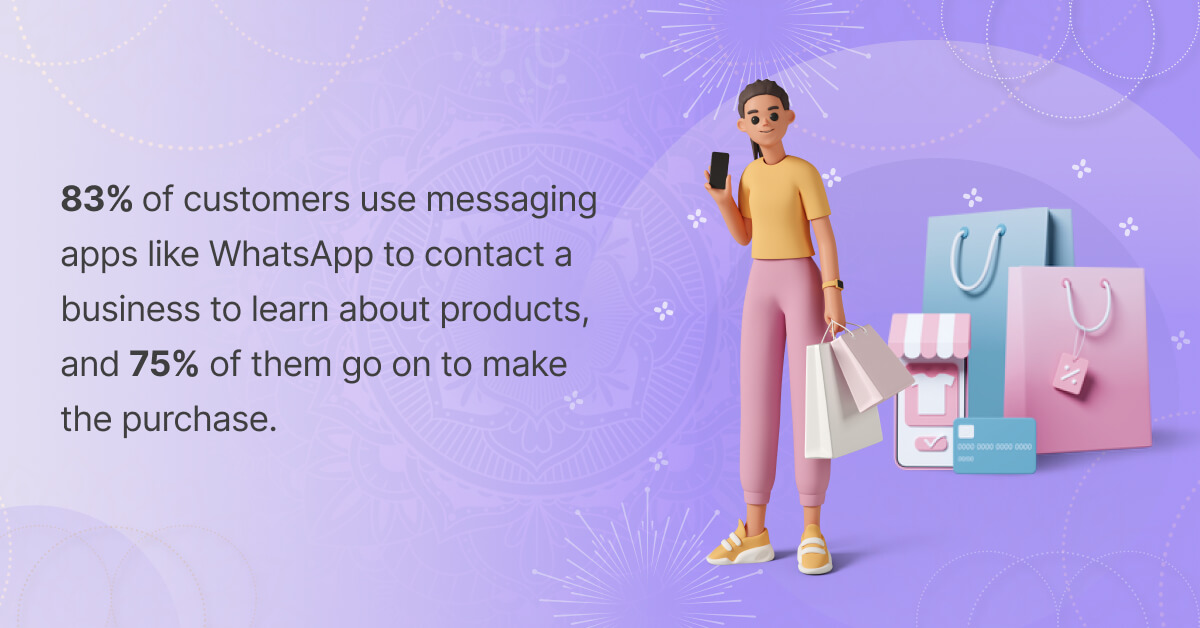 Pre-Festive Use Cases
To Announce Your Festive Offers & Sales
The festive season is the most significant sales time in India. This is the perfect time for businesses to start their sales & offer announcements in advance to get the maximum benefits. WhatsApp Business API is the best platform to do so.
If you are a women's ethnic clothing brand, there are high chances of a good sale during Diwali, however, you can make it a great festive season sale by announcing your offers [up to 70% off on sarees during Diwali sale] to your customers in advance via WhatsApp. This gives them time to explore your brand & wishlist their favorite clothing pieces which leads them to make a purchase during your sale period.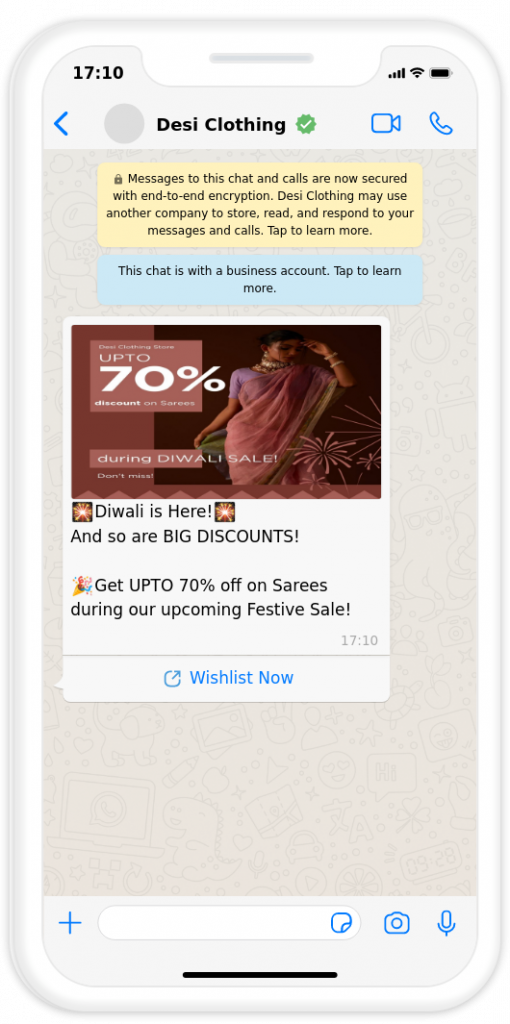 Provide a Glimpse of Discounts
One thing is for sure every business in India – be it big or small holds a Diwali sale. This calls for a unique way to attract customers and to your surprise, WhatsApp Business API can help you with this as well by sharing out a glimpse of discount messages.
A beauty brand can take its sales to another level by sending out WhatsApp messages with a glimpse of some of its discounted products [flat 20% off on an entire range of hair serums] once the festive sale starts. This lets your customers be aware of what they can expect from the brand in the upcoming festive sale. But, be sure to not open all your cards!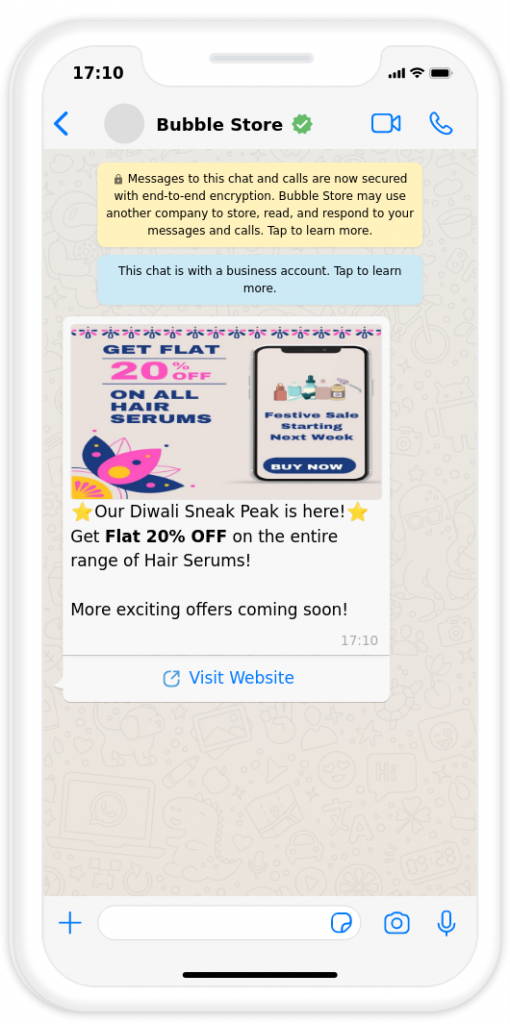 Running a WhatsApp pre-order campaign to invite your customers to order in advance before the actual sale starts can be extremely helpful for brands. This ensures more sales, helps with inventory management and planning, attracts more customers, etc.
A mobile brand can start a pre-order campaign for one of their phones which they are planning to sell at a discounted price during the festive season sale. A WhatsApp message inviting community customers to pre-order the phone & secure a piece for them in advance [pre-order your favorite XYZ phone 48 hours ahead Diwali sale] could end up being a great marketing move & will also enhance sales this festive season.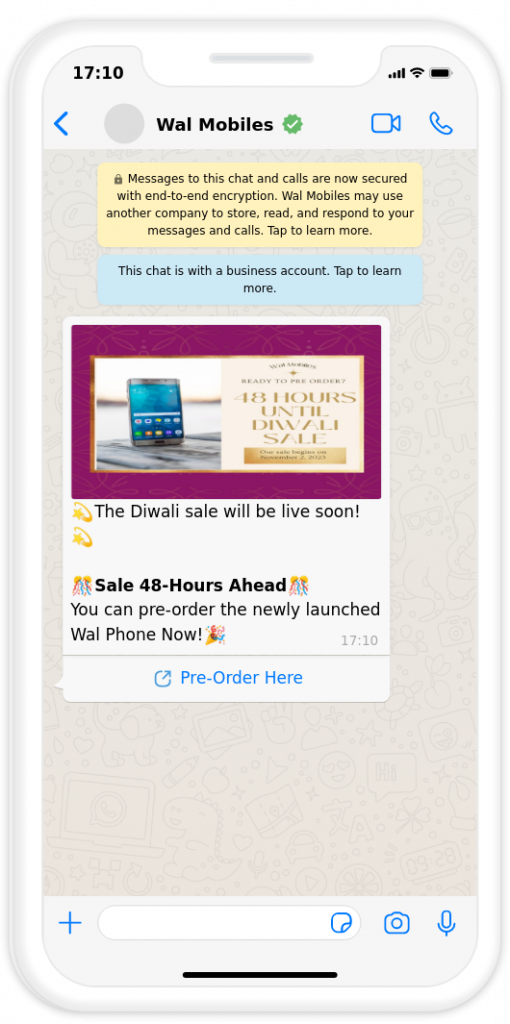 Send Reminders For The Diwali Sale
Diwali sales are a time of intense competition. Keeping this in mind, brands need to promote their offers more than anything else to stand out. To keep the excitement alive before your festive sale starts, sending reminders is one of the best ways.
Send a notification a few days before the sale for your serveware brand to keep your customers reminded about the upcoming sale, offers [save up to 25% on each purchase in our festive sale] & benefits they can get while shopping with you.

During Diwali Use Cases
Share Ongoing Deals & Discounts
To attract a huge audience during Diwali, it is a great idea to share your deals & discounts with them over WhatsApp when the sale is live. Keeping your customers updated with the offers & discounts is a good way to beat the competition during this sales season.
Just send a quick automated message on your customers' WhatsApp account mentioning that the sale on your cookware brand has started with great deals on the entire range [sale is live now! Get 20% off on a purchase of ₹3999].
Reminders for Fast-Selling Products
Creating urgency can lead to high sales during the festive season. Customers look for the best deals from different brands so it is your responsibility to inform them that the products from their wishlist or cart are on huge discounts & selling out fast.
Ask your customers to buy the shoes from their wishlist as it's in huge demand & can get out of stock soon. Share amazing product images to attract them along with an extra discount coupon for a quick buy [shoes from your wishlist are going to stock out soon! Buy them now with an extra 15% off coupon]. Providing a buy-now link along with the message would be an extra advantage.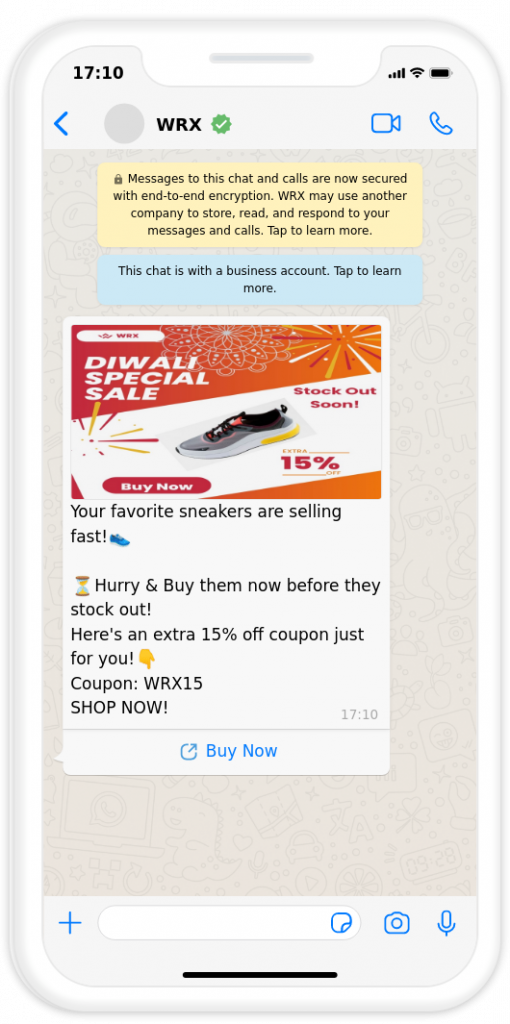 Provide Excellent Customer Support
Customer support is vital for any business regardless of its festive sale time or any other. For accurately & quickly answering customer questions, WhatsApp chatbots are an ideal way.
Let your customer reach out to your furniture brand via WhatsApp to get details of the dining table shipment they purchased during the Great Diwali Sale. The bot can share the details of the same [the shipment of the sofa with order no. #334 has reached your nearest hub] answering customer questions quickly.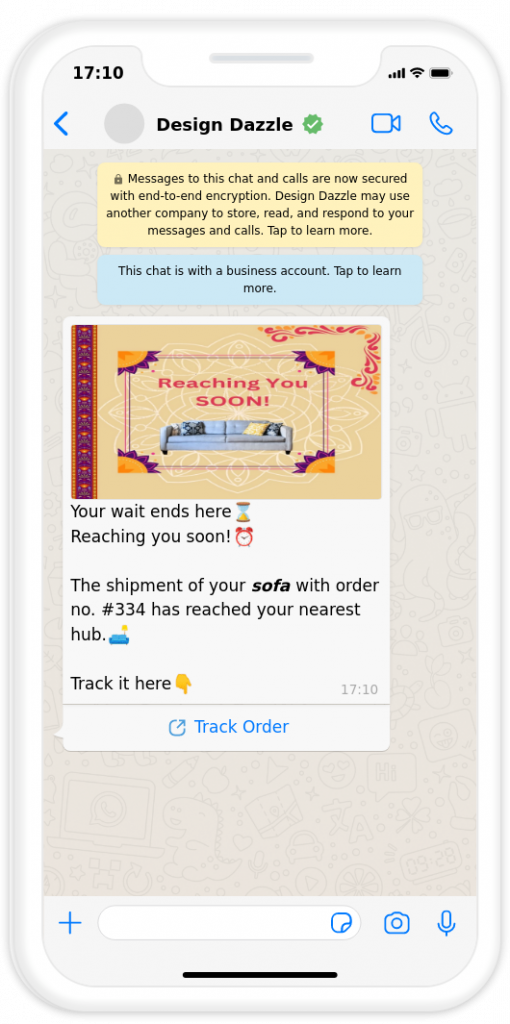 Post-Festive Season Use Cases
Request Product Reviews/ Feedback
Since your customers have completed the purchase, it's time to ask them about the product reviews. This is a perfect opportunity to receive good feedback, use it socially to attract more customers & engage with the existing ones.
Assume you are an electronics brand that sold multiple headphones during festive sales. Now send an automated WhatsApp message to your customers a few days after the purchase requesting for their feedback. [how did you like the headphones you bought this Diwali sale? Send us quick feedback by clicking the button below]. Make sure to add at least two buttons along with your message, for positive & negative feedback.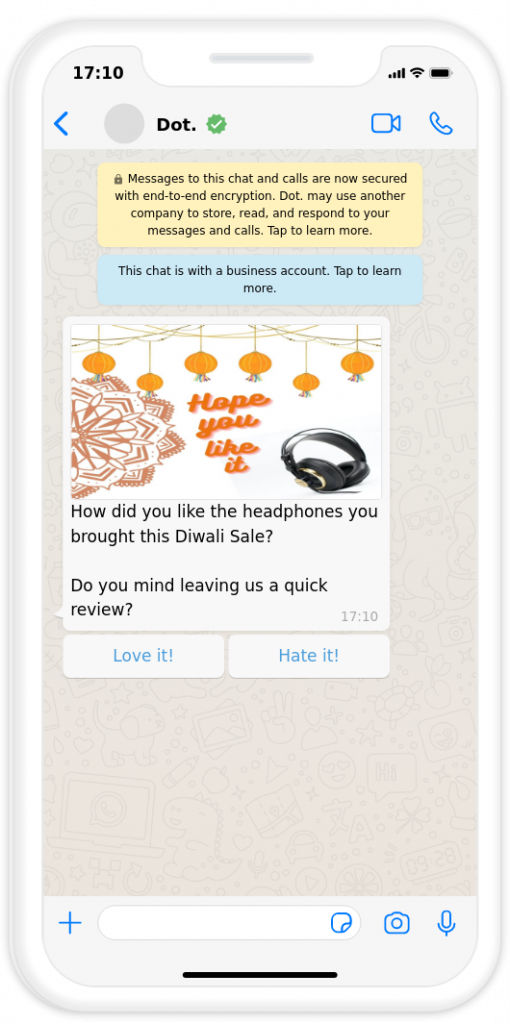 Sale Extension Announcement
Sale extension is a common thing for brands for a day or two after Diwali. This is a great way to attract more customers & clear out their inventory. This also allows customers to buy items at a better deal.
Send a sale extension announcement message to your customers mentioning that the sale on the diamond rings has been extended for another 3 days, asking them to grab this opportunity for an even bigger discount. [sale extended on diamond rings for 3 days! Buy now with an extra 10% discount]. Do add your website page link with the message.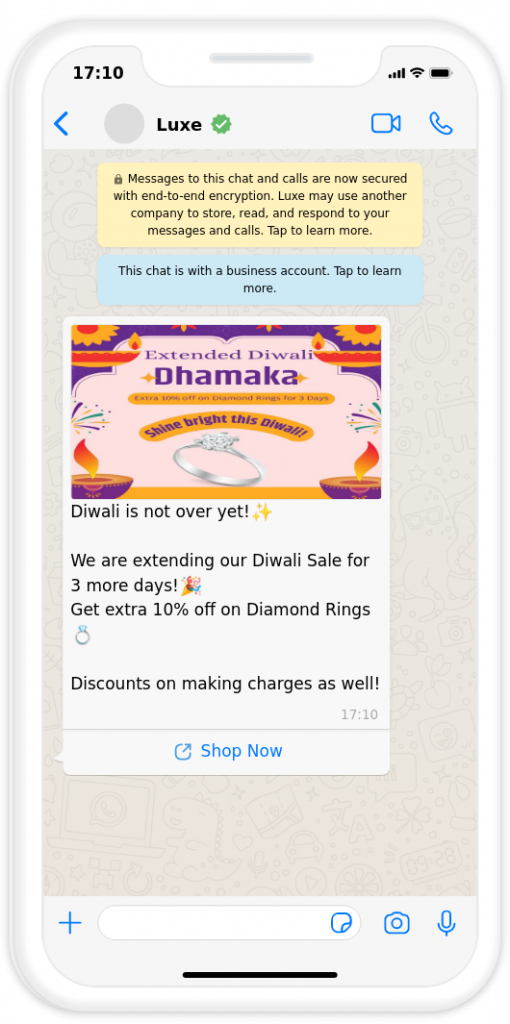 Surveys are the best way to understand your customers' needs. You might have come across a lot of new customers, who are trying your products for the first time. Surveys are the chance to develop strong relationships with them & understand your customers well.
Send surveys for your home decor brand through WhatsApp Business API with quick reply buttons for easy responses. You can ask them a variety of questions to understand their likes & interests. [fill out this 30-second survey & get 10% off on candles for your next purchase]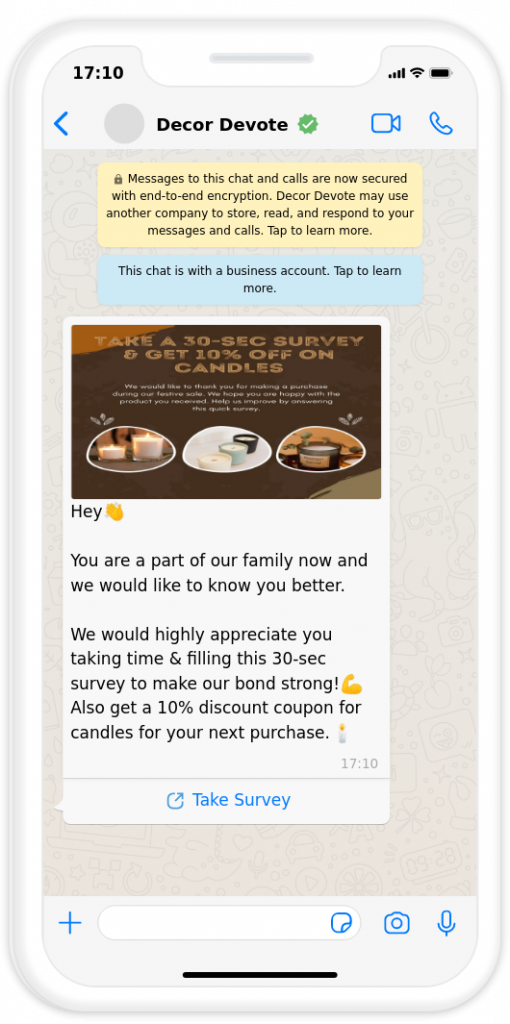 Conclusion
Mastering WhatsApp Business API as your ultimate festive season marketing companion is not just a strategy; it's a game-changer. As you prepare for the vibrant festivities from Navratri to Diwali, remember that WhatsApp Business API empowers your business to connect with customers on a personal level, streamline transactions, and adapt strategies based on real-time data. The examples and insights shared in this blog showcase the immense potential of WhatsApp Business API in maximizing your return on investment and creating memorable customer experiences.
Don't miss out on this opportunity. Start planning your festive season marketing campaigns with WhatsApp Business API today, and let your business shine brighter than ever before. Explore Gupshup's solutions and resources to get started on your journey toward mastering WhatsApp Business API for a successful festive season.
Take the first step towards festive marketing excellence with WhatsApp Business API along with Generative AI chatbots your ultimate companion for the season of celebration.
Blogs you will want to share. Delivered to your inbox.
Business Email
×
Read: Structured Conversations and Enhanced Engagement: All you need to know about WhatsApp Flows