How Gen AI chatbots are powering customer conversations during the festive season
On October 12, 2023
|
9 Minutes Read
Chatbots
Conversational AI
Conversational Commerce
Conversational Engagement
Conversational Marketing
Conversational Support
CX
D2C & E-commerce
Generic
Retail
WhatsApp Business API
WhatsApp Commerce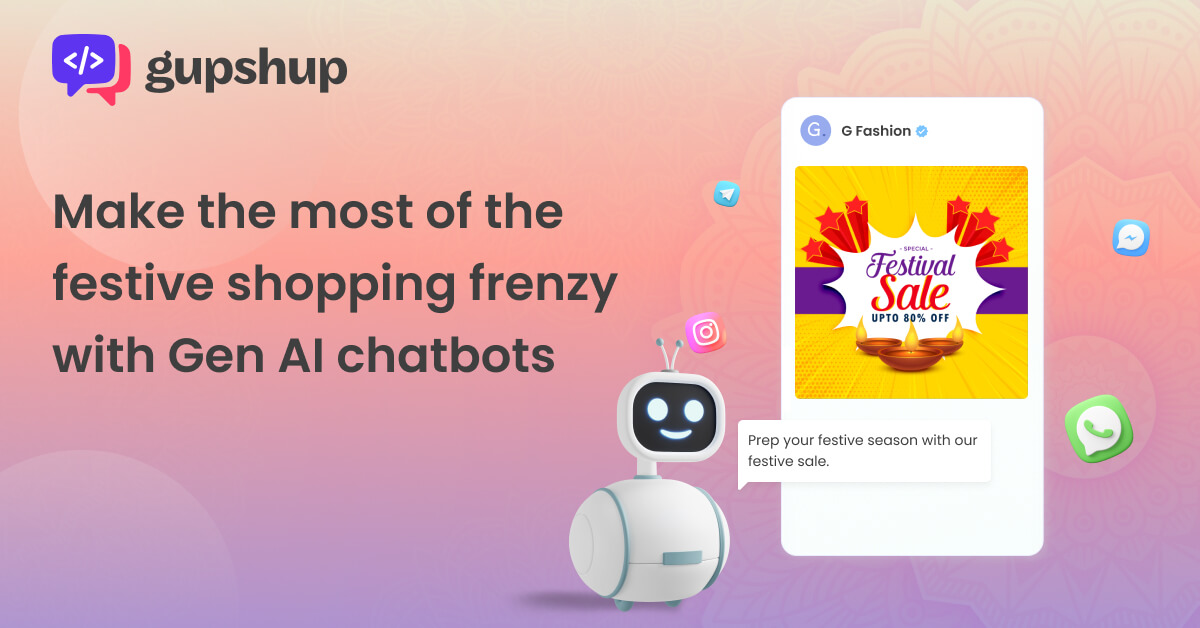 The festive season in India is right here! It will soon start in SEA (South East Asia) and other parts of the world. As we gear up for this exciting time, it's crucial for businesses to find innovative ways to engage with their customers and meet their demands efficiently. After all, the urge to splurge for consumers is at its highest during festivals. Many of them eagerly wait for offers, deals, and discounts to complete their long-awaited purchase. Brands need to ride on this demand by reaching out to customers on a channel they are, and create unforgettable experiences in the process.
This time of the year usually brings a surge in customer expectations, increased competition, and the need for quick and personalized responses. For customers, it's frustrating to see messages such as "Out of Stock" or "Delivery not available". While brands are able to generate excitement through sales and deals, all of it evaporates due to poor customer service. 
Chatbots offer a great opportunity for brands to build one-on-one, personalized engagement through conversations. Moreover, with the advent of Generative AI, brands can offer chatbots that indulge in intelligent conversations and are more human-like, allowing for a more seamless and personalized buying experience.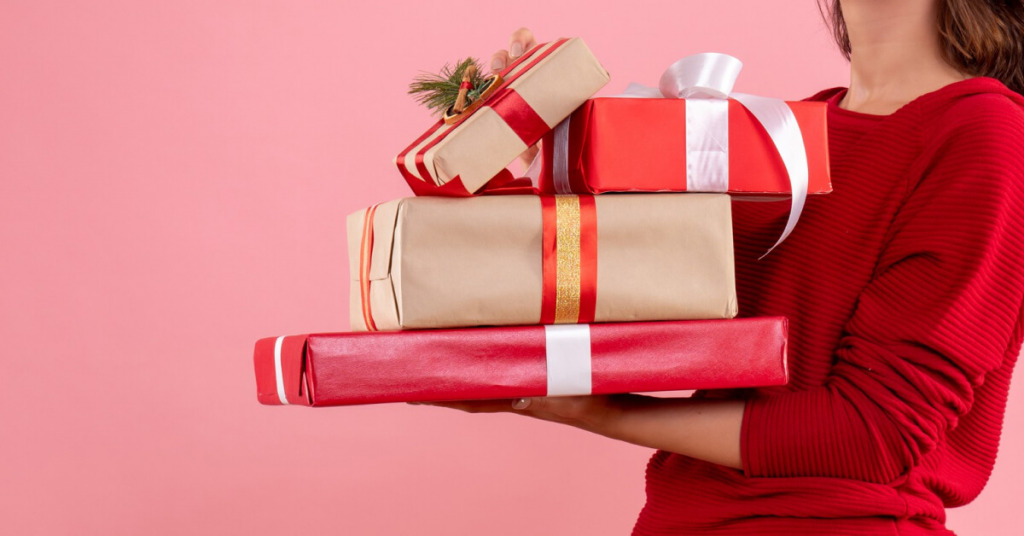 In this blog, we'll explore how businesses can leverage Generative AI-based chatbots to bring higher revenues, build customer loyalty, and create memorable buying experiences during the festive season. This blog will help you gather insights on how brands can use Generative AI for customer acquisition, conversion, and retention.
Before diving in, it's also important to understand the channels for these chatbots. Given WhatsApp's popularity the world over (2.7 billion customers), it serves as the perfect channel to get users' attention. Users spend 17 hours per month on average on WhatsApp. Hence, Generative AI bots on the WhatsApp Business API work as a powerful combination, helping brands reach customers on their favorite channel and deliver superlative conversational experiences.
Customer Acquisition and Marketing with Gen AI Bots
What differentiates Generative AI bots from structured bots is their ability to understand and generate human-like text, making interactions with customers feel more natural and engaging. Gen AI bots can analyze customer data and behavior to provide personalized product recommendations. This ensures that customers are shown products they are likely to be interested in, increasing the chances of a purchase.
The process of customer acquisition starts with Click to WhatsApp ads, which can be the best lead magnet for a brand to acquire new customers and build a first-party database for upcoming sales using Click-to-WhatsApp ads. They can lean on Gen AI to create full-funnel journeys, engaging and converting customers on the same chat.  For marketers, Click to WhatsApp ads could be a highly cost-efficient tool for lead gen given that it lowers cost per acquisition by 5x as compared to online campaigns.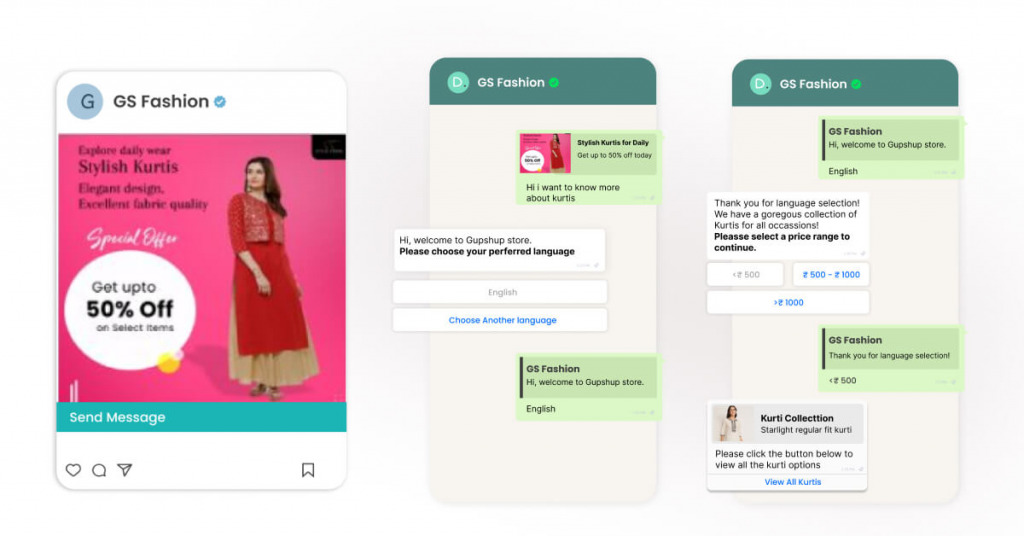 While Click to WhatsApp ads can be deployed for a number of use cases, an emerging use case during the festive season has been that of hiring. Anticipating a surge in demand for delivery executives, a large e-grocery brand used Click to WhatsApp ads for hiring delivery professionals. The brand benefits as it gets inbound interest from interested individuals without the need to hire a recruitment partner for the same.
Besides, brands can nudge dormant users to complete their purchases and repeat orders with personalized offers and promo codes, resulting in a higher probability of customers converting on WhatsApp.
Conversational Commerce for Smart Festive Shopping
Gen AI bots are a great help for customers for product discovery. These chatbots can help customers discover products by asking questions about their preferences and narrowing down choices. When it comes to order placement, Gen AI bots can reply with the finest details, allowing customers to make clear choices and thus a seamless ordering experience. Thanks to their natural language understanding, these bots can understand customer preferences.
For example, if a customer is looking for tops with a "boat neck" or V-neck", the typical chatbot may not understand it and lead you to the main menu. But a generative AI bot understands it and will precisely show such tops to the customer. Now, this makes the Conversational Commerce experience much easier for the customer where he/she doesn't have to just browse through the catalog but can also ask direct questions and get the right set of options.
When  Generative AI bots are used in conjunction with other WhatsApp features such as WhatsApp flows and detailed catalogs, the customer gets a smooth, effortless, and app-like experience.
Generative AI chatbots are great for upsell and cross-sell opportunities as well. Fashion brands in particular can use these bots for analyzing customer preferences and based on previous purchases,  the chatbots can suggest clothing or beauty products that match the customer's style. They can help customers put together complete outfits or suggest makeup looks, enhancing the overall shopping experience.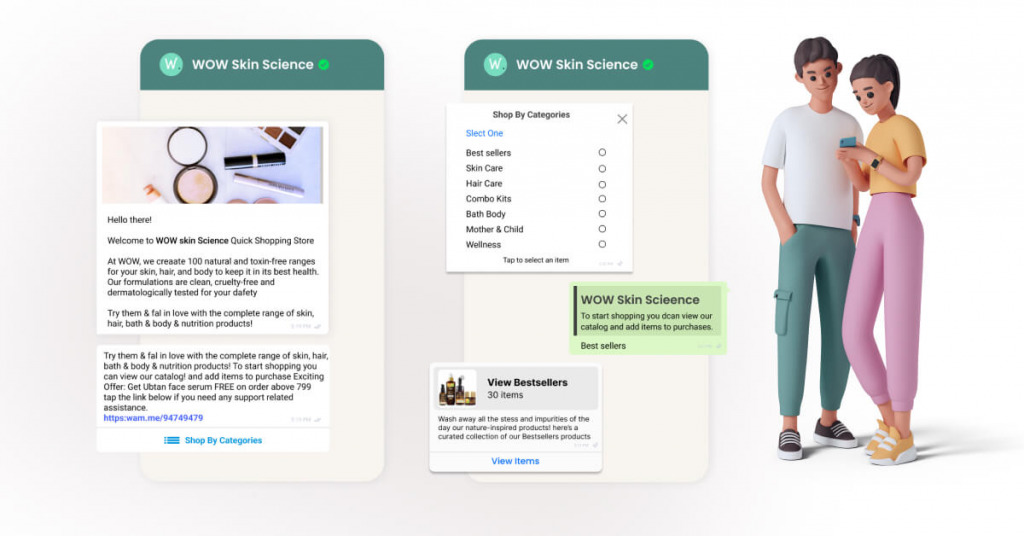 In fact, at this stage, these prospects can be further nurtured with engaging quizzes, content, giveaways, and more. Gen AI bots are particularly apt for this use case as they can offer customized content and indulge in meaningful conversations with prospective customers, answering questions and providing information about products and promotions.
In the case of categories such as grocery, these chatbots can help customers customize their grocery orders allowing them to specify preferences for fresh produce, dietary restrictions, and delivery times. They can also suggest recipes based on the items in a customer's cart, encouraging the purchase of complementary products. We will see examples of these a little later
Keeping Festive shoppers satisfied with Gen AI-led support
Converting customers and getting them to buy is not enough. Brands need to be receptive to their customer concerns; they should make them feel heard and looked after. Especially during the festive season, as demand peaks, customer support becomes paramount. Generative AI-based chatbots can help brands excel in providing efficient and round-the-clock support.
Gen AI chatbots can instantly respond to common queries and issues, reducing customer wait times and ensuring timely assistance when it comes to post-purchase support. Be it queries such as faulty products or size issues, these chatbots can offer step-by-step guidance on cancellation and refunds, and can also suggest alternate product options. With their language understanding, they are adept at handling irate customers.  In fact, they can handle a high volume of inquiries simultaneously, ensuring that no customer is left unattended, even during peak times.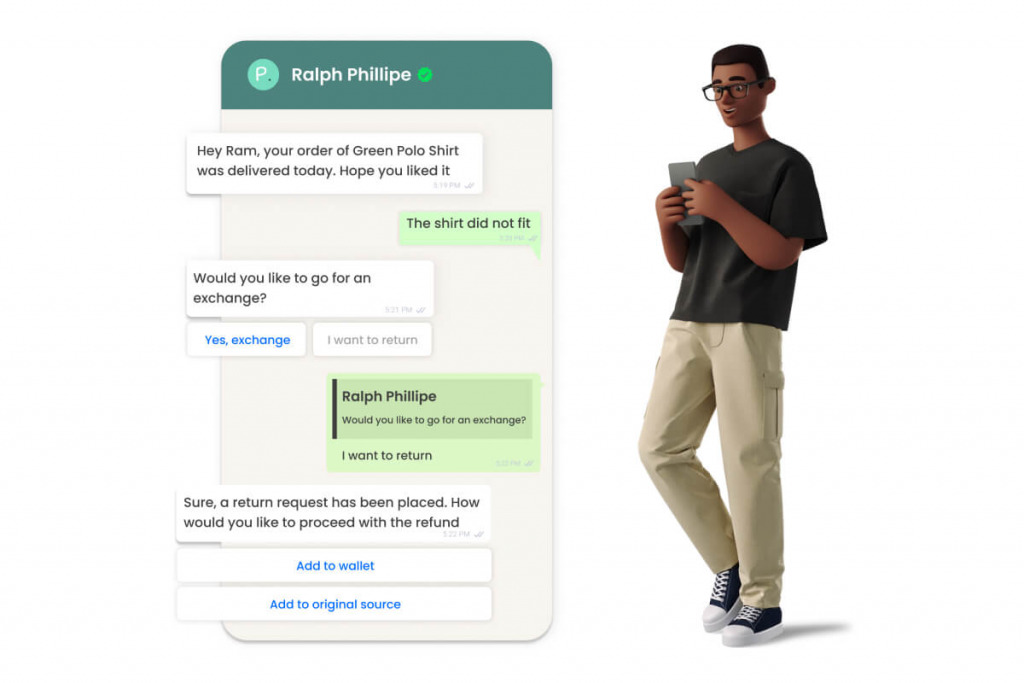 Besides, If you're a brand with customers scattered across the diverse pin codes of the country, multi-lingual chatbots with their ability to provide support in multiple languages, could be a blessing. These chatbots not only add a layer of convenience but also project the brand as empathetic to customer needs.
These bots can also help in feedback collection. Instead of sending feedback survey questions over email or website pop-ups which may never get opened, Gen AI bots serve as a great tool to collect instant feedback from customers. In case of a poor experience, brands can use the same messaging thread to help customers with their complaints, turning it into a great experience and improving their CSAT score.
Brands can use industry-specific LLMs which are fine-tuned at both a sector and enterprise level to drive personalized and intelligent interactions. Now let's see three major sectors where Generative AI chatbots can truly transform the customer experience, leading to a higher ROI during the festive season. 
E-commerce
The festive season is a bonanza for e-commerce platforms, with consumers turning to online shopping for convenience, variety, and often better deals. People shop online for gifts during festivals, whether it's Diwali in India, Chinese New Year in SEA, or other regional celebrations. This drives a surge in orders for a wide range of products, from electronics to home decor. Here's an example of how a Gen AI chatbot deployed by an e-commerce brand can assist customers in clarifying doubts and lead to higher conversions.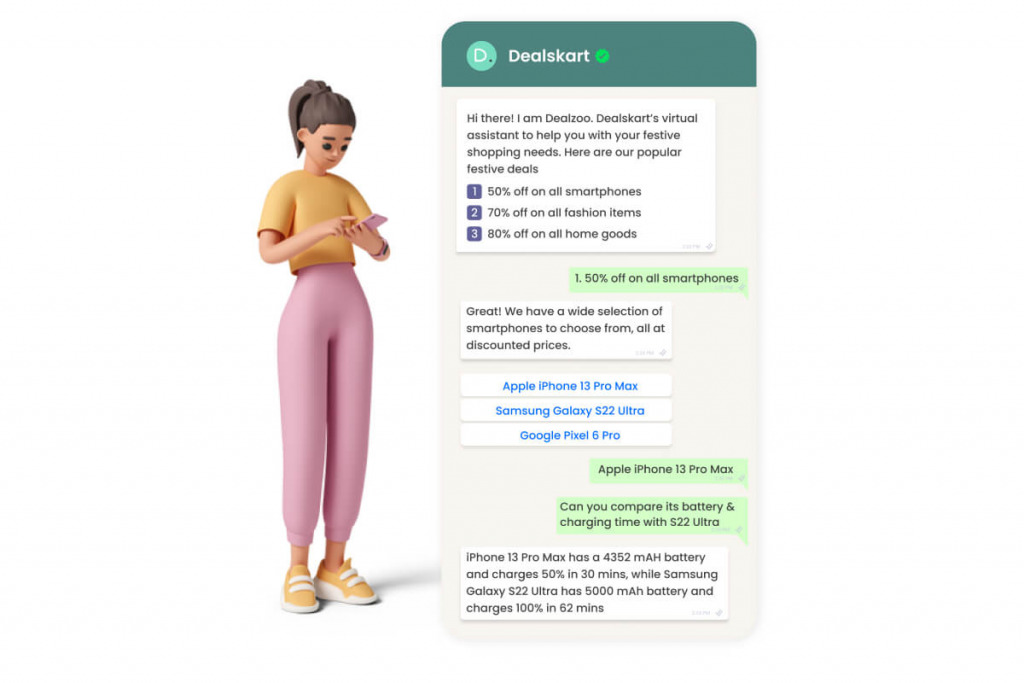 Beauty and Fashion
The beauty and fashion industry experiences a significant uptick in sales during the festive season as people seek to look their best for celebrations. Customers shop for new clothing, jewelry, and accessories to celebrate the season in style. They can help customers put together complete outfits or suggest makeup looks, enhancing the overall shopping experience. Here's an example of how a Gen AI chatbot can help a customer in choosing a traditional outfit by asking questions about their style preferences, size, and budget.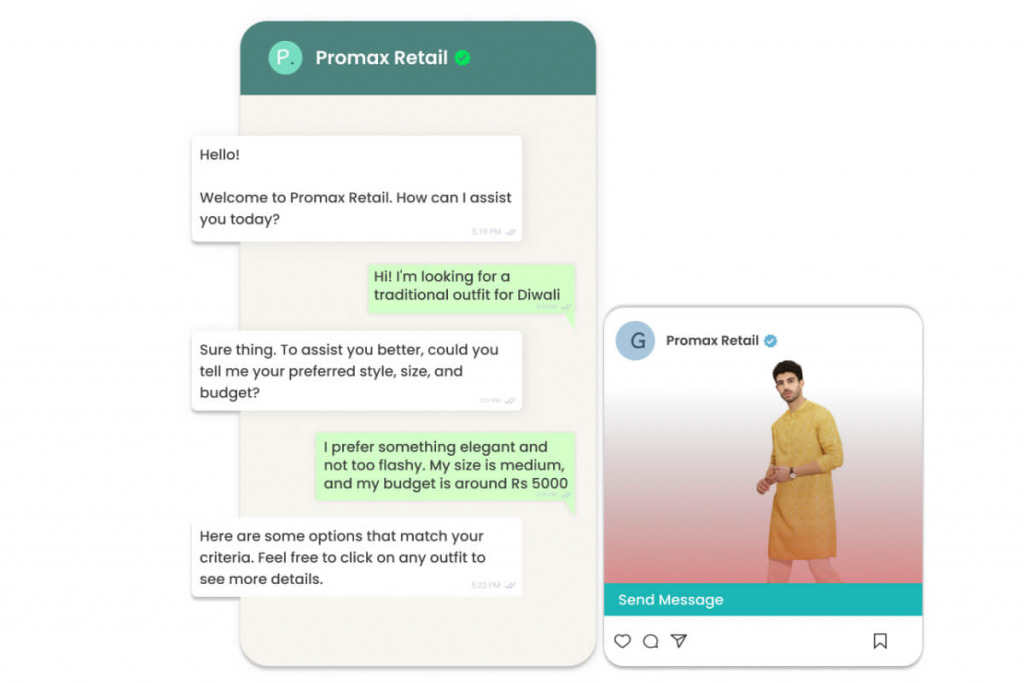 Groceries
With families coming together for celebrations, the demand for groceries and festive food items is set to rise, making this a lucrative market. Customers generally stock up on essential groceries and special ingredients to prepare festive meals and sweets. They also purchase and send gift hampers containing gourmet food items and beverages during festivals. Here's how this chatbot helped a customer complete their Diwali grocery shopping hassle-free.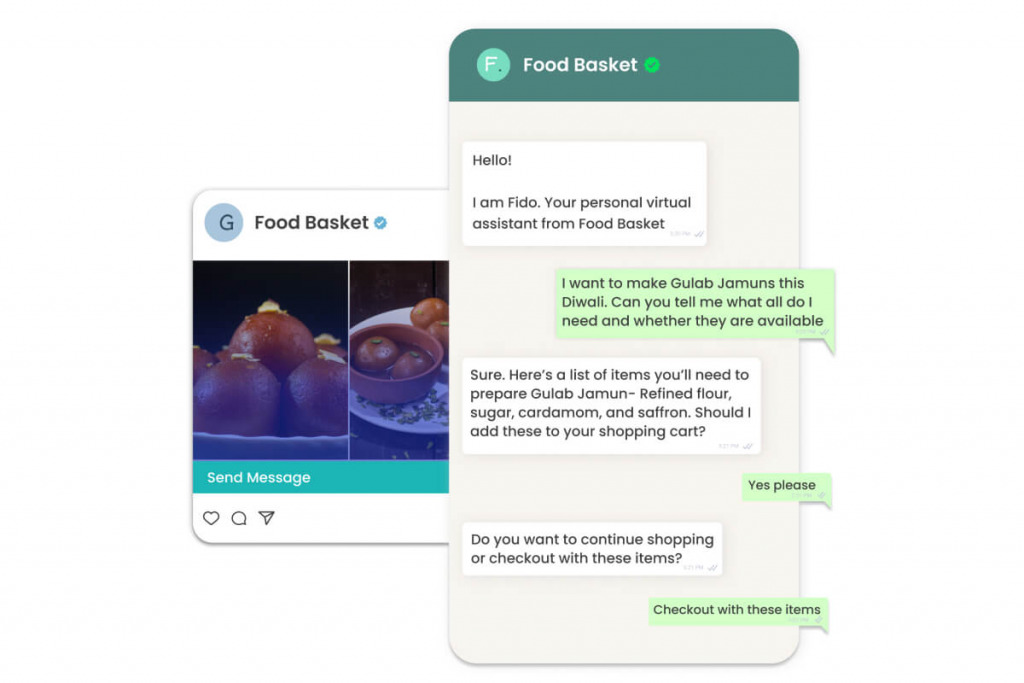 Conclusion
The festive season is a time of opportunity and challenge for brands. Generative AI-based chatbots offer an innovative solution to the problems businesses commonly face during this period. By leveraging these bots in marketing, commerce, and support, brands can deliver personalized experiences, streamline operations, and gain a competitive edge. With their natural language understanding and adaptability, Generative AI bots are poised to transform customer interactions and drive success in sectors experiencing increased demand, such as e-commerce, beauty and fashion, and groceries. As we embrace the festive season, businesses that embrace this technology stand to reap the rewards of enhanced customer engagement and loyalty.
Gupshup, with its suite of Conversational Engagement products, can help make this festival season special for your customers. Our easy-to-build Generative AI bots can be deployed quickly, enabling you to maximize RoI from your marketing spends during this time of the year. If any of the above-mentioned use cases interest you, talk to us. Even if you have a different use case, Gupshup has solutions that can truly elevate your customer experience. #Let's Gupshup
Blogs you will want to share. Delivered to your inbox.
Business Email
×
Read: Elevate Your Festive Marketing: Harnessing RCS Business Messaging for Brand Success