Role of P2A Messaging & Chatbot Directory
On November 9, 2021
|
5 Minutes Read
Chatbots
Conversational Engagement
Generic
P2A Messaging
RCS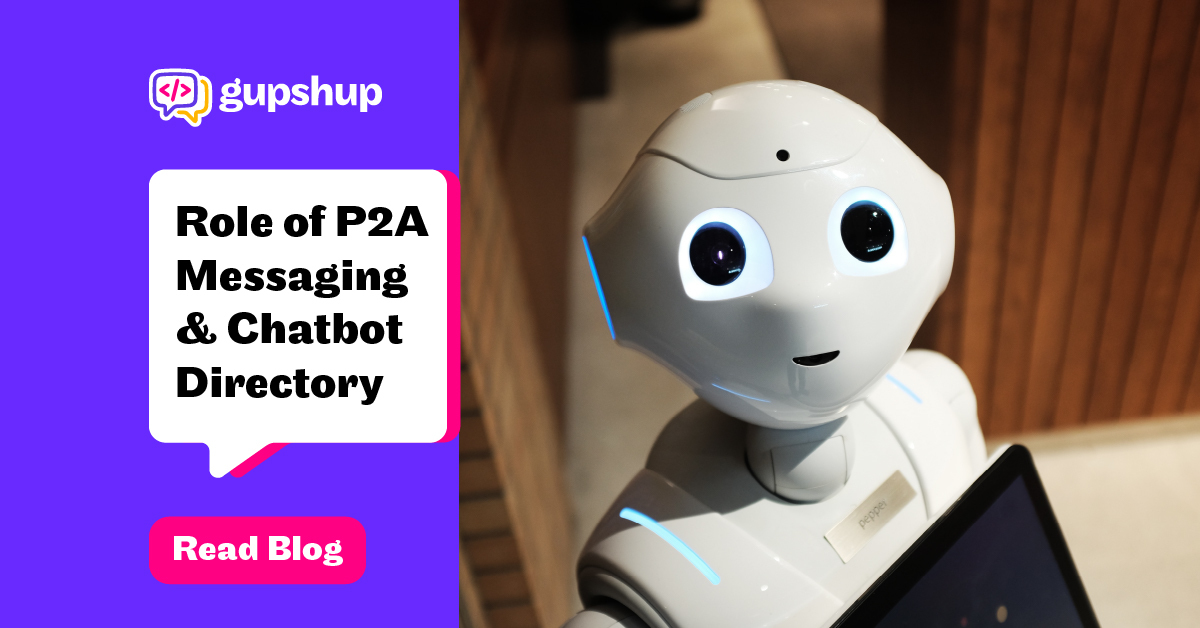 Business messaging helps brands to communicate with consumers and potential customers efficiently. With a single message through SMS, an enterprise can reach out to a large number of users. SMS for years have helped brands scale up their businesses and reach new users easily on their mobile devices. However due to GDPR and several other privacy policy updates around the world by various tech organisations and governments, collecting mobile numbers of users has become a challenge for enterprises. Users may also feel uncomfortable sharing their mobile numbers if they have never interacted with an enterprise previously.
According to a survey carried out by Pew, 79% of American users are somewhat concerned about how brands are using the data collected about them which indicates the skepticism of users around providing their personal details on an online platform.
So the question arises, "how do brands communicate with users on the most widely used device i.e. mobile phones?"
What is P2A Messaging?
P2A Messaging works the other way round when compared to traditional business messaging channels. Instead of brands reaching out to users, users get to interact with their favourite brands. Chatbots, based on various platforms such as WhatsApp and Facebook, have boosted the growth of P2A Messaging over the years. Users can simply visit the profiles on various platforms and start the conversation.
Rich Communication Services (RCS) is pegged as the next generation of SMS that provides rich media features such as images, videos, gifs and so on, that can be sent on the default messaging app of the smartphone. WhatsApp is an Over-The-Top (OTT) messaging platform that is available in more than 180 countries with 2 billion active users. Both, RCS & WhatsApp, are messaging platforms that are enabling the growth of P2A Messaging through chatbots.
According to Mobilesquared, P2A Messaging traffic will touch almost 300 billion messages and constitute 22% of the total RCS Business Messaging (RBM) by 2023. Same data also suggests the majority of the business messaging traffic generated over WhatsApp will be P2A traffic, making WhatsApp Business the preferred messaging channel for customer care services.
What is a Chatbot Directory?
Chatbot directory is a platform to access chatbots of various brands where users will come across chatbots from all around the globe that they can access easily. Chatbot directories, therefore, act as a bridge between brands and users and help the two entities to connect with one another. Chatbot Directory also helps in boosting P2A Messaging as users can initiate the conversation with the brand.
Let's take a look at how exactly chatbot directory helps brands:
Chatbot Reviews:
Users can submit reviews, read other users' reviews, and read critical & unbiased editorial reviews. Reviews help build credibility for the chatbots. Brands can increase user engagement on their chatbots by receiving positive reviews.
Detailed Bot Information:
The directory provides information about the chatbots, their description, updates, offers, reviews, and ratings, thereby helping users decide whether the chatbot meets their needs or not. It also provides brief information about what the brand does and what you can expect out of the interaction with the chatbot.
Trigger Points:
The directory provides triggers, enabling users to connect with the chatbots through deep linking. Users can simply click on the 'Connect Me' button, make a call, or scan the QR code and start their conversation with the brand's chatbot. This helps brands to increase their virtual presence that enables users to get in touch with them directly.
Chatbot Discovery:
Users can discover chatbots from brands by either using the web, or from within the messaging client they are already using, such as the Google Messages app or the Samsung Messages app. Users can discover bots with a convenient search capability based on several parameters, such as name, brand, country, carrier, industry vertical and so on.
Orange, Vodafone are some of the mobile network operators that have a chatbot directory targeting users as well as brands and aggregators. Gupshup – Dotgo Bot Store is the world's first and only open directory of Rich Communication Services (RCS) & WhatsApp chatbots. Users can instantly connect with the bots and brands can onboard it on the directory without any hassle.
Final Takeaway
P2A messaging and chatbot directory is redefining business messaging. As the growth of Over–The–Top (OTT) & RCS messaging continues to steadily grow, businesses will continue to leverage the technology of chatbots and give user experiences that will help brands to retain and grow their user base on various messaging channels.
If you wish to know more about the chatbot directory and the entire process of how it works, download the whitepaper – P2A Messaging in RCS: The Role of Chatbot Directories. You can also get in touch with our representatives who will help you provide a customized business messaging solution that is suitable for your business needs.
#LetsGupshup to know more.
Blogs you will want to share. Delivered to your inbox.
Business Email
×
Read: Evolution Of SMS