Single Messaging API for engagement across channels
On August 11, 2021
|
4 Minutes Read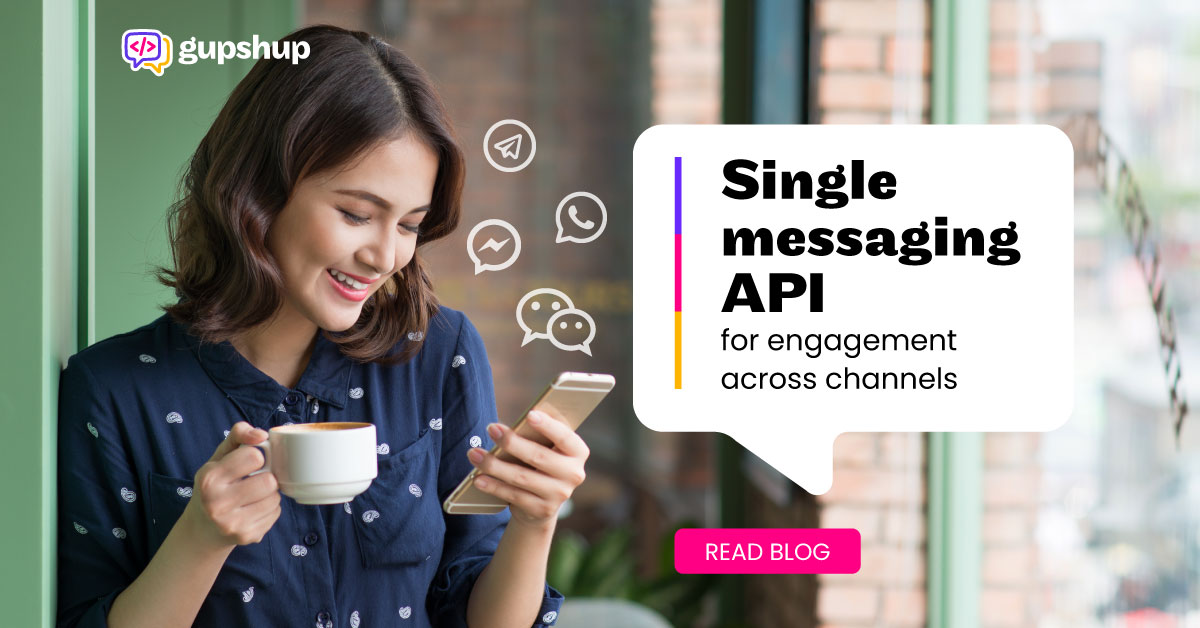 Today all your consumers can be reached via different messaging apps. These messaging apps are the most widely used platforms by customers and brands alike. If your brand connects with them via messaging on the channels they are already on; it is easier to acquire them as customers, sell them products and services, and support them post-sale. Integrating with Gupshup's Single API for messaging is the best way to go about this. Engage your customers on ALL the messaging channel(s) they are on.
Interact and transact with your customers seamlessly across 30+ messaging channels using Gupshup's Single API for Messaging. Key messaging channels like SMS, WhatsApp Business, WhatsApp self-serv RCS, GBM, Telegram, and Instagram are supported. Messaging API forms the core of the messaging layer of the Gupshup Conversational Messaging Platform. Our platform handles 4.5 billion transactions every month at mission-critical levels of reliability and performance. System redundancy and a reliable cloud platform enable us to deliver SLAs with a 99.9% uptime and reliability guarantee.
Detailing Gupshup's Messaging API
The Single API Messaging platform from Gupshup is the easiest way to implement conversational messaging on multiple channels. Here are some of the features:
Use a single API to build access across 30+ channels.
Get channel-specific APIs to give ample access to individual channels.
There are rich APIs with messaging templates for opt-ins, forms, and payments.
Get access to advanced APIs that provide access to multi-step messaging journeys such as 2FA, KYC, lead gen journeys, customer feedback journeys, EMI collections journey, and custom forms (based on business requirements).
Get failover options and send messages that don't make the Distributed Ledger Technology (DLT) cut by making use of the Gupshup IP (GIP) messaging to drive conversations.
Use captcha, disappearing text, 3-factor authentication, and other security measures to protect sensitive customer information like transaction value, account balance, etc.
Gupshup is ISO 27001 certified and GDPR compliant company that supports SSL encryption with TLS 1.2 256 bit AES.
Some more features of Gupshup's Single Messaging API
Auto Intelligent Routing
With the built-in Auto Intelligent Routing, ensure optimized message delivery across channels and carriers.
Auto Template Translation
Deliver rich, personalized content to every customer as per individual and regional preferences with the help of auto-translate template messages.
Rich Conversational Messaging 
Send and receive rich media like images, videos, geolocation, and documents. Rich media in conversational messaging enables conversational workflows to drive customer engagement and loyalty.
User Preference Management
Capture customer's opt-in preferences, content preferences, and channel preferences. Leverage this information to manage and deliver meaningful customer experiences.
Benefits
You can now bring conversational experiences to life and better engage your customers using our Messaging API. Use the Single API and its programmatic features to enable rich and interactive conversational experiences for any business workflow. Reap in the benefits of our enterprise-grade platform, backed by round-the-clock support.
Customizability 
The APIs are easily configurable to integrate SMS, Data, and Voice messaging into your business workflows.
Scalability 
Our capabilities include scalability. The API integration ensures horizontal scaling with proven ability to scale up to 10000 TPS steady traffic and potentially unlimited peak traffic at short notice.
Reliability 
Our solutions strengthen reliability with 100% component and hardware redundancy and latency-based component failover mechanism.
Global Reach
With a vast network of international operators spread across over 225+ countries, get an extended global reach and ensure enhanced customer service.
High Quality of Service (QOS) and Low Latency
We offer one of the lowest latency and the most superior quality of service within the industry.
Get started
Start building your messaging API for free with Gupshup. Although several free messaging APIs are available, they offer limited functionality that doesn't scale well as a company grows. To participate in contextual, meaningful two-way communication with your customers on their preferred messaging apps, a paid messaging API like Gupshup is usually a better choice.
With this API, you can send and receive messages to and from customers across countries via any messaging app. The API is easy to deploy and complies fully with all data security and privacy regulations. We are trusted by the world's largest brands like Facebook, WhatsApp, Twitter, Google, Citibank, HSBC, Khan Academy, Walmart, OLA, OYO, Unilever, Dishtv, etc. We deliver 6 billion messages per month, and our single API enables 100k + customers and developers.
Build unique conversational messaging journeys and engage with your customers across messaging channels. To get started for free with the future of Conversational Messaging, click here.
Blogs you will want to share. Delivered to your inbox.
Business Email
×
Read: How can you take your restaurant online