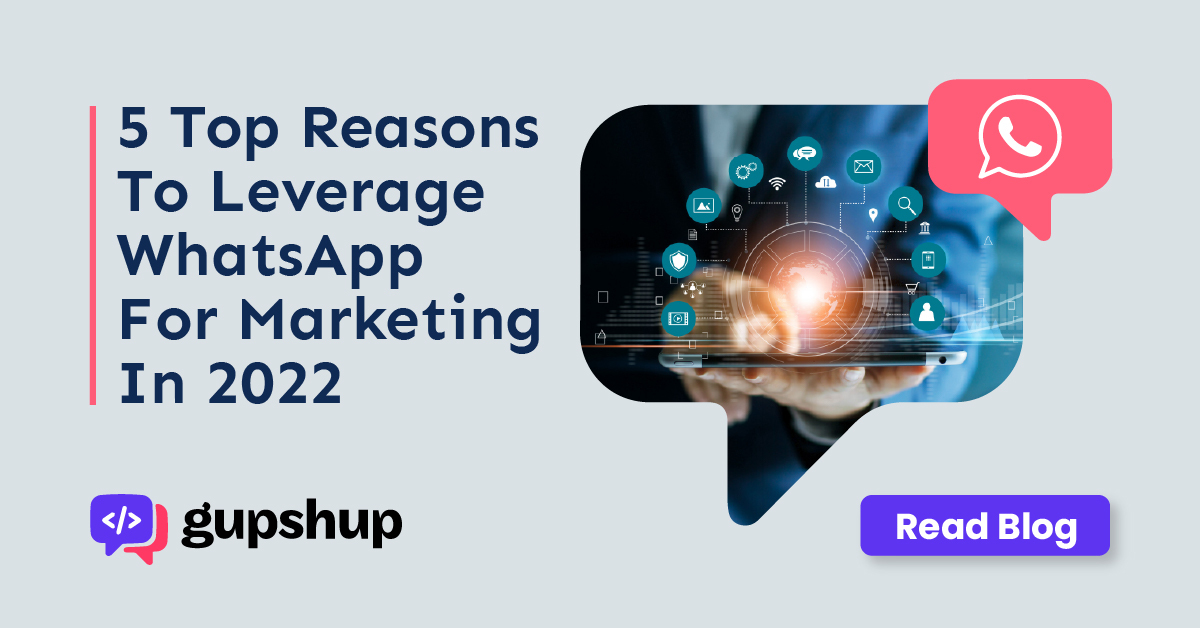 5 Top Reasons To Leverage WhatsApp For Marketing In 2022
Conversational Marketing, Conversational Messaging, Generic, WhatsApp Business API
On March 11, 2022
Did you know that WhatsApp is considered as the leading global mobile messenger app with around 2 billion monthly active users across the globe? The messaging app has successfully achieved the third rank among the most popular social platforms worldwide. Thanks to its remarkable growing popularity and the addition of WhatsApp Business, WhatsApp has become one of the potential avenues for brands to interact with their existing and potential customers.
The app that started off its journey as a basic SMS platform is now being utilised by businesses to level up their customer engagement practices. If you've been looking to expand your audience reach and enhance your marketing efforts, WhatsApp is the right tool for you.  Want to understand exactly how and why? We've got your back! In this blog, we are going to discuss the key reasons you should use WhatsApp for marketing your business. Read on to know more.
WhatsApp Marketing – Communicating with customers on their preferred platform
Convenience is something that every consumer expects while engaging with your business, isn't it? So, what's better than to reach out to them at a place where they already are. Research suggests that there are over 487 million WhatsApp users in India alone, making it the top-ranked country in terms of audience size. It is followed by Brazil which has around 118.5 users. No wonder you should consider business marketing on WhatsApp!
WhatsApp marketing can be defined as the effective way to advertise your product or service to your target market. One of the best benefits of WhatsApp marketing is improved brand positioning via personalised messaging.  It allows you to forward customised promotions and updates to your customers.  Thanks to some interesting functionalities such as group chats, push notifications, and broadcast lists, you can use WhatsApp Business to build better customer loyalty.
Now, let's dig deeper into the relevance of leveraging WhatsApp for marketing your business effectively.
1. Fast, secure, and cost-effective
In today's fast-paced digital environment, audiences look for prompt responses from businesses. WhatsApp Business can empower you to deliver the same to your customers. With its "Quick Replies" feature, you can save and re-use the message that you are expected to send more often. There's another useful feature, "Labels" that helps you organize your messages or contacts with labels. This way, you can easily access a particular chat anytime you want.
WhatsApp's end-to-end encryption and authentication keeps all your conversations private and protected. Creating a WhatsApp Business Account involves a verification procedure as well that adds to your credibility. A verified business profile keeps your audience assured that they are in touch with a genuine brand, thereby boosting customer loyalty.
Most of all, investing in WhatsApp does not burn holes in your pocket! You can sign up  for WhatsApp Business for free. All you need is a decent Wi-Fi connection to kickstart your business marketing on WhatsApp.
2. Wider demographic reach
WhatsApp has users spread across 180 countries all over the world. Its simple functionality escalates its demand within a wider age group. WhatsApp allows you to connect with any user around the globe, irrespective of factors such as location, age, or gender. This, in turn, enables you to step up your business expansion game.
3. Supports engaging and personalised communication
With WhatsApp, you get to reimagine personalised interactions with your customers. It provides you with a wealth of communication options to explore. WhatsApp enables you to message and deliver different kinds of content such as images, videos, gifs, PDFs, and much more. Moreover, you can segregate your audience into different groups depending on their choice and preferences. This way, you can conduct customized communication and boost customer loyalty.
It is important to plan your communication design wisely. Do not focus only on promotional messages. Make sure you educate and entertain your audience too. Also, do not bombard your customers with messages every hour. It may alleviate their interest in your brand.
4. Helps gain valuable customer insights
To build healthy customer empathy, it is important to understand how your audiences feel about your product or service. That's exactly why detailed customer insights are an essential factor when measuring the success of your marketing efforts. WhatsApp Business' "Statistics" feature provides you with information on the number of messages sent, delivered, received, and read. You can also monitor the time slots when consumers are the most active on the platform and plan marketing campaigns accordingly. This, in turn, enables you to comprehend your customers' engagement and experience better.
Checking statistics is simple. Open your WhatsApp Business > Tap More Options. Then click on Business Tools > More Options > Statistics.
5. Facilitates automation & FAQ
WhatsApp Business app allows you to automate all your conversations and message flows effectively and enables you to forward instant responses to your audiences. Imagine yourself as a tourism company. Some common information that your customers might need is concerning flight timings, booking confirmations, and others. Here is when automation comes into play. Building a single response template is a much more convenient option rather than creating responses every time from scratch.
You can also utilise automation by setting up "Away" messages when it's not possible for you to respond. This way, you can keep your customers informed and make them feel that you respect their interest in your brand. You can also set up a "Greeting Message" to automatically connect to someone who has messaged you for the first time. It helps build a positive business image in the long run.
The Gupshup Solution
Have you been looking to incorporate WhatsApp into your business system? Gupshup has got it all covered. Gupshup is one of the first solution providers for WhatsApp for Business, the world's most popular messaging app, with one of the largest volumes for notifications and customer engagement. The seamless platform provides you with engaging features such as QR codes, quantitative metrics, intelligent product recommendations, quick CTA buttons, and many more. Utilise WhatsApp chatbots to drive digital transformation for your business.
To get WhatsApp Business API for your brand, #LetsGupshup without delay!
Blogs you will want to share. Delivered to your inbox.
Recommended Resources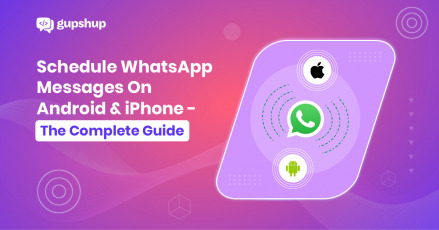 Read our blog to learn how to schedule WhatsApp messages on Android and iOS with simple...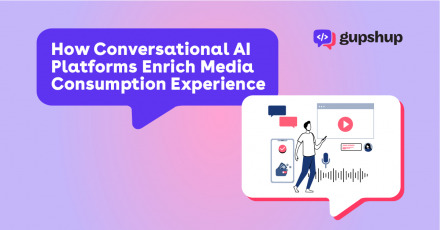 Conversational AI can improve media consumption by incorporating chatbots throughout the consumer journey.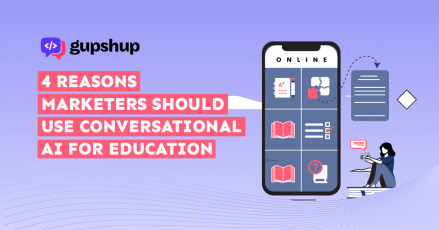 Read this blog to learn how EdTech players can leverage conversational AI to expand their reach...
×
Read: 11 Ways To Enhance Instagram Engagement