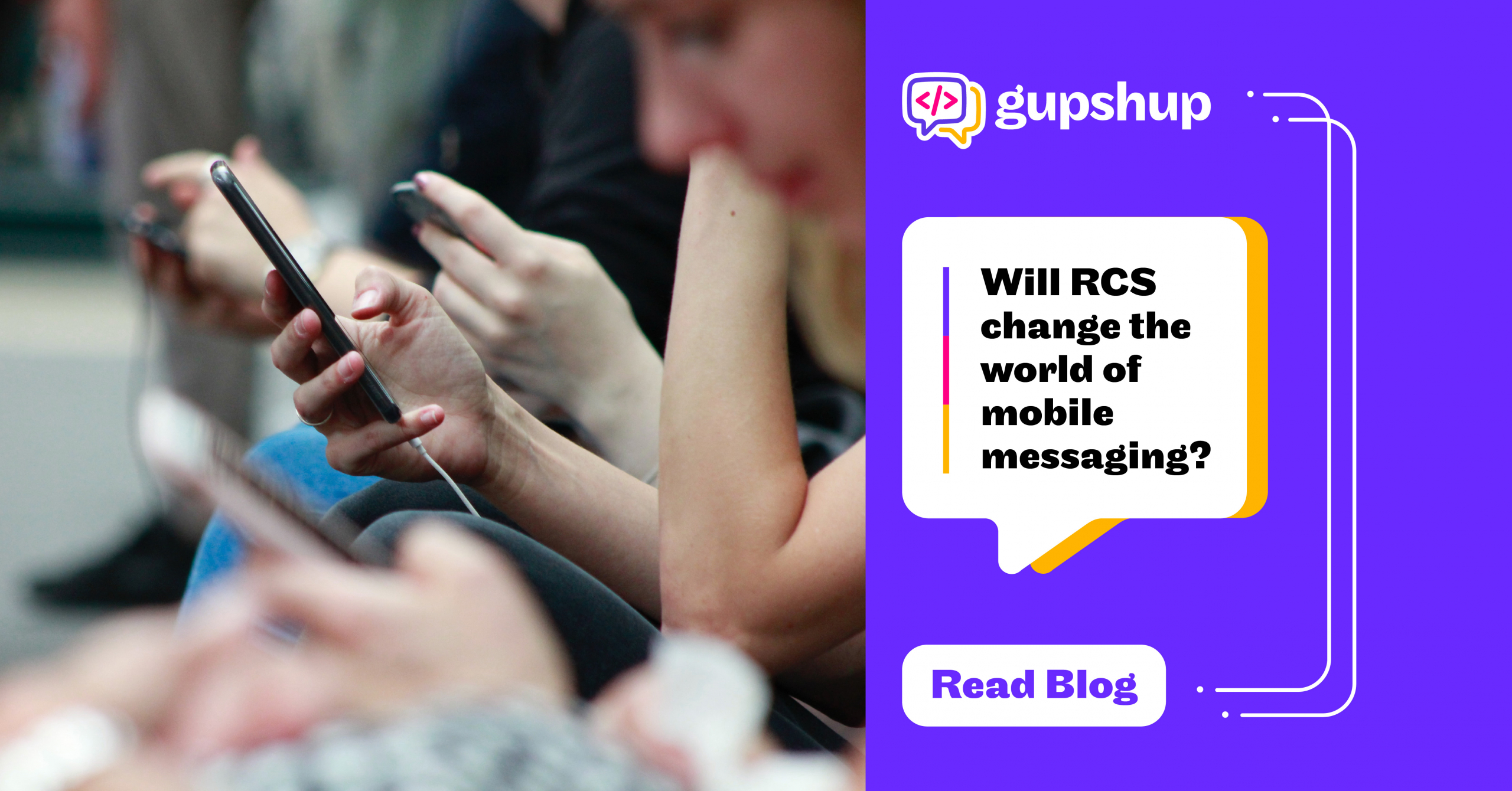 Will RCS change the world of mobile messaging?
Generic, RCS
On March 29, 2017
Today, users want to do more with their messages than just "text". The rich messaging features of messaging services like WhatsApp, WeChat etc. are the reason why these apps are enjoying unparalleled global adoption. However, text messaging that is widely used by all users, especially in emerging markets, has so far had limited functionality. RCS is part of the new Advanced Messaging standard designed to greatly improve messaging functionality that comes installed on phones by default. Along with text messages, RCS will also allow for higher quality picture messaging up to 10MB in size, group chats, location sharing, and even video calls by default. The service also appears to support read receipts and typing indicators that you're probably already familiar with from other services.
Why RCS
For the user, RCS is an improvement over several proprietary messaging apps because it will exist on every phone once the carriers have fully deployed it and device OEMs pre-install native RCS Messengers.
There will be no need to download a specific app or join a new network to create an account in order to use it.
The SIM card is the user's identity; there's no need for additional app authentication to use messaging services.
Having the carriers involved, who already manage enterprise messaging solutions designed to protect consumers from Spam and fraud, will help ensure that consumers can trust the messages that they receive.
RCS is backward compatible with legacy SMS/MMS which means there's always a fallback to SMS even when the recipient does not have RCS on her phone
Unlike SMS, the new technology can be integrated with contact apps to see who else supports the service, as well as for sharing contacts and groups. RCS is also looking to go beyond the capabilities seen in many of today's messaging apps. The standard can also be used to share media, location, and other information while you're already in a telephone conversation. However, to send and receive Rich Communications Services messages, both parties much be using a compatible messaging app and network, and support is not universal, yet. Fortunately, the system is designed to fall back to SMS when the recipient doesn't support RCS.
In theory, the introduction of RCS will avoid the hassle of having to agree to a third party platform for group or video chat, as the service is tied to your mobile number and future phone owners will have these features out of the box. The aim is to provide a consistent interoperable messaging service across mobile device and networks. Well at least for Android, there doesn't appear to be any work being done to bring RCS to iPhones. Plus, Apple already has its popular iMessage service. Hence this may have greater impact in emerging markets
Though RCS has been around since 2007, operator interoperability has been a major hurdle in adoption. As this new standard is going to expand the default SMS functionality provided by carriers, these companies also need to get on board with RCS to bring it to a wide range of consumers. To make this happen, RCS is being tied in with the GSMA's Universal Profile. GSMA's Universal Profile (UP) specification that was released in November 2016 aims to solve interoperability by creating a single industry standard to simplify operator RCS deployments for both P2P and A2P messaging. The Universal Profile is a specification that outlines a set of Advanced Calling and Messaging features and how communication services are to be built to support these features. Participation in the Universal Profile is not necessary to support Advanced Messaging, instead it is designed to expedite the roll out and ensure compatibility. Upcoming smartphones built in conjunction with the program will ship with a built-in Advanced Messaging app, while other developers are free to build global clients to support messaging across all devices and networks, but more on that later.
GSMA states that 156 Advanced Messaging Devices are already on the market and 48 mobile operators have launched support for Universal Profile that was launched in November 2016. These include contact discovery across regions, messaging, group chat, file transfer, audio messaging, video share, multi-device, enriched calling, location sharing, and live sketching. Release 2, of Universal Profile that is scheduled for Q2 2017, will focus on the developers with APIs, plug-in integration and improved authentication, app security, and entry routes for commerce applications.
Of the 48 operators who are working with GSMA and are committed to implementing Universal Profile, only 5 have done so thus far. Sprint was the first to adopt (Nov'2016) followed by Rogers and Fido in Canada (Dec'2016), Telenor (Feb'2017) and Vodafone (10 markets in Feb'2017). Verizon has not rolled out its service yet but is listed as an official operator, while AT&T is already using RCS but doesn't appear to be supporting Universal Profile. Claro is bringing the service to Latin and South America, while KT, LG Uplus, and SK Telecom are all signed up in South Korea. In India, Bharti Airtel and Vodafone have committed to support Universal Profile and Reliance Jio had adopted Joyn a previous version of RCS in Sep'2016 mainly for 4G voice communication.
Companies like Jibe (now owned by Google) are creating RCS Hubs and are helping operators around the globe to quickly go to market with Universal Profile based interoperable RCS deployments. 11 OEMs including Alcatel, ASUS, Huawei, General Mobile, HTC, Intex Technologies, Lava International Ltd., LG Electronics, Lenovo/Motorola, Samsung Electronics and ZTE have also signed up to pre-install native RCS messengers in their devices. Over the past year, Google has been working with many operators and device manufacturers to bring RCS to every Android phone. Jibe, which Google purchased back in 2015, has developed a universal Android client based on the Universal Profile for Advanced Messaging. Google is also offering a carrier-hosted service for operators to launch and manage Advanced Messaging services with, without having to deploy their own infrastructure. This should expedite the roll out and will ensure service compatibility for all users. For operators, Jibe Hub offers a simple connection to the global RCS network, so that messages from any device can quickly reach any other, regardless of their network carrier. It also supports access to third-party RCS networks, which some operators may choose to implement rather than relying on Google's infrastructure, particularly in countries outside of the US.
RCS and its place in an Omni-Channel Messaging world
With a 15% monthly growth rate in adoption and 10% CAGR growth in A2P revenue and with several million active users, it's safe to say that SMS is undergoing a fundamental upgrade. Messaging is the #1 channel consumers want to use to engage with businesses. What's more, users don't use just one messaging channel – they expect businesses to create more personal and relevant messaging experiences that just work, simply and securely anytime, anywhere. Once operators have implemented RCS, businesses will gain a new customer communication channel which offers extremely high reach and a superior messaging experience.
Gupshup is working with leading operators to integrate RCS capabilities into our Omni-channel Messaging Platform. Today, Gupshup helps businesses connect with their customers over 21+ channels over mobile, web and digital including SMS, Voice, Facebook Messenger, Skype, etc. Gupshup is well positioned to leverage the advantages of RCS by creating meaningful customer-centric interactions on RCS Bots that anyone in the world can use because RCS will exist on most phones. RCS Bots open up new possibilities for richer A2P messaging, including enabling businesses to automate customer service and orchestrate customer engagement.
The potential of RCS is limitless. With e-commerce websites/apps, there is always an option to 'add to wish list'. If the customer opts in, e-commerce websites can push RCS notifications including product pictures and links for the customer to purchase the product. Similarly, entertainment and content-driven platforms like Netflix can push RCS notifications like video trailers every time a new show or movie is added. With the rise of app fatigue, consumers are more inclined towards retaining necessary apps on their phone. With high costs involved in app development, upgrade and marketing, and customers seldom using it, businesses need to start thinking about RCS as a channel to save costs and boost sales.
The world of Mobile Messaging is on the threshold of a new way of life. RCS can play a very important role by delivering increasingly rich and robust messaging capabilities, including chat, photo sharing, payments and video calls; right out of the box, all of which will enable businesses to connect with their customers in new and exciting ways. Businesses need to be ready to embrace RCS and all of its possibilities when it finally unfolds.
Image source : https://blog.google/topics/rcs/delivering-rcs-messaging-android-users-worldwide/
https://www.tatango.com/blog/rcs-messaging-8-new-mobile-marketing-features/
Blogs you will want to share. Delivered to your inbox.
Recommended Resources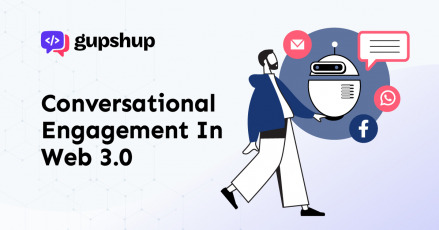 Read on to understand the need for creating conversational engagement in web 3.0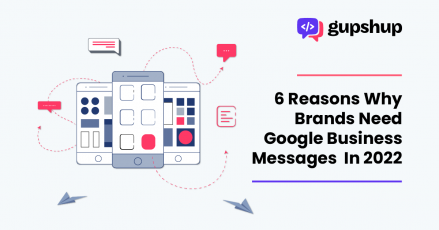 Google business messages makes it possible for customers to start a conversation with brands right from...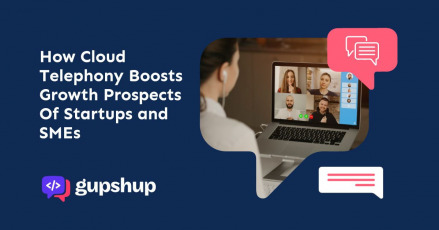 Learn how cloud telephony helps start-ups optimize their communication expenses
×
Read: InterBot : One giant step for botkind