RCS, OTT & SMS – Difference Between The Messaging Channels
On November 4, 2021
|
8 Minutes Read
Chatbots
Conversational Engagement
Generic
OTT
RCS
SMS API
WhatsApp Business API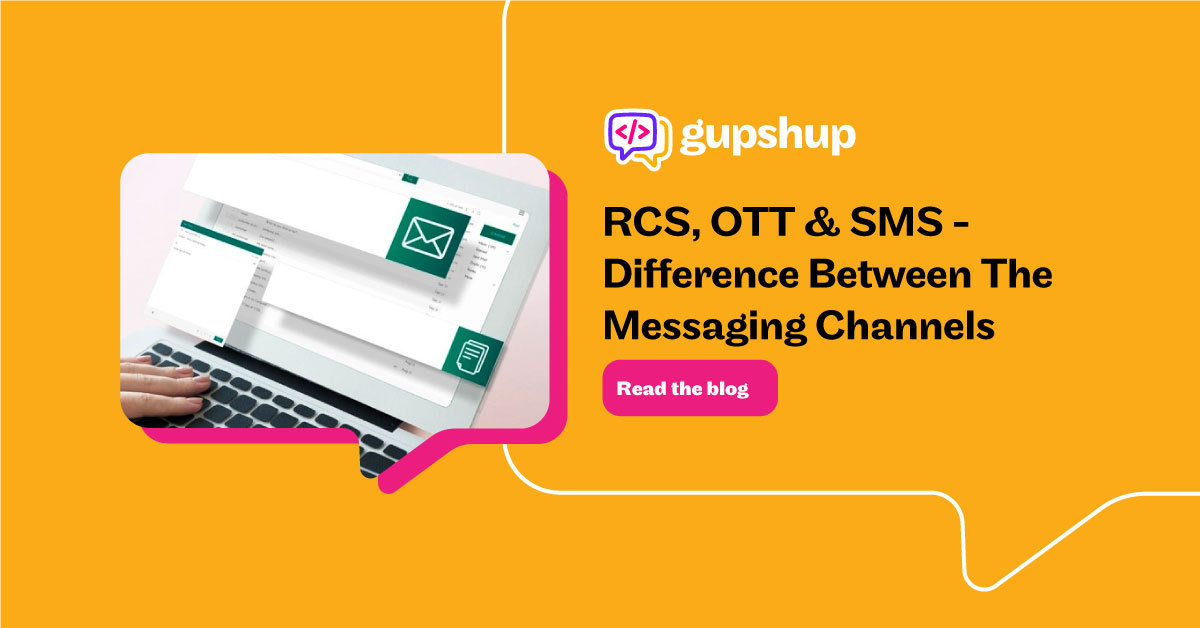 Mobile messaging channels have provided an easy means of connection between brands and their respective customers. Research suggests that Conversational AI messaging will approximately reach a valuation of USD 32.62 Billion by 2030. This rise is expected as brands are moving towards providing a "chat-first" strategy wherein users can connect with brands from the place of their comfort and experience the brand's services before they start purchasing products or services from them.
There are various conversational messaging platforms available for brands to connect with their customers. However, more options also lead to more confusion as to which platform will perform best for your business size and vertical. Whether you are a small dropshipping business owner, top-level executive of a banking and financial institution, operate a travel company, or a marketing director for a travel and tourism enterprise, there is an omnichannel conversational solution for all businesses.
Let's take a step back and look at which messaging channels are available for your brand and know the difference between them to give you a complete understanding of which conversational messaging platform will be a perfect fit for your enterprise.
We will dive deep into the following topics in this blog:
RCS Business Messaging
Over-The-Top (OTT) Messaging Apps
Difference between RCS & SMS
Difference between OTT & RCS
What is RCS?
Rich Communication Services (RCS) has been termed as the next generation of SMS. RCS is an innovative technology that helps messaging to take place using rich-media features such as logos, verified profiles, suggested actions, images, gifs and so on.
A standard SMS provides a text in simple and plain format. RCS takes this to the next level by adding rich media features and therefore provides a more interactive user experience on the default messaging app of the user's phone.
Google is one of the key drivers behind pushing the global expansion of RCS. In November 2020, Google announced a worldwide roll-out of RCS Messaging on several carrier networks in various countries. RCS messaging is however currently available only for Android devices.
RCS Business Messaging helps enterprises to develop automated conversational solutions for various use cases such as customer service, surveys, notifications & promotions and even OTPs. RCS Business Messaging provides customisation for enterprises to design the messaging solution to fulfil their business needs. Brands can design use-case specific messaging applications on RCS.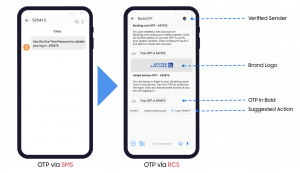 Example of OTP delivered over RCS
This makes RCS Business Messaging an attractive option for businesses. Another interesting part of RCS Business Messaging is that users can interact with the brands via RCS from their native messaging app. Users need not download any application externally and therefore this makes the RCS messaging solution even more convenient for users.
What are OTT messaging apps?
Over-The-Top Messaging Apps or OTT apps are external messaging applications that provide rich media features similar to RCS. You may have come across the term OTT in the context of streaming services and entertainment outlets such as Netflix or Amazon Prime. OTT in the context of business messaging refers to messaging channels that are not the default messaging app of your mobile phone but need to be installed from Google Play Store or App Store.
WhatsApp, Facebook Messenger, Telegram, Snapchat, WeChat, are some of the messaging channels that can be referred to as OTT messaging channels. Each of them is owned and operated by different private players and each offers a different set of rich media features altogether. The below-shown data is of the OTT messaging apps that have a number of monthly active users across the globe as of July 2021. (Statista)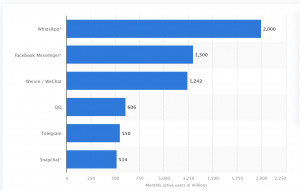 With over 2 billion active users, WhatsApp is hands down the most widely used OTT messaging platform in the world followed by Facebook Messenger at about 1.3 billion users. WeChat and QQ by Tencent stand at 1.2 billion and 600 million users respectively.
WhatsApp is available in 180+ countries and its business messaging API allows brands to develop customised messaging solutions. WhatsApp, therefore, plays an important role in business messaging to boost the growth of conversational messaging for enterprises from all verticals and for all scales of businesses.
How is RCS different from SMS?
RCS is the new SMS. It is called so because it delivers rich and engaging messages on the default messaging app, just like SMS.
Rich media:
SMS has the ability to send messages over plain text whereas RCS allows sending messages with brand logos, suggested action buttons, rich cards and carousel images among many other features. This makes RCS Business Messaging much more user friendly and attractive to use when compared to traditional SMS.
Automation:
RCS Business Messaging API's can help provide use-case specific automated conversational solutions to brands. SMS does not offer such tailor-made business messaging solutions to brands. These automated conversational chatbots have two-way communications. Replies for users are generated in a quick automated reply format from the chatbot. This is another main distinguishing factor between RCS Business Messaging & SMS as SMS does not provide an API for automated solutions to be built on it.
Character limitations:
SMS has a limitation of 160 characters and only a link can be added to it that redirects the user out of the messaging app. RCS Business Messaging on the other hand has no such character limits but it may still redirect users out of the messaging app if they interact by clicking on the button.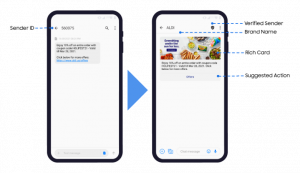 Left: Message via SMS | Right: Message via RCS Business Messaging
How is OTT different from RCS?
Over-The-Top Messaging Apps or OTT messaging from various private tech enterprises provides more or less the same rich features as RCS with one major exception – OTT Messages have to be installed externally. Apart from that, there are a few other differences between the two.
Accessibility:
Discovery and access of WhatsApp and other OTT Messaging apps is possible only if the user is already aware of the brand and has used their services previously. Users have to access these chatbots from websites, social media pages or other sources. In the case of RCS messaging chatbots, users can discover and have the ability to access the chatbots of brands that they are already aware of, as well as access the chatbots of companies that they have never interacted with previously through the bot store.
Trustworthiness:
OTT messaging apps are developed by various private tech companies without keeping the mobile network operators in the loop of the development & security process of such channels. RCS Business Messaging needs support from various carriers and countries for it to be enabled on users' phones which gives reassurance of the safety and security of the users' information. RCS Business Messaging is also deployed on certain networks in certain countries that increases regulation and safety checks in the process. OTT apps such as WhatsApp or Facebook Messenger do not have such set processes.
Standardisation of user interface:
Since RCS Business Messaging is used on the native messaging app, the user interface of RCS is standardized across devices and carrier networks. The design of the conversational flow may vary but the look and feel may remain the same in most cases. For OTT Messaging apps, this is not the case as each one of them varies drastically from another. WhatsApp, for example, requires a business number to connect, whereas on Facebook Messenger a user can simply go to the Facebook page and start the interaction with the business.
Things to keep in mind before opting for a channel
Now that we have explored all the business messaging channels available for your business, let us point out a few key factors your business needs to consider while opting for a single omnichannel platform.
Messaging features:
Depending on the nature of business, you will need to evaluate what features of each business messaging platform suits you the most and opt for the most appropriate messaging platform. If you want to provide a rich, engaging and automated messaging experience, then RCS Business Messaging would be the right platform. If you want the user to interact from the registered mobile number, WhatsApp should be the preferred platform.
Scale of business:
If your business is small to medium scale in size you may not require a highly sophisticated AI-powered chatbot but if you are a large scale enterprise dealing with tens of thousands of customers, an automated solution is something you should consider adopting. Whether you require an automated customer service solution, an ecommerce conversational chatbot or a chatbot that can connect your customers with representatives, you can get custom solutions made to your requirements.
Final Takeaway
After understanding the difference between SMS, OTT & RCS Business Messaging, one may still be lost for ideas as to which platform is the best for your business since each of them offer a variety of features. You can reach out to our experts to get a one-on-one consultation to know, evaluate and understand which messaging channel will be a desirable solution for your business. #LetsGupshup to know more!
Blogs you will want to share. Delivered to your inbox.
Business Email
×
Read: Ways To Engage Better With Your Customers During Covid-19