Conversational AI in Retail and E-Commerce
On June 11, 2021
|
5 Minutes Read
Conversational AI
D2C & E-commerce
Retail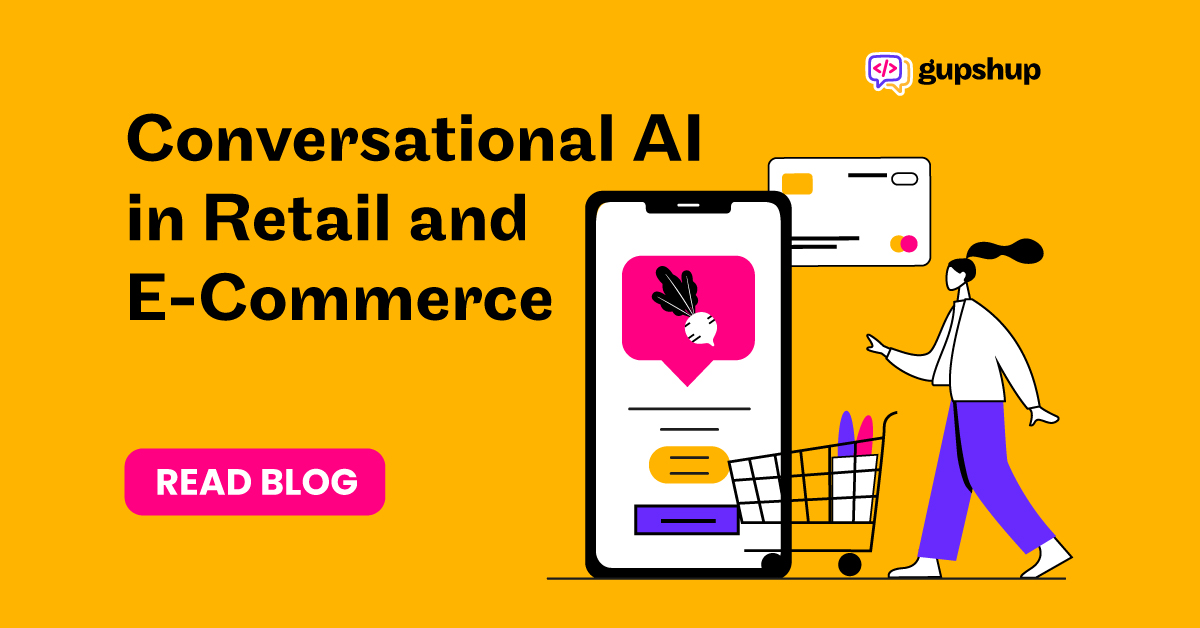 Over the last few years, shopping experiences of customers have evolved and so have customers' behavior of how they should be able to interact with retailers. With the advancements in Conversational AI technology, speed and convenience are driving the consumer agenda today.
There are messaging apps and then there are mobile friendly online shopping sites which cater to the digitally savvy buyers. Artificial Intelligence, advancements in Machine Learning (ML), Natural Language Processing (NLP) and Natural Language Understanding (NLU) are taking conversational experiences to the next level. The concept of bringing a store to the customers, right where they are, is more real today. Brands that are moving towards conversational commerce with the help of AI powered chatbots are reaping the benefits of increased sales and loyal customer base.
What is Conversational AI?
Conversational Artificial Intelligence (AI) refers to the application of technologies that users can talk to and get a response from, like smart messaging chatbots. Conversational AI helps retailers engage in Conversational Commerce, where brands can communicate via chatbots and AI assistants to deliver a sound shopping experience to their customers.
While shopping online, customers are offered a more personal shopping experience, with chatbots proactively intervening when a customer is stuck somewhere in the sales process. It could be when a customer goes back and forth between two or more products, hesitates at the time of online payment, etc.
Different channels of implementation in the retail and e-commerce industry
Messaging Apps : There are many different messaging apps that aid Conversational AI in retail and e-commerce. Some of the popular apps are Facebook Messenger, WhatsApp, Slack, SMS, Instagram Messenger. Since customers are already on these platforms, conversations with customers can be initiated faster without them having to navigate to a different app or website. The USP of messaging apps are their simplicity, lucid UI and fast growing popularity. Retailers can only benefit by choosing to adopt them for their customer engagement and conversations.
Chatbots : Artificial Intelligence powered chatbots have multi-faceted value in customer interactions. They are faster and convenient in their responses as well as secure and flexible in their interactions. Customers can mull over, get answers to varied generic questions, get redirected to multitude of products, get their needs catered to 24/7, and more.
Voice Assistants : Alexa, Google Assistant and Siri are the popular virtual voice assistants that have taken comfortable customer experience and conversational commerce to a different level altogether. The addition of voice commands in the form of text or speech adds more fluency to the conversations. Voice assistants enable fluid conversations which results in customers having a seamless conversational experience and increased interactions.
Key applications of Conversational AI in Retail and E-commerce
Lead Generation : AI powered chatbots can engage with customers better and help businesses collect relevant data like customers preferences and personal information concerning the business. This boosts e-commerce as retailers can then better provide customers with customized buying options. The process of generating leads is further simplified as customer engagement starts right at the moment the customer lands on the chatbot. Virtual assistants can dissect the information provided by the users and present buying options based on demographics, area of interest, gender, age group, etc.
Customer Engagement : AI-powered chatbots that are configured with machine learning and natural language processing, can make human-like conversations with customers. These conversations get more intelligent and more interactive with every engagement. The availability of chatbots 24/7 helps retailers in catering to every user, address their queries with equal amounts of attention, and eliminate wait times. Implementing bots as the first point of interaction for customers can ensure increased customer engagement and better chances of conversions.
24/7 Customer Service : Many consumers want assistance at odd times of the day, tend to rely on online recommendations and have limited patience while shopping online. Retailers who can engage customers 24/7 with the help of a self service tool like AI-powered bot can win the customers over. Assisting with recommendations, finding the products they are actively looking for, comparing prices, answering product related queries without any wait time, answering frequently asked questions, and a smooth payment gateway assistance can convert a random query to a sale in most cases.
Product Notifications : The traditional process of nurturing emails, promotional emails and holiday reminder emails have not always found success. Instead, using a chatbot for promotions in real-time works more effectively when offering a new product or service. This approach is more casual and conversational. The customer engagement and responses can be indulged in real-time.
Order Processing & Tracking : While interacting with a bot, customers enter their personal details like email ID, address and phone number. On finalizing a product for purchase, customers are assisted to complete the checkout process directly within the app or redirected to a dedicated checkout page. AI assists with a single tap payment from the customers preference of payment options. Bots continue to help the customer in tracking their orders, the shipment details, and even the post sale support, within seconds.
Final impact and key takeaways
Conversational commerce is fast becoming an integral part of retail and e-commerce. Businesses are understanding the benefits of online messaging with customers who are already living a digital life. Generating a loyal customer base by providing them with a personalized shopping experience, improves conversion rates. Conversational commerce not only aids in increased sales but also helps in decreasing operational costs and customer call volumes. Artificial intelligence (AI) powered chatbots thus help create faster, smoother, personalized interactions with customers and in turn increase revenues for retailers. Gupshup helps automate business conversations and build engaging Conversational Experiences. Click to know more.
Blogs you will want to share. Delivered to your inbox.
Business Email
×
Read: The Ultimate Guide to Conversational Marketing