7 Ways To Start Utilizing Auto DMs Instagram Facility
On March 9, 2022
|
8 Minutes Read
Conversational Engagement
Generic
Instagram API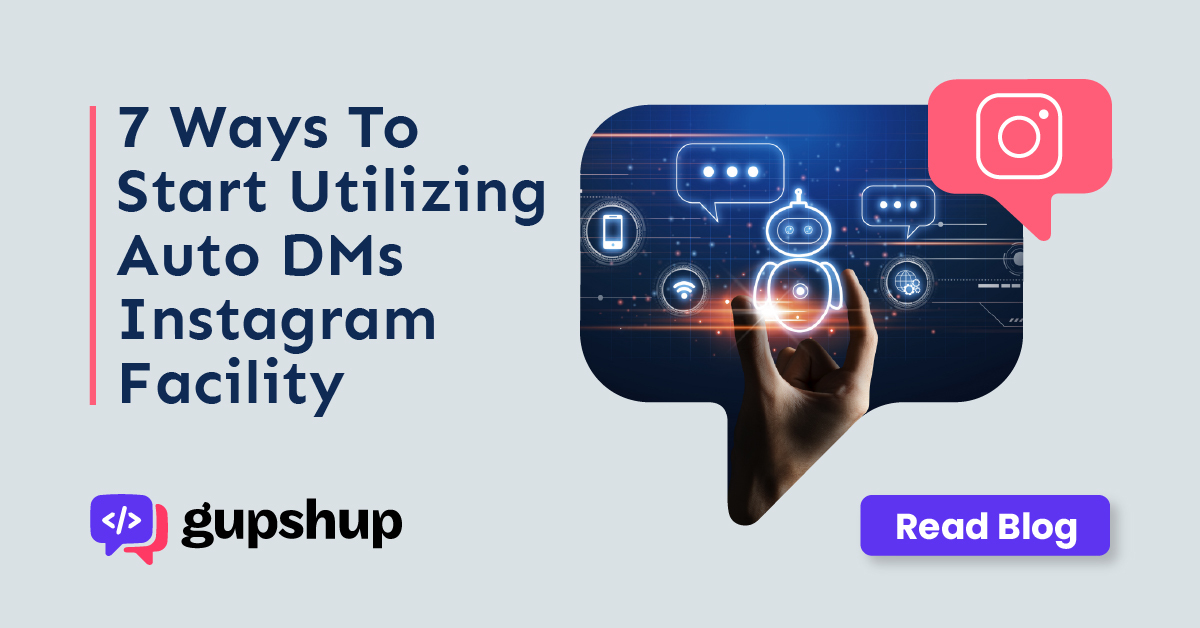 If you are a social media marketer we are sure at some point in your career you might have wished for a better way to send messages to followers and customers on Instagram. Well, you're not alone if your Instagram business account is spilling over with Instagram messages. Every day, Instagram users send more than 400 million messages to companies. They're either responding to posts from brands, asking about products, or looking for customer support, among other things. But unfortunately, while businesses receive these types of direct messages 24 x 7 on Instagram, they are unable to respond to DMs in real-time.
Filtering the messages received in Instagram DMs is also a significant challenge. It's so easy to miss a crucial communication (like a product inquiry) from among a bunch of not-so-urgent messages that your business might be receiving. Thus eventually leading to the risk of a potential loss in sale or an instance of poor customer experience.
Developing the capability of sending auto messages on Instagram is therefore imperative. And thankfully, the Instagram Messenger API from Gupshup now makes it easy for brands to deploy Auto DMs on Instagram. Instagram is a platform for buyers. 81% of Instagram users are looking for products and services to buy. And since Instagram algorithms are so good at showing people what they want to see, it'll only be a matter of time before your potential customer discovers your competitor's product, DMs them, gets a quick response, and ends up buying from them rather than you.  Having automatic Instagram DMs can help you avoid such a situation.
The need for Instagram bots for sending messages
In this insta-everything world, customers expect an instant reply from businesses. Having an automatic Instagram messages in place helps businesses fulfill this expectation of their customers which in turn leads to an increase in customer satisfaction followed by growth in engagement, sales, and better online reputation for brands amongst users, followers and potential customers on Instagram. Let's take a look at some ways you can start using auto DMs on Instagram and reap benefits from it.
1. Use Auto DMs to send quick replies & Increase customer loyalty
Winning customer loyalty is not an easy feat in today's competitive environment. And businesses spend a lot of time, money, and energy trying new ways to engage with customers and generate affinity within them.
Auto DMs in Instagram is technological leverage that brands can use to achieve the same. For example,  with auto Instagram chat messages brands can reply to FAQs from customers instantly. This reduces any delay in response that used to prevail due to manual replies. Thus giving customers the attention when they are looking for answers. This drives trust, credibility and leaves customers satisfied.
2. Initiate automated conversations with customers on popular topics
Instagram Automated DMs come with "Ice breakers" as a feature. Ice breakers are essentially conversation starter options that are presented by a brand's Instagram auto DM  when a user visits it for the first time. Brands can plug in topics that they feel could be of relevance to the users/customers visiting their DMs. Some of these topics could be "Explore New Products", "Check FAQs", "Check What's New", "Connect to Customer Support" etc. Users can choose from a range of choices and brands can reply to them via automated messages. Thus helping brands drive goal-based conversations with users. It can also help brands in addressing the most frequently asked questions, such as "Where is my order?" right when the user visits the DM. It can also help brands increase the discoverability of new/popular products.
3. Increase ROI on Ad spending by integrating Auto DMs into Instagram Ads
Instagram Auto DMs enables brands to answer customer queries via automation. Now imagine how beneficial it could be if you could use it to answer queries related to your products/services that your customer might have when they discover it via Instagram ads? With the integration now possible via the Instagram messenger API from Gupshup, you can devise automated conversational journeys for your Instagram ads in a way that it directs your customers towards conversion while answering all their queries. Known as click to Instagram direct ads, these ads also result in an interesting user experience that makes it simple for brands to collect contact information, qualify leads, and generate high-quality leads.
Plugging in Auto DMs into Instagram ads is also recommended because they retain consumers in your Instagram business account rather than transferring them to a landing page. In addition, it creates a seamless user experience.
4. Use auto DMs to reply to people who comment on your Instagram posts
Customers like being heard. And in this age of social media, they are speaking their heart out via comments on your posts. However, responding to all of them manually can be a nightmare. With the new Instagram messenger API, brands can now use Auto DMs to respond to comments from customers. The responses are sent privately which offers an opportunity for brands to deliver a personalized experience. With sentiment analysis technology now available from Gupshup, using Instagram Auto DMs to answer comments can be a great strategy for brands to manage their online reputation. It can be used to either offer tailored resolutions to comments from unhappy customers or express gratitude to happy ones.
5. Offer Customer Support at Scale
If you are a social media manager, you've probably experienced your fair share of disappointments with Instagram's inbox management options. We are sure at some point or the other you may have wondered –  how to send one message to all Instagram DMs from followers/customers that you might have received. Instagram Auto DMs is the answer. It enables you to have conversations at scale, and thereby engage and send messages to similar DMs from millions of followers/ customers. While the basic customer support queries can be answered via automatic replies from Instagram DMs, complex ones can be transferred to live agents via Gupshup's messaging escalation solutions.
6. Increase sales by recommending products via Instagram Automatic Direct Messages
Instagram has proven to be a powerful sales driver for firms that have mastered the Instagram art. There's a chance that hundreds, if not millions, of people, see your content. And Instagram is now used by over 1 billion individuals daily!
81% percent of consumers think Instagram assists them in conducting product research before making purchasing selections.
So, what's the most effective technique to sell items and services to Instagram users? In a time when social commerce is growing rapidly and conversations are becoming a driving force, auto DMs are a great way to recommend products during conversations and thereby increase sales. With intelligent user behavior assessment now possible via Gupshup, brands can devise conversational journeys that can enable their Instagram Auto DMs to recommend products and services as per user preference. And with NLP-based mechanisms, the recommendations come out as very natural during the course of a conversation.
7. Use Instagram auto DMs to collect Feedback
Knowing what your customers feel is important to offer them the solutions they expect from your brand. Conducting time to time surveys is therefore crucial for businesses. Instagram Auto DMs enables brands to collect feedback from customers in a contextual manner. This is a great way to stay abreast of your customers' likes and dislikes and improve upon your offerings on the go.  Imagine checking customer thoughts on the new product prototype that your brand must be built by asking them to spare a minute after the conversations they might have with your Instagram chatbot. Automated Direct Messages on Instagram can help get true insights by collecting customer feedback and thoughts on a regular basis.
Final Words
With chats becoming the preferred mode of communication for customers, Automated DMs are going to be the next most used feature for brands on Instagram. It enables brands to offer personalization to millions of customers in a cost-effective manner. Auto DMs on Instagram can help brands foster loyalty and satisfaction among customers by sending faster replies to messages customers share with brands on Instagram. With customized automation and conversational journeys from Gupshup, brands can use Instagram Auto DMs in many ways like recommending products, offering support, replying to customer comments, replying to story mentions, and increasing the discoverability of products. Automate your brand's Instagram DM today with Gupshup and offer an incredible experience to your customers.
#LetsGupshup to know more.
Blogs you will want to share. Delivered to your inbox.
Business Email
×
Read: 5 Top Reasons To Leverage WhatsApp For Marketing In 2022