Click to Chat ads on WhatsApp- A vital tool for your marketing arsenal
On November 29, 2022
|
10 Minutes Read
Conversational Marketing
Generic
WhatsApp Business API
WhatsApp Commerce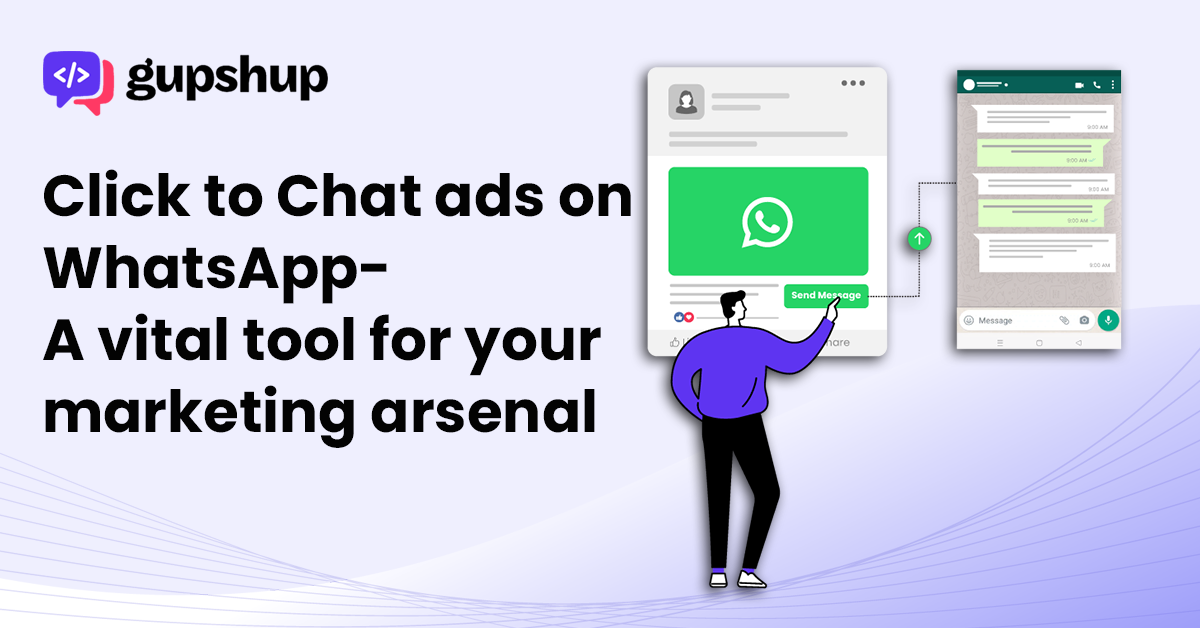 In the competitive business landscape, if there's one thing that has led to the massive growth of internet businesses, it is digital advertising. The $600 billion industry holds an outsized control on customers—- who buys what and thus to the fortunes of these businesses. An interesting aspect of digital advertising is its dynamic and ever-evolving nature, from search ads to video and voice search with the latest being Click to Chat ads. Click to Chat ads, although at a nascent stage currently, is set to create a major upheaval in the digital advertising landscape.
In Feynman speak, Click to Chat ads are ads that are conversational in nature. With precise targeting, marketers are finding it to be much more effective in addressing the shortcomings of typical digital ads.
Before delving deeper into Click to Chat ads, it's important to understand imperfections in the digital ad industry which have made way for this new form of advertising. The world moved from traditional mass media advertising to digital ads as the audience had moved online and targeting audience segments on digital was easy. 
But while digital solved the problem of targeting, it lacked two-way conversations where users could be engaged and their doubts settled.
The customer does not have a choice today, if they want to connect with the advertised brand for clarity on product/service or instantly perform a transaction. Website landing pages are better suited for savvy internet users who are adept at browsing through multiple pages. They are not for technology newbies. Moreover, a landing page is not the ideal destination in case of products such as jewelry, furniture, real estate and financial services where guided selling works best. 
Take for example- jewelry. A beautiful model wearing a stylish looking pendant set may entice a user to click on the ad and enter a landing page. But leaves this user unanswered for common questions such as- exchange policy, the kind of gemstones used in the pendant etc.
Another one – say there is an ad for a loan with attractive interest rates. In the case of a typical digital ad, even if there is a user interest there is no way for them to check whether they are eligible for the loan. But if the interface was conversational, this user could have instantly found out about his eligibility.
A sneak peek into Click to Chat ads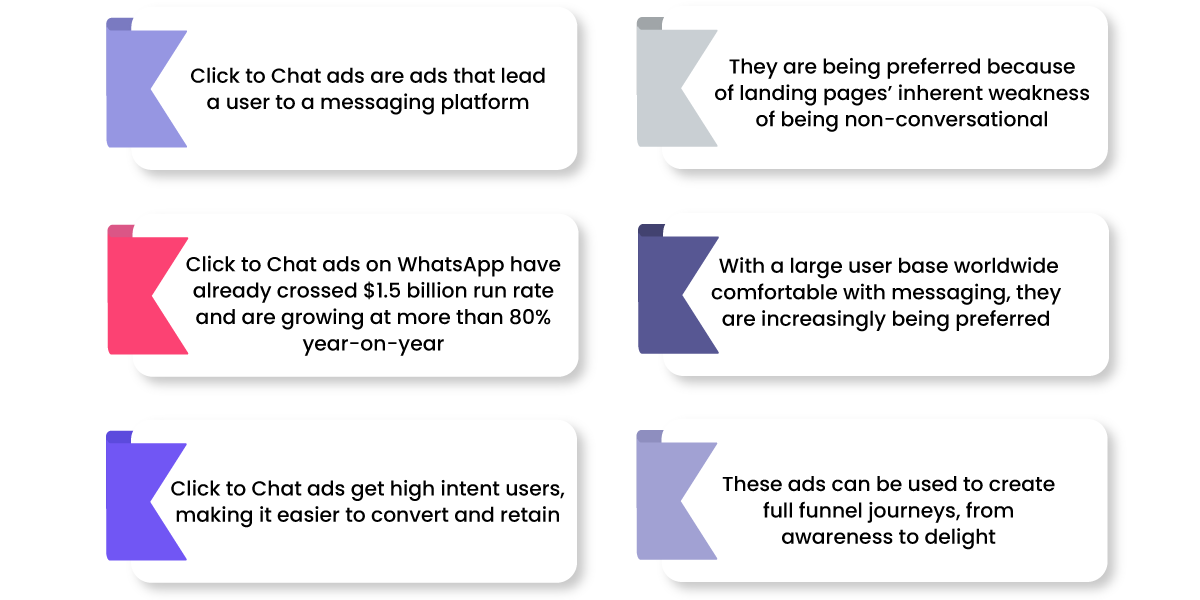 There are several such examples. High value products such as those mentioned above require handholding. Especially in emerging markets, which are inherently low on trust, it becomes an issue in consummating transactions.
Besides, tracking intent is yet another pain point. Marketers are often completely in the dark when it comes to gauging interest levels from clicks.
Enter click to chat ads. Click to chat ads are the perfect answer to the conversational engagement problem with digital ads.
What are Click to Chat ads?
Click to Chat ads are basically ads where users are able to directly connect with a brand. Once a user clicks on the message button in the ad, a chat interface opens and the user can ask questions and receive answers. This chat interface could be on Facebook DMs, Instagram DMs or WhatsApp. This article will focus mainly on WhatsApp, given its wide acceptance among marketers as the channel of choice for Click to Chat ads.
 In the age of shifting attention spans and plethora of options for customers, the importance of direct one-on-one communication can't be overemphasized. For brands, this opens the door to understanding their customer persona better,  and for customers it's about getting convinced before making a purchase. Today, Click to Chat ads on WhatsApp have become an important tool to reach out to users across the consumer funnel- from awareness to post purchase.
Its huge adoption can be gauged by the fact that Click to Chat ads on WhatsApp have already crossed $1.5 billion run rate and are growing at more than 80% year-on-year. These numbers were shared by Meta founder Mark Zuckerberg at the company's most recent earnings call.
Why are Click to Chat ads on WhatsApp a 'must have' in your marketing portfolio
There are numerous compelling reasons, the biggest one of them is the potential of the channel itself. With more than 2 billion active users globally, WhatsApp has the world's largest monetizable audience base. Among all other apps on the phone, WhatsApp saw the maximum amount of time spent by users. 
Both these reasons make WhatsApp a valuable engine for marketers. The channel offers a breadth of user types- from new to e-commerce users, the fence sitters to those who transact frequently. A whole set of untapped user base lies among people who feel intimidated with e-commerce. But even for these users, WhatsApp comes naturally and in many cases is the only medium they are comfortable with. 
Think of a customer in his late 50's, retired, with high disposable income- the kind of customer any consumer brand would like to chase. But then, this customer's world is entirely offline, except for Whatsapp and Facebook which he uses to keep in touch with friends and family. Not that he hasn't tried, but poor experience with one of the websites has kept him away. For this user, it's much easier to start his first transaction on WhatsApp than any other channel, simply because he can get his queries cleared in an instant.
And it's not just new to e-commerce users. Even for those who transact regularly, chats are the best way to get a closer experience of the products and assortment. With interactions that are real time and personalized, Click to Chat ads on WhatsApp offer a high degree of conversions. 
Imagine showing your entire product umbrella versus showing a specific set of items tailored to a particular customer's needs. With better personalisation, it's easier to build deeper relationships, eventually leading to higher conversions as compared to other marketing channels. 
Even though the ads are paid per se, more conversions mean more returns for every dollar spent on these ads. The Customer data platform can record user interactions to drive further personalization over time.
That messaging is the most natural extension of the way humans communicate and therefore is a valuable channel for brands is reflected in several reports. In a survey done by Kantar Research recently, more than 70% of Indians said that they prefer to message businesses rather than sending an email, calling or visiting their website. Several studies suggest that 80% of WhatsApp messages are read within 5 minutes of delivery. Further, brands have been able to achieve up to 50% CTR (Click through rate) with WhatsApp.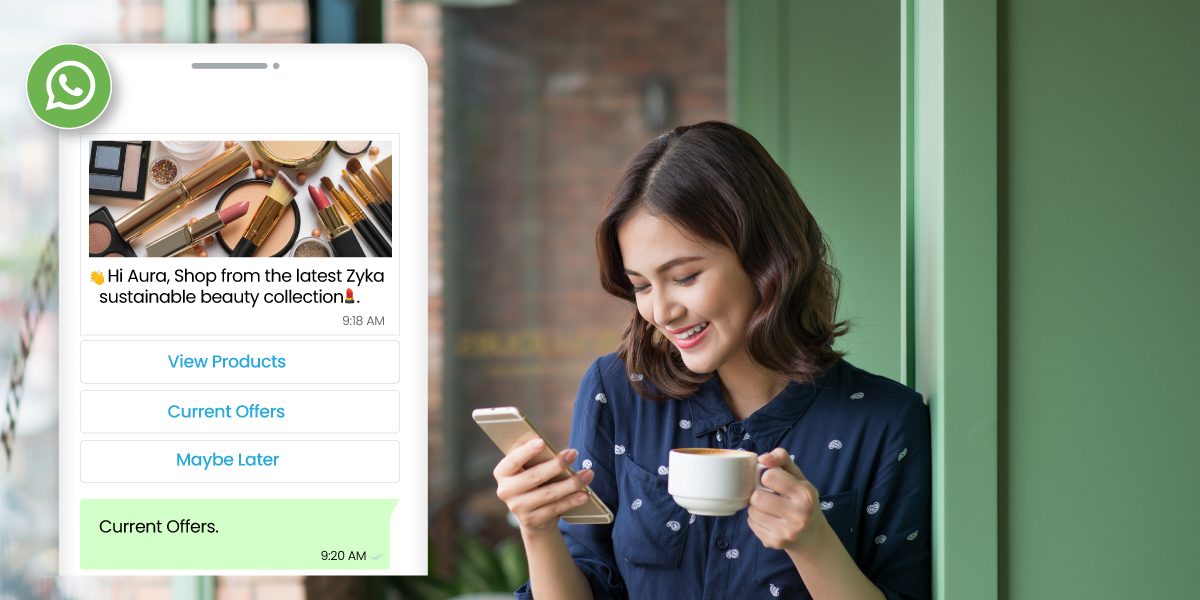 Another major problem that marketers today face is reaching out to the right set of audience. You may have run the best of ad campaigns but there's zero insight on whether the customer is actually looking to buy. Click to Chat ads on WhatsApp are a perfect solution for this problem as brands are able to get high intent users—ones who reach out on their own to enquire about products and offerings. 
A high intent user brings in immense opportunities for brand building, selling customized offerings, remarketing and sale conversion. Businesses can design the chatbot to lead to different outcomes— for example- enabling the user to buy the item, schedule an appointment, request a callback, chat with a human agent and more. In addition to this, these ads are a great lead generation and automatic opt-in tool. 
As per WhatsApp guidelines, customer opt-in is mandatory for a brand to initiate conversation with the customer. In this case, since a customer directly approaches the brand, the opt-in issue is solved. Brands can leverage this opt-in to build deeper relationships with the customer through timely reminders and better customisation.
 Some Use cases
Now that there's enough clarity on why Click to WhatsApp ads are a must- have tool in every marketer's arsenal, here are a few use cases where it can be deployed—
Lead generation: Click to Chat ads on WhatsApp are an excellent way for generating leads. They remove the need for lead generation forms as interested users directly come on WhatsApp which can be further used for converting to purchase and remarketing. Moreover, Click to Chat ads are a great way to build a verified and high quality first party customer database.

Awareness creation for new products- Say your brand is launching a new ultra HD LED TV in the market. WhatsApp marketing could be a good way to educate the users about its features, special pricing it's available at, deals and discounts if there are any. The inbound requests mean that the channel could also serve as a strong lead generation tool.

Intent assessment and pre-orders-  For brands that create a limited number of high value pieces, or if you're a brand that's about to launch something, WhatsApp could help with understanding the intent of the prospective audience and can thus predict demand in the market.

 Abandoned cart recovery- Brands can nudge customers to buy things they have wishlisted or left in the cart. With Click to WhatsApp ads, engaging conversations can be built to encourage users to complete a transaction.

 Advisory led sales for high end products– Customers usually want to get their doubts cleared before making a high value purchase, for example- watches, jewelry or a financial investment. WhatsApp chats can be leveraged to inform users, educate them and build better understanding of products.
How to get Click to Chat ads on WhatsApp working for you
Brands are always looking to improve their RoAS (return on ad-spend), and there can't be a better avenue than WhatsApp to achieve it.  High engagement, Great CTRs and high intent users are some of the reasons why every brand must consider adding Click to WhatsApp ads in their marketing mix. Getting started is easy. With Gupshup, you can create a WhatsApp business account,  build virtual agents and implement automated journeys.
Customized and pre-built templates make going live with Click to WhatsApp ads quick and seamless. Native integrations with commerce platforms help showcase catalog with ease, and simple one-click payment solutions reduce friction for your customers. Moreover,  Gupshup's bot platform enables businesses to build intelligent chatbots and voice assistants that can be built once and deployed across 30+ channels. Impact measurement and optimisation can be done in ways similar to click-flow analysis. 
The immense potential of WhatsApp as a marketing tool is set to create a massive disruption in the digital advertising industry. Brands that get on the WhatsApp marketing bandwagon early will have advantages of deeper customer connect and higher brand value over their competitors. For the advertising industry, this may mean a significant shift of digital ad dollars.
Gupshup offers an end-to-end conversational automation solution for Click to Chat ads. With our experience in creating chatbots and helping developers create bots on the platform, you get unmatched expertise and innumerable benefits. Schedule a demo with Gupshup to learn how to set up Click to Chat ads for your brand.
Blogs you will want to share. Delivered to your inbox.
Business Email
×
Read: Improve your RoI with WhatsApp Marketing