Making the Leap to Personalized Conversational Engagement at Scale
On October 17, 2023
|
10 Minutes Read
Conversational Engagement
Conversational Marketing
Conversational Support
CX
Generic
Takeaways
With conversational engagement, businesses can create journeys that are more closely tied with business objectives

We're making personalized conversations and remarketing easier with the foundation of unified user profiles

The combination of events-based personalization and automated remarketing drives higher customer lifetime value while reducing effort and spends

Brands are evolving from one-way messaging to two-way interactive journeys across the customer lifecycle – marketing, commerce and support

Generative AI is fast becoming the wind beneath the wings for marketers, bot designers, commerce teams and contact center agents – taking chatbots beyond simple keyword recognition and scripted responses
Customers are increasingly embracing conversational internet, and are no more content with one-way, one-size-fits-all communications. More so than before, they are doing everything on mobile, and demand that you are available where they are. It's time to make the leap to personalized conversations, and take the next evolutionary step to two-way interactions. Conversations do what traditional channels (read email, push notifications) and plain vanilla messaging can't: create one-on-one experiences that are human-like, contextual and based on the user's individual actions and profile.
Let's look at the key new features in Gupshup Conversational Engagement Platform 
Conversational Marketing and Advertising
Lower acquisition costs and build first party database with click-to-chat ads – now with automated remarketing
Click to chat ads are poised to transform advertising and lead generation. It helps businesses acquire leads from digital advertising and qualify them through a chatbot conversation, eliminating the friction associated with form fills and app downloads. As a brand, you can qualify their interest, resolve their doubts and drive conversions. For leads that don't convert or complete the desired action, remarket directly within the same chat window. To make this seamless, the platform now offers automated retargeting that allows marketers to set up rules to nudge in a range of time intervals from 1 hour to up to 72 hours (the free remarketing window). Additionally, you can set a 'DND window', ensuring messages are not sent during quiet hours, such as 9 PM to 7 AM.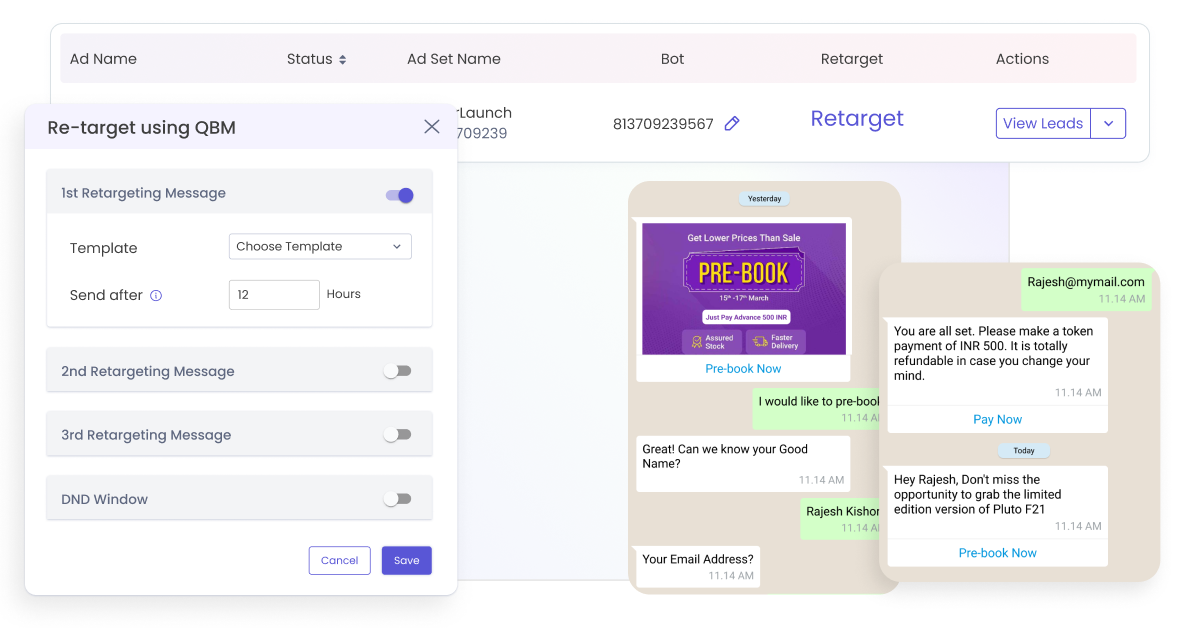 Micro-segment leads and audiences based on events history and attributes
Segmentation is strategic to any business and going beyond demographics. As a marketer, I realize the value of intent and events based segmentation, which provides a more relevant view of customer behavior. If you're a health foods store and a customer has just made their first purchase from you, send them relevant content about exercise, clean breakfast ideas and sleep related tips. Similarly, based on what they engage with, you can segment your long time customers in buckets like 'fruitarian, ketoist, value-driven' etc.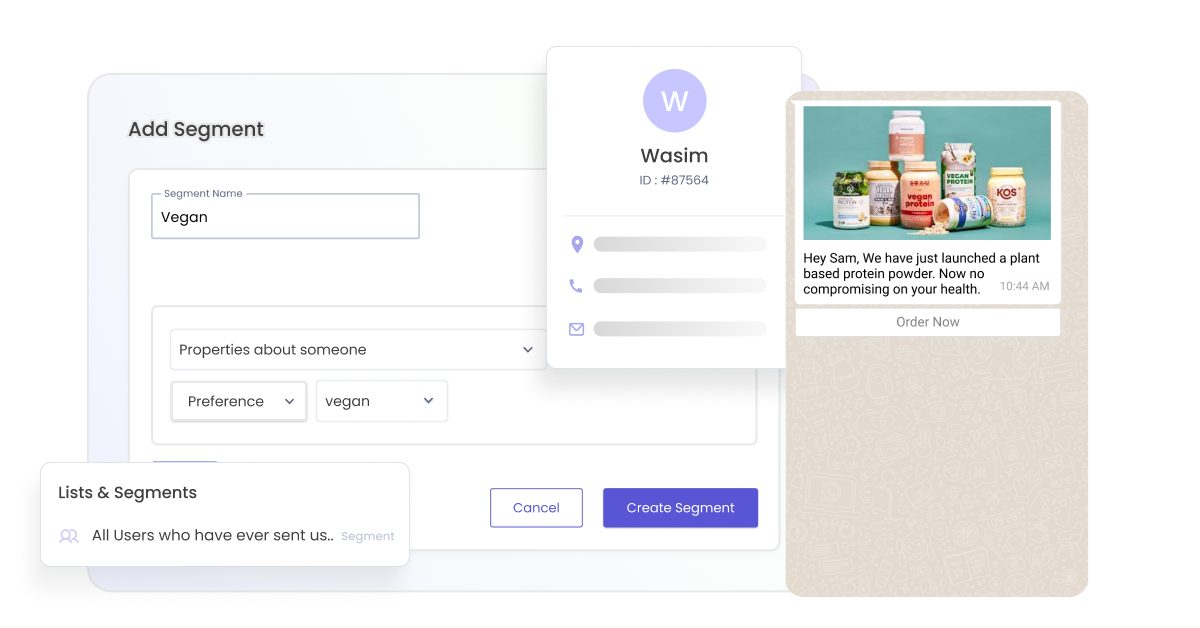 Boost engagement and drive business outcomes with two-way interactions
Assume you're an automobile company and just started by sending out new bike launch campaigns to customers. Now, you can make this campaign interactive with the click of a button and let customers select from a range of actions.
If a customer selects the 'book test ride' option on a new bike launch campaign, vs. 'view price' or 'colors', you get a very different signal. The former can be routed to your expert sales agents to follow up and close. Those classified as 'cold leads', on the other hand, can be nurtured using different tactics, and taken on different journeys, such as quizzes about the longest known bike ride, superbikes of celebrities etc.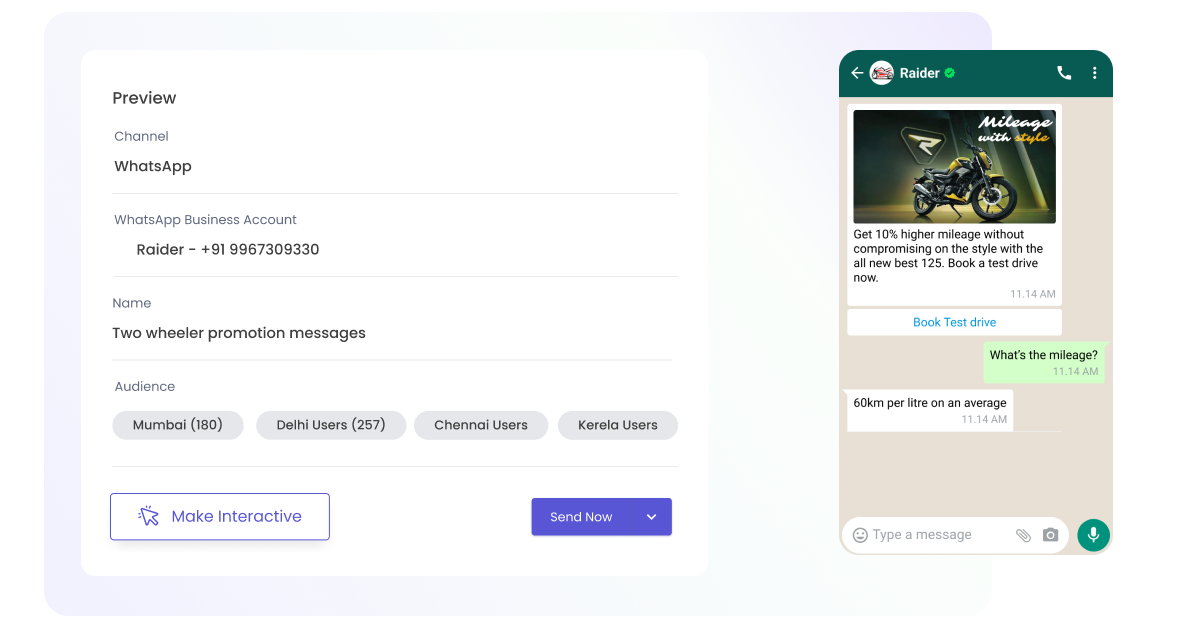 Drive incremental conversions with timely abandoned cart notifications
Enough has been said about the importance of the right time and the right message in growth marketing. One practical example of this is abandoned cart notifications, which when done right is highly appreciated by customers. I, for one, often get distracted and forget completing a purchase – and I am not alone. As much as 70% of customers abandon their cart, making it a huge opportunity for brands. A growth marketer can easily set up a segment to nudge customers who didn't check out, on say, their Shopify store and drive incremental conversions.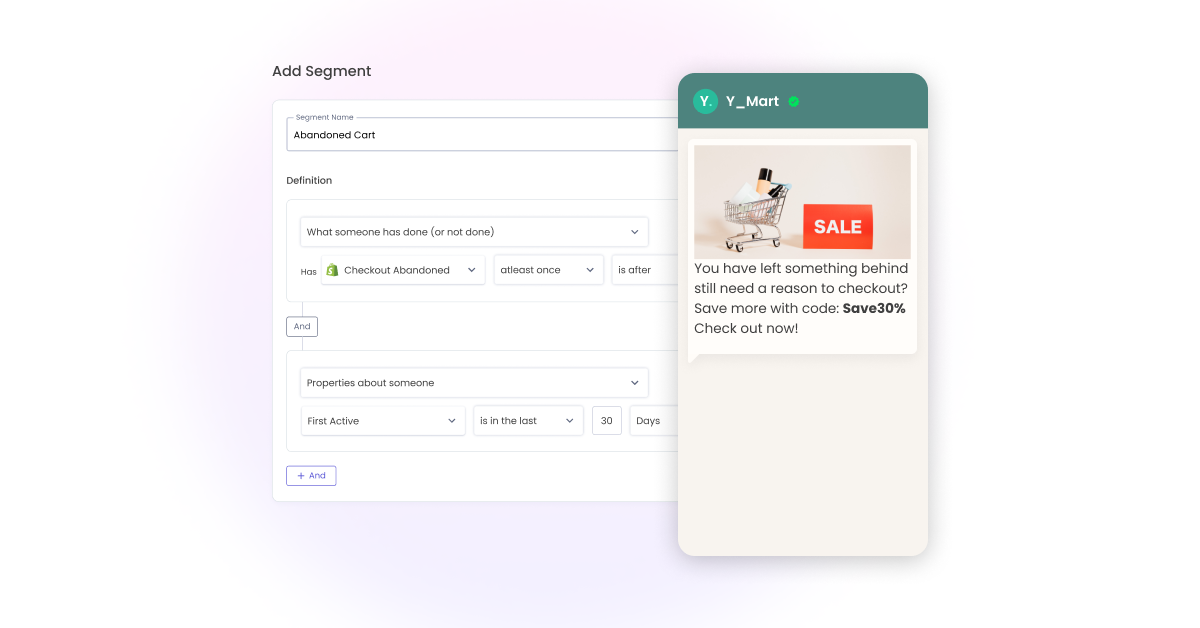 Conversational Commerce
Reduce distractions and drive conversions with Sticky journeys
Fashion inspiration or mobile recharge – these are markedly different as the users (and the business) don't have the same objectives for the two experiences. In the former, users are looking for unpredictability – a fun experience and want to go into different rabbit holes. Mobile recharge, however, is different, users want consistency and effortlessness and the business wants to ensure the user completes the purchase.
Customers may occasionally have practical questions, for example, do you have a higher data plan, or do you accept Amex cards. Once answered, they need to be brought back to the purchase journey. With this release, the bot designer can choose to enable 'persistent journey' to ensure the purchase is completed.  
So even when customers take a conversation in multiple directions, it does not lead to drop off without achieving the intended business goal. Sticky journeys make certain parts of the journey persistent, always bringing the conversation back to the desired action, which could be conversion, payment completion, collecting their contact details or even asking for a review/ rating.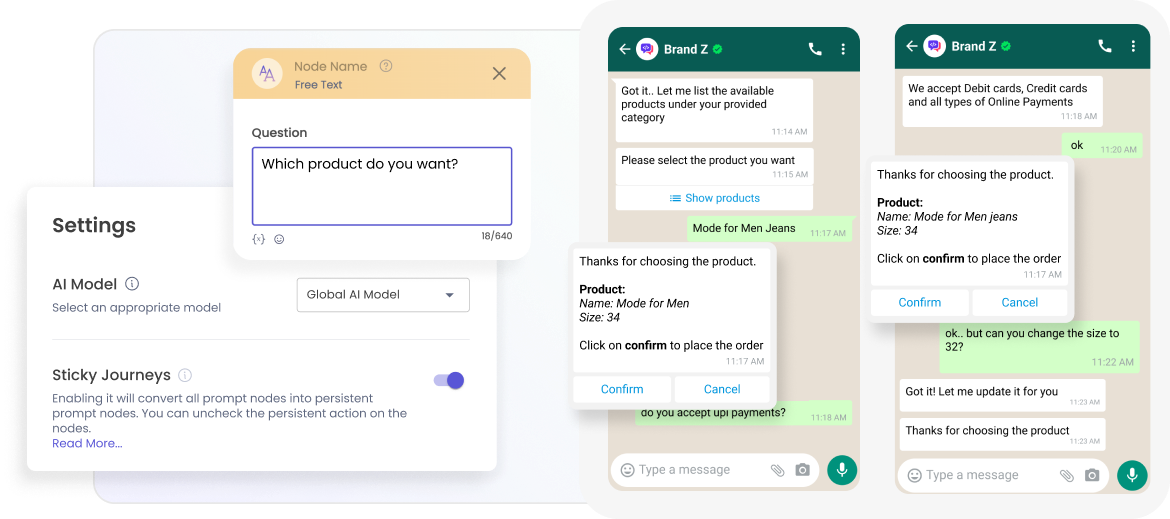 Drive higher sales by overcoming the 10 items limitation on WhatsApp Business Messaging
Brands often want to showcase their popular products or categories, or allow users to select from a range of cities, or choose from different dates but are constrained by the 10 item limit. With a simple setting, Gupshup allows you to extend this number to 100 (yes, 10X!), and provides the option to neatly categorize the list by categories, for example, if you are a bookstore, you can showcase the best sellers by categories such as Drama, Mystery, Bedtime stories, Finance, Fitness and so on.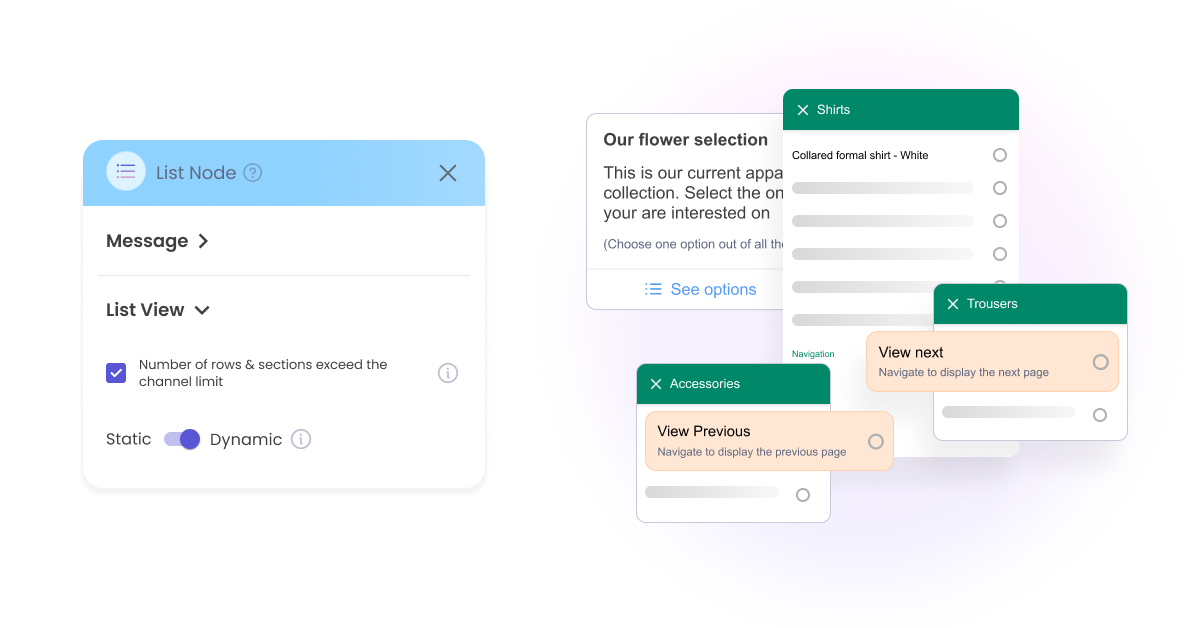 Conversational Support
End of redundant back-and-forth messages during support interactions
Subsequent to the launch of ACE fine-tuned LLM (ACE= Autonomous Conversational Engagement) this August, this release brings AI into Gupshup no-code journey builder. This lets businesses further train the model on their own knowledge base. Vertical and domain specific models elevate the response accuracy and accelerate time to market. For example, a retail bot can ingest product catalogs, assist customers with product discovery, recommendations, comparisons, shipping queries and post-purchase support.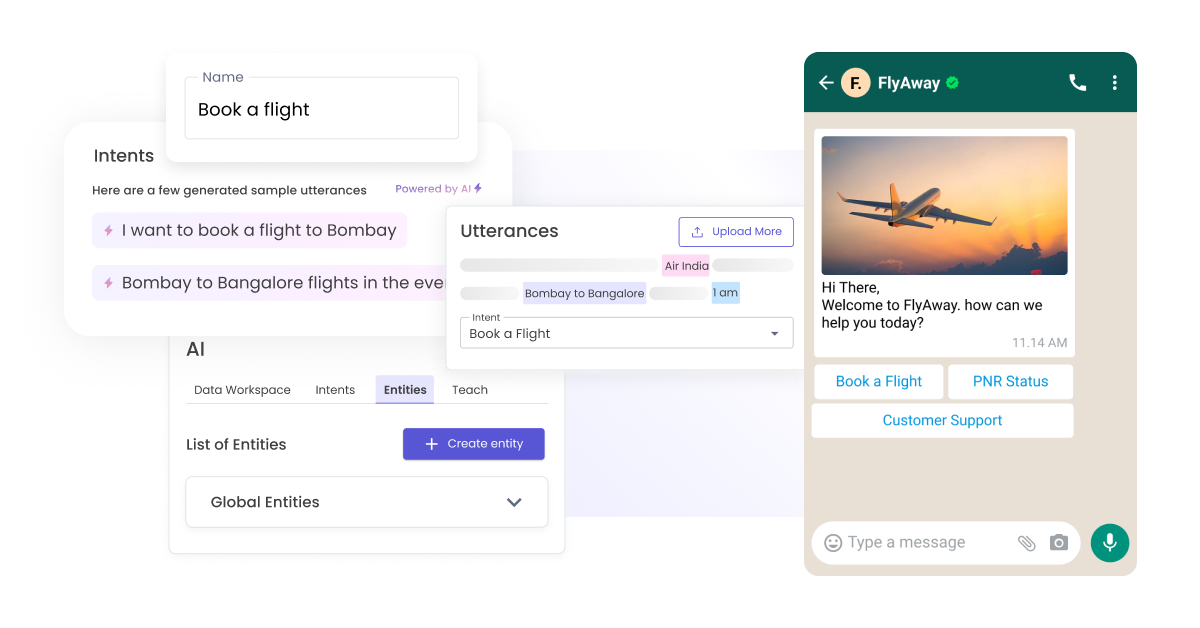 With the ability to automatically identify intents and entities, the bot creates a smarter experience for customers, not asking needless questions about information that is already available in customer input. Similarly, the bot provides clear, direct responses that limit questions the customer may have. This assisted flight booking example illustrates the difference in experience.
Flight booking experience using a 'dumb bot', which requires 6 steps before providing flight suggestions
ACE LLM powered flight booking support, where the bot understands customer intent and skips needless questions to provide the best possible flight option in 3 steps.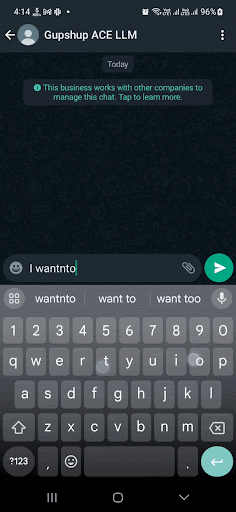 AI generated summary and paraphrasing to boost agent productivity (Beta)
All the back and forth between customers and bots means a long chat exchange. When such a ticket is transferred to an agent, it takes them significant time to catch up with the history and get the context. With AI Summarize in Gupshup Agent Assist, agents can get a summary and quickly understand the key points to be able to assist customers better. Additional Gen AI functionality includes Rephrase to create a more polished, clear response to customer query; and Expand to help agents compose their sentences – all without having to toggle tabs.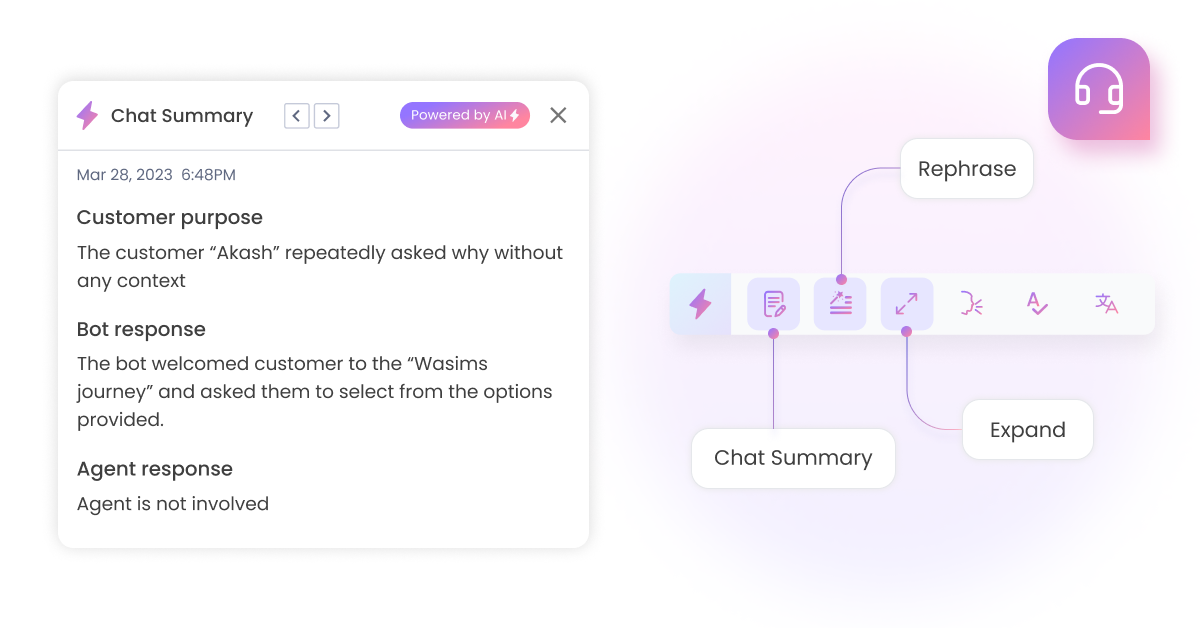 Other value added features
Full funnel analytics to inform your bot journeys and campaign design 
Business users now have access to detailed analytics across the customer journey, allowing them to make data backed decisions. Consider a pre-launch click-to-chat ads campaign which takes users through the new bike's features, engages them with a quiz and lets them pre-book a test ride. Marketers can not only track end-to-end ad performance and leads generated but also the performance of the bot journey, getting insights into how many users entered into a 'deep conversation' and where and why they typically drop off. A bot design that worked so far may start stagnating as customer behavior evolves, and will need continuous upkeep. With conversational path analytics, users can dig into where a journey breaks and make corrections.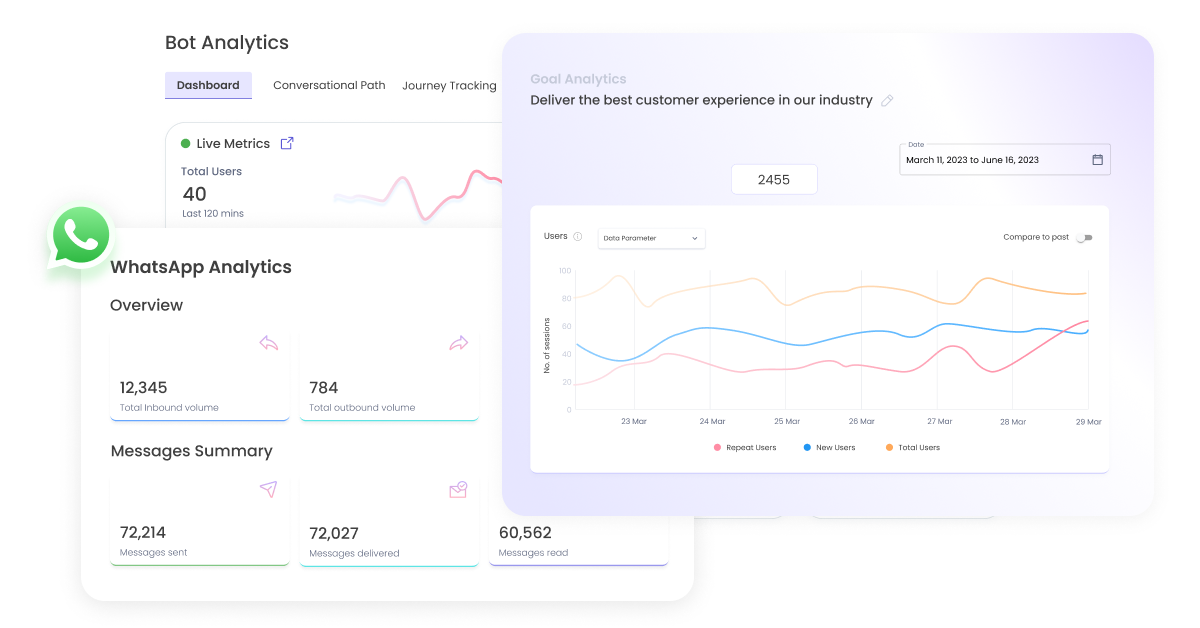 The newly added Goal Node on Bot Studio also has analytical trackers for users to track completion of various milestones within customer journeys. For a lead generation bot journey, for instance, marketers can track milestones like phone numbers or addresses collected which contribute to the goal completion. 
There's now more in channel analytics – WhatsApp reports with metrics such as message counts, opens, reads, category and template ID wise analytics. Google RCS analytics come with template performance and details of messages sent, delivered, read, responses and engagement. 
Reach more customers with additional messaging channels 
It's valuable to have coverage across your customers' most favorite channels – for both user initiated and business initiated conversations. An effective way to increase your customer base, multiple channels equals better recall, more leads and higher conversions. A strong channel failover strategy is equally important, whereby if the primary channel fails to deliver a message, the system switches to another channel after a certain time – ensuring high reach while controlling costs and maintaining a clean customer experience. More on this in a later post.
RCS: Same inbox as SMS, but richer, Google RCS now has over 800 mn users globally, making it a channel that can give you serious reach, while creating a visual, interactive experience. You can create RCS message templates, create and send campaigns; and measure performance (with metrics like opens, CTR etc.) in just a few clicks.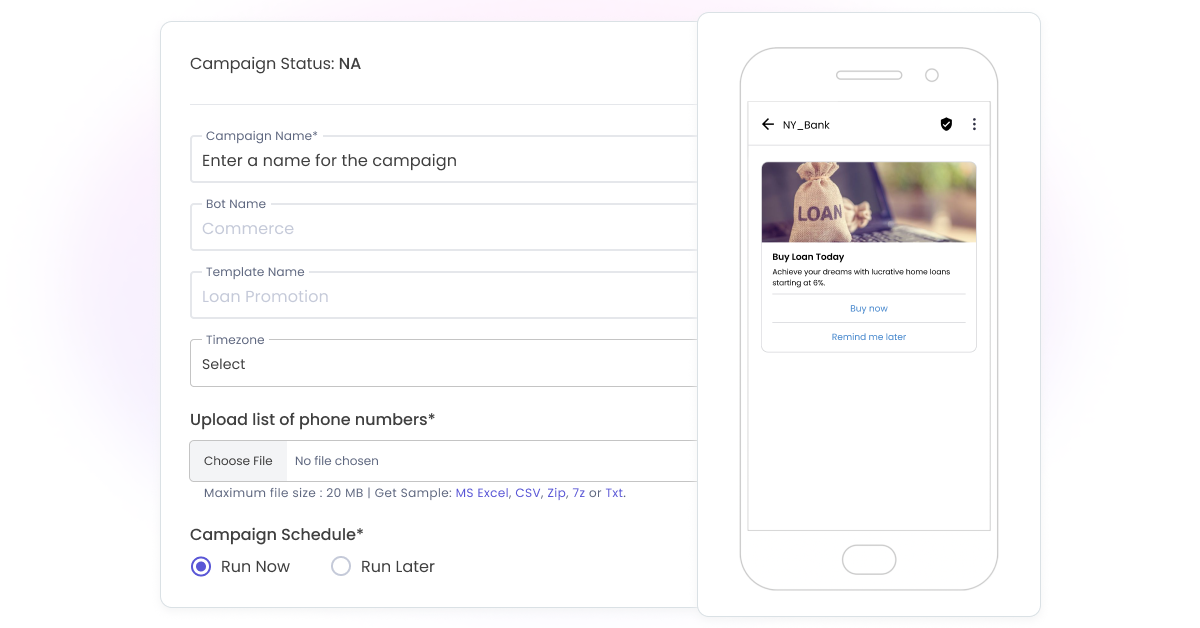 Instagram: With this release, you can configure your bots to reply to post comments, story replies, story mentions, reel comments, reel replies and direct DMs on Instagram. A must have for brands looking to automate Online Reputation Management and increase engagement of their organic posts.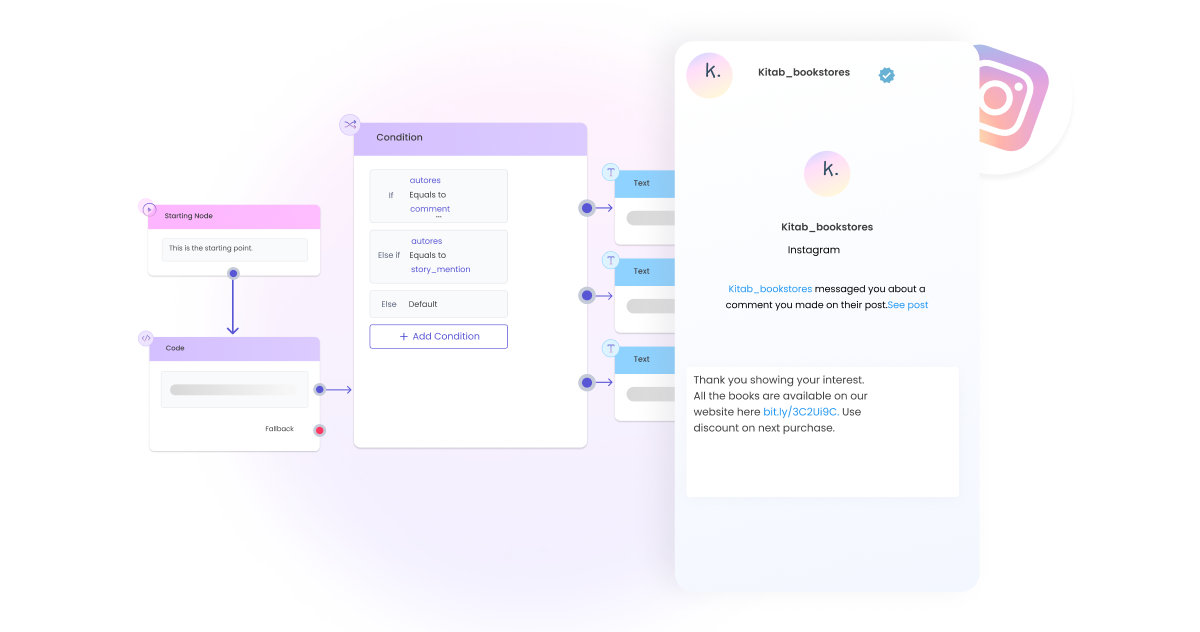 Webchat: Visitors to your website can get lost in all the information, and conversations can help them quickly progress through the funnel. A personal response is highly appreciated by customers, and we understand that your brand needs to be represented through the right bot avatar and color schemes. You can now choose from a range of avatars or icons for your website virtual assistant, or even upload a new one.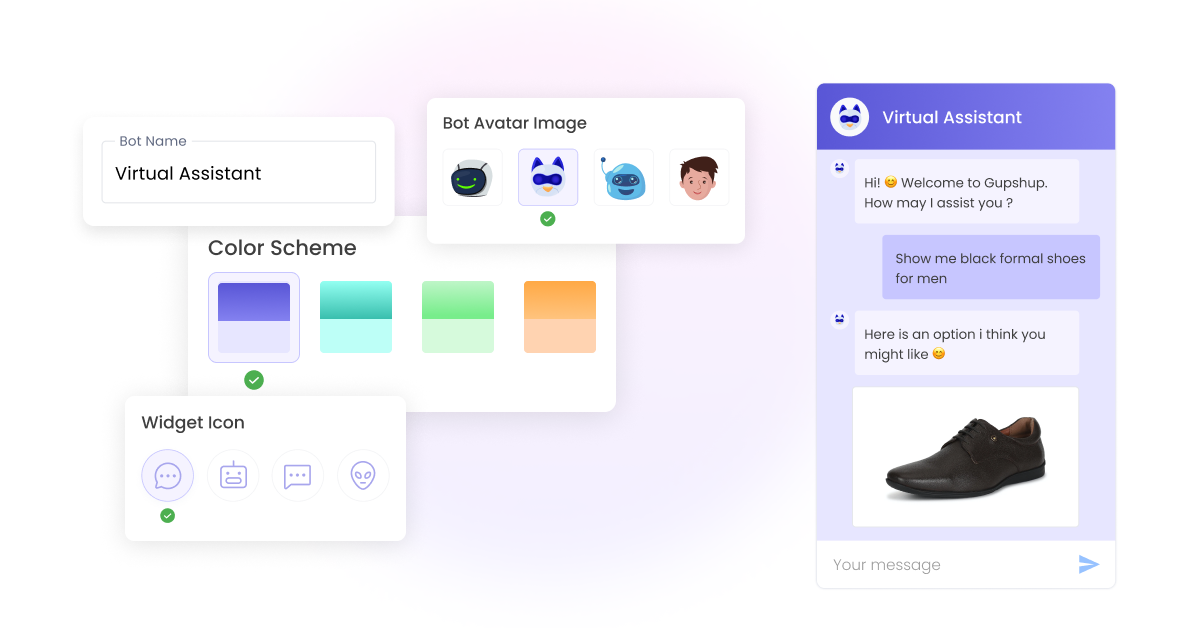 Integrations with popular marketing automation platforms
Our platform now comes with simple, out-of-the-box integrations to marketing automation and eCommerce platforms like Clervertap, MoEngage and Shopify. Marketers can leverage these connectors to send promotional WhatsApp campaigns to their customers from Clevertap and MoEngage, and also base these on Shopify events.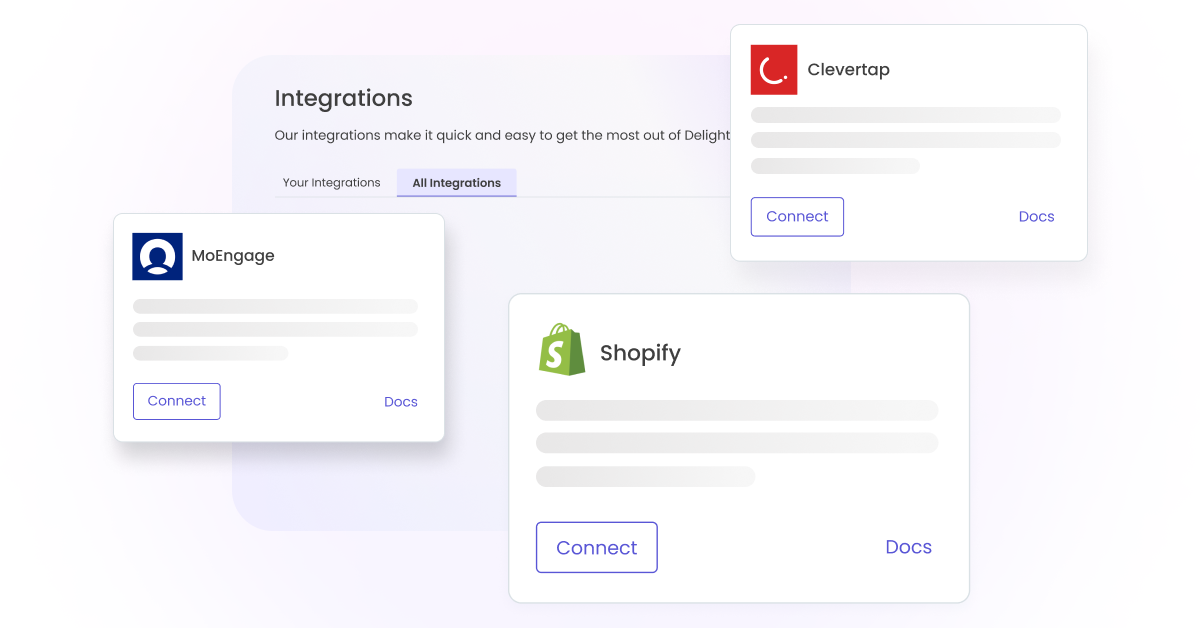 Introducing chat help with AI Assistant [Beta]
Available only to logged in users, Console AI Assistant is your buddy if you're unsure about a feature or how to use it. Simply type your question and AI gets to work. Available in Beta, the assistant aims to streamline how you get product related guidance. We're excited for you to try this and look forward to your feedback on this new feature. This interactive chat feature is in addition to the in-product Guides and Help.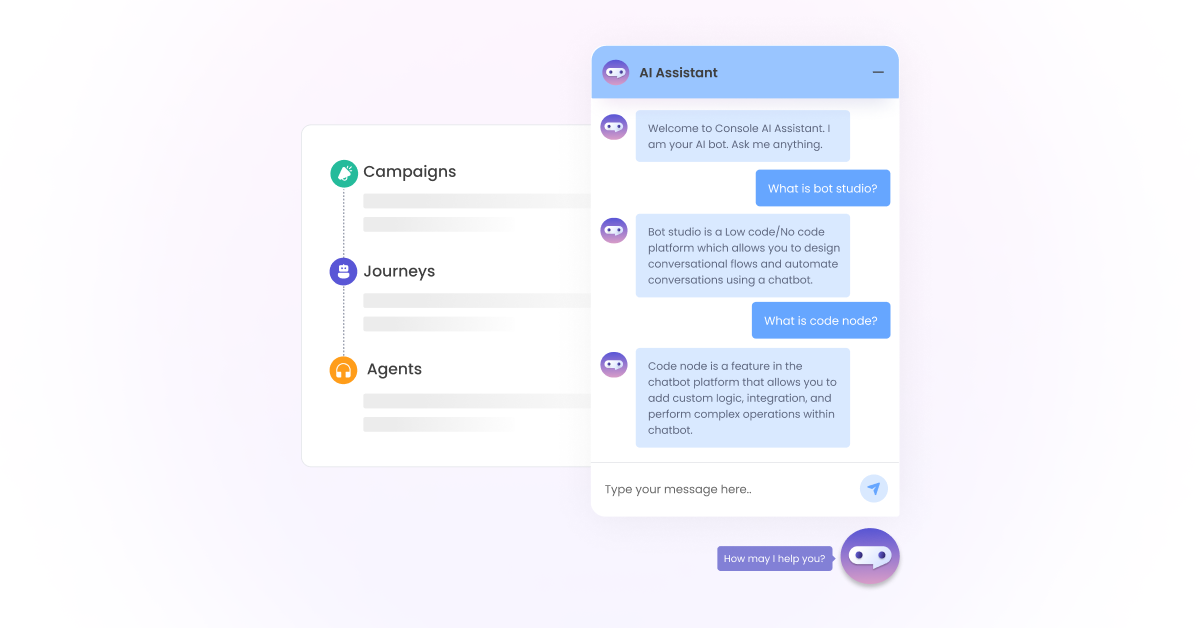 Thank you for reading and being a part of this journey to Conversational Everything! 
Blogs you will want to share. Delivered to your inbox.
Business Email
×
Read: Mastering WhatsApp Business API: Your Ultimate Festive Season Marketing Companion