4 Features Of WhatsApp Business Automation You Should Know About
On July 8, 2022
|
7 Minutes Read
Chatbots
Conversational Engagement
Generic
WhatsApp Business API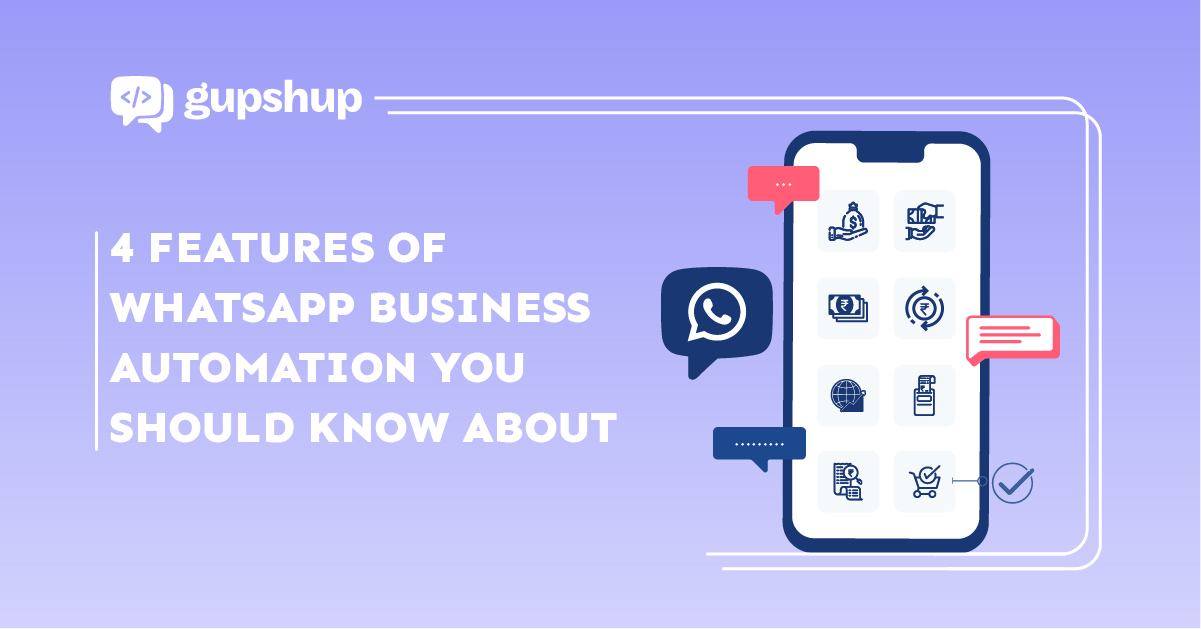 Do you wonder:
What is WhatsApp Business and the best and most effective ways for using WhatsApp for business?
How to use WhatsApp for business purposes?
What is the use of a WhatsApp business account?
How to use the new WhatsApp feature?
WhatsApp Business is a free software for businesses of all sizes that includes a variety of new and exclusive functions of WhatsApp apart from the WhatsApp basic features.
What are the advantages of the WhatsApp business?
When combined with the WhatsApp chatbot, WhatsApp Business automation is a powerful eCommerce tool, as stated by the top WhatsApp business statistics. Even if you don't plan to construct a WhatsApp automation chatbot, there are a lot of valuable WhatsApp functions and features and advantages of a WhatsApp business account that you may use.
Facebook has opened the door to deeper consumer involvement by allowing businesses to send additional types of communications to clients and customers. If you already use the WhatsApp automation API for Business, this gives you more ways to enhance revenue and client engagement. But, if you haven't tried the channel yet, it could be the next change you must try.
We'll show what you can and can't do with the WhatsApp business features and how to use them to increase consumer engagement and sales.
WhatsApp Business Automation Features
There are several advantages of the WhatsApp business account, including the business automation features. Here is a list of all WhatsApp features that businesses will find relevant.
1. WhatsApp Business Automation: Interactive Message Templates
WhatsApp Business has an interactive message template beyond WhatsApp's standard message, media templates and WhatsApp instant reply templates. This feature of WhatsApp business automation lets you include interactive elements in your messaging, such as a button. Users with a WhatsApp automation Business Account can now create two types of preconfigured buttons for WhatsApp business schedule messages:
Call-to-action: Users can call a number or visit a website when they see this.
Whatsapp Quick reply: Users can answer quickly with a simple text message.
You can use them to add to text or media communications, in notification messages or customer care messages if they are permitted.
The advantages of using an interactive message template for WhatsApp chat features:
Improved Customer Experience: Previously, consumers had to type out the option they wished to select from a list of options provided by the company. Suppose the user responds with an unclear answer or an unaccounted-for choice.In that case, the journey will effectively have to start over, like selecting the wrong option on a customer care IVR and then realising you'll have to call them back and rejoin the queue. Customers who leveraged web 2.0 didn't like it. Enterprises can utilise these templates to prompt users to do desired activities most appropriately.
Easily route clients to the right spot at the right time: This is a means for marketers to track the customer journey to make changes that will improve the customer experience. WhatsApp is quickly establishing itself as a one-stop-shop for all consumer demands, from connecting to speaking to becoming a committed user.You may go from browsing to buying to repeating the process on WhatsApp. Depending on your company module, you can browse catalogues, make an order, track it, and possibly alter it. This is advantageous, especially from the user's standpoint, as no one likes having many applications on their device.
Provide a unified experience across all text automation channels: Currently, users interact with brands across several platforms. Consumers can smoothly transition between Webchat, Facebook Messenger, and WhatsApp conversations. Furthermore, they anticipate that brands will preserve context and experience. You can now give a consistent experience in all text automation channels you use with Interactive Message Templates.
2. Notifications in New Forms
Businesses can send alerts related to direct interactions with customers if the customer consents – for example, a sales receipt, a digital ticket, or an appointment confirmation or delivery schedule that a person chooses to receive.
After a customer contacts a company over WhatsApp or replied to a message of WhatsApp business automation, they have a 24-hour window to receive promotional material or back-in-stock alerts.
Rules for these WhatsApp advanced settings:
To get notification messages, customers must first opt-in: You can provide the option by a link on your site, a sales receipt, an email, or even directly through WhatsApp. At the point of sale, a Whatsapp shop may provide a QR code. Once you have permission, you can send WhatsApp business automated messages using pre-approved templates acceptable for automation – which gets us to rule two.
WhatsApp must approve notification templates in advance: You can't use them until you fill out the WhatsApp for business form and WhatsApp automation has reviewed and approved them, just like other notifications. This procedure usually takes a few days to complete.
Tailor the notifications to the specific needs of the consumer or client: That means you won't be able to send bulk messages any time soon. These standards provide you with many latitudes when connecting with your consumers personally, closing transactions, and generating additional sales through up and cross-selling. They promote best practices in sales and marketing, emphasising the importance of expected, relevant, and timely messages.
3. WhatsApp Product Catalogue 
Catalogues are one of the new WhatsApp features that can be incredibly valuable to your business.
Catalogues – an integral part of WhatsApp for business features allows your organisation to display its products so that customers can browse and inspect products they are willing to buy. You don't have to transmit every item, price, and detail one by one like you used with catalogues. You no longer need to drive your consumers to the website because everything is available on your WhatsApp page.
You can add information to each item in your catalogues, including the price, summary, and product code. For your consumers, this is far more convenient.
After adding the products, and catalogues, users can explore your products or services and place orders inside WhatsApp. They can then share their order and talk about payment choices in chat later.
As a trader, you may receive a large number of these communications. WhatsApp automation enables Interactive Business Messages to handle such requests fast and pleasantly for customers.
4. Payments using WhatsApp
WhatsApp business automation could not possibly be without payment options for commercial and personal accounts. WhatsApp payments, which Meta offers, are available in a limited number of countries:
India
Brazil (for personal use)
United States of America (for limited users)
Facebook Pay (processed by Cielo) and Novi, Facebook's digital wallet, are used for in-app purchases. You can request and receive money as a merchant without leaving the chat.
In-app payments are available in India. Sending money is as simple as sending a message with this tool. It is useful in rural areas since people may transmit money safely without exchanging cash or visiting a local bank.
WhatsApp payments also follow a strict set of security and privacy criteria, including requiring each payment to be made with a unique UPI PIN.
WhatsApp developed a payment WhatsApp function in collaboration with the National Payments Corporation of India (NPCI) that uses the Unified Payment Interface (UPI). This India-first real-time payment system supports transactions across 160 banks.
The Final Words
WhatsApp is a social media platform that connects vast numbers of people every day and now provides businesses with limitless opportunities to engage with their large clientele. Companies can directly communicate and contact customers on their chosen platform, and at a large scale, using WhatsApp automation chatbots.
#LetsGupshup to know more.
Blogs you will want to share. Delivered to your inbox.
Business Email
×
Read: 4 Reasons Marketers Should Use Conversational AI For Education